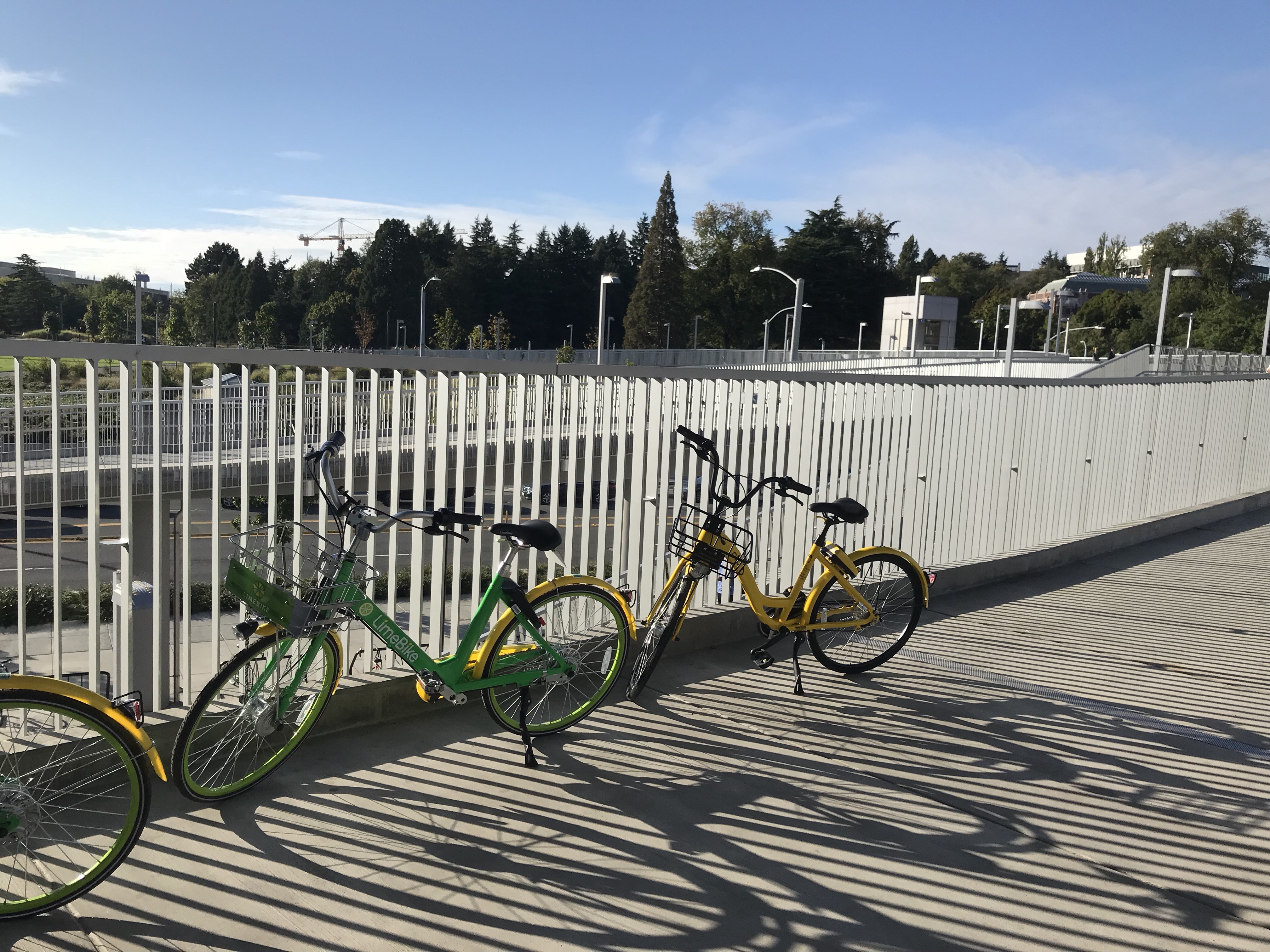 Seattle hopes to have a permanent permit program in place by August 31st for private bikeshare. The permanent program would would lift the cap on the number of bikes to 20,000, impose street use fees on bikeshare companies operating in the city, and add new regulatory requirements for the operation of the bikeshare program.
On Tuesday, the Seattle Department of Transportation (SDOT) briefed the city council's Sustainability and Transportation Committee on the executive branch's proposal. In the lead-up to the meeting, SDOT released expanded data on bikeshare performance through May, which continues to show ridership growth on bikes but cratering per-bike ride use. SDOT's bikeshare manager Joel Miller presented five key recommendations developed from public feedback on the pilot program and a new annual permit fee structure. Miller noted that bikeshare program permits will need to be "annual and iterative" to properly address the changing nature of bikeshare here and afar.
The cost of administering the program doesn't come cheap. SDOT estimates that the permanent program will cost $600,000 to run and hopes to invest some permit fees into extra bike parking on city right-of-way. Costs breakdown in this way:
$370,0

00 for 1.5 temporary full-time employees per year;

$80,000 for program data collection and evaluation;
$50,000 to conduct compliance audits;
$50,000 to conduct public outreach; and
$50,000 for an adaptive bikeshare partnership.
Additionally, plans to invest $400,000 per year in permit fees into bike corrals, bike racks, and designated bike parking areas. With 10,000 bikes on the street from bikeshare companies, bikes are increasingly cluttering sidewalks, blocking curb ramps, and exhausting Seattle's limited on-street bike rack facilities. By SDOT's own count, around 400 bikes at any given time from bikeshare companies are blocking hazards, particularly to pedestrian-oriented facilities like curb ramps and sidewalks.
Miller delivered five recommendations to the transportation committee ranging from the number of bikes planned for the permanent program to social equity strategies and requirements to be implemented. All of the following changes will be specified and implemented by administrative rule by SDOT instead of by city code or ordinance, except the permit fees:
Areas where bike availability is very poor in the city. (City of Seattle)

Recommendation 1: The data and feedback indicate that there is still room to grow for bikeshare. The pilot program started with three bikeshare companies and cap of 10,000 bikes. SDOT is recommending that the city permit up to four bikeshare companies and increase the maximum to 20,000 bikes (5,000 per company). SDOT is hopeful that the increase of bikes will help better spread bikes north and south of the city where there are clear gaps in availability and a direct implication on equity to communities of color.
Recommendation 2: Compliance and enforcement has been a challenge with bikeshare riders leaving bikes in places that they shouldn't be. In the pilot program, SDOT had been relying primarily on complaints from the public to initiate corrective actions. Bikeshare companies would have two hours after a complaint was made to fix the problem. SDOT wants to be more proactive in ensuring that bikes are parked where they should be. Several strategies are being recommended, including parking and rider education plans by companies in order to obtain permits, third party semi-annual audits (similar to a health and fire inspection approach) of parking, maintenance, and data, and issuing monetary penalties to bikeshare companies if their riders fail to comply.
Recommendation 3: As noted before, the explosion of the number of bikes from bikeshare companies has created clear bike parking challenges across the city, especially given the few number of bike racks and corrals that fit the kickstand bikes (the Seattle fleet doesn't have lock-to features). During the pilot, SDOT installed several paint-only bikeshare parking areas in Ballard, which appear to be getting some use. SDOT is recommending that more designated bikeshare parking areas be brought to more areas of the city and installation of in-street bike corrals and bike racks. This is part of why the department is hoping to use some permit fees for the bike parking program.
Recommendation 4: SDOT wants to improve equity outcomes through the permanent bikeshare program. In the pilot program, SDOT only required that bikeshare companies include 20% of their coverage in Tier 1 equity areas. All of the bikeshare companies launched citywide meaning that the automatically met the requirement even though actual service has performed poorly in many areas, particularly at the edges of the city and in communities of color. Under the permanent program, citywide coverage will be required in addition to "targeted rebalancing" of bikes to Tier 1 equity areas. Several other strategies will be also be built into the permanent program, including: a requirement to offer low-income membership plans for any bikeshare company that chooses to go 50% or more electric-assist bike, payment options for users to pay without a credit cards or smartphones, departmental work with Seattle Department of Neighborhoods to conduct outreach and engage communities to shape the program, and an adaptive bikeshare partnership for non-traditional bikes like trikes and handcycles for people who can't use regular bikes. In terms of riders qualifying for low-income discounts, bikeshare companies will have to honor users who have an ORCA LIFT card and cannot charge more than $1.50 per ride up to an hour.
Recommendation 5: The last recommendation dealt with program funding. For the pilot program, SDOT was starved for cash to administer a robust program with only a $15 per bike permit fee and $1,800 administrative fee. The new permit fee structure is proposed to increase in substantially to cover program costs, which SDOT suggests is about $30 per bike for administration and $20 per bike for the bike parking program.
The new fee structure will require that each bikeshare company pay $250,000 for the basic permit in addition to hourly permit review fees ($260 per hour) and permit issuance/renewal fees ($224/$170). Fines would be imposed on operators that fail to comply with the street use permits, such as bike blockage violations.
During the meeting, Miller noted several other changes that SDOT hopes to make as part of the permanent program. Miller said that his department is looking at how to establish a centralized complaint system instead of relying on individual bikeshare companies. Reporting of broke equipment and improperly parked bikes might be reported through a hotline or Find It, Fix It. Companies would be expected to correct the issues even in the middle of the night. Miller said that this system could be helpful for data collection, too, which is highly suspect when provided by bikeshare companies. SDOT will also coordinate with suburban jurisdictions to manage bikeshare across the city line so that bikes can move seamlessly around the region while maintaining a high level of service.
Responding to Miller's presentation, Councilmember Lisa Herbold was concerned by the broad authority that SDOT would have over program design by administrative rule. She noted, for instance, that the proposed ordinance did not specify the 20,000 bike cap and would allow SDOT to unilaterally decide how to regulate other "shareable mobility devices" (e.g., electric scooters, handcycles, and tandem cycles). Miller's response to this was that legal counsel and department leadership advised that the SDOT just needed "permission to charge the fees and spend the money." Several councilmembers also expressed similar concerns. However, the ordinance was passed out of committee with the understanding that amendments would be proposed at the July 30th full council meeting.
Correction: Clarifications on the number and circumstances of blockages by bikes was made on July 19, 2018.

Stephen is a professional urban planner in Puget Sound with a passion for sustainable, livable, and diverse cities. He is especially interested in how policies, regulations, and programs can promote positive outcomes for communities. With stints in great cities like Bellingham and Cork, Stephen currently lives in Seattle. He primarily covers land use and transportation issues and has been with The Urbanist since 2014.