The Urbanist has been inquiring about 2018 bikeshare ridership figures for months. As the deadline approaches for a permanent bikeshare permit to be approved by city council, information on how often bikes were getting used recently was hard to come by. On Wednesday, Seattle Department of Transportation (SDOT) finally dropped a taste of those figures on its blog. Those numbers reveal stagnate ridership in winter months even as the number of permitted bikes topped out at 10,000. Numbers started to climb in March again but plummeted in a wet April before setting a new high in a sunnier May at 208,849 rides. Despite the winter dip, it's clear bikeshare ridership is on the rise.
Later this month, the Seattle City Council will decide the fate of the dockless bikeshare pilot program that replaced the defunct dock-based City-operated Pronto Cycle Share. SDOT is proposing to double the number of permitted bikeshare bikes to 20,000 in the permanent program. The Urbanist had been making the case that 2018 ridership figures would help inform the council's decision on how to continue the program. So, it was good to see them released, albeit in the eleventh hour, just ahead of a big presentation to council on July 17th and a potential full council vote on July 25th. The program could be set by the end of the month with permanent bikeshare operator permits in place by August 31st.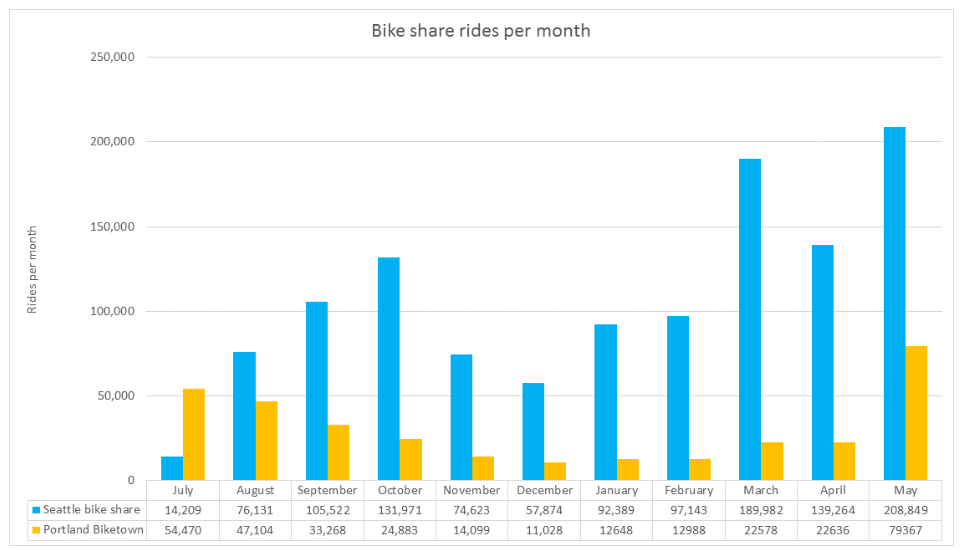 Rides Per Bike
Displaying Seattle's ridership figures next to Portland's dock-based Biketown figures is a bit misleading. Portland has just 1,000 bikes in its system compared to the 10,000 bikes Seattle has permitted, and a limited service area compared to the entirety of Seattle's city limits. SDOT has argued that rides-per-bike figures don't matter for dockless bikeshare (since private companies are funding the bounty of bicycles) but do matter for dock-based systems. But if we look at the 2018 rides-per-bike figures, Biketown had the edge, particularly in the booming May when its 2,560 rides per day worked out to 2.56 rides per bike per day–buoyed by its ride free for bike month promotion. Seattle posted an impressive 6,737 bikeshare rides per day in May, but, spread out over our 10,000 bikes, the per-bike figure is 0.67. Last summer, that figure was 2.25 amid the hype of Seattle's dockless rollout, free-ride promotions, and fewer bikes to go around. We already noticed a drop in per-bike figures at the "mid-pilot check-in" as more bikes hit the streets faster than ridership increased.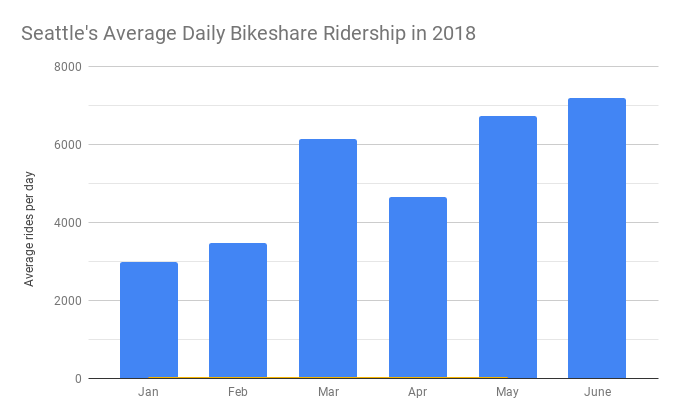 With three bikeshare operators in Seattle currently, it looks like that number will be allowed to expand to four with the permanent permitting program, and an initial cap of 20,000 bikes citywide. With Uber-owned JUMP looking to enter the market as soon as possible with their electric-assist bikes, that may be all the companies that Seattle has room for–at least until somebody drops out.
Jump is already in a handful of cities including San Francisco and DC. They use a locked dockless model. Better get adding bike racks, @seattledot 😋 #SEAbikes pic.twitter.com/RyickuQK8Y

— The Urbanist (@UrbanistOrg) June 20, 2018
20,000 Bikes: How Many Is Enough?
It will be interesting to see how 20,000 bikes are absorbed given the rides-per-bike figures already seem in sharp decline. From a bikeshare user standpoint, having more bikes is better, but a huge excess could lead to problems such as lots of poorly maintained bikes or blockage issues on sidewalks and trails. Moreover, to nurture a bikeshare industry that is viable over the long-term (i.e., when the venture capital dries up) increasing rides per bike is likely necessary to ensure profitability, especially if we want higher quality bikes. In other words, if bikeshare grows to 20,000 bikes or more, ridership growth will need to be robust.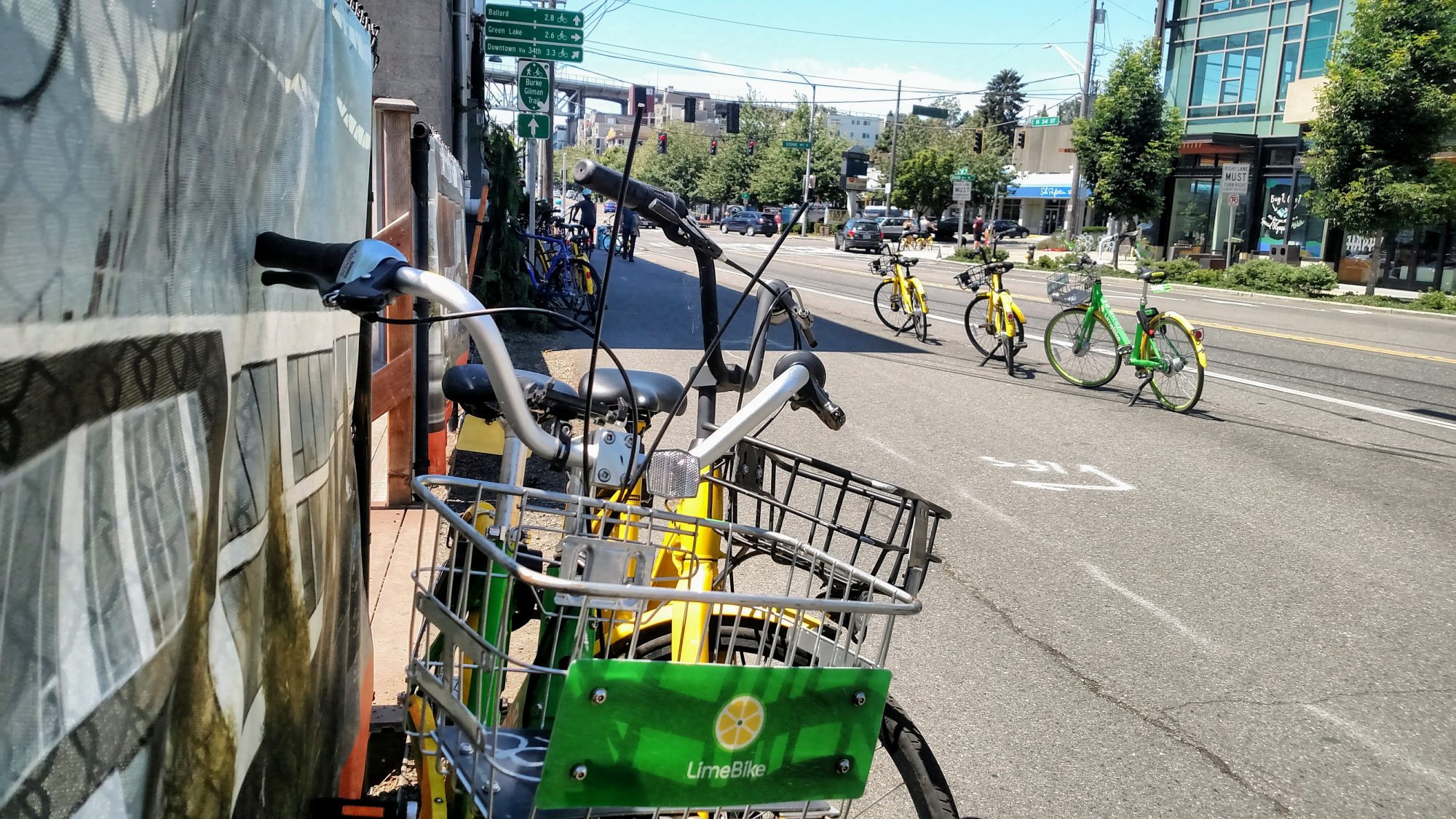 Another item to watch out for is how rides-per-bike breaks down between regular and e-assist bikes. Apparently, JUMP has averaged more than five rides per bike per day in San Francisco using all e-assist bikes, according to Nathan Hambley, Uber's Northwest Communications Manager. This would appear to be at least five times what Seattle is averaging right now with its motley assortment of bikes, some well-maintained, others in states of decay or vandalism–apparently there is a few brake bandits out there cutting bikeshare brake lines. E-assist bikes will likely need higher ridership per bike to cover the higher cost per bike. There are reasons to expect e-bikes to be more popular–not least among them Seattle's many daunting hills.
Demanding Better Bike Infrastructure
When the Seattle City Council killed Pronto Cycle Share, several councilmembers cited the need for more protected bike lanes as motivating their decision. They feared a city-run bikeshare program would siphon money away from bike infrastructure improvements to help all riders and make bicycling and bikeshare more accessible to more people. Now the city has a successful privately-financed bikeshare pilot, but key protected bike lane connections, like Pike/Pine and Fourth Avenue, have been slow in coming. Due to frustration with this slow progress, cycling advocates are pushing for prompt roll out of the Basic Bike Network as the council contemplates the permanent bikeshare program. Cascade Bicycle Club and Seattle Neighborhood Greenways want to pack Seattle City Hall at noon on July 18th to demand faster timelines for completion of the Basic Bike Network, supporting a council proposal to use budget riders to press for that.
The #BasicBikeNetwork will double ridership downtown, and create safe places to bike for the thousands already riding each day. Help make it a reality: July 18 let's pack City Hall to say we're #donewithdelays; its time the city commits. Join: https://t.co/tNi1w8W8kw #SEABikes pic.twitter.com/rXjZMZEAeT

— Cascade Bicycle Club (@CascadeBicycle) July 12, 2018
There was some hope that fees coming in from private bikeshare could help fund bike infrastructure, but the $50 per bike fees ultimately do not add up to that much money, especially once the City's expenses are taken out. Of the $50 fee, $30 is dedicated to administration, which includes equity and accessibility efforts and independent audits, and $20 is slotted to bikeshare parking programs, building on existing parking zone efforts and perhaps adding new corrals. SDOT's proposal suggests the stream of bikeshare revenue may lead to new bike parking but seems unlikely to fund new bike lanes. Since JUMP uses a lock-to bikeshare model, it may become crucial that SDOT adds more bike racks to prevent a shortage of bike parking.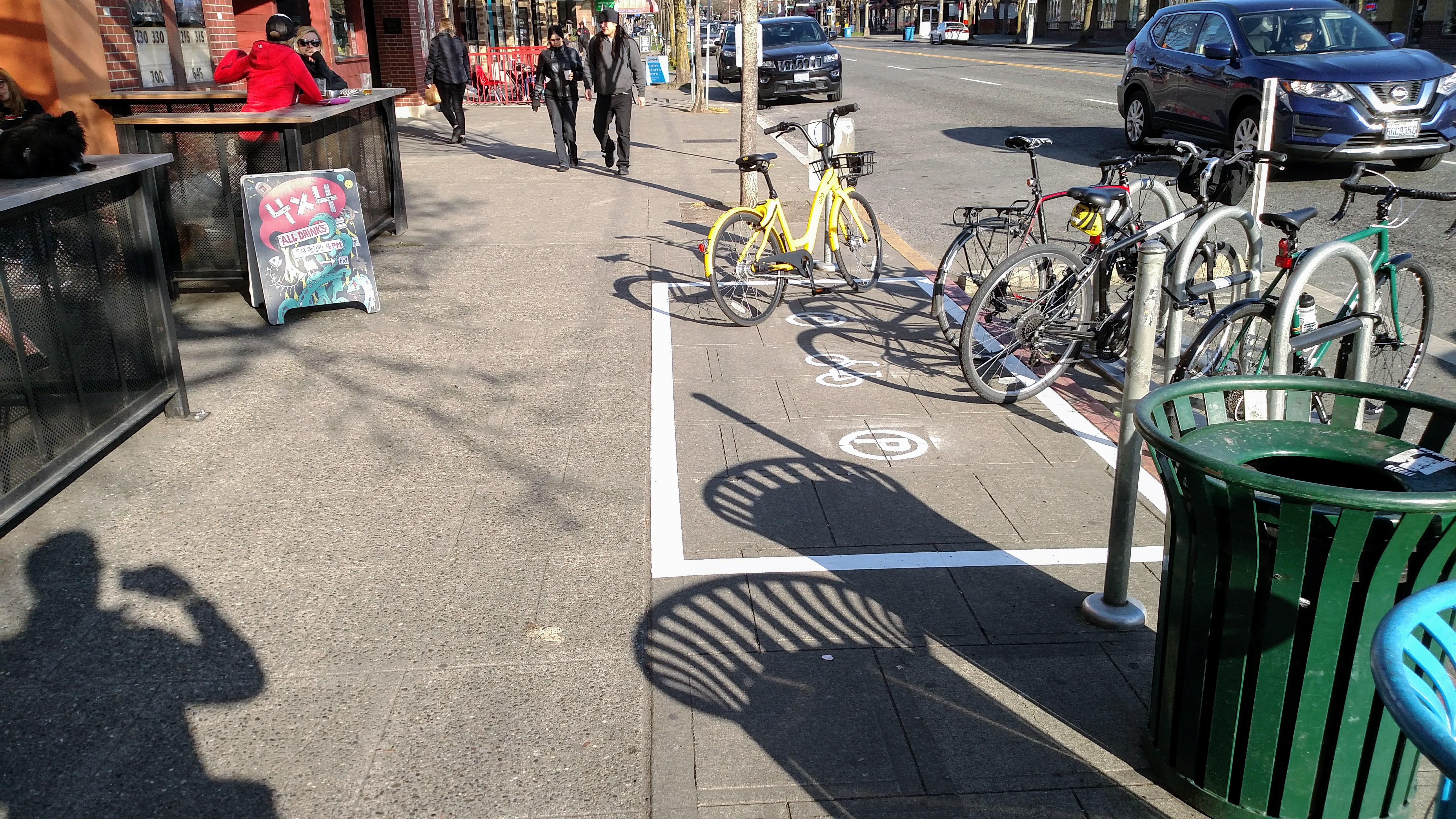 SDOT has a pretty big pot of money to play with thanks to the Move Seattle levy, although some advocates have expressed concerns that the department is depleting that pot rather quickly and should spend bike money more efficiently. Ultimately, it could be political will is lacking more so than money. When added during street repaving projects, simple protected bike lanes don't add much in the way of costs. While it's not clear where Mayor Jenny Durkan stands on rolling out the Basic Bike Network, she has given her stamp of approval for the permanent bikeshare program.
A Changing Bikeshare Landscape
The bikeshare industry is evolving so quickly that it's hard to say what the landscape will look like even in another year. According to the Boston Globe, Spin, a dockless bikeshare trailblazer, appears to be heading out of the bike business entirely to invest in electric scooters instead, while Lime is signaling that they may be looking to drop the non-electric bikes from their offerings to focus on e-assist bikes. Meanwhile, app-based taxi companies Uber and Lyft got into the bikeshare game in a big way. This spring, Uber bought JUMP for close to $200 million, and earlier this month Lyft bought Motivate for $250 million, becoming the biggest bikeshare company in the country. Whether the two rideshare giants' motivation will be perfecting bikeshare or funneling users into taxis and mining another stream of data remains to be seen.
Companies turning to all (or majority) e-assist fleets will face extra regulations according to the draft rules laid out in Sarah Anne Lloyd's excellent synopsis. Bikeshare operators with more than 50% e-assist vehicles will face a low-income fare requirement that over operators would not face–in part because the going rate has only been $1 for short trips. With its all e-assist fleet, JUMP would face this requirement, but so too would Lime if it switches to a majority e-assist fleet. JUMP is promising to price its electric bikes at $2 for the first 30 minutes (and $0.10 per minute thereafter) just as it does in other cities. JUMP's pricing would significantly undercut Lime's juiced bikes, which are $1 to unlock and $0.15 per minute–or $5.50 for 30 minutes.
Scooters and Speed Limits
If Spin switches to scooters, it would not yet find a market in Seattle, which doesn't allow electric scooters and isn't considering them as part of the bikeshare program, according to SDOT bikeshare manager Joel Miller, who said that would be another conversation. SDOT is proposing to keep the bikeshare speed limit at 15 mph, which will allow them to stay on recreational trails under the new trail guidelines the City parks department is implementing. JUMP is lobbying for the bikeshare speed limit to increase to 20 mph, but SDOT appears content in the slower lane.
This article has been updated to add information about Biketown's ride free promotion in May. We also added June figures to the second graph.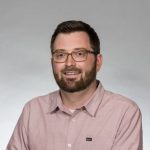 Doug Trumm is publisher of The Urbanist. An Urbanist writer since 2015, he dreams of pedestrianizing streets, blanketing the city in bus lanes, and unleashing a mass timber building spree to end the affordable housing shortage and avert our coming climate catastrophe. He graduated from the Evans School of Public Policy and Governance at the University of Washington in 2019. He lives in East Fremont and loves to explore the city on his bike.