The Seattle Department of Transportation (SDOT) released a few bikeshare data morsels to the Pedestrian Advisory Board last week. Seatte's system of privately-operated free-floating bikeshare continued to post solid numbers in the "Mid-Pilot Check-in." Buoyed by free ride promotions, the five-month-long pilot program has surpassed the million mile mark and hit 347,300 total rides at the end of November.
SDOT said it has permitted 9,388 bikes to the three licensed operators–Spin, Limebike, and Ofo–although not all those bikes are in service at any given time due to breakdowns, maintenance, or them just not being rolled out yet.
Missing data points prevent us from drawing more far-reaching conclusions.The limited bikeshare data so far works as a Rorschach test; depending how you look you can see a national bikeshare leader or a fragile system with cracks forming. The number of total rides suggests private bikeshare is booming. But rides per bike per day–the metric that boosters used to argue Seattle's private bikeshare was the second best system in the country after New York's CitiBike–has dropped significantly with the influx of bikes and more marginal gains in total rides per days, which is up to 2,711 from a 2,231 average during the first two months.
If active bikes climbed to an average of 4,000 (still less than half the total number SDOT has permitted), then the rides per bike per day would be 0.68–a far cry from the 2.25 rides per bike per day the system averaged in its honeymoon phase for the first few summer months. We don't know the rides per bike number because the mid-pilot check-in didn't reveal how many bikes were active per day: SDOT says it will be releasing that number next month for the entire pilot phase.
The dip in rides per bike could simply reflect less bike-friendly weather, but it also could indicate deeper problems, such as insufficient demand to warrant so many bikes. The question of if Seattle's market can really absorb 10,000 bikeshare bikes is still an open question. That's the same number of bikes as New York's dock-based system has in a city of 8.5 million people. Seattle, meanwhile, just recently passed the 700,000 population mark.
Additionally, New York City has 425 miles of protected bike facilities, while Seattle has fallen woefully behind its goal of 50 miles of protected bike lanes promised in the Move Seattle Levy voters resoundingly passed in 2015. Lately SDOT has picked up a little momentum with the extension of the Second Avenue protected bike lane to Denny Way. Still, Seattle's slow progress on completing a Basic Bike Network Downtown and tying together its fragmented protected bike facilities across the city is likely hindering cycling rates and could well be lowering bikeshare ridership potential. People aren't as likely to try bikeshare if they don't feel safe.
Or, to present another hypothesis, Seattle might have enough demand for 10,000 free floating bikeshare bikes if the bikes were more reliable and less clunky and slow. Clunky bikes don't necessarily present a problem for short trips or leisurely joy rides, but a mature bikeshare network can be more than that. To convince people to subscribe to bikeshare, nimbler dependable bikes could be a big selling point. Better bikes could also convince more people to do the legwork of climbing hills, which does appear to be limiting usage areas judging by the map below.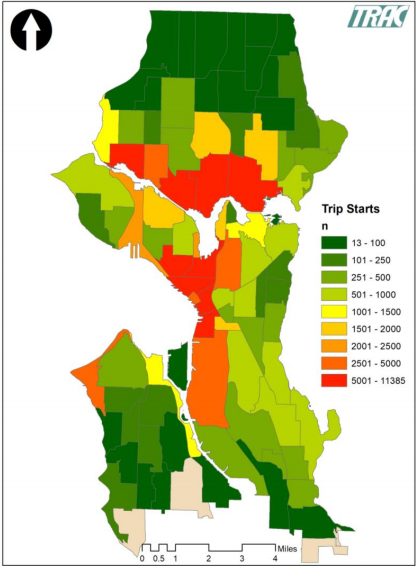 Another lingering issue is how SDOT can ensure the bikeshare bikes don't clog sidewalks and recreational trails. SDOT is floating an idea for a few designated parking areas for bikeshare. However, a more sweeping intervention will likely be necessary if providers continue to add bikes without solving the issue of compliance with parking rules. SDOT has also kicked around written warnings, fleet reductions, fines, and permit suspension for providers with persistent non-compliance issues.
More comprehensive data is coming in January as pilot period data collection ends December 31st. At that point, SDOT will extend the operators' permits for an additional six months while the agency further evaluates the pilot program's data and determines next steps–likely a permanent program. Hopefully that next big data drop will better illuminate the program's performance.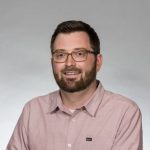 Doug Trumm is publisher of The Urbanist. An Urbanist writer since 2015, he dreams of pedestrianizing streets, blanketing the city in bus lanes, and unleashing a mass timber building spree to end the affordable housing shortage and avert our coming climate catastrophe. He graduated from the Evans School of Public Policy and Governance at the University of Washington in 2019. He lives in East Fremont and loves to explore the city on his bike.