Seattle is back on top. Among big cities, Seattle is growing faster than any other (on a percentage basis) as it added 20,847 people between July 1, 2015 and July 1, 2016, according to new US Census Bureau estimates. That 3.1% year-to-year growth puts Seattle at an estimated 704,352 residents as of July 1, 2016, which confirmed what I had guessed in February that Seattle had crossed the 700,000 mark.
Almost 11 months have passed since the effective date of the estimate. That means if Seattle maintained its 3% growth rate–no guarantee–Seattle's population would surpass 725,000 by July 1, 2017–18 years ahead of one projection.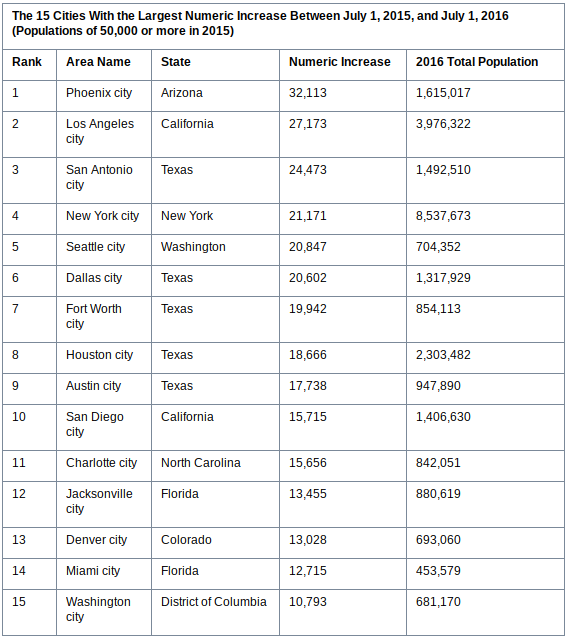 Leading big cities in growth rate has urbanists around the country gushing. City Observatory's Daniel Kay Hertz tweeted "be like Seattle." Houston Chronicle economics reporter Lydia DePillis tweeted "Seattle is doing something really, really right." She noted that the Seattle metropolitan area became 3% more dense as the city of Seattle led the nation in growth. We are growing up much more than we are growing out.
Seattle is doing something really, really right. pic.twitter.com/CYrhTIkPky

— Lydia DePillis (@lydiadepillis) May 25, 2017
Are you getting the warm fuzzy feeling? On the ground in Seattle, one wouldn't know how well we are doing judging by the rhetoric. Urbanists still lament our low-density zoning, especially that we reserve more than half our land for detached single-family homes, and throw their hands up in disgust when new housing is blocked or delayed. It could be we are leading the nation in growth but should be growing even faster to moderate prices–our median rent increases also led the nation recently with a 9.7% jump last year. Not many cities have an employer growing as fast as Amazon near its city center.
What does this growth mean? In part, it's simply a reflection of strong job growth from Amazon and others in South Lake Union and Downtown Seattle. But it also seems like Seattle has latched onto a winning formula of transit investment, safe street interventions, and urban growth.
A number of factors are driving the lion's share of growth to Seattle rather than the suburbs. The Growth Management Act created an urban growth boundary that has limited sprawl. Our traffic congestion deters folks from living in exurbia–although many are stilling moving out to the likes of Marysville to escape price increases. Those seeking urban housing that is walkable and well-served by transit–which appears to be a growing preference–will find most of their best options in Seattle, even as surrounding suburbs make strides in that direction.

Seattle leading the nation in growth and densification is cause for celebration, but we have work still to do.
We must implement more of the 65 recommendations from the Housing Affordability and Livability Agenda committee, such as the delayed accessory dwelling unit law relaxing the rules for backyard cottages and enabling granny flats. Most immediate perhaps is finishing out Mandatory Housing Affordability rezone process to enact inclusionary zoning (and development capacity increases) across all our urban villages and centers–so far the U District and Downtown/South Lake Union have been rezoned. Finally, we should enable missing middle housing types–triplexes, stacked flats, rowhouses, and courtyard apartments–in single-family zones–which have seen scant growth–so that all Seattle neighborhoods contribute to our nation-leading growth.
We've been beating the rest of America with our hands tied behind our back. Imagine if we unleashed the full potential of our city's 84 square miles.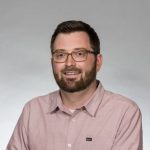 Doug Trumm is the executive director of The Urbanist. An Urbanist writer since 2015, he dreams of pedestrianizing streets, blanketing the city in bus lanes, and unleashing a mass timber building spree to end the affordable housing shortage and avert our coming climate catastrophe. He graduated from the Evans School of Public Policy and Governance at the University of Washington. He lives in East Fremont and loves to explore the city on his bike.