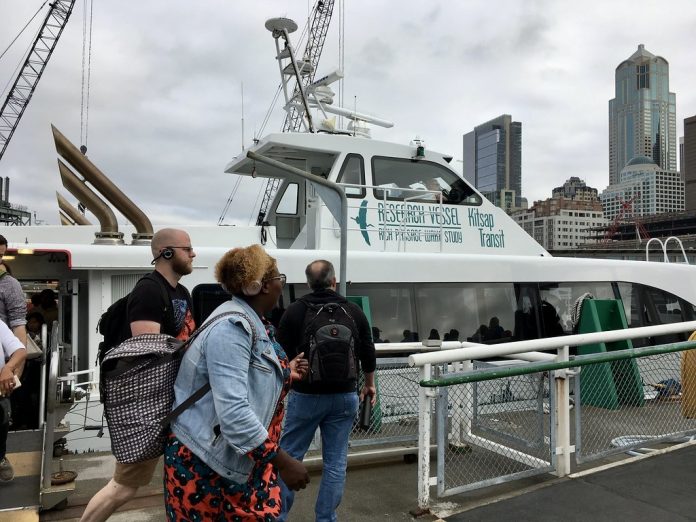 After 14 years, Seattle and Kitsap County will once again have a rapid transit route linking them: a passenger-only fast ferry run by Kitsap Transit. Free service begins with a single boat to and from Bremerton on Monday, July 10th, and then fares start being collected in August. With a crossing time of 28 minutes, less than half that of the Washington State auto-ferry, the new service may spur economic development on the peninsula and open up more housing options for regional commuters.
From 1998 to 2003, Washington State Ferries ran such a passenger-only service, and at 800,000 annual passengers it was well used. But after the vessels' wakes were found to be eroding shorelines in Rich Passage and slower speeds were mandated, passenger volumes dropped and the state cancelled the service.
The idea lived on, however, when the state and Kitsap Transit secured federal funding to study the environmental conditions. The study concluded that a catamaran with a foil could achieve high speeds with low wake, and in 2009 the $5.9 million prototype Rich Passage I was delivered. Kitsap Transit then worked on a business plan that found a 0.3 percent sales tax could fund capital projects, operations, and maintenance. In the 2016 general election, voters approved the tax, which will raise about $12 million a year.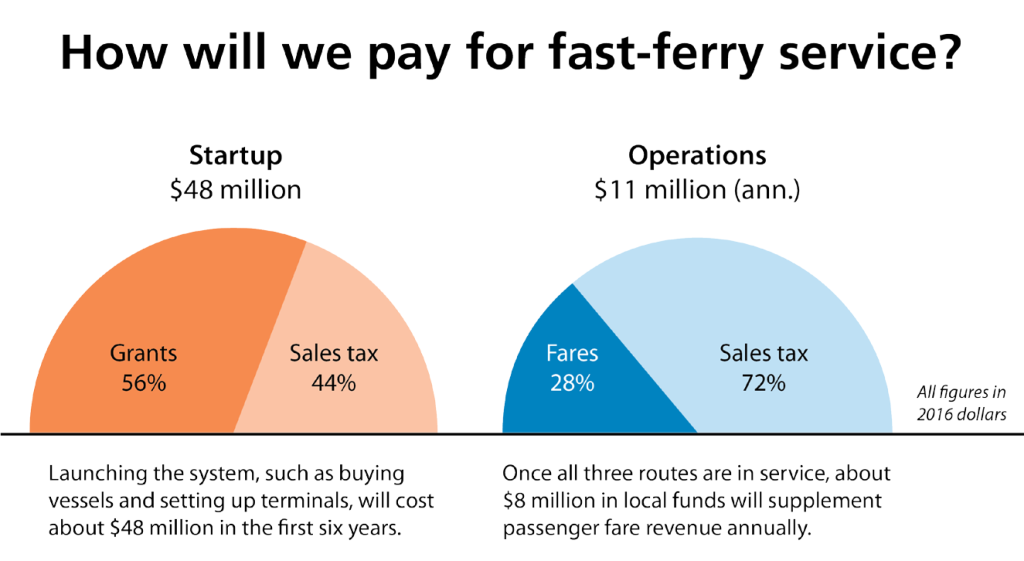 Part of the new funding will help pay for existing foot ferries between Bremerton and Port Orchard, allowing existing funding to shift to the agency's bus routes and improve connections to ferry terminals.
Kitsap Transit envisions adding additional service from Seattle to the unincorporated communities of Southworth and Kingston by 2022, allowing more people to commute to Seattle or visit without a car. That will require up to four boats and new dock infrastructure paid for with a mix of the sales tax revenue and grants. In that time there will also be some headaches for all ferry passengers as Colman Dock in Seattle is completely overhauled and seismically retrofitted.
There is both excitement and resistance about changes the service may drive in Bremerton and surrounding communities. When I interviewed Bremerton Mayor Patty Lent, she was intrigued at the opportunity to fill up empty storefronts and entice more multifamily residential construction. KUOW talked to locals who are concerned that the town's culture may change drastically in the years ahead.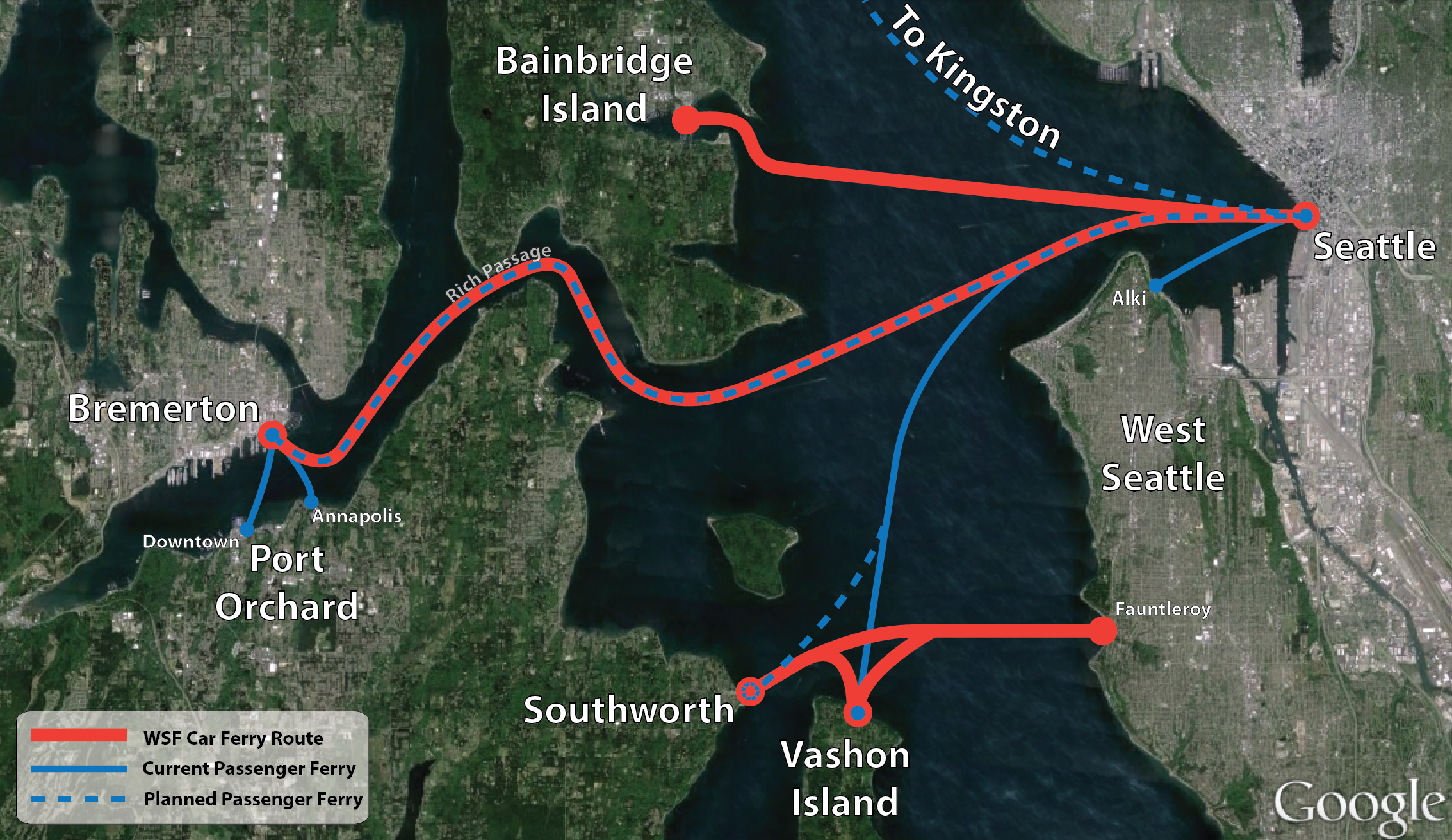 For now, the Seattle-Bremerton route will be plied by the 118-seat Rich Passage I on weekday peak hours and Saturdays. Monday through Friday, there will be three roundtrips in the morning and three roundtrips in the afternoon. On Saturdays, there will be ten round trips between 9.20am and midnight. Some of the trips are are timed so that if the fast ferry is full, passengers have time to walk to the adjacent Washington State auto-ferry.
Fast ferry fares are $2 eastbound and $10 westbound, compared to the auto-ferries' passengers' free ride eastbound and $8.20 westbound. Monthly passes and low-income discounts are available. Reservations can be made for 75 percent of seats on the weekday sailings, and the rest are available for walk-ups. The boat is wheelchair accessible and can carry 12 bicycles, though some bicycle configurations are not allowed.
We'll be checking out the fast ferry on its first full day of service next week and talking to riders. Stay tuned for first impressions!
For complete information on schedules, fares, and service policies, visit Kitsap Transit's fast ferry service page. For more information on future planning, visit Kitsap Transit's ferry plan website. Title image courtesy of the Kitsap Sun.
This article is a cross-post from The Northwest Urbanist.