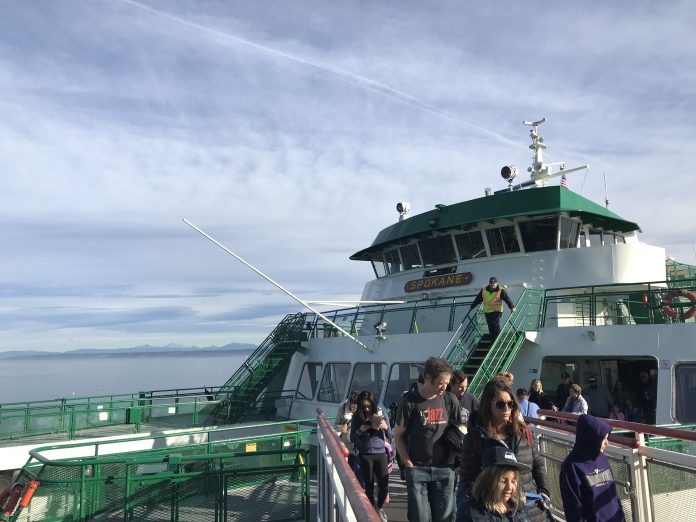 On Thursday, Washington State Ferries (WSF) released their long-range plan for the state ferry network through 2040. The plan charts a course on vessel acquisition and upgrades, ferry terminal improvements, and increased service levels by route. Nearly all routes in the ferry system are expected to received some level of added service. The long-range plan was transmitted to the Washington State Legislature, which will be responsible for implementing the plan through future funding authorization.
Need for More Ferries
During the life of the plan, a total of 13 ferries will reach the end of their useful life. That means they will need to be retired and replaced by new vessels. The plan actually recommends that a total of 16 new ferries be commissioned during the plan period to help provide back-up service, which could create enough reliability to increase overall service levels on routes.
The early years of the plan mean five vessel retirements and replacements are needed as soon as possible.
Even if an extra three vessels are delivered during the plan period, WSF projects that demand by riders will still outstrip capacity of service. The plan explains just how much ridership growth is anticipated through 2040:
System ridership is expected to grow more than 30 percent, from 24.5 million riders annually in 2017, to approximately 32.5 million in 2040. Of that growth, walk-on passenger ridership is expected to increase by 45 percent and vehicle ridership is expected to increase by 21 percent. The routes with the largest numbers of walk-on passengers, Seattle-Bainbridge Island and Seattle-Bremerton, both anticipate large ridership increases. Both passenger and vehicle ridership on the Edmonds-Kingston route is projected to grow significantly.
With Puget Sound seeing booming growth and recent ferry network counts reflecting increased ridership volumes, this conclusion by WSF stands to reason as jobs and population centers on both sides of the Puget Sound increase and see more cross-pollinating.
Funding Context
According to the plan, the total cost of operations and capital investments over the 20-year plan period is $14.6 billion. Capital investments would nudge out operations as the most costly aspect of the plan. Only a small portion of the capital investments have an existing funding source to deliver them, leaving a $6.49 billion shortfall. Operations are mostly covered with farebox revenues funding about 80% of costs. Other tax revenues cover a smaller share, but the plan identifies an anticipated $420 million shortfall in operations revenue that needs to be filled.
Overview of Network Improvements
In terms of network improvements, the plan identifies several key recommendations:
Electrification. In an effort to cut carbon emissions, WSF plans to progressively convert the diesel ferry system to hybrid-electric ferry system. This means purchasing new vessels with hybrid-electric capabilities and possibly retrofitting others currently in service. Ferry terminals will also need to be upgraded to charge vessels. Terminals Shaw Island, Lopez Island, and Sidney, B.C. will not be electrified under the plan, although it is possible that BC Ferries may choose to electrify their Vancouver Island terminal.
Add service hours. WSF plans to expand hours of service on the following routes: Port Townsend-Coupeville, Edmonds-Kingston, Fauntleroy-Vashon-Southworth, Anacortes-San Juan Islands, and Point Defiance-Tahlequah.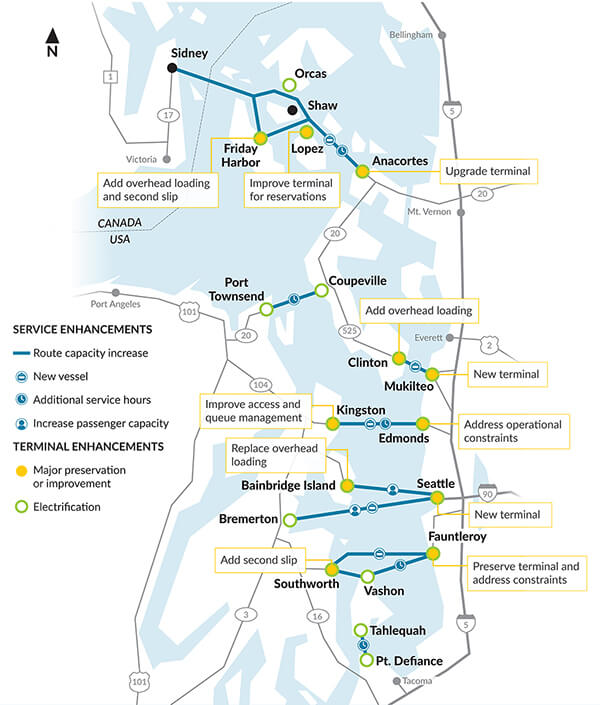 Increase passenger capacity. WSF plans add extra capacity for passengers on the Seattle-Bainbridge Island and Seattle-Bremerton routes.
Increase vehicle capacity. WSF plans add extra capacity for vehicles on the following routes: Anacortes-San Juan Islands, Mukilteo-Clinton, Edmonds-Kingston, and Fauntleroy-Vashon-Southworth. This would primarily be achieved by building new vessels capable of carrying more vehicles.
Replace and upgrade aging infrastructure. Aside from replacing aging vessels, WSF plans to preserve and improve many terminals. Mukilteo Terminal and Seattle's Colman Ferry Dock are under construction for brand new terminal facilities. Improvements should help with overall operational efficiency and maintain facilities.
Enhance customer experience. A small part of the plan focuses on partnering with regional passenger-only ferry operators, building out better customer information tools, improving fare collection systems and system accessibility, and working with other transit agencies for a seamless experience.
The future ferry fleet will look much different from the one of today. The second largest vessel class that WSF operates right now is the Jumbo Mark I, which has capacity for 188 vehicles and 2,000 passengers. These ferries first entered service in 1973 as the MV Spokane and MV Walla Walla. Both will need to be replaced around 2030 by similar class vessels. Under the plan, the busiest routes would be upgraded to the Jumbo Mark II, which are capable of carrying 202 vehicles and 2,200 to 2,500 passengers.
Newer in-service vessels include the Olympic class (capacity for 144 vehicles and 1,500 passengers) and Kwa-di Tabil class (capacity for 64 vehicles and 748 to 750 passengers) will still be operating during the life of the plan, but the Issaquah 100/130 class (capacity for 124 vehicles and 1,076 to 1,200 passengers) and Super class (capacity for 144 vehicles and 1,069 to 2,000 passengers) vessels will need to be replaced by similar vessel class variants.
Implementation Plan
From 2019 through 2020, WSF hopes to commission four new Olympic class and one Jumbo Mark II class vessels for construction. Minor service adjustments would be limited to the Port Townsend-Coupeville route with two additional daily trips during peak season.
From 2021 through 2027, WSF believes that four new Olympic class and one 124-car capacity vessels will need to be commissioned for construction. The Jumbo Mark I class vessels would be converted to hybrid-electric propulsion during this timeframe.
If all goes to plan, the overall fleet will have grown to 25 vessels. Despite this, the plan does not recommend any extra service hour increases due to the system only reaching basic maintenance and relief levels. Instead, WSF will consider other strategies to maximize usage of available capacity and promote more walk-on and bike-on passengers.
Terminal upgrades will allow for the use of hybrid-electric propulsion vessels that begin to enter service. Terminals at Southworth and Friday Harbor will be enhanced so that a second slip will be available at each dock. The Clinton Terminal will receive loading and park-and-ride improvements while a new terminal building is constructed at the Anacortes Terminal. Several preservation projects will occur at terminals in Bremerton, Kingston, Lopez Island, and Fauntleroy.

From 2028 to 2040, WSF plans retire and replace another nine vessels, particularly in the Issaquah class. In total, 11 new vessels would be delivered allowing the fleet to grow by an additional two vessels. One extra vessel would be dedicated to relief while the second extra vessel could be used to improve overall system service on routes, which could increase service hours by 11.5% or 13,000 hours annually. WSF would determine what routes get service improvements, depending upon demand and local conditions of communities.
In terms of terminal improvements, WSF would further expand hybrid-electric capabilities at docks. The Edmonds Terminal would get operational enhancements while preservation efforts would be focused at more than a dozen other terminals, including: Orcas Island, Friday Harbor, Coupeville, Anacortes, Kingston, Fauntleroy, Vashon, Southworth, Point Defiance, Tahlequah, Bremerton, Eagle Harbor, Bainbridge, Seattle, and Clinton.
The plan is in many ways ambitious, but if the projections by WSF bear out, there will still be significant capacity constraints as demand for the ferry system continues to balloon. Under the best of circumstances, the Washington State Legislature has been reticent to truly invest in improving and expanding the ferry system, even in the aftermath of Tim Eyman's devastating anti-transportation Initiative 695 that legislators ultimately enshrined into law greatly reducing service quality and capital investments. Whether or not the plan is authorized for full funding will play out in the years and decades ahead across multiple legislative sessions, but the need is very real and passengers will be lucky if WSF can finally get ahead of the curve to maintain operations and expand service.

Stephen is a professional urban planner in Puget Sound with a passion for sustainable, livable, and diverse cities. He is especially interested in how policies, regulations, and programs can promote positive outcomes for communities. With stints in great cities like Bellingham and Cork, Stephen currently lives in Seattle. He primarily covers land use and transportation issues and has been with The Urbanist since 2014.