Washington State Ferries (WSF) is developing a strategic long-range plan that will span the next two decades. Growth in the ferry system continues to be robust, especially as communities east and west of Puget Sound boom. WSF is projecting 30% growth in ridership by 2040. Walk-on ridership is poised to see particular growth in the future as communities near ferry terminals densify, transit connections improve, and our transportation network evolves. The ferry system has long been slow to adapt to changing circumstances and modernize its fleet, but WSF is actively seeking ways to harness modern technologies to improve its service offerings. In recent years, WSF has rolled out several valuable tools that are beneficial to customers, such as real-time ferry locations, estimated wait times, card readers for ORCA fare payment, and online reservations for select routes. The fleet is also being renewed with brand new vessels to replace deeply vintage equipment.
Ferry Ridership Growth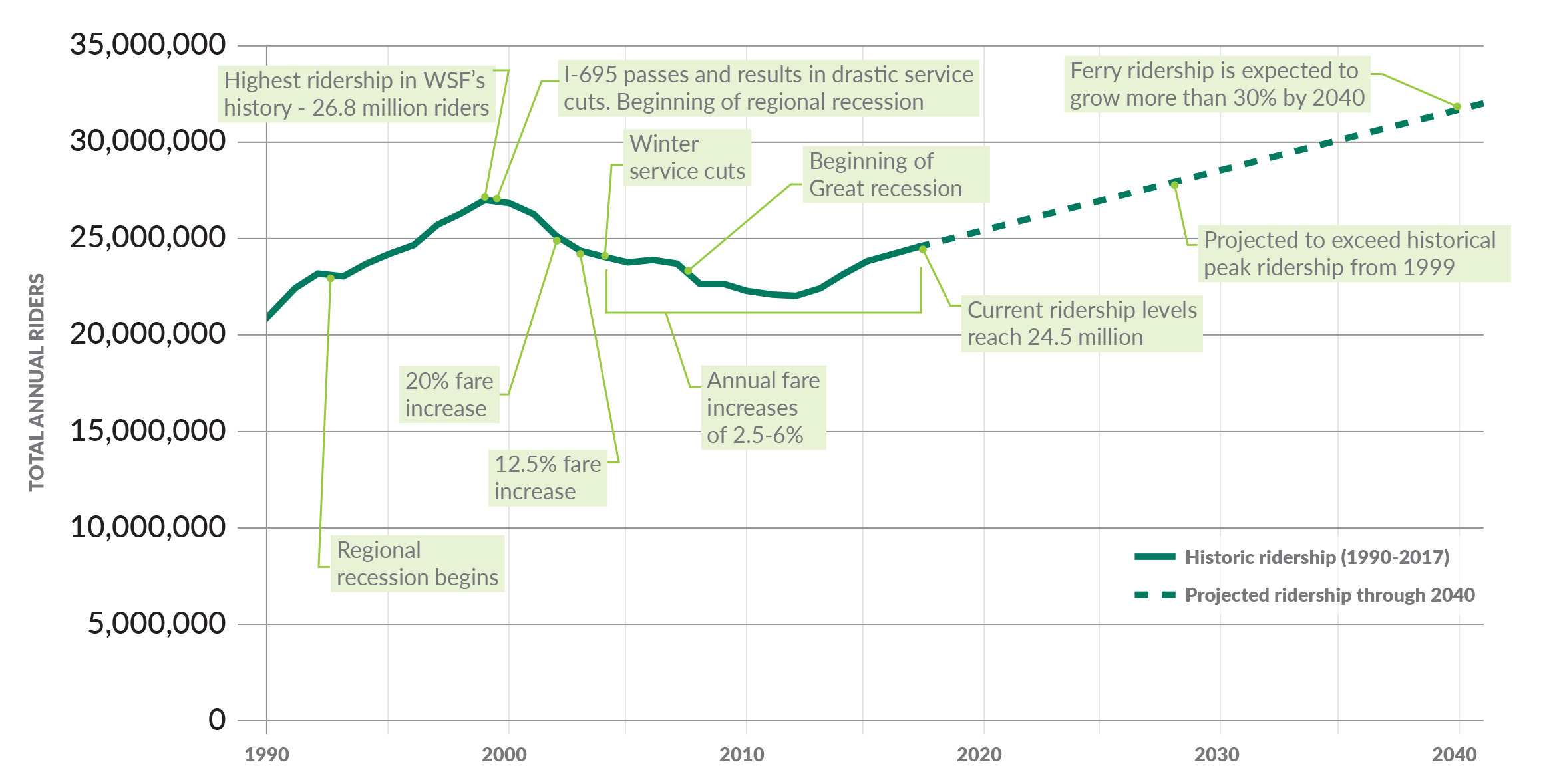 Historic ridership on the ferry system was highest in the late 1990s peaking at around 26.8 million riders. With the passage of Tim Eyman's anti-transit I-695 in 2000, service on the ferry system was curtailed and fares were routinely increased, which led to a downward spiral in ridership. The system regained its footing in the early 2010s with continuous year-to-year growth. Ridership is expected to punch above the 1999 record in the late 2020s and crack 32 million riders annually by 2040.
| Route | 2017 Ridership | 2040 Ridership | Growth |
| --- | --- | --- | --- |
| Port Townsend/Coupeville | 796,400 | 1,220,000 | 53% |
| Edmonds/Kingston | 3,982,900 | 3,982,900 | 47% |
| Southworth/Vashon | 198,800 | 311,900 | 57% |
| Vashon/Fauntleroy | 1,985,200 | 2,353,600 | 19% |
| Fauntleroy/Southworth | 912,800 | 1,252,700 | 37% |
| Anacortes/San Juan Islands | 2,151,900 | 2,951,500 | 37% |
| Anacortes/Sidney, B.C. | 141,700 | 207,600 | 47% |
| Mukilteo/Clinton | 4,032,600 | 4,677,500 | 16% |
| Seattle/Bainbridge Island | 6,545,900 | 8,766,700 | 34% |
| Seattle/Bremerton | 2,814,700 | 3,948,500 | 40% |
| Point Defiance/Tahlequah | 778,700 | 1,146,700 | 47% |
The most popular routes like Bremerton-Seattle and Bainbridge-Seattle will continue to be strong ridership corridors since they directly connect very large communities to the economic heart of the region. Kitsap Transit is providing some competition, if you will, with faster passenger-only ferries between Bremerton and Seattle, which is poaching some riders from WSF. An additional route from Kingston to Seattle is also slated to follow with similar higher-speed options. But there is plenty of local pent-up demand for ferry service in other areas, like the King County Water Taxis serving Vashon and West Seattle from Colman Dock. Proposals for Tacoma-Seattle, Olympia-Seattle, Kirkland-Seattle, and others routinely come up with possible future corridors, which is indicative of the region's affinity for water-based transportation, though it is unlikely that WSF will provide service for any of those routes during the life of the long-range plan.
Projects on Deck
WSF has several major ferry terminal projects underway with many planned in the years ahead. The biggest ticket projects underway include a full redesign of the the Mukilteo Ferry Terminal due for completion in 2020 and Colman Dock in Seattle planned for completion in 2023. WSF will take on upgrades and retrofits to ferry terminals at Clinton, Fauntleroy, and Southworth within the planning time horizon, but others may follow to support operations and growth of the ferry system. Unspecified projects will likely address general access, transit connections, seismic enhancements, and climate change resiliency.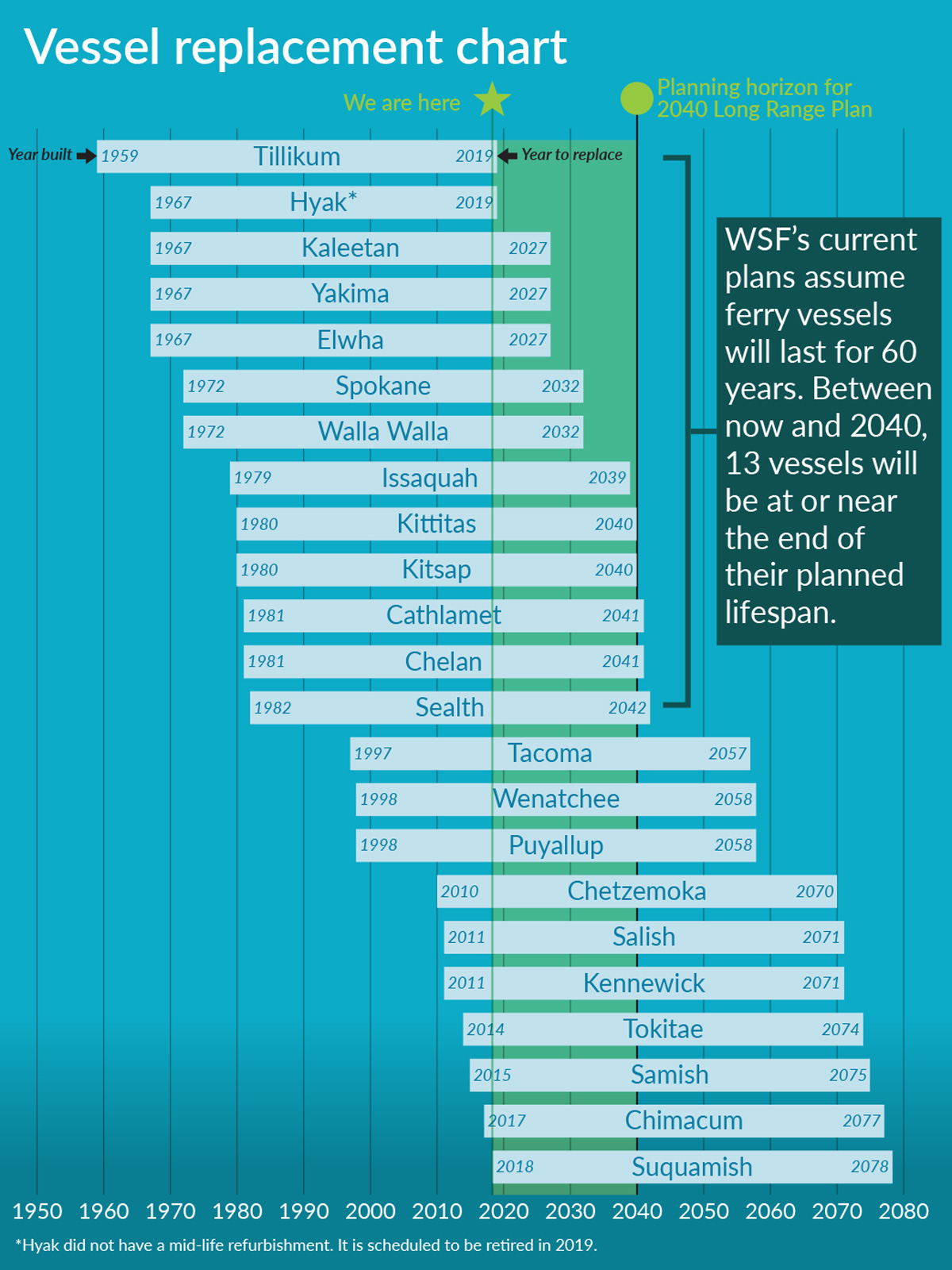 Replacement of aging ferries is also a key priority for WSF. Many ferries currently in service date from the 1960s. One ferry, the MV Tillikum, has even been in service since 1959 making it the next vessel due for retirement and replacement in 2019. The conditions of these vessels–even with mid-life refurbishments–are definitely showing heavy wear and dated features. A total of 13 vessels–more than half the fleet–will be due for replacement during the life of the long-range plan. Newer vessels like the MV Tokitae and MV Chimicum of the modern Olympic class won't need to be replaced until the 2070s.
Other vessels will undoubtedly need mid-life renewal and refurbishment in the next 20 years to keep them running in a good state of repair. Hopefully that will mean giving more attention to modernizing the interiors on semi-regular basis unlike the existing fleet which has mostly be frozen in amber to the day the vessels were first commissioned.
Most if not all vessels will also receive new power systems as WSF looks to conversion to an all-electric or hybrid-electric fleet to save in fuel costs and combat climate change. Earlier this year, the Washington State Legislature granted WSF funding to explore what it would take to properly convert several of the ferry power systems over to electric or hybrid-electric. A report on feasibility and request for proposals is due out at the end of year, timed to tee off discussions and funding requests in the next legislative session.
Operational Topics Slated for Consideration in the Long-Range Plan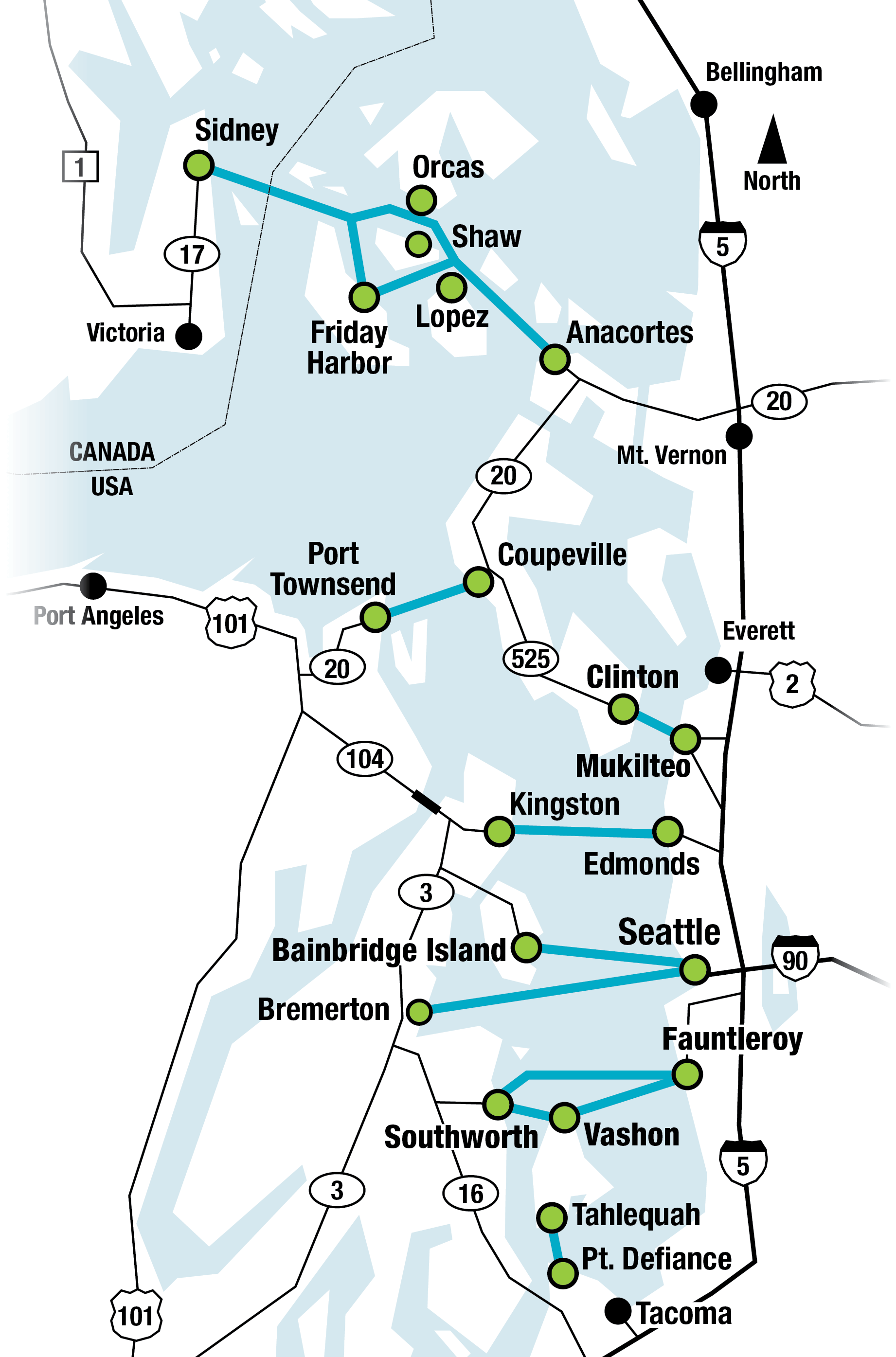 WSF is considering various operational changes to improve service and keep up with advances in transportation. Ferry planners have identified several topics that will be evaluated as part of the planning process, such as:
Expanding the option for reservations on more routes;
Making the fare structure simpler and creating price incentives for walk-on passengers, carpools, and off-peak travel;
Consolidating schedules so that there are only two changes per year (similar to other regional transit agencies) and extending the summer sailing season;
Coordinating with local transit agencies to offer better connections and providing carshare facilities at ferry terminals; and
Harnessing technology to improve real-time travel information to passengers, provide mobile fare payment, and offer other customer services.
As WSF looks to plan for the future and modernize its way of doing business, several topics that should also be evaluated in greater detail include:
Developing better design practices for ferry terminals. Too often ferry terminals are disconnected from the communities that they serve by a sea of parking and driveways. This presents a serious impediment to riders who want to walk-on and works against transit-oriented development. Reorienting ferry terminals to directly function as part of the urban fabric of ferry communities could lead to better economic outcomes and encourage riders to live at or near ferry terminals. WSF also should consider providing overhead weather protection corridors where ferry terminals are separated from their ferry communities, improve accessibility for people on foot, and provide safe bicycle facilities on WSF properties. Additionally, most ferry terminals should include bicycle commuter showers and secure bicycle storage rooms with free and paid options.
Creating a more equitable fare structure. Walk-on riders pay a heavy burden for such a small footprint on the ferries. Walk-ons also pay a premium for boarding with bikes. WSF should rethink its pricing strategy by dramatically cutting walk-on fares, eliminating bike fees, and increasing fares for motorists who put much strain and occupy most of the ferry real estate at a disproportionate rate to walk-on riders.
Modernizing the fleet regularly. The frequency of refurbishments and updates to ferries has been far too long and few in years past. Technology and aesthetic tastes have rapidly evolved in the decades since many of the vessels have been commissioned. WSF should consider developing a more robust plan to regularly rejuvenate ferries so that they remain relevant and desirable public assets.
Rethinking the vending program. Many ferry terminals and ferries include vending and dining, but the options could be better (e.g., wider spectrum of vendor types) and expanded (e.g., more kiosks, redesigned vending spaces, and new locations). A wholesale look at the vending and leasing program could provide improved customer experiences and enhance revenue streams.
WSF is hosting an online open house to provide background on what the long-range is designed to do and soliciting feedback on what else should be evaluated. Public comment is open through May 24th. WSF scheduled nine open houses in ferry communities. Bainbridge, Port Townsend, and Vashon Island already had their open houses. Bremerton is on deck for tonight, and Southworth is tomorrow.
Bremerton – Wednesday, April 25, 5:30 to 7:30pm at Kitsap Conference Center, 100 Washington Avenue, Bremerton
Southworth – Thursday, April 26, 6 to 8pm at John Sedgwick Jr. High, 8995 SE Sedgwick Road, Port Orchard
Clinton – Tuesday, May 1, 5:30 to 7:30pm at Clinton Community Hall, 6411 South Central Avenue, Clinton
San Juan Islands – Wednesday, May 2, 3:30 to 6pm at Brickworks, 150 Nichols Street, Friday Harbor
Kingston – Tuesday, May 8, 6 to 8pm – Kingston Village Green Community Center, 26159 Dulay Road NE, Kingston
Fauntleroy – Thursday, May 17, 6 to 8pm at Fauntleroy Church, 9140 California Avenue SW, Seattle
A final plan is expected to be transmitted to the Washington State Legislature in time for the next regular legislative session in 2019.

Stephen is a professional urban planner in Puget Sound with a passion for sustainable, livable, and diverse cities. He is especially interested in how policies, regulations, and programs can promote positive outcomes for communities. With stints in great cities like Bellingham and Cork, Stephen currently lives in Seattle. He primarily covers land use and transportation issues and has been with The Urbanist since 2014.