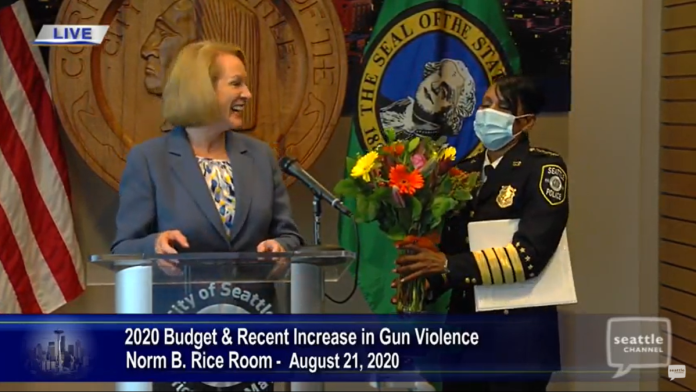 Mayor Jenny Durkan again reached for her veto pen today, nixing the entire rebalancing package passed on August 10th. The Seattle City Council was scheduled to go into recess soon, but it looks like they'll need to cancel their plans.

Councilmembers could override the veto–and the council ended up unanimously approving the final package and just recently passed a Covid relief veto override so this isn't far-fetched–or head back to the drawing board and "collaborate" with the Mayor on the new "compromise" rebalancing package she has requested.
The catch is that the Mayor has moved–at least in opening rhetoric–to take several major items off the negotiating table, throwing out much of the package they painstakingly assembled.
Cut to Navigation Team funding that helps facilitate homeless sweeps. The Mayor wants it in, the City Council wants it out. The Mayor portrayed sweeps as essential to "public safety" whereas the Council views them as a counterproductive, failed experiment that was eroding trust homeless people had in service providers.
Cutting 100 SPD officer positions. The Mayor criticized the plan to trim 100 officer positions from Seattle Police Department (SPD) and said more process and outreach was needed before they could do that. She declined to commit to shrinking the size of the police force.
SPD Command paycuts. The Mayor said the Command staff paycuts were retributive and unfair and that the City should meet the obligations made to its employees.
$3 million for designing participatory budgeting process. The Mayor said this was "far too much money" and irresponsible spending of rainy day funds. The Council wants to allocate it now to clear the way from the participatory budgeting that Decriminalize Seattle and King County Equity Now have demanded for communities of color in the near future and had already begun planning (one pager here).
$14 million for community-based organizations doing public safety and violence prevention work. Repeating a theme, the Mayor said this spending lacked a plan and was irresponsible. The City Council's position is that community-led public safety and diversionary programs are exactly what the communities of color most impacted by police are seeking.
As Erica Barnett of The C is for Crank pointed out "what's left to 'compromise' over?" The bulk of the City Council's rebalancing seemed to have been deemed off limits by the Mayor. The Mayor repeatedly assailed Council for having no plan and not discussing budget cuts to Police Chief Carmen Best, in spite of that being misleading and the Mayor herself having no plan for the $100 million she's promised to invest in communities of color.
Decriminalize Seattle and King County Equity Now had partnered with the city council on the rebalancing package and got some big wins with SPD budget cuts funding community-led public safety investments as they had urged. They issued issued a scathing joint statement on the Mayor's veto.
"We are deeply disappointed and concerned with Mayor Durkan's rash and ill-considered veto of Black lives and against necessary investments towards true community health and safety for all Seattle residents," the coalition said. "While publicly touting support and care for Black people, the Mayor vetoed and blocked a Black-led community response plan to gun violence—while providing no immediate alternative or justification."
Council President M. Lorena González said she just learned of the veto this morning and struck a measured and conciliatory tone in a statement Nathalie Graham shared online.
"I am disappointed to learn of the Mayor's decision to veto these bills, which were overwhelmingly supported by the City Council," González said, noting she and the Mayor made "considerable progress to develop a shared framework for how to approach this transformative work" and in particular establish a "jointly-led task force to complement an inclusive Participatory Budgeting process focusing on transformation of the City's public safety model and on future investment in community-led, safety programs."
Despite that shared framework, the veto came and the Council President didn't get word until today (and Mayor Durkan had faced a deadline of Monday to veto the rebalancing package or let it become law). That leaves the Council scrambling to schedule deliberations and another vote before take their traditional recess before busy fall budget season–if they get to take a break.
The Mayor called the press conference on the topic of "increasing gun violence" in Seattle, rather than the veto, although framing those topics together seemed intentional. Deputy Police Chief Adrian Diaz spoke at the press conference about some homicide investigations and touted the departments 72% clearance rate on homicides over the past eight years, which he said is higher than the 61% national average.
Decriminalize Seattle and King County Equity Now were not impressed with that framing.
"The City's failure to adequately fund community-led and community-driven public safety programs is literally a life or death issue for Black people and communities," they said in their joint statement. "Faced with this sobering reality, Mayor Durkan highlighted the recent increase in gun violence while vetoing the exact investment needed to prevent it—all in the same breath."
Diaz, who is officially taking the reins from Police Chief Best on September 2nd, said that the uptick in violence started in June, noting that was just after George Floyd's murder by Minneapolis police officers. He also made a comment that ongoing protests were about property destruction rather than free speech. When asked, Deputy Chief Diaz said he would be interested in seeking the permanent police chief position–once Mayor Durkan initiates that process.
While perhaps Diaz will distinguish himself more from predecessors in the coming months, for now it seems business as usual, with SPD in a very adversarial pose to protesters and critics. The effort to link homicides and a crime wave to protesters seems unlikely to build trust with said protesters.
Editor's Note: This article has been updated to add quotations from the joint statement from Decriminalize Seattle and King County Equity Now.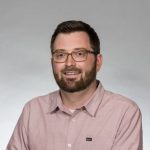 Doug Trumm is publisher of The Urbanist. An Urbanist writer since 2015, he dreams of pedestrianizing streets, blanketing the city in bus lanes, and unleashing a mass timber building spree to end the affordable housing shortage and avert our coming climate catastrophe. He graduated from the Evans School of Public Policy and Governance at the University of Washington in 2019. He lives in East Fremont and loves to explore the city on his bike.