After Mayor Jenny Durkan vetoed a Covid relief package saying it depleted the City's rainy day fund, Budget Chair Teresa Mosqueda fired back that the need was now and waiting would inflict too much suffering and damage to the economy.
As part of its JumpStart Seattle package, the Seattle City Council passed a Covid relief package funded by $86 million in the City's emergency reserves. Saturday morning, Mayor Durkan issued a veto.
"It is irresponsible to spend the entirety of our rainy day and emergency funds in the first few months of what is likely a multi-year crisis," Mayor Durkan said in a veto statement.
Council Budget Chair Teresa Mosqueda, who authored the JumpStart legislation, criticized the move and suggested a veto override is imminent.
"Rent is due today. Federal cash assistance ends today. And today the Mayor vetoes Covid relief for small businesses and families. In the midst of an economic contraction that is four times worse than the Great Depression, we can't afford to take a wait and see approach when Seattle families' health, jobs and housing is on the line," Councilmember Mosqueda said in a statement. "If we wait, what we'll see is more folks unable to pay rent, more families without food, more businesses closing, and more people losing their jobs and along with it health care during a pandemic."
"The Mayor's veto will flatline Seattle's recovery," Mosqueda said, adding in a tweet "We'll override this with your help."
Councilmember Mosqueda said she intends to bring the Covid Relief Bill for another vote to Council in the coming weeks, noting "upon receiving vetoed legislation, the Council must wait five days to act" according to municipal code.
The Mayor said she was willing to spend the reserves but preferred to wait for a number reasons. She said she expects better forecasting later in the year on future budget shortfalls and is holding out hopes for federal assistance. Moreover, she said the payroll tax revenue that City Council's spending plan tabs to replenish reserves could face a legal challenge that would delay or invalidate it.
"I do fully expect that the City will need to use the vast majority of its emergency funds as it relates to Covid-19 and the economic crisis over the next few years. While we all support the use of the funds for Covid-19 relief, drawing down 90% of our emergency reserves now without a better understanding of our financial situation for the remainder of this year, 2021, and beyond is unwise. It also will ultimately hurt the very people we need to serve the most," Mayor Durkan said. "City Council's budget process cannot continue to be spending or cutting tens of millions of dollars without concrete plans."
The Mayor said the City had already allocated $233 million in Covid relief and philanthropic partners had added "at least $108 million" more, seeming to suggest that would be sufficient for now.
JumpStart Seattle's year one spending plan relies on the emergency reserve and rainy day fund because the payroll tax–which applies to businesses with at least $7 million in revenue on salaries exceeding $150,000–doesn't start accruing until 2021. As those revenues come in, the emergency funds would be restored.
Mayor Durkan opposed the payroll tax and joined ranks with the Seattle Metropolitan Chamber of Commerce and Downtown Seattle Association in arguing that it would slow job growth and economic recovery. However, she stopped short of vetoing the tax, which passed by a 7-2 vote that could override a veto anyway.
While the Mayor doesn't seem too keen on defending a tax that hits some of her biggest campaign benefactors, Mosqueda has said the City's legal team believe it's on firm legal footing.
At stake is relief centered on keeping people housed and fed and keeping small businesses from going under. It also seeks to de-escalate homeless shelters to lower the risk of Covid outbreaks. Here's how the funding breaks down:
$32.6 million for rent assistance and homeless shelters;
$18.1 million for grocery vouchers for immigrants and refugees;
$13.5 million for grocery vouchers for others;
$14.5 million for small business assistance;
$3.6 million for child care assistance;
$2.3 million for affordable housing providers; and
$1.1 million for mortgage counseling and foreclosure prevention.
After doling out Covid relief in the first two years of the plan, the JumpStart plan switches to focus primarily on funding affordable housing creation.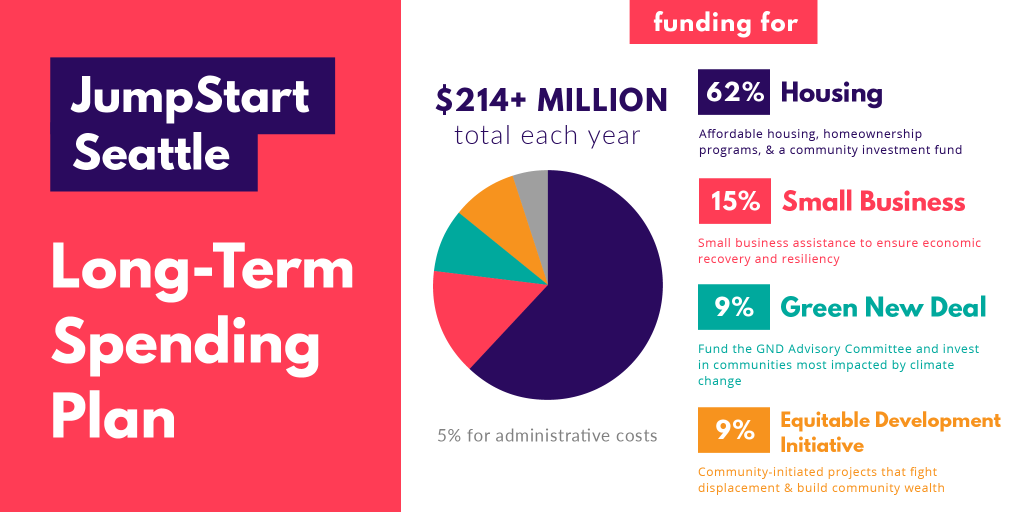 Tension between the Seattle City Council and the Mayor has been building for months and over more than just the JumpStart plan. The Mayor also has been much more conservative and cagey about changes to the Seattle Police Department's (SPD's) structure and budget. After several weeks of protest, seven of nine Councilmembers have signed onto Decriminalize Seattle coalition's campaign to halve SPD's budget, while Mayor Durkan has sharply criticized that effort and portrayed it as irresponsible and dangerous.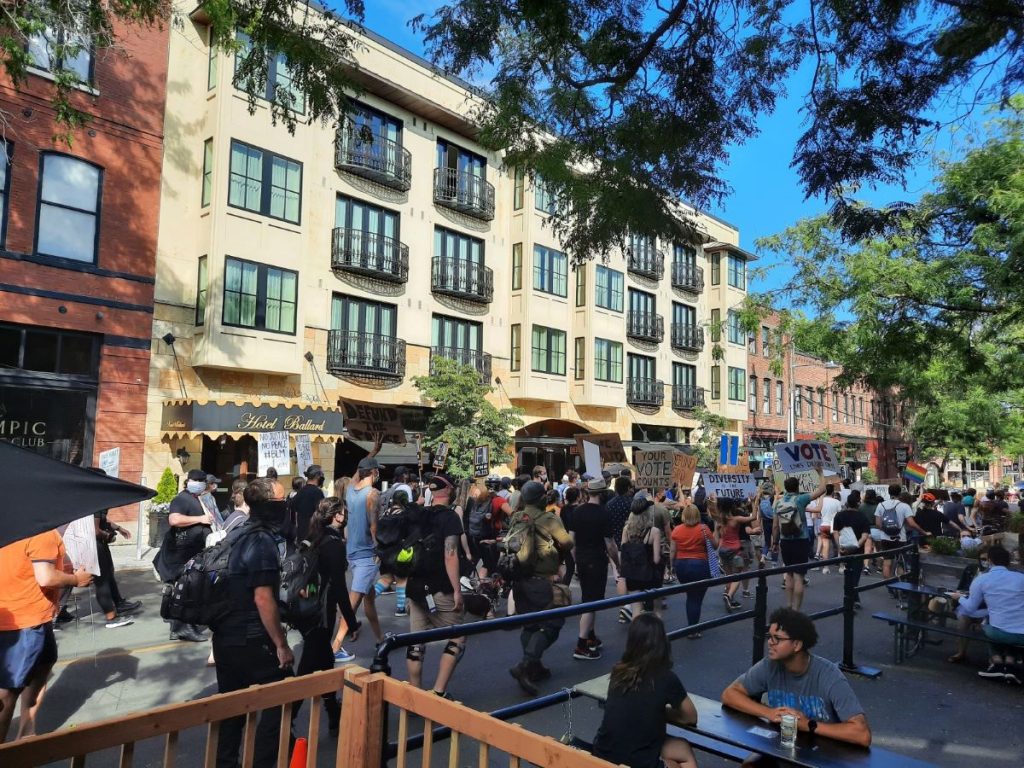 Over the weekend as the Mayor traded barbs with the City Council over the proper balance to keep in emergency reserves during a pandemic, protesters continued to march across the city, such as the Ballard march pictured above.
Councilmember Kshama Sawant criticized her colleagues for not passing steeper police budget cuts this year–though they have about $170 million in SPD budget cuts queued up for the 2021 budget. The Mayor has proposed a 5% cut to the department. SPD's approved 2020 budget was $410 million before protests called into question that bloated figure and the priorities behind it.
Former Councilmember Tim Burgess (who was an SPD officer and public relations guy in the 1970's) wrote an op-ed in Crosscut arguing response times would go down under the City Council's plan to reallocate half of SPD's budget. Burgess claims the "reimagining" of policing is going just fine without the pressure of budget cuts, despite continuing brutal police crackdowns on protesters and decades of failed police reform that suggests otherwise.
Burgess backs up the scaremongering with his own "People for Seattle" political action committee that raised several hundred thousand dollars in 2019 to back moderate candidates like his former staffer Alex Pedersen.
In other words, stuff is getting real.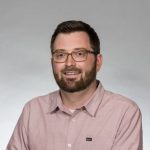 Doug Trumm is publisher of The Urbanist. An Urbanist writer since 2015, he dreams of pedestrianizing streets, blanketing the city in bus lanes, and unleashing a mass timber building spree to end the affordable housing shortage and avert our coming climate catastrophe. He graduated from the Evans School of Public Policy and Governance at the University of Washington in 2019. He lives in East Fremont and loves to explore the city on his bike.