Mayor Jenny Durkan proposed $58.3 million in cuts to the Seattle Department of Transportation (SDOT) in a "rebalancing" package designed to fill budget holes caused by the Covid recession. Ray Dubicki detailed the projects hit, including punted greenways, Bicycle Master Plan project delays, RapidRide upgrade postponements (again), and the Center City Streetcar again finding itself on the chopping block.
During budget deliberations on Friday, Seattle City Councilmembers pared back the wide path of destruction. The Seattle City Council has scheduled a final vote on the rebalancing package on Monday, August 10th.
"This amendment would reject the Mayor's proposal to pause vital work sidewalks on sorely needed sidewalks, crosswalks, and other pedestrian improvements to safely connect 1,000 low-income residents at Magnuson Park to surrounding communities on Sand Point Way NE," said Councilmember Alex Pedersen, who chairs the Transportation and Utilities Committee. "These sidewalks are needed now to meet three City government initiatives: Vision Zero, our Pedestrian Master Plan, and our Safe Routes to School program."
Pedersen's Sand Point Way comments, though true, could also be said by dozens of projects that remain on the Mayor's cutting room floor. His amendment passed unanimously and was the largest shifting of transportation funds. Whether this month's rebalancing package manages it or not, the City must move as quickly as possible to restore droves of long-planned community-driven projects to ensure safe mobility.
Here are projects that have been added back in via amendment so far:
Councilmembers also discussed the importance of RapidRide R Line upgrades to Route 7. Councilmember Dan Strauss withdrew an amendment to reinstate funding after they determined the Mayor had not actually ended up pursuing this cut, which had been included in a list of possible cuts.
The Mayor cut funding to plan a safe Georgetown-to-Downtown bike route despite a splashy environmental justice commitment she made to Duwamish Valley communities in 2018. The City has also made a recent pledge to mitigate the impact of West Seattle Bridge detours, which have worsened traffic and pollution in South Park and Georgetown, where the next closest bridges are. Georgetown-to-South Park Trail also remains on a very slow timeline (further delayed due to Covid) and not slated to open until 2023 despite the need only growing more urgent with the bridge closure–Duwamish Valley Safe Streets advocates have banging the drum to build it since at least 2017.
The Georgetown-to-Downtown route and Georgetown-to-South Park Trail are obvious fits to mitigate the bridge closure. The community has long requested them, and we should be speeding them up–not postponing planning. Though planning had been funded, neither project has been budgeted for construction.
With attention focused on cutting and reallocating the Seattle Police Department's (SPD) budget and a recent Covid relief package vetoed by the Mayor, the transportation cuts have kept a low profile, which is understandable. The cuts the Mayor proposed to SDOT were much larger than her SPD cuts, despite some efforts by her administration to reframe that. Through the budget, the Mayor has made her priorities clear.
Fight to Shrink the Police Budget
Despite a pledge to defund and reallocate 50% of SPD's budget, the Seattle City Council is running into roadblocks implementing that in the short-term. On Monday, Council President M. Lorena González and Budget Chair Teresa Mosqueda said police officer layoffs would take at least three months to implement due to labor law and stipulations worked into the Seattle Police Officers Guild (SPOG) contract. Most councilmembers seem to agree with that interpretation and tact, except for Kshama Sawant who has argued they should just do it whether or not they bend or break the SPOG contract.
Hence, hopes that significant portion of SPD's budget could be funneled toward other priorities immediately appear largely dashed. That said, the Seattle City Council has queued up about $170 million in cuts to SPD's 2021 budget, which should come with enough time to be executed. Granted it's still going to be a giant fight with SPOG and a resurgent pro-police conservative movement in the region, but the fact SPOG's contract is expiring soon could be of benefit to the City and provide leverage.
Calming Thomas Street
Councilmember Dan Strauss moved to restore funding for Thomas Street Redefined–a people-centered green street which was supposed to be a signature feature of the Seattle Center Arena Transportation Plan and one of the perks for pedestrians and cyclists made possible by the SR-99 Tunnel Megaproject. Councilmember Teresa Mosqueda joined as a cosponsor.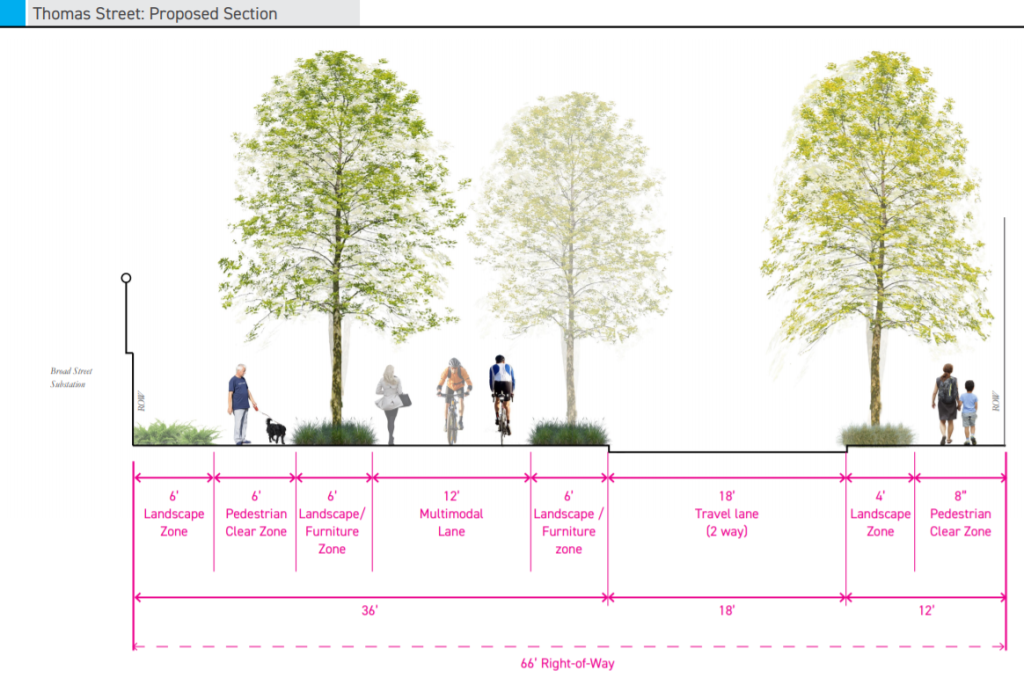 Be'er Sheva Park
Through the Seattle Parks and Recreation project, the Be'er Sheva Park restoration would add walking paths providing better access to and through the park. Councilmember Tammy Morales, who lives in Rainier Beach and represents Council District 2, has sponsored the amendment.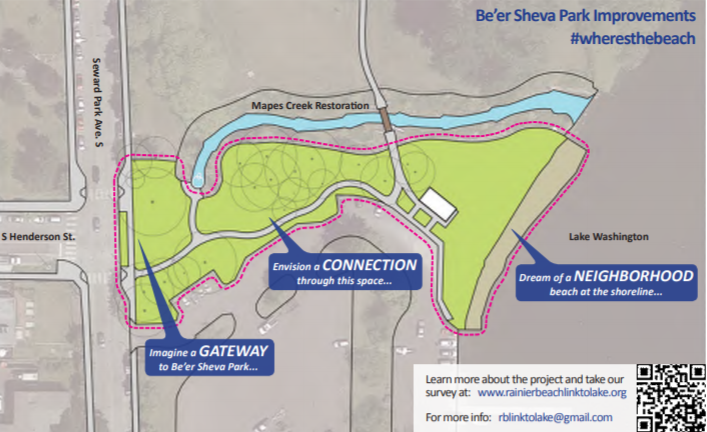 Fortson Square
The Alliance for Pioneer Square and Chief Seattle Club have backed the Fortson Square public realm project, which is intended to improve walkability at this busy corner on Second Avenue near Pioneer Square Station.
Correction: An earlier version of this article incorrectly stated that Georgetown-to-South Park Trail planning budget had been cut. It was planning for the Georgetown-to-Downtown bike route that had been cut. Neither project has been funding identified for construction, though.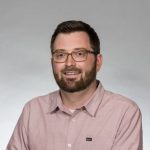 Doug Trumm is the executive director of The Urbanist. An Urbanist writer since 2015, he dreams of pedestrianizing streets, blanketing the city in bus lanes, and unleashing a mass timber building spree to end the affordable housing shortage and avert our coming climate catastrophe. He graduated from the Evans School of Public Policy and Governance at the University of Washington. He lives in East Fremont and loves to explore the city on his bike.