But questions remain around whether or not ambitious greenhouse gas reduction targets represent empty promises given the challenges posed by growth in the region.
Last week King County Executive Dow Constantine formally unveiled his proposed 2020 Strategic Climate Action Plan (SCAP), a five-year blueprint for cutting greenhouse gas emissions and preparing the region for climate impacts in King County. Executive Constantine announced the proposal at Paradise Parking Plots in Kent, a community garden created by refugee resettlement assistance nonprofit World Relief Seattle on the site of a former underused parking lot donated by a church. Over the course of a year, 1,500 volunteers labored to dig up the paved area of the parking lot transforming the land into the lush community garden it is today.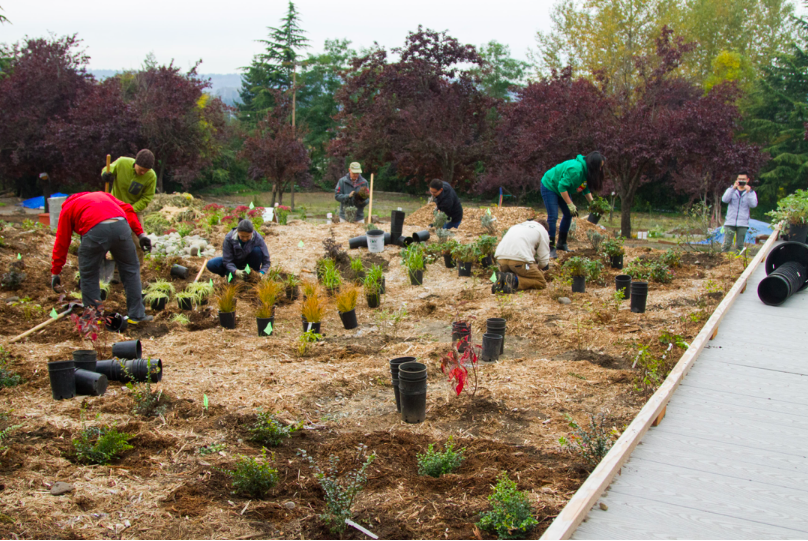 Paradise Parking Plots made for a compelling backdrop for Executive Constantine's remarks in part because the garden provides more to the health of community than fresh produce. The garden, which was funded in part by King County Water Works, contains a food forest, water filtering rain gardens, and a rainwater capture system that slowly releases water into the garden providing irrigation in a manner that prevents flooding. Together these features help to prevent from stormwater pollution from entering Puget Sound. Heavier rainfall in the region caused by climate change has worsened the problem of stormwater pollution, placing it on the growing list of environmental problems worsened by climate change.
Projects like Paradise Parking Plots demonstrate the need multifaceted approach in combatting the climate crisis; they also exhibit the growing representation of climate justice, a movement which acknowledges the disproportionate impacts of pollution and the climate crisis on people of color and the poor and seeks to elevate their voices in decision making and the search for solutions.
"Things like climate change, those kinds of issues disproportionately affect communities of color. What this community garden has done is given those people who don't own land a voice in community on how land should be used, how we can design it, and how it would benefit all of us," said Tahmina Martelly, Resilience Programs Manager at World Relief Seattle, in a short film narrating the innovative garden's story.
In press release accompanying the publication of the 2020 SCAP, Executive Constantine described the new strategic plan as "build[ing] on our momentum, operating at a region-wide scale with a stronger commitment to climate justice."
Constantine also spoke of how King County has "surpassed many of our goals from the current Strategic Climate Action Plan by listening to experts, basing decisions on science, embracing innovation, and forging strong partnerships."
Bold words from a public official who has strived to build an environmental legacy, but what exactly are King County's achievements since 2015 and how will the 2020 Strategic Climate Action Plan differ from its predecessor?
What are King County's climate achievements?
According to King County, since 2015 a number of achievements have been made on climate issues. Here's the list shared on their website:
Positioned King County Metro Transit as the nation's leader in transitioning to fleets powered by clean, renewable energy.
Continued to focus 98.5% of new residential development and growth in urban areas connected to the region's growing transit and trail systems.
Surpassed goals to make county operations more energy efficient, reducing its own energy use by more than 20% since 2007.
Accelerated the pace of land conservation with a commitment to creating more equitable access to green space.
Advanced the Local Food Initiative, supporting local farmers and making access to nutritious, locally grown food more equitable.
Through the King County-Cities Climate Collaboration, led efforts of cities representing 80% of the county's 2.25 million residents to advance transformational state energy policies that will result in stronger building and appliance efficiency, conservation for fossil fuel gas, and 100% clean electricity.
Launched a frontline community climate partnerships program and supported leadership development, language access, climate equity workshops, community panels for environmental conferences, and climate literacy in frontline communities.
Strengthened land-use codes to address sea level rise.
Launched the Puget Sound Climate Preparedness Collaborative, developed in partnership with neighboring counties, cities, and other Puget Sound organizations to enhance coordination and improve climate preparedness outcomes in the Puget Sound region.
However, a careful reading reveals at least one important item is conspicuously missing from the list of climate achievements–reduction in greenhouse gas emissions. According to the language in 2015 SCAP, King County was committed to reducing countywide greenhouse gas emissions by 25% in 2020, 50% by 2030, and 80% by 2050 as compared to 2007 baseline, but based on the county's own greenhouse gas emissions monitoring, the most recent of which was completed in 2017, King County is not on track to meet greenhouse gas emission reduction goals.
According to the county's data, which includes both King County greenhouse gas emission and emissions from imported electricity, much of the failure to reach emission reduction targets can be attributed to county's high population growth. During the time period monitored, while overall emissions increased by 1 percent, emissions per capita actually fell by 11 percent. Still the county is a long way off from the 25% emission reduction it set out to achieve by 2020 and regional population growth projections will continue to make it difficult to achieve the 2030 and 2050 emission reduction targets.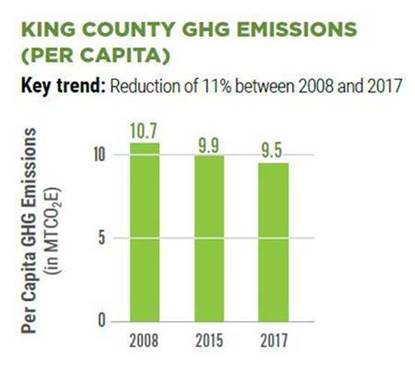 The top sources of emissions in King County have been identified as fossil fuels used for transportation and energy used to heat, cool, and power buildings. Fossil fuels also increase the carbon footprint of goods purchased and used in King County since so many products are shipped using fossil fuels. As the most trade-dependent state economy in the United States, Washington's economy depends heavily on the transportation of goods and services.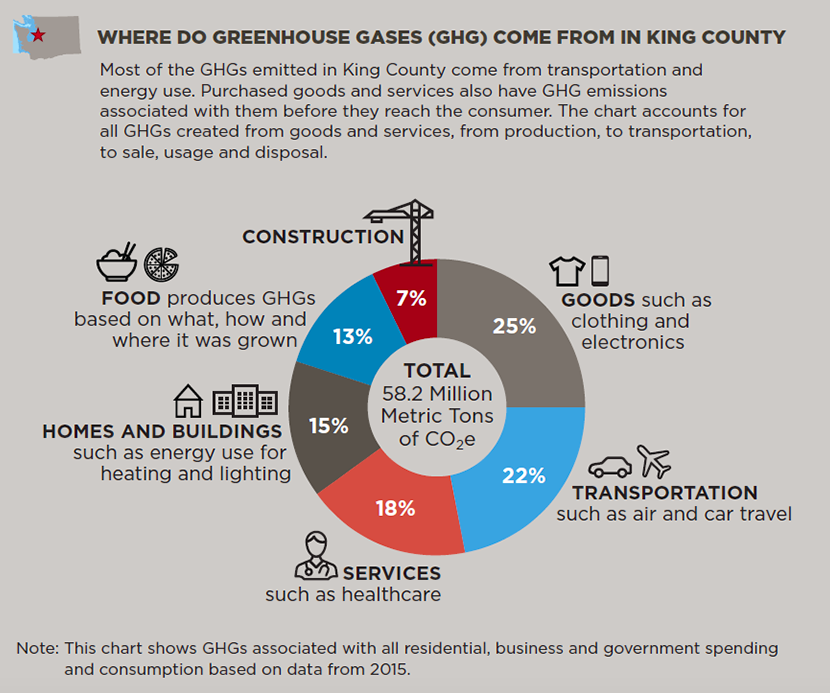 Looking ahead to 2030
The fact that the King County, along with the rest of Washington State, has not succeeded in curbing greenhouse gas emissions casts a shadow of uncertainty over the proposed 2020 SCAP's goals of reducing greenhouse gas emissions countywide by 50% by 2030 and 80% by 2050, also compared to the 2007 baseline.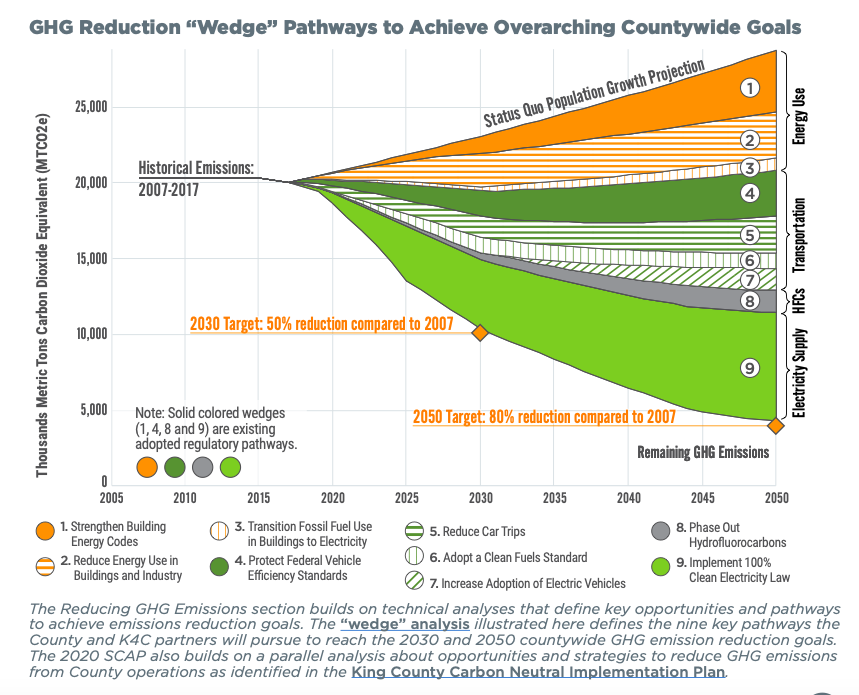 The 2020 SCAP leans heavily on reducing greenhouse gas emissions in the building sector and focuses to a lesser degree on strategies related to transportation such as reducing car trips, adopting a clean fuels standard, and increasing adoption of electric vehicles, even though transportation has historically been the largest source of greenhouse gas emissions in the county. It also includes strategies to reduce consumption based emissions and also increase carbon sequestration.
Despite the challenges that lay ahead, there are some reasons for optimism. According to Matt Kuharic, Senior Climate Change Specialist at King County, modeling done in support of Washington's recently pass Clean Energy Transformation Act (CETA) shows that changes resulting from this new legislation could help King County achieve half of its 2030 greenhouse emission reduction targets, underscoring the fact that King County will need to act in partnership with other government and private entities if it is succeed in meeting its climate goals.
But while discussion of the climate crisis seems to be prioritized in Washington State, actionable progress has hit stumbling blocks. On issues that would make a significant difference in reducing transportation emissions, like passing a clean fuels standard (Washington is the only state on the West Coast without one) or instituting a carbon fee, King County and other local governments have been limited by decisions made at the state level that have prevented such policies from being put into action.
How does the proposed 2020 SCAP differ from King County's previous climate plans?
While the greenhouse gas reduction targets remain the same despite a poor track record of accomplishment, the 2020 SCAP contains notable additions. The inclusion of a race and social justice focus, described as planning for "Sustainable and Resilient Frontline Communities," represents one of these new additions and demonstrates how the environmental movement in Washington State is increasingly acknowledging the hardships that have been endured by low-income and people of color communities in the face of the climate climate crisis and other problems arising from the degradation of the natural environment.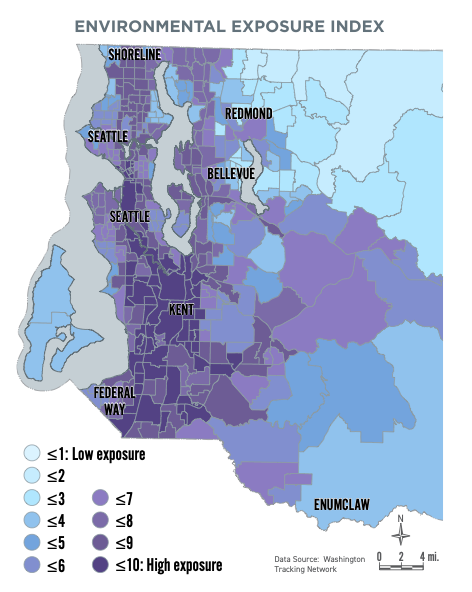 "Black, Indigenous, and People of Color communities have survived disproportional climate and environmental impacts—they are resilient and have a lot of knowledge that has been passed down through our cultures, and relationship to the earth. When you build trust through authentic relationships and value people's lived experience and expertise in policymaking—it's transformational," said Jill Mangaliman, Executive Director, Got Green and member of Climate Equity Community Task Force (CECTF) in the county's press release.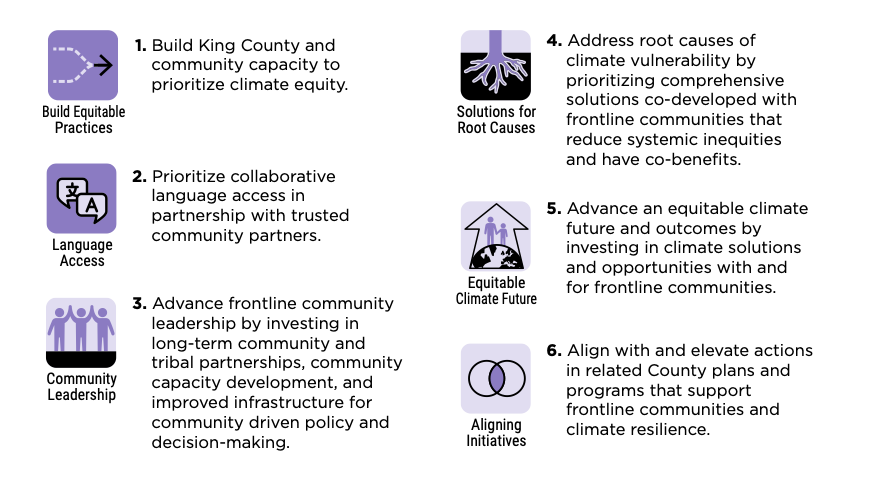 According to the county, the CECTF is a group of 22 community leaders who bring multi-ethnic and multi-racial cross-sector experiences to climate-related community building and policy creation. For the 2020 SCAP, the group was tasked with developing the equity-oriented focus areas and accompanying climate actions for the Sustainable and Resilient Frontline Communities section of 2020 SCAP. Some examples of the actions advised by the CECTF include: building county capacity by providing climate justice resources, guidelines, tools, and climate equity trainings; establishing an equitable green jobs strategy that advances sustainability and living wage opportunities countywide; and supporting the improvement of transit infrastructure through design processes that use a clear climate equity lens.
Many of the priorities and actions included the final section of the proposed 2020 SCAP, Preparing for Climate Change, also adopt a climate justice lens. This section also dives details related to how the region can better position itself to adapt to the reality of climate change more so than previous climate planning did, a change that reflects growing awareness that climate change is no longer a far-flung future event, but instead a reality experienced each day, as evidenced by how many of the climate events described in the proposed plans, such as heavier rainfalls, hotter summers, lower snowpacks, increased flooding, increased risk of wildfires, and sea level rise, are already manifesting in King County.
For many reasons, the climate crisis has been difficult to tackle through global, national, and local policymaking. With the proposed 2020 SCAP, King County has made the important acknowledgement that low-income and people of color communities will bear the brunt of the negative impacts of our changing climate. It has also faced the reality that the climate crisis is already changing the King County's environment in ways that demand taking action to increase community resilience today.
But similar to previous climate plans, the document also makes promises around reductions in greenhouse gas emissions that, if past evidence is taken into account, seem all but destined to fall. This brings up an important question: should policy makers continue to make ambitious greenhouse gas targets that are rooted in a history defying optimism that this time things will turn out differently? Or should they acknowledge that the systematic changes necessary to really accomplish these emission reduction targets are simply not attainable given our regional growth, economy, built environment, and lifestyle?
Correction (9/4/2020): This article has been updated to reflect the most current information on greenhouse gas emissions in King County.
Let's Make #Homes4WA
Washington faces a very deep housing availability and affordability crisis that has only worsened in the past several years. It's time for Washington to face this crisis head on. It's time to take action to house Washington. Let your legislators know we need their help to house everyone.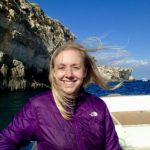 Natalie Bicknell Argerious (she/her) is Managing Editor at The Urbanist. A passionate urban explorer since childhood, she loves learning how to make cities more inclusive, vibrant, and environmentally resilient. You can often find her wandering around Seattle's Central District and Capitol Hill with her dogs and cat. Email her at natalie [at] theurbanist [dot] org.