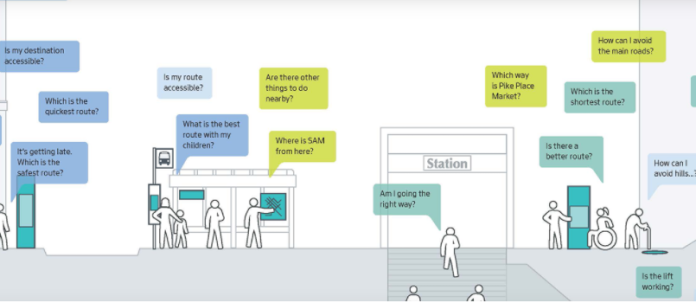 Some new and shiny pedestrian infrastructure is coming in 2021 with the first few pilots of the Seamless Seattle Pedestrian Wayfinding Program introducing new signage. Born in the City's 2017 Pedestrian Master Plan, the program is all but implemented. The first two pilots were originally planned to launch in the Westlake Hub and Jackson Hub (Pioneer Square and Chinatown-International District) in late 2019, but delays first pushed it to a Spring 2020 launch that was Covid-19-delayed to the next year.
When first shared with the public in October 2017, it was just described as a coordinated wayfinding system to foster better awareness of walking as access and connection to other transportation systems–one of many strategies aimed to deliver the goal of 35% of trips being completed by foot by 2035 for the 2017 plan. Wayfinding is a technique used to help people navigate places by generally making people feel welcome, safe, and more informed of their surroundings.
Many cities, such as London and Vancouver, have working wayfinding systems. Applied Wayfinding, contributor to London and Vancouver's systems and a designer in Seamless Seattle, claims effects like 5% increased walking and 16% time-saving improvement for pedestrian journeys just from the Legible London wayfinding system. These systems work by involving themselves in parts of people's journeys, answering questions, and working around how people think. Existing systems use intuitive, repetitive, and easy-to-learn signage and tools that create connections to places in the environment.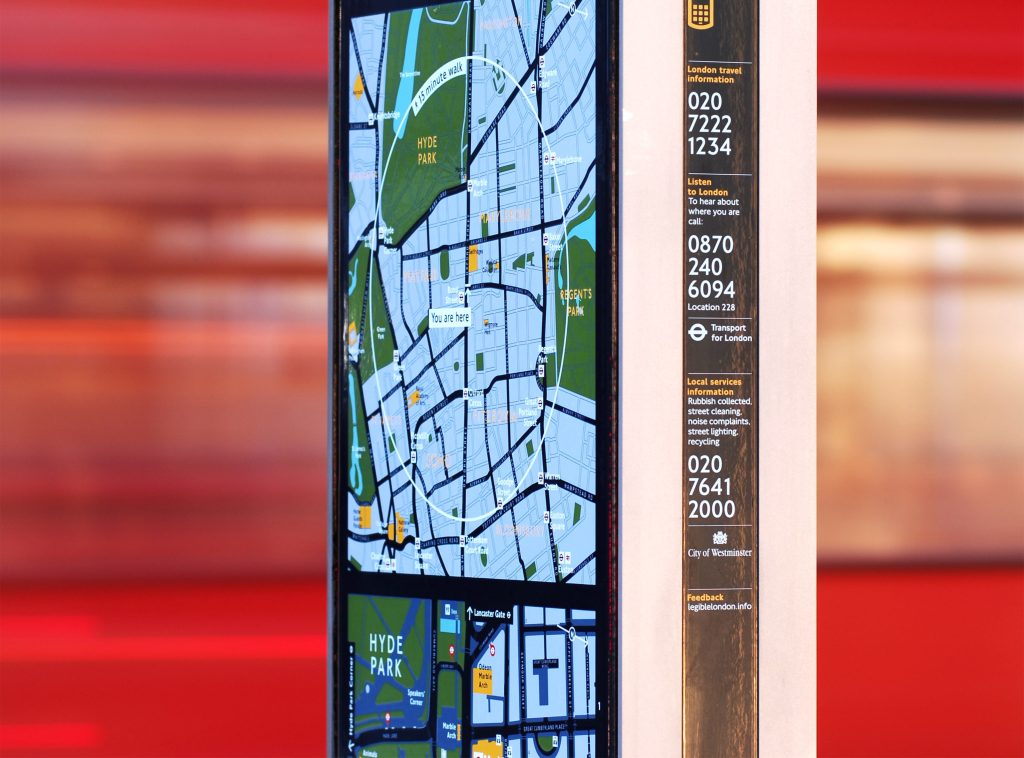 Implementation of these systems benefit people in a variety of ways, including:
Health benefits from reduced car emissions, and increased physical activity from walking;
Better experience with multimodal transportation through encouragement, guidance, and information;
Greater equity with free information that facilitates journey viability for navigable, step-free, and safe routes;
Accessibility for users of any ability and familiarity with a neighborhood to learn the area and develop positive navigation habits.
This system also supports the rapidly changing city and local distinctiveness, introducing new and diverse residents to cultural points of interests in neighborhoods. Plus, the system can help unify existing but disparate wayfinding systems in Seattle that are underfunded, inconsistent, and quite dated.
What Seamless Seattle pilots will look like
The planning and design phases of the project are done. In Summer 2019, the Seattle Department of Transportation (SDOT) released its key project documents, with a July Visual Design Standards manual for the pilot phase. The manual presents what should be expected from the wayfinding program. The manual also provides details on the large family of signage that the agency will be strategically deploying to the Westlake and Jackson Hubs. Placement of signage will be determined by methodology refined by SDOT, Applied Wayfinding, Alta Planning + Design, and 3 Square Blocks.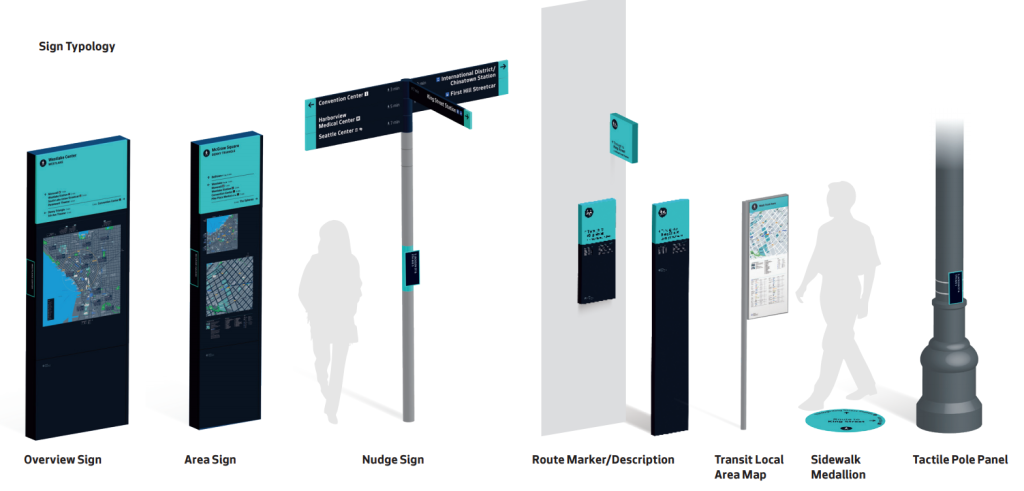 The context used to drive placement of signage is governed by several wayfinding principles like seamlessness, predictability, and simplicity. Emphasis is also placed in integration of other modes of transportation, adopting local idiosyncrasy, accessible design, and standardization. Route networks and hierarchies, and decision points are also investigated to develop a system for signage placement. Components, function, and placement of each sign are as follows:
Overview Sign – Placement at welcome points to give users site-specific useful context and overview of the city and help them plan longer journeys will a wider view of Seattle;
Area Sign – Placement at major decision points in busy environments like outside transit stations to allow users to plan both local destinations and longer journeys with two maps of different scales;
Nudge Sign – Placement at minor decision points, where people require a binary decision, to help users navigate the local area with direction information that provides route confirmation and last-mile homing;
Route Market/Description – Placement in right-of-way or entrances to public routes through buildings to support and encourage use of these routes with descriptions of 'hidden' and accessible paths;
Transit Local Area Map – Placement at transit nodes like bus stops to give users an overview of the vicinity including transit connections with a local area map;
Sidewalk Medallion – Placement at start of an inaccessible route like a set of stairs to provide users with information of alternative and accessible routes; and
Tactile Pole Panel – Placement at intersections and on poles of nudge signs to allow visually impaired users to orient and locate themselves with Braille panels.
Sign content will include base assets like roads, slopes, and historical districts that are clearly defined, permanent, and useful for wayfinding. Live Assists like hospitals, public art, and visitor attractions that are all recognizable, and appealing to users will also be included. Content like place names are to be consulted with local communities in public engagement processes to properly identify areas. For instance, parts of the International District will be identified as Chinatown, Japantown, and Little Saigon on applicable signs. Application standards include prioritizing accessibility, having appropriate timing for information, and being strategic about neighborhood and transportation connections. Public art, place identification markers, and interpretive signs are also planned to enhance the system with more place legibility and journey descriptors.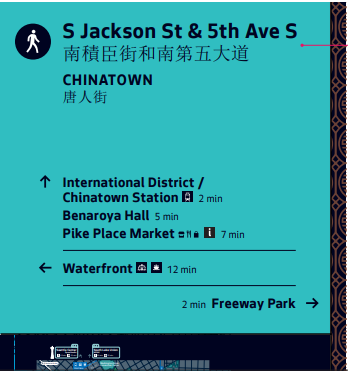 Sign maps will come in three sizes, and feature simple landmark illustrations, transit links, and key destinations. In addition to signs, maps will also be featured in bus and streetcar shelters and in stations. A printed map has also been developed for the pilot to raise awareness of Seamless Seattle.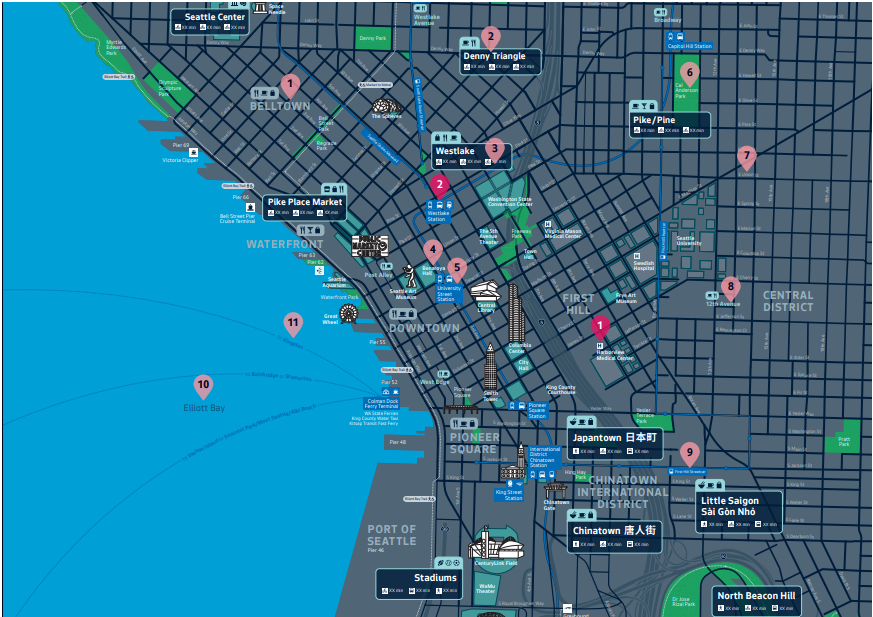 The first two pilots will roughly cover 12 to 16 blocks each, with sign placements already allocated for both of the initial pilots. In a draft brochure, SDOT notes it's planning two more areas around the Pioneer Square and U District stations for 2021.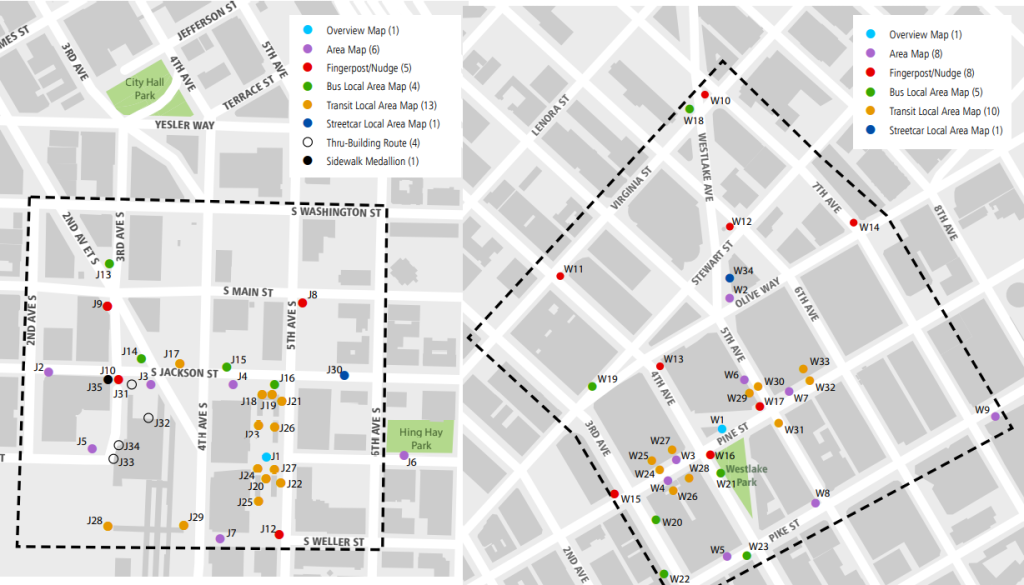 Wider implementation and future opportunities
When the pilots (Stage 0) are finally implemented, SDOT will require a one year post-pilot review, planning, and budgeting process (Stage 1) for project expansion. The scale of Seamless Settle won't cover the entire street network as purely residential and industrial areas have been deemed inappropriate for the system. If the pilots prove valuable, the department is considering deploying the wayfinding system into Seattle's urban villages (Stage 3). SDOT prioritization is currently on downtown connections (Phase 2), but it is eyeing Link and RapidRide expansion in outlying urban villages as compelling early candidates for wayfinding expansion.
How quickly the agency is able to expand Seamless Seattle into Stage 2 and Stage 3 is unknown and dependent on funding decisions and capacity. SDOT's implementation strategy also potentially has the wayfinding standards, master map, and planning guidelines shared under license-based agreements with business and community-led groups, developers, and larger construction projects for expansion of the system through private investment. Coordination with Sound Transit and King County Metro has already produced tangible and deployed maps with Seamless Seattle standards. As reported by The Urbanist, Sound Transit began installing the new signage in 2019.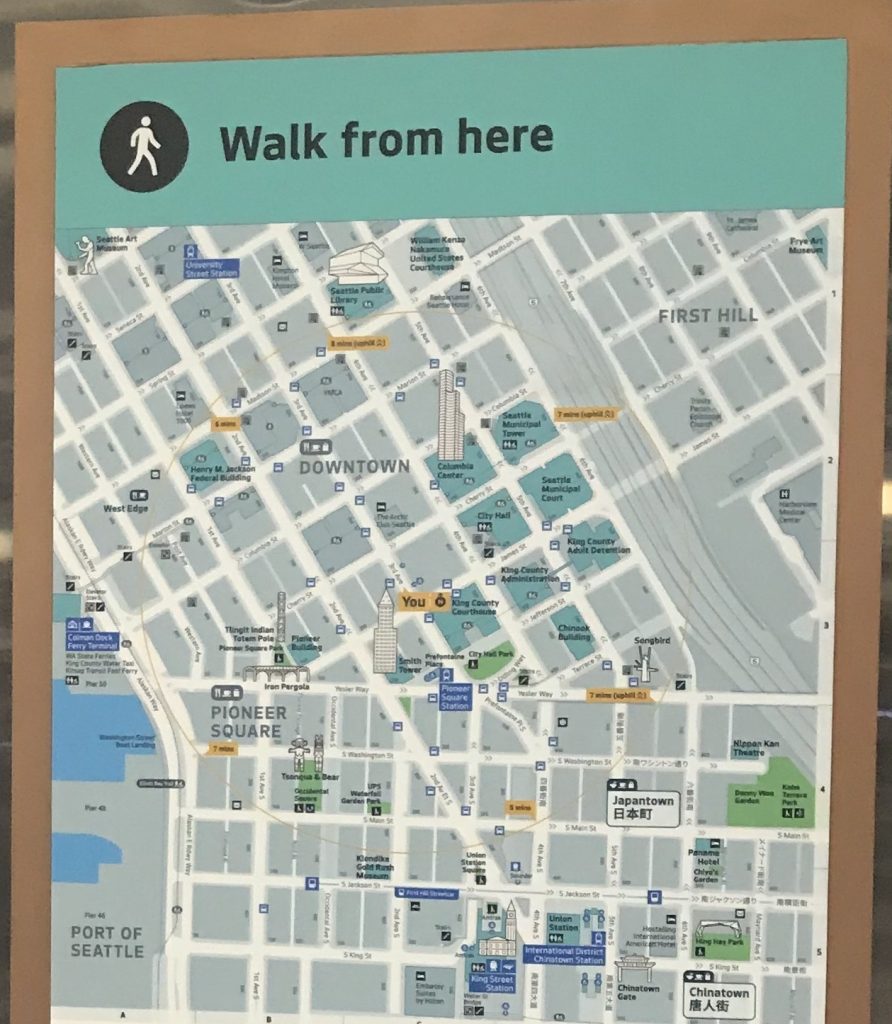 Outside of geographic expansion are recommendations to incorporate a robust digital infrastructure (Stage 1) into Seamless Seattle. Outlined in a June 2020 key document is the digital strategy for the wayfinding system. The first of two recommendations is the Open Wayfinding Platform that would handle content management like transit agency integration, and discovery for wayfinding enhancements and content. The platform would also create those services in-house or third-party by using collected data to build systems like OneBusAway, and do automated map and sign creation. The second recommendation tackles accessibility initiatives with definition and promotion of accessible routes, Optical Character Recognition, virtual assistant integration, location sounds, and a citywide open Bluetooth beacon network. Implementation of the digital strategy is planned for outsourcing.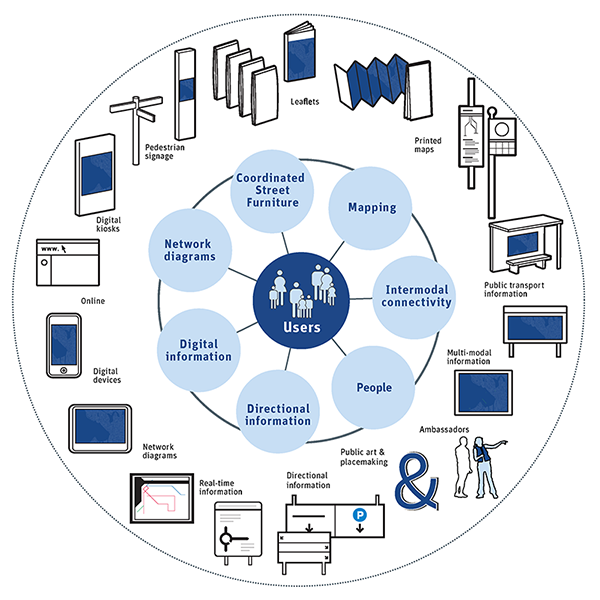 Expansion of Seattle's pedestrian infrastructure with a potentially wide reaching wayfinding system is certainly a welcome addition. 2021 is shaping up to be a good year for transportation in Seattle with three light rail stations set to open, the pilot wayfinding system finally launching, and rollout of Covid-19 vaccination starting to restore transit ridership as restrictions and work from home orders lift. That being said, our transportation system will look even more patchy as we'll be able to juxtapose comprehensive pilot pedestrian infrastructure with sidewalk-less streets just a few blocks away from a brand new Northgate light rail station. How Seattle of us.
Shaun Kuo is a junior editor at The Urbanist and a recent graduate from the UW's Jackson School. He is a Seattle native that has lived in Wallingford, Northgate, and Lake Forest Park. He enjoys exploring the city by bus and foot.