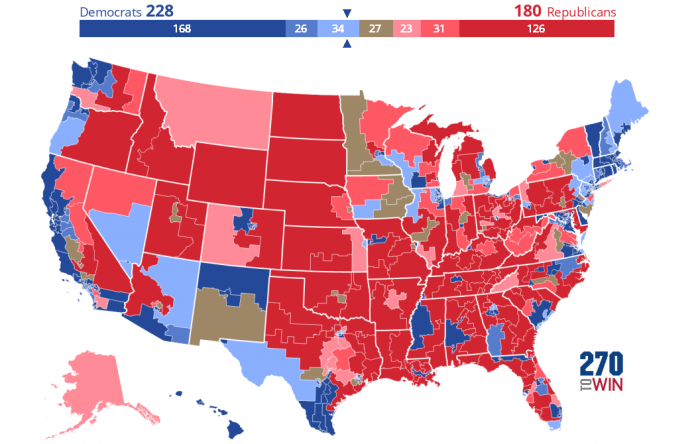 On Monday, I looked at what redistricting will mean for the Washington state legislature. Redistricting will also have a big effect on U.S. House districts. The 2020 Census will shift the allotment of House seats (and thus Electoral College votes) toward faster-growing states and away from stagnating ones.
The effect on the Electoral College will likely be slight, but it's likely to tilt a few House seats toward the Democrats as newly drawn seats are pulled toward fast-growing metropolitan areas, barring gerrymandering shenanigans which will likely be on full display in states under Republican control.
The biggest gainer will be fast-growing Texas, which is expected to get two or three additional seats, followed by Florida at one or two seats. Oregon, Montana, Colorado, Arizona, and North Carolina are projected to each gain one seat based on preliminary 2019 census figures.
Those newly drawn seats must come from somewhere, and the Census Bureau projects California, Minnesota, Illinois, Michigan, Ohio, West Virginia, Pennsylvania, New York, Rhode Island, and Alabama will each lose a seat and electoral vote if 10 new House districts are drawn. The official 2020 Census figures will be the ultimate determinant, though, and could be different enough to save some states on the bubble, like Rhode Island and Minnesota.
Projecting Washington state district changes
Washington state will stay pat with 10 Congressional districts, but it is trending toward adding an additional seat eventually with its 14% growth nearly doubling the national average, based on preliminary figures. Since the state's growth is mostly in the Seattle metropolitan area, the borders of districts will shift significantly. The fastest growing and thus "overpopulated" districts are all held by Democrats: the 7th (Pramila Jayapal), the 1st (Suzan DelBene), the 8th (Kim Schrier), and the 2nd (Rick Larsen). Those districts will shrink to shift population to their underpopulated neighbors, whose borders will expand.
The 5th and 6th are the most underpopulated and also near hard borders, being at opposite edges of the state. The 5th (currently represented by far-right Republican Cathy McMorris-Rodgers) will need to stretch farther west, which eats into the 4th, which is also underpopulated and will need to stretch further west itself. Consequently, the 8th District–a big flip to blue when Schrier won in 2018–which likely jettison all or most of Chelan and Kittitas counties, becoming more Democrat-leaning in the process. Schrier's 3.6% victory margin will likely be more comfortable in 2022 after redistricting.
The 6th's boundaries will need to either hop the sound or push south, but its neighbors to the south–the 3rd and 10th–are also underpopulated (though not so severely) likely pushing them northeasterly direction to grab population from Pierce or King. Theoretically, this could cause the 6th to become more conservative, but with Derek Kilmer (D-Gig Harbor) winning by 59% in 2020, probably not so much to flip the district. The prospect of more of Thurston County joining the 3rd District could push it leftward, but Jaime Herrera Beutler (R-Battle Ground) won 56% of the vote, so it may not be enough in the near-term.
Long story short, Washington state is likely to continue electing seven Democrat House representative and three Republicans, but there's a chance the 3rd District will finally be in play for real–depending how the boundaries are drawn–after a series of failed attempts at unseating Herrera Beutler, who is on her tenth term.
Implications for controlling the House
Since most of the states losing a seat are blue states or swing states–with the exception of Alabama, West Virginia, and Ohio–this might seem like a troubling trend for House Democrats. However, since it tends to be cities driving population growth while rural areas stagnate or even lose population, those redrawn House districts would tend to become more urban or at least suburban.
Take Minnesota, for example. Despite a history of Democrats competing for rural districts like the 1st, 7th, and 8th in Minnesota, Republicans dominated those districts this election. If the state loses a house district, it will likely be achieved, more or less, by turning these three districts into two since some parts of neighboring districts are very slow-growing, and the Twin Cities metropolitan area is the fast-growing part of the state.
One surprising subtraction is California, and it marks the first time in California's history its lost a seat. It appears that California's restrictive urban zoning and glacial development approval process cost them a seat (perhaps multiple) by slowing urban growth, raising housing prices, and convincing many to move away in search of cheaper housing. Oregon saw an average annual net migration of nearly 20,000 from California, suggesting its neighbor to the south is responsible for about half of its population growth and thus its gain of a seat.
District lines will also change in states where the number of representatives doesn't change, and again the general population trends have been metropolitan areas gaining population and rural areas stagnating.
Looking at the 2016 presidential election map, one might argue reallotment would favor Republicans, but Democrats' strength in Arizona and Colorado lessens the sting. Increasing competitiveness in Texas could open up the second biggest prize of all, right as it gains three more votes. Swing states Florida and North Carolina will see even greater importance.
Election reform
President-elect Joe Biden's seven-million vote lead translating into a relatively modest Electoral College victory has Democrats contemplating election reform. However, big changes face huge institutional hurdles.
Using the popular vote instead of the Electoral College to decide presidential elections would be a great improvement, but it would require a Constitutional amendment, which is an arduous process involving a two-thirds vote in Congress followed by ratification in three-quarters of states. An easier lift is statehood for Washington, D.C., a city that votes heavily Democratic, which would lessen the structural disadvantage for Democrats, adding a representative and two senators.
The Electoral College was founded as a concession to slave states and has continued to privilege the low-population states at the expense of high-population states, as does the United States Senate. The Electoral College system also provided more pinch points for diehard Republicans to challenge results, culminating in their invading of the United States Capitol when that didn't overturn results. The system worked, but barely and it wasn't pretty.
Georgia's model
Working within the existing model, Democrats believe flipping Georgia can serve as a model nationwide for reinvigorating the party in former Republican strongholds. The policy ingredients needed for winning over Republican-voting states is very much contested. Is the path triangulating cool-headed centrism or bold progressivism offering populist programs like Medicare for All?
While folks disagree about the policy contents, a consensus seems to have formed that the Stacey Abrams' party-building and organizing model is the way to go and was widely credited for Democratic wins this year in both Georgia senate seats and the presidential election. Abrams' strategy involves deep year-round organizing to register and mobilize unregistered voters, who tend to be people of color, especially in diverse states with a long history of Jim Crow laws and voter disenfranchisement like Georgia.
Georgia Governor Brian Kemp served as secretary of state for two terms before his 2018 contest against Abrams, then minority speaker in the statehouse. Kemp purged more than 1.4 million voters from the rolls, targeting Black voters especially, to help tilt the scales in his favor. Abrams and the rest of the party frantically raced to reregister voters, but Kemp threw up obstacles and she ended up losing by a razor-thin margin: just 54,723 votes. Rather than getting disillusioned, Abrams rededicated herself to organizing, helped secure the 2020 victories, and now looks poised to win the Governor's seat in 2022 if she pursues it.
Redistricting will open up new opportunities for Democrats and for urbanists to get better representation in Congress. Seizing these opportunities is another matter, but luminaries like Abrams–and the thousands of organizers behind her–have shined a light on how to get it done. I hope we do that work, because winning one election is not enough to correct course. We need a generation of leaders willing to tackle the climate crisis, housing crisis, and racial justice crisis.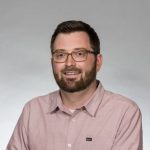 Doug Trumm is the executive director of The Urbanist. An Urbanist writer since 2015, he dreams of pedestrianizing streets, blanketing the city in bus lanes, and unleashing a mass timber building spree to end the affordable housing shortage and avert our coming climate catastrophe. He graduated from the Evans School of Public Policy and Governance at the University of Washington. He lives in East Fremont and loves to explore the city on his bike.