It isn't easy to start a new job in the middle of the coronavirus pandemic, much less one that involves running an entire transit system. And yet, that is exactly what Terry White, the new general manager of King County Metro, did. White has ridden Metro since his childhood and worked in the agency for more than three decades. He believes he knows what Metro has done right and has a plan for what it can improve. White sat down with The Urbanist to discuss his experience, his new role and how he hopes to shape Metro going forward.
The Urbanist: This is a heck of a time to be taking over the leadership of any transit agency. Why do you want to do this job?
Terry White: Good question, I ask myself that sometimes. Truthfully, I'm born and raised in Seattle. I grew up in a household [with a] single-parent mom, no car. My mom had a disability that wouldn't allow her to drive. So I literally grew up on the bus, and so much so that that's all I recall. I didn't even know that that could possibly be a problem. It was just how we moved, how we moved around. And for us, my mother was intent on us literally having what she thought everybody else had in terms of cultural experiences.
So, you name it, we did it. I remember fondly going to museums. I remember the zoos. We went to church, grocery shopping— literally everything we did was via bus. She had these paper timetables. You have a stack of them, and she'd be trying to figure out how to coordinate our next place to come and go. So, by the time she started telling me I had to ride by myself because she wanted me to go to a school that was outside the neighborhood I was supposed to go to because she thought it would give me a better opportunity in life educationally, I trusted her. I would get on and she gave me the, "You sit up front and you make sure you make eye contact with that driver and they will take care of you, and life will be fine." And that's how I grew up. Operators then took me in if you will. Got this little 10 year old [with a] backpack and they let me help work their signage in terms of coming back in towards town or going out in exchange for my 20 cents.
And the kid from the projects, I wanted that 20 cents, needed it. And I felt important. And I immediately got this whole community thing. I thought it was just amazing that they had this opportunity to care for others, to give, to serve. And I liked that big bus. I wanted in on that kind of a mindset. And I think I might be the only 10 year old who came out going, "You know what? I would be a bus driver" and set my mind to all these things.
Fast forward, when I returned from college, it was Metro, Metro, Metro. I applied for every job under the sun. The first job they called and offered I interviewed for was an operator job. I thought it was bus. Turns out it was telephone, but I took that job anyway. And I say 14 positions later, here I am. But ultimately, I love what mobility has done for me and for my family. I see what it can be. It is truly a game changer.
I've experienced it and I want to make sure that other folks get those opportunities. In King County Metro, we talk about this a welcoming place where everybody has an opportunity to thrive. So you need mobility. Mobility to me is that it's a human right. We say that here. So for me, coming into this crazy period in time, you've got pandemic, you've got racial unrest, you've got economic depression, budget struggles. But who's riding right now are the folks who have no choice but to.
That's where I come from. It is that place. This is my home. I want folks to have those opportunities to thrive. And, you know, right now this is the need and this is why we do what we do—out of love, out of service. I'm always going to want to be a part of something that's giving. And I feel really good when I go home at night about what we do.
In the announcement when King County Executive Dow Constantine appointed you to this position, he talks about your "bold vision." Can you describe what your bold vision is and how both your experiences on the bus and your experiences working up through these 14 positions in Metro have fed in and informed that?
Terry White: I would say I have a three-part vision. The first part is just simply recovery, response and recovery. We have to address the current climate that we're in. We're learning a lot about health and safety and we're incorporating a lot of that into what we do. We're learning to be faster in terms of how quickly we can put new service on the street. When it comes to safety and health, there's nothing there that I would say is bold other than we're a big transit organization and had to learn how to move quicker, especially in these time frames.
So that's the first thing. For the next couple of years, we're going to continue to try and demonstrate how healthy and how safe our system is. And we're preparing ourselves for what we expect when the governor, the [Centers for Disease Control and Prevention], the Public Health all say it is safer to begin to come back out. We want to show folks that we're ready to do that. We're ready, we're here for you and that we've learned during this time frame and we're better.
The second one, I would say is—and I kind of allude to that and where I come from—is this "greatest need" concept. Equity, equity prioritization, now more than ever. We've hovered around 30%, 40% ridership. Normally we're 400,000 rides a day. But who's riding that system right now? Those in greatest need, those who can't heed the governor's orders to stay home and hunker down and shelter. I envision the folks who are riding with us right now have no choice if they want to keep shelter, if they want to keep food, they want to get to medical. They don't have the alternatives as some of us may be blessed with currently right now.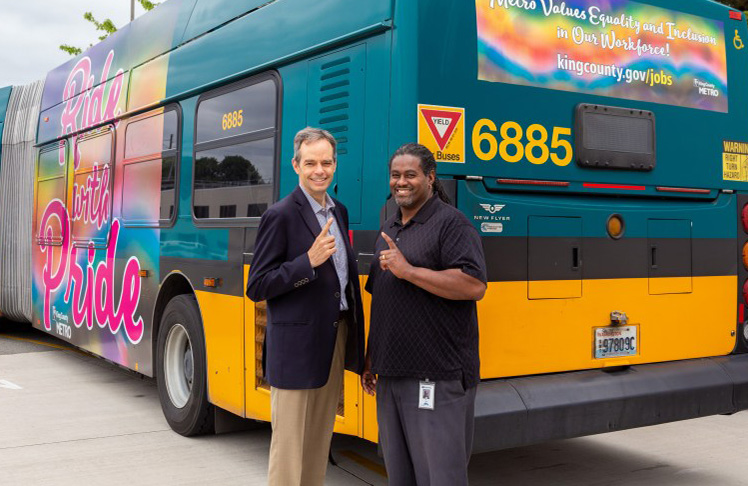 And to me, that's exposing the thing that we should continue to focus on. We've always been about the mobility and having options for folks. And then there are some folks who have less options available to them. We need to lean into that. So, while we're doing this response and recovery, we cannot take our foot off the gas, if you will, in the sense of we need to care about those who have greater need. We have to do better in how we partner and how we hear from folks who have been marginalized, who have been kind of silently suffering, if you will, how the system has worked.
We've become better at partnering and encouraging us to do even more those things in the sense that folks who aren't being heard from or just kind of taking whatever we give. Our prior life at Metro […] we were more focused on the experts. We're going to put this package together. We're going to give it to you, and this is the best thing going. And trust us because we went to school and we know what we're doing.
And it did not necessarily engage as much as it should. We have to get out of that mindset. We're serving the people. We're serving the regions, we're serving jurisdictions. All of those have a voice needs to come to that table. We need to do better at listening before we make a move. And I say, especially because of my upbringing, that there are folks that we haven't figured out necessarily how to hear from. We have to do that better.
If I use my mother as the litmus test—single-parent mom, working a couple of jobs—she doesn't have time to stop and be interviewed or surveyed getting off a bus and have time to take that phone call at 6pm to tell you what she loves or doesn't love. And she certainly doesn't have time to go to the town hall meetings when she's trying to figure out how to get me educated along with my siblings, get us fed and ready to go.
How many other folks are out there that are working swing shift, weekend and we're not hearing from? We're asking ourselves, our teams, dig deeper, figure out better ways to make sure that we're reaching all folks so we're being more inclusive before we build out. I'm very proud of some of the work we're doing in terms of prioritizing equity. And I'm very proud that we have found a way to at least get folks who are living in and representing communities to come out and share those experiences and tell us what type of mobility services are necessary. So prioritizing equity is the second one.
The third one is modernization of our system, for me. Thirty plus years I've been with Metro and there's some things that we are still doing that we do exactly the way we did when I got here.
And we live in a tech industry, tech-heavy area. We have to begin to recognize and move our system to make it easier for people to use it in terms of mobility, but also internally for our folks who are here. Make the job easier to do and more rewarding for all. And I think in those ways we've actually been challenged because of Covid. We've had to learn to do things that we used to say we couldn't. So, it's kind of like we're going to continue to make this lemonade in these moments and we're going to now begin to explore how we can make a system easier for folks to use—more reliable, more fast.
One of the things we're thinking about is all of those coaches out there that have layovers, how do we create a win-win situations? Those operators deserve their breaks and lunches, number one. And if we could keep those coaches in motion, if you will, we're adding to the service footprint without necessarily having to add in and pay for additional service. That's a different kind of a mindset. The tech is here now. We have the devices. All folks want to use tech. All folks. Folks of color, low income—we all like tech. We would love to use it. So, we figure out how to do those things in a way that we're not leaving folks behind, we should certainly be trying to move forward. Let's take transit, let's begin to move it and leverage some of the existing tech, the new innovative things that are coming. And let's build a system that although it's of this size, it should be flexible, it should be quick enough and nimble, and we can adjust like we're having to do anyway right now in this pandemic situation.
When I talk to homeless services providers, which is kind of my normal bailiwick, there's a phrase that keeps coming up: Never let a good crisis go to waste. What are things that became possible as a result of Covid? What barriers were taken down that let you innovate, that clear the way for things that might have been more difficult to accomplish before?
Terry White: I'm blessed to have a team that is very can-do oriented, anyway. But in terms of the "this is going to take too long, and we shouldn't look at," we've had to get rid of that kind of a mindset. So even in areas like homelessness, what can we do better to communicate with our teams? What can we learn quickly where ridership is higher in certain areas, or whatever the reason?
In some areas where we were providing ridership to places where folks were able to get food, we flipped that and said, "OK, how about we use some of our services to bring the food?" If we're truly going to be a community oriented, we have to think more than just movement and mobility, we have to think about how we fit in to the communities, how do we love the communities that many of us already live in anyway, and how do we grow that piece going forward?
So, a lot of improvement when it comes to how we thought we were clean and safe. These are things that are going to stay with us long after the pandemic in terms of our processes. It's also instilling in us that mindset for what else can we do? We talk about modernization. It's not just tech. It is also a process. So how do we how do we help with these systemic processes that have been put in place, systemic racist processes that may do more harm to folks who don't have, folks of color?
Like fares. How do we reform what we're doing to make it so that everybody does truly have an opportunity to move? What about enforcement? How do we do that with a little more dignity and respect? I'd say our transit police folks, I have the utmost respect for how they show up. But if we're going to rest on our laurels, we're in the wrong business.
Where do you think Metro and Metro bus drivers and the people who work in your agency have unique insight into some of the problems that King County is facing, such as gentrification, such as these systemic processes that you're talking about that maybe people haven't thought of before?
Terry White: One of the interesting things is every service change you hear from customers who are demanding you don't let their driver move to another route because of that connection they've made. So why not leverage that type of connection and experience and bring that in? When you talk about internal inclusiveness and we say that we want the system that we run to reflect the communities that we serve better so that those voices are in the rooms where the decisions are being made, I think that's important for us.
When I talk about righting systemic wrongs and improving hiring processes for King County Metro, we can do better. And in those ways, there are a plethora of government agencies in King County, that we are a part of, at the table. It's going to take all of us sitting down and becoming more coordinated, if you will, with the executive's mandate for us to do more when it comes to race and place. […] We just have to make ourselves heard and be prepared.
Outside of funding, what is one of the more intractable problems that you're concerned with at Metro, and how do you want to approach it?
Terry White: I think funding is the big one. I think it's the key to everything we're trying to go to. Ultimately, there are gaps in the system and there are places where we know we're not necessarily getting. Maybe that's the outskirts of town where mobility is not as fast, frequent and reliable when it comes to public transportation. We need to address those areas. We need to partner well with the Sound Transit, CT [Community Transit], Everett, Pierce [County], our region. We need to say we're going to make it easier, road-wise, to connect and keep going. […] There are some areas even in King County where there are communities are right next to each other because of the way they're set up, you almost have to head towards Seattle to head back out on the public transit system. We have to fix those things.
And ultimately, I think that does come down to funding. We were close to talking about a regional package that will start to get us towards a Metro Connects vision—frequent, fast all day service all over the region. I think we're going to have to start that conversation again. We're going to have to get to that place. The challenge I think we face most is what are we going to do in these next couple of years to demonstrate that you should put your faith in us, keep your faith in us so that we do get the opportunity to create that mobility for the region.
Any hope that there's going to be federal funding coming our way?
Terry White: We anticipate with what we're calling the CARES* 2 at the moment — or I'm calling it CARES 2 — that there's some good to come out of that. I'm hopeful that we start to think of transit in a broader way, especially with what the pandemic has shown us. And that's how we've been speaking to it. And quite frankly, if you look at the transit system mobility, why we have to not just think of buses.
That's what we used to do. We have to think of how we're going to be a part of the bigger ecosystem. How do we pull folks out of those areas that it's hard for big bus to get into, where there's no chance rail is going to run? And how do we then feed into what would be an all-day frequent service network? How do we take that network and feed it into where we can put light and heavy rail? It has to be a well-coordinated dance.
So, I'm hopeful that we're having more opportunity to advocate for that type of a transit system.
Author's Note: The Coroanvirus Aid, Relief and Economic Security (CARES) Act was a $2 trillion relief package passed by Congress in March 2020. It provided stimulus payments to individuals, funding for state and local governments and extended unemployment benefits, among other things.
I saved my my most controversial question for last. What is your favorite bus line?
Terry White: The one I'm most fond of is probably the one I grew up on. It's the 7, the 7 Prentice Street, 7 Rainier. And I'm fond of it because while I know a lot of operators took care of me and I know I did the happy dance of "I don't have any money, would you please let me on?" quite a bit. But there were some operators on the 7, as I said, that let me work their signage. They actually fed me. It was where I really began to become aware of what could be for me. As a 10 year old, I dreamed I wanted to be a bus driver, and that was maybe the capacity of what I could dream.
That 7 route, which takes you literally, at least back then, it took you from South Seattle all the way up to the University District, and I rode it, often. It changed my life literally, because of the schools that I was able to go to. The education that I received ultimately got me back to the place that I started from. So, without a doubt, it's the 7. Doesn't run quite as fast as I would like it to. But we're going to work on that. We're going to work on that.
For more on speeding up Route 7 via RapidRide R conversion (and some of the criticism of the effort) check out this article.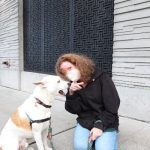 Ashley Archibald is the editor of Real Change News, a nonprofit journalism outlet covering economic and social justice issues in Seattle and beyond. She can be reached at editor [at] realchangenews.org and on Twitter at @AshleyA_RC.