The executive board of the Puget Sound Region Council (PSRC) received an update on the 2022 Regional Transportation Plan (RTP) from agency planner Kelly McGourty last month. The plan will build from the Vision 2050, the October 2020 passage of which was covered by The Urbanist. In his article, Ray Dubicki applauded the thoughtfulness and strength of the plan, he was critical of the suburban vision that the plan continues from Vision 2040. The vision unfortunately calls for the majority of regional population growth outside of Metropolitan Cities and for employment growth disproportionally burdening cities, continuing the reality where many people will have to commute between suburban residences and urban employment.
Vision 2050 matters because it has teeth. State law via the Growth Management Act requires that all local planning within the Puget Sound Region (King, Kitsap, Pierce, and Snohomish Counties) conform with the vision's regional growth targets. The 2022 Regional Transportation Plan (RTP) follows Vision 2050 and the 2018 RTP, and helps plan for transportation changes needed to meet the vision's suburban goals. Objectives of the vision include continuing focus on a safe and connected multimodal transportation system, and incorporating new policies on electrification, and emissions reductions.
New visualization tool and data evaluation
In her presentation, McGourty outlined the objectives of the 2022 RTP, making progress on existing challenges, addressing current and future needs of the transportation system, and planning of longer-term system investments for that future need. As a critical step in the process, data collection and analysis are made centerpiece in the update. McGourty emphasized her team's information gathering and the tool they've put together to visualize the data.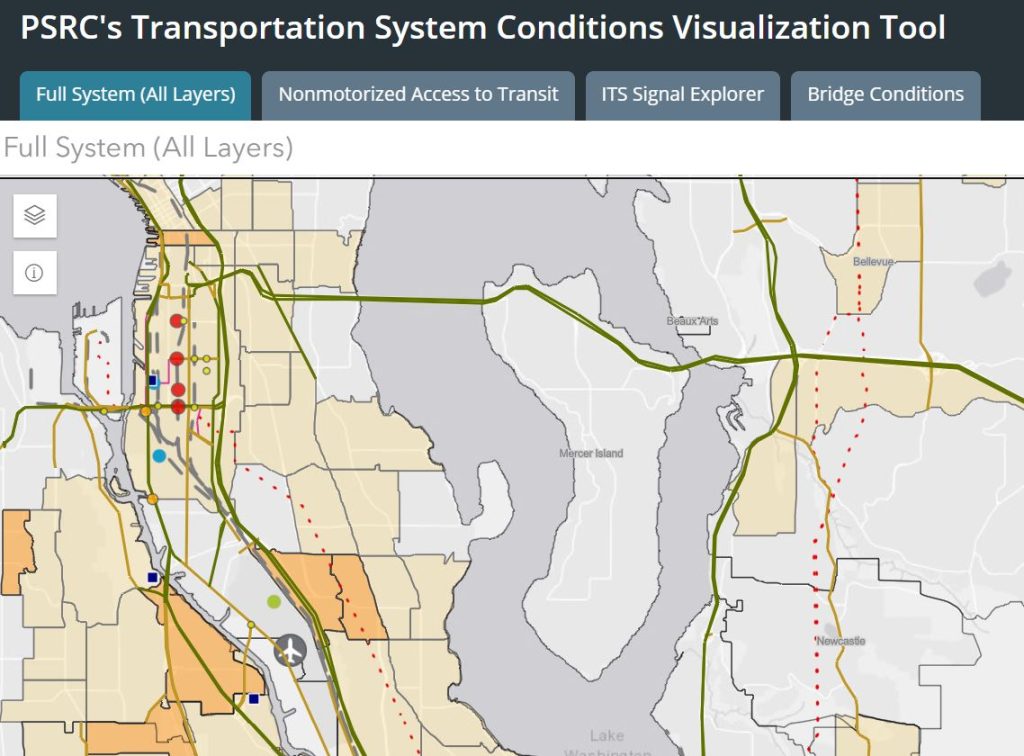 This data aids in providing some sub-regional information and assistance. Past feedback has indicated that this is more helpful than broad regional data. New data additions include assets like sidewalks and bike lanes.
Data collection and analysis is also how Puget Sound Regional Council (PSRC) plans to address Covid-19 within the plan, as there is much uncertainty and speculation about how recovery will take shape. The agency intends to track the region's Covid recovery path. No matter the outcome of Covid, the current commitment is addressing existing issues and the long-range vision. If Covid does warp previous trends, McGourty mentioned the nimbleness of RTPs as they are updated every four years.
Regarding the actual data PSRC has collected, examples were presented during a State of the System Report. Findings include a slow recovery of transit and traffic volume from Covid lows, 3.4% of bridges being structurally deficient, and 94.6% of the region's population within coverage of accessible paratransit service. PSRC's data also shows that the four county region has 56% partial or complete sidewalk coverage on arterials and 37% partial or complete bicycle facility coverage. Those percentages increase to 95% and 61% when only considering a quarter-mile radius from high-capacity transit stations–though a quarter-mile isn't quite enough to adequately encapsulate bike and pedestrian access to transit. Transit access has the most room for improvement, as PSRC found that only 14% of the region's population lived within half a mile of high-capacity transit.
What's next in the process and boardmember priorities
Envisioning future system needs was also discussed. The presenter mentioned completed ongoing work like the released passenger only ferry study, the regional aviation baseline study that is wrapping up, high-speed rail discussion by the state, and other regional transportation connections. There's a lot of forward-looking discussion going on, PSRC hopes that the 2022 RTP will assess needs and opportunities, and help lay the groundwork for all this potential new transportation capacity.
Based on the agency's timeline, the process of developing the 2022 RTP is currently in the policy review and analysis phase. Ongoing is engagement work that includes surveys, and board working sessions that will start this month and run through July. Upcoming work includes more engagement, development of financial strategy, and incorporation of future growth and network into the visualization tool. The most recent survey was sent out this past weekend with 24,000 invitation letters to households and will run through March 28th. As a part of that scientific survey, PSRC is also reaching out to 20 community-based organizations that work with marginalized and disenfranchised people. Ideally, the agency will be able to reach a truly representative data set with that outreach. They also hope to reach youth organizations.
At the end of the meeting, members had a chance to raise questions. Council Chair Derek Young of the Pierce County Council asked about Federal Transit Administration funds being dispensed based on existing transit service, which Young stated as putting his county at a disadvantage based on population. McGourty remarked that that concern had been tagged already, and would be up for discussion for their task force.
Lynne Robinson, Mayor of Bellevue, asked if Vision Zero was being considered in the plan. McGourty noted that PSRC has targets aligned with the state's Vision Zero plan and said that there would be more discussion on safety and the Vision Zero goal of eliminating traffic deaths by 2030. King County Councilmember Kathy Lambert and Duvall Mayor Amy Ockerlander also presented concerns about state controlled highways not within the planning effort and needed changes to accommodate the region's growth.
An open web-based survey in early April is planned to give anyone an opportunity to provide input into the plan update. As Becky Erickson, Mayor of Poulsbo and Transportation Policy Board Chair, said "your voices are welcome, if you want to be involved in this [planning], you have every opportunity to speak up and attend our meetings." This planning process will spill over and be a helpful bridge and resource for 2024 comprehensive plans update planning that will chronologically overlap with the RTP planning, so be sure to share your voice on the matter.
PSRC posts its latest news and meeting information here, including an announcement that access to transit will lead the agenda for the Transportation Policy Board meeting on March 11th.
Shaun Kuo is a junior editor at The Urbanist and a recent graduate from the UW's Jackson School. He is a Seattle native that has lived in Wallingford, Northgate, and Lake Forest Park. He enjoys exploring the city by bus and foot.