Brianna Thomas is running for Seattle City Council Position 9, a citywide seat that her boss, Council President M. Lorena González, now holds but is vacating to run for mayor. During her years as a legislative aide, Thomas has worked on a myriad of policies including shoring up workers' rights and labor standards. As officeholder, she's got her sights set on criminal justice reform and an equitable recovery from the crisis created by the coronavirus pandemic.
Thomas came to politics through a circuitous route. She initially studied business administration in college but found that the subject didn't inspire her, realizing that she wasn't motivated by the "construct of making money." Then she discovered political science.
"I did appreciate how the democratic process has innate power in the people that's just waiting to be activated," Thomas said.
Thomas built her interest in government into a career. She managed campaigns and unsuccessfully ran for office herself in what she called "a painful job interview" before entering City Hall as an aide and now chief of staff. Now, she's back on the campaign trail with González's endorsement and her own, unique vision for the city.
This interview has been edited for length and clarity.
The Urbanist: Why are you running for City Council?
Brianna Thomas: I am running for City Council because I can't not run. And what I mean by that is I was raised in a family of public servants, and it really is a call for me. And the last five years that I've been able to see the good we've been able to do through the council, through the democratic process, when there was an open seat and the city was in peril, here I am, ready to serve.
Urbanist: And what are your priorities? What have you been seeing as far as the council right now and what do you want to push forward?
Thomas: One of the big things for me that's important to keep momentum going on is criminal justice reform. And I mean, that is bigger than just [the Seattle Police Department (SPD)]. SPD gets all the headlines, but we also have improvements we can make in the City Attorney's Office. And they've been really doing a lot of great progressive programing lately. But the prosecutors, the defenders, the judges, the probation officers, all of that system needs a reboot.
So that's the first thing I've got my eyes on the prize on. The other things that are important to me is equitable recovery. We have seen that businesses—and particularly small and Black-owned businesses—have just been just decimated by COVID. Nationally, 41% of Black-owned businesses have closed in the last year. And that barrier to establishing intergenerational wealth to undo the systemic traumas that those communities have suffered under in the past is really, really pivotal to me.
Historically, I've worked on workers' rights legislation and labor standards, and I plan to continue to do that. But we also have to make sure that the mom-and-pop shops that are the backbone of our economy come out of this strong, too.
Urbanist: That's something that I think we saw some really strong evidence coming out of the 2008 recession, that a lot of people just never recovered from that and were very much concentrated among Black and Brown communities. What substantive steps can the City Council take to improve the safety net and help people recover?
Thomas: Well, I think that some of the steps they took immediately were really, really helpful.
So a couple of things that come to mind. We immediately got as many dollars out the door as we could for small business grant relief. And so, we were able to identify which businesses applied, who got money, who didn't and articulated what their needs are. So, we have the answers from the business community.
We just need to repurpose that information to making policy. And seeing how I have not read all of those applications, I've got a generalized sense of what that includes, which is going to be things like navigators for the bureaucratic system that is running a business in Seattle; making sure that small businesses have information on the front end; and we're focused on education instead of penalty for failing to follow the rules. You know what I mean? [The Office of Labor Standards], to me, is really the gold standard where they do a lot of education, but they also do enforcement as need be.
So, working hand-in-hand with businesses on innovative things that help drive more customers in and help them be more technically sound so that bureaucracy isn't the barrier.
Urbanist: And you had mentioned the reboot of the criminal justice system. I'm hoping you can expand a little bit on that.
Thomas: Historically, there hasn't been a lot of justice for Black and Brown communities.
We have penalized crimes of survival. We have penalized and taken out of context why those things are happening. So, if we're talking about a first-time offender who has stolen food to feed their family, that's someone that's very different than another person who might be a habitual reoffender. So instead of penalizing that person, let's figure out what they need. Is it food [stability]? Is it housing [stability]?
Is it educational opportunity? The way we assess crime and our response to it as a society has to shift. Most people don't wake up in the morning thinking, "I'm going to be criminal today. That sounds like a plan. That's my first and best option." Right? So, let's figure out how the money that we're spending to address these societal issues through the criminal justice system can be better spent on upstream solutions.
Things like legal financial obligations. We enact fines and fees on people who are committing crimes of poverty. That feels counterintuitive. If they had the money, they wouldn't be partaking of criminal activity.
Urbanist: We see the crime survey that comes out, and I've definitely heard some criticisms of that and how we assess crime in general in this city. Are there improvements to be made there?
Thomas: I think that we have the biggest thing for me that I've noticed lately is we are stuck in this narrative that we live in an exceptionally scary, exceptionally crime-ridden, exceptionally destitute community. If you watch the news, you would think Seattle was on the forefront of America falling apart. And I don't think that's true. I just don't.
And it's not to say that the challenges we have aren't real, but there seems to be some benefit right now to spinning the idea that Seattle's best days are behind it and then here's a list of circumstantial evidence to support that assertion. And I think that's just patently false. This is the same city that had robust COVID-19 mutual aid deployments days after we realized what a challenge we were actually in for—people coming together to take care of each other is it just a bigger part of Seattle as the narrative that we are—we were—an "anarchist stronghold." I think that's part of the storytelling. We've got to contextualize data and remember that each data point is actually a human being with a whole bunch of other human beings around them that care for them, and tell the story of how we got here and not just the … I don't want to say hyperbolic, but reactionary to black and white numbers without putting some context on it. 
And it's not yet that what people are experiencing isn't legit, right? Nobody wants their packages stolen. Nobody wants their car windows busted. Small business owners don't want to be singularly responsible for addressing the needs of our homeless community. And that's legitimate. But I think we're losing the forest for the trees here. This is still a beautiful, wonderful, vibrant place to live. And I'm just tired of being told that's not the case.
Urbanist: So talk to me a little bit about your experience working in Council President [Lorena] González's office and how that experience has shaped the way you would approach a position on council.
Thomas: So the thing that I learned in the last five and a half years is that literally no one can pass a bill by themselves. No. Government is foundationally a team sport. You've got to get to at least five on the council, which means you got to talk to four other offices and make sure that they're on board and that you've got open communication and timely communication between all of your colleagues. Same thing for building a relationship with the executive.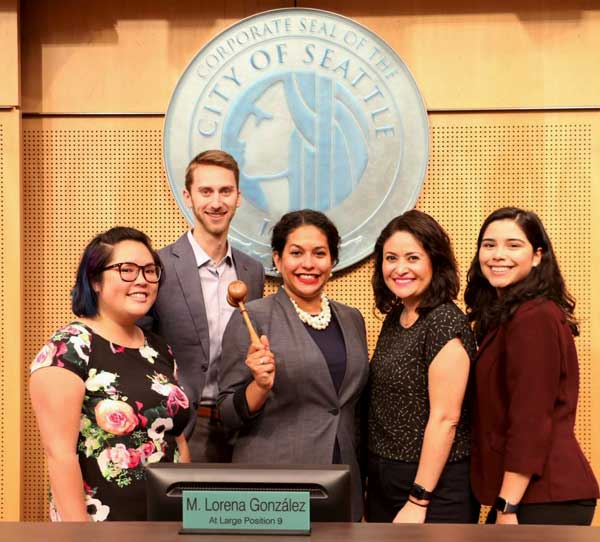 Some of the best projects I've been able to work on are the most robust ones, ones where we were working hand in hand in collaboration with the Executive Office in the development of the policy itself. So there isn't at the end a "gotcha" moment or a series of amendments that no one saw coming because they weren't collaborating all the way along. I've had a couple of folks feel like, "OK, well, is that really the answer? That's a little cheesy. It's just teamwork?" But like, yeah, dog, it's teamwork. This is a team sport.
Urbanist: Through the budget process, both budget processes this year or last year, we saw what happens when that team sport breaks down.
Thomas: Right. I think it was hard on city employees who put hundreds and hundreds and hundreds of hours into building all of the budget proposals that we saw. And I think that had we been able to have a more intentional and collaborative process, we could have avoided some of those missteps. That's not to throw anybody under the bus. I don't think any of us were our very best selves last year because we were surviving a global pandemic, racial uprising, environmental crisis and attempting to figure out how we were all going to pull ourselves out of an economic downturn from our living rooms. That's a lot, that's literally a once-in-a-century experience, and it's a very rare global experience.
So I'm hoping that with this year, we can learn from last year, and I'm hoping—should I be elected to council—we will be able to go back to work. And I think that face time makes all the difference.
Urbanist: This is obviously a citywide position. How has that impacted the pitch you're making to voters?
Thomas: I think it affords me the opportunity to be a little more systemic in my approach and understanding how all of these policies fit together, and that's not to say that the district council members aren't capable of systemic thinking. They obviously are. But I think the benefit of being seated citywide is you do hear from the entire city. We hear from Ballard, we hear from Ravenna, we hear from Columbia City, we hear from Rainer Beach, we hear from West Seattle and South Park. And so, when you're having all of those inputs in the same inbox, it creates a different tapestry that you're working with, if you will.
Urbanist: In the "before times" when we all left our homes, did you ride transit? And what are some weaknesses in Seattle's both pedestrian and transit networks that you would like to see addressed?
Thomas: Well, just so you know, I still ride transit. I still do not have a car. I rely on the sweet, sweet C Line to get around, to get off my island. I think some of the things that I would like to see us work with King County Metro on is how we are prioritizing "single seat" rides. That's a big thing. I think that we've got to have economic and racial justice lens to where we're putting those service hours because a single seat ride means more to a working mom who may have to have more than one essential job to make to make ends meet coming from the south end of the city than it might to someone who is using transit in the north end but is able to work from home.
We've just got to fine tune how we're deciding where service hours go and where the biggest needs are. The other thing that is not directly in the purview of the city to address, but they can absolutely address it in partnership, is what are we doing in terms of accessibility for our neighbors that are differently abled? Like, do the elevators always work at Metro stops for the train? Step one. How many sidewalk cuts do we need to make sure we are getting put in this year (which I know the city is doing tremendous work on now)? How many sidewalks do we still need in the north and south end of the city?
Those fundamentals, those building blocks of the transit system, I think are going to give us the most benefit in terms of incentivizing folks to make transit a viable option.
Urbanist: I just to make sure I understand a "single seat ride." I'm assuming that means no getting off a bus and switching busses.
Thomas: Yes, exactly, because right now we've got a "spoke and wheel" approach where everything goes into our hubs and then back out.
So, for instance, I have an adorable godson who lives in Beacon Hill, and he is magic and light and I would love to see him more often. But then take the sweet C Line into downtown and then hop a different bus to go back over to Beacon Hill. And in the "before times," this was deeply frustrating because there's literally a bridge that connects our neighborhoods, but no bus that goes across it.
Urbanist: Switching gears to affordable housing construction. Affordable housing and homelessness are joint and intractable problems in the city. What strategies would you like to pursue that haven't been tried yet to increase the amount of affordable housing and get more people off the street?
Thomas: I don't know if it's about a new strategy or if it's about investment. The answer to homelessness has always been homes, right, to remain stable.
But I think that what we've got to do is not only in terms of where and how we're constructing affordable housing, but what barriers we're removing to access. We know that there's not enough shelter for everybody who needs it. We know there's not enough family shelter for everyone who needs it. We know that there's not enough shelter for folks that are not in a space to be able to single handedly, without the stability of housing, address their mental health and addiction issues.
So for me, it's more about where do we intentionally invest in removing barriers to accessing housing? So when rapid rehousing was new on the scene, it was very popular because it got folks inside right away. And I'm not saying we need to remove it from the toolkit, but it's also an unreasonable standard to expect someone who's been dealing with the trauma of being without stable shelter to get stabilized, employed, turned around, back up on their feet and have a deposit for some other housing they found somehow in 90 days.
Some of the most productive programing we've seen is transitional housing programs that are 18 to 24 months as you're unpacking trauma. As a person who has housing, I experienced a trauma in 2018. I wasn't over it in 90 days. But luckily, I had housing and I had health care and I had an amazing team that supports me at work that gave me all the room I needed to turn back into my best self.
But I sure didn't pull that off in 90 days.
Urbanist: Single-family zoning is an ongoing conversation. What is your position on zoning in the city of Seattle, given so much of it is preventing some of the housing construction from happening?
Thomas: I think having two-thirds of the city still being zoned for single-family housing exclusively is, at best, a moral challenge for our city to take a good, hard look at ourselves and see if that's who we really want to be.
Let's give folks opportunities for infills. Let's give folks the opportunities to expand how [accessory dwelling units] and [detached accessory dwelling units] work. Let's shift the dynamic of this conversation from it being a zero-sum game and a scarcity mentality when it comes to resources to recognizing the benefits of sincerely diverse communities. And I don't mean just racially, but also lived experience and economic and gender and language. Communities that are diverse are stronger, and they are more resilient. I think we've got to get to the space when we see that as a benefit and not as a threat.
Urbanist: How do best we do transit-oriented development, especially with respect to criticisms that a lot of it is luxury housing that people can't afford and they get pushed out. How do we balance the need for more housing with the need to keep communities whole?
I think we have to put our thinking caps on or around the concept of community land trust so that while we're building the community's also benefiting from that development. And then you get to pull in things like more clearly articulated community benefit agreements or constructs like the "right to return" like we saw in Yesler Terrace.
And I believe that was fairly successful in terms of getting the community what the community actually needs. And there is going to be displacement, but I think we need to consider displacement as a temporary condition not [a] pre-assumed outcome. So, if we're going to build, let's make sure we're building and then bringing folks back.
Urbanist: If elected, you will be one of the few Black women on council [historically]. What does that mean to you?
Thomas: In American democracy, Black people have historically and intentionally been excluded from tables that make decisions about their life, and no one likes that feeling.
No one likes not being heard. No one likes not being asked. No one likes not being considered or valued when decisions are being made on their behalf. And I'm not saying that a Black person on the council is going to undo systemic racism, but it is definitely going to inform the conversation from a very specific lived experience in a way that can't be replicated. You know, we have a majority-minority council now and they are doing God's work every day. But I've been Black every day of my life, and there's just not a substitute for that lived experience. I also hope, quite frankly, that it is an inspiration for little Black girls all across the region that they can see themselves in someone like me, that that becomes a thing you can do. I remember the first time I was a campaign manager, I was like, "This is a job. This feels super made up. I didn't even know people like me could do this made-up job."
But it turns out that it was a meaningful steppingstone to the rest of my public service. Now that I've been in this space, I've been able to recruit other young women and I'm all about building the bench, so I think representation really counts, and then I'd have a responsibility to make sure that I'm bringing community right there every step of the way.
Urbanist: You mentioned that the city is in the middle of a racial reckoning. There are new participatory budgeting processes that are being developed. Are there any other strategies that you would like to see the city try out to increase investment in Black and Brown communities in Seattle?
Thomas: My concern is that—and we see this in the nonprofit sector—we're seeing some issues come up and they're in vogue for a season, whether the season's one year or three years or 10.
And then another set of issues come up. And they're the "it issues" of the year and the funding that community-based organizations were relying on to build capacity to sign contracts, to actually provide services goes away. So what I'm hoping most for is some stability in the investments that we're making in community, because it's simply unfair to ask them to stand up to the societal ills that we're all fighting together, but not give them the certainty that that money will be there year over year.
Urbanist: We do live in a state that has some significant issues when it comes to taxing rich people. Are there any other sort of taxes on that level to that you would support to fuel that work?
Thomas: Well, I have to tell you, I'm pretty fired up about the work capital gains is getting done down in Olympia.
That puts a smile on my face and a spring in my step. It's made it out of the Senate by the whiskers on its chin, and now we're hoping that it comes through the House without too much tomfoolery around the edges or being cute about it, which I'm hoping we won't see. The House has traditionally been the space where that innovation is taking place.
[Returning to Thomas' earlier response regarding equitable recovery after the pandemic]
The other thing I would say about equitable economic recovery that I didn't mention is, for me, that also includes centering our arts community like let's get real.
We have some very amazing and creative and sassy people in this town. And I can't wait to be able to go back and watch them do their thing. My kingdom for a dinner theater ticket. That's definitely part of part of, I think, how we recover.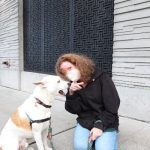 Ashley Archibald is the editor of Real Change News, a nonprofit journalism outlet covering economic and social justice issues in Seattle and beyond. She can be reached at editor [at] realchangenews.org and on Twitter at @AshleyA_RC.