Seattle Parks and Recreation has reopened the South Lake Union Community Center open house. This community center comes out of the Mercer Megablock deal, in which Alexandria Real Estate Equities' bid of $143.5 million, 175 affordable homes, and a community center won them 2.86 acres of highly-coveted City-owned land in South Lake Union near Amazon's headquarters. The developer also agreed to a new pedestrian public access easement that reconnects 8th Avenue N and hosts the new community center's main entrance.
Like much of the city, South Lake Union was once home to the Duwamish people, before colonists arrived and David Denny's millworkers logged the area. From the 1940s to the 1990s, South Lake Union hosted one- to two-story buildings that housed laundromats, car dealerships, warehouses, mechanics, some residences, and many parking lots.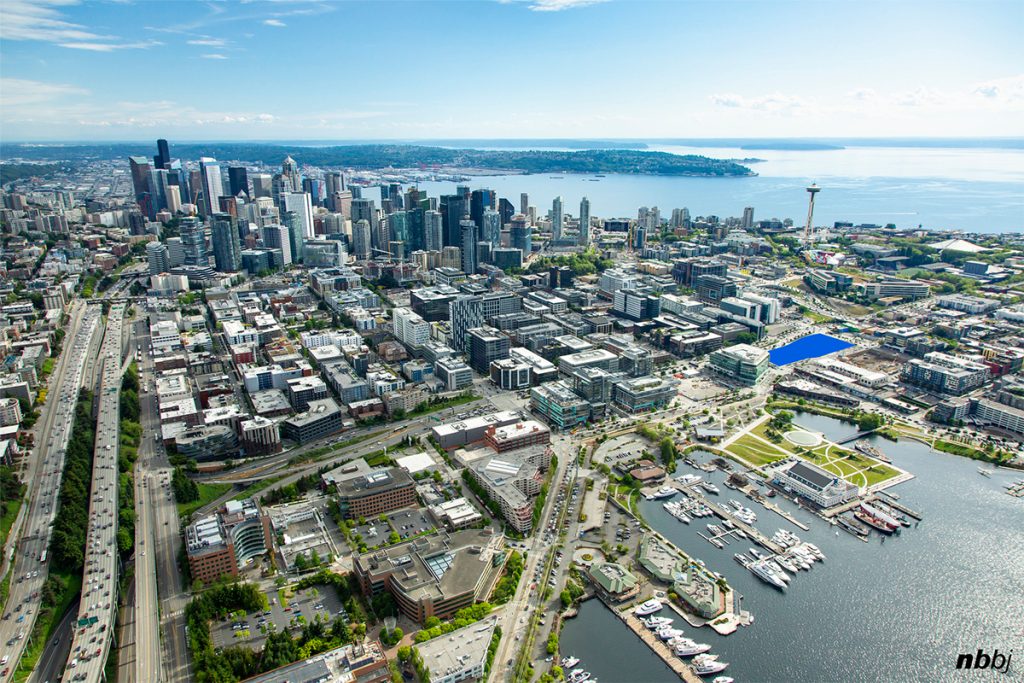 South Lake Union has since become a towering hub of technology and research facilities, with them came apartments, young families, and new supporting workforces. This new community center helps fill the void of public community space in the warehouse district turned neighborhood. With more than 10,000 homes in construction and development in Denny Triangle and thousands more in South Lake Union, it's a very dense and bustling neighborhood to be lacking basic amenities like a community center or library.
Design Concepts
This open house focuses on sharing and collecting feedback on Seattle Parks' design of the community center, with two design thematics in particular identified by community and city staff. These themes arise from the project team's desire to create a community space that is welcoming, inspiring, engaging, uplifting, and energizing. It also has to integrate aspects of the community, and be made of material authentic to the neighborhood's heritage and the Pacific Northwest.
Concept one, Lakeside Spirit, takes inspiration from nature and the neighborhood's early history with use of wood as a primary design feature, indigenous art, and nautical and maritime inspiration for material, coloring, and detailing. It aims to be a restful and playful space.
Concept two, Warehouse Energy, celebrates the industrial history of the neighborhood with use of concrete, steel, and exposed building systems. It would play with warehouse aesthetics, industrial inspiration, and other expressions of color and dynamism to convey a sense of energy and excitement.
A concept plan diagram is also presented, with each kind of space outlined afterwards. The first space upon entering the building would be an area of welcome and social gathering. Seattle Parks describes this space as the front door to the greater Seattle Parks network, intending to make this an opportunity to showcase and introduce other community centers, parks, and events to new and longtime Seattleites attracted to South Lake Union's growth and economic opportunity. Next, a decorated promenade will connect the welcome area to the activity and events spaces within the community center. Scattered throughout will be spaces of interesting built-in elements for people to lounge in, socialize at, and discover.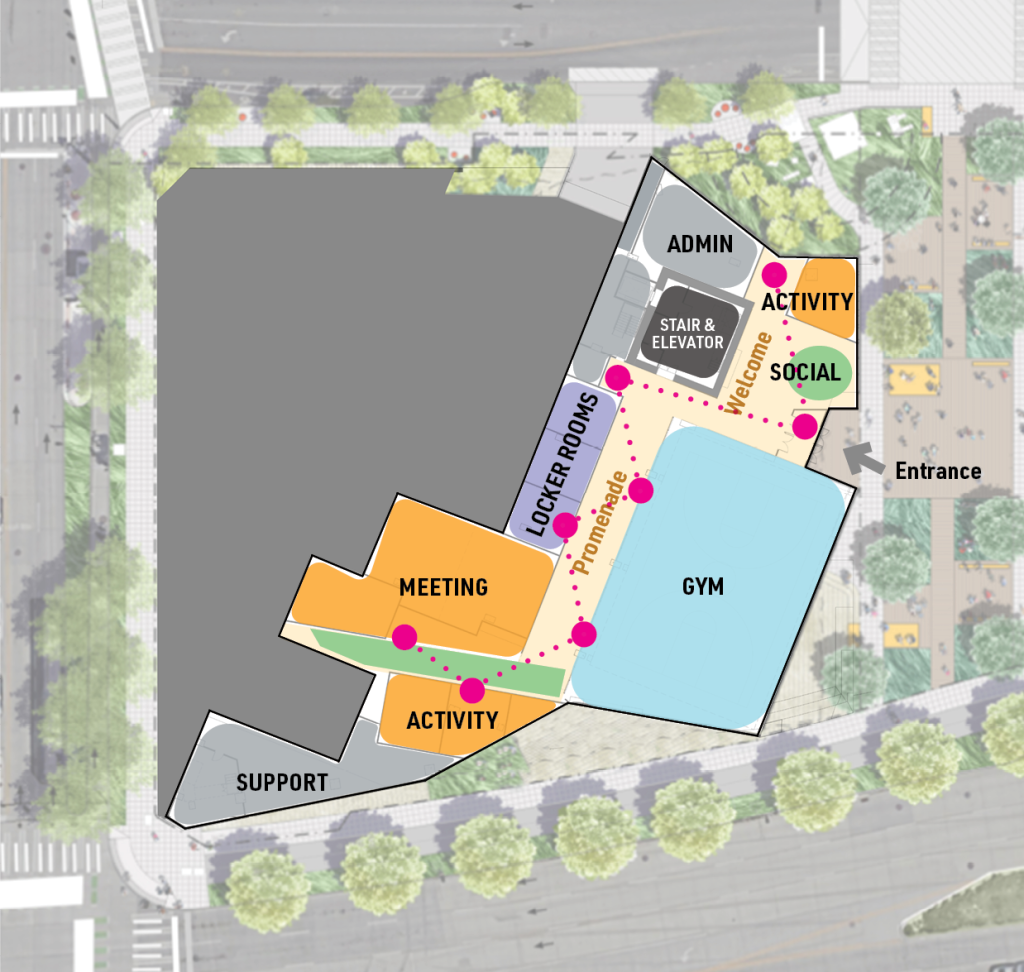 Public Engagement and Next Steps
Project work began in December 2020 with analysis and preliminary design that ran through February 2021. The first open house ran from late January to mid-February surveying visitors on preferred programming for gym and fitness space, multipurpose activity rooms, and childcare facilities for very young children.
In the ongoing open house, results of the last open house's survey were revealed. It found that roughly a quarter of respondents would arrive at the center by foot/wheelchair, transit, or personal vehicle. Half of respondents considered the gym and fitness activities to be the most popular feature of the center. Pickleball was heavily requested, and no other fitness amenity in particular rose to the top. Painting and ceramics were the more popular art activities, events space had no favorite, and no dominant preferred time of childcare emerged. This first survey should be taken with a grain of salt, as turnout was just short of 350 people, and the age of demographics were unrepresentative as 33% of respondents were 60 years or older. Additionally, only 55% of respondents work in the area and 53% live outside of adjacent neighborhoods.
The ongoing open house also collects demographic data, and hopefully they're able to yield a large and representative survey sample size this time around. This open house will run through March 31st and influence design work that will continue through fall 2021. No construction schedule has been finalized yet. Be sure to answer the open house's surveys if you would like to give feedback. Other opportunities to learn and ask questions about the project include a live online meeting on March 16th at 12 pm, and contacting the project manager.
Shaun Kuo is a junior editor at The Urbanist and a recent graduate from the UW's Jackson School. He is a Seattle native that has lived in Wallingford, Northgate, and Lake Forest Park. He enjoys exploring the city by bus and foot.