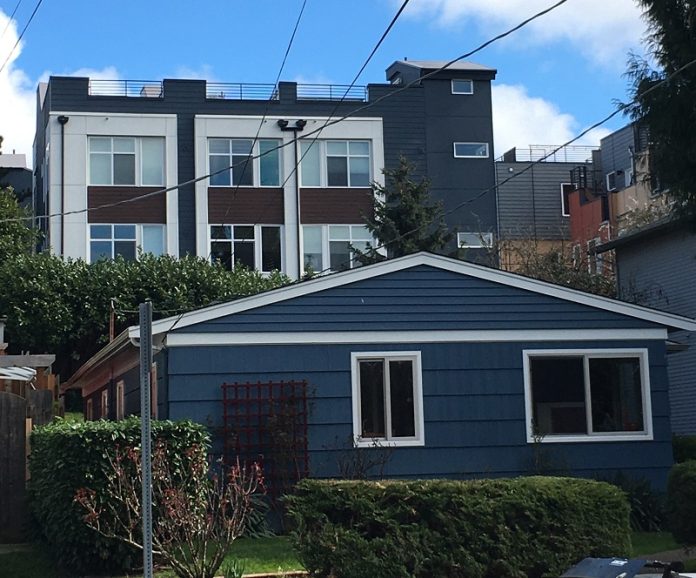 We cannot escape the echoes of history. I live in and own a house in a formerly redlined section of Wallingford. This house was built in 1916, just north of an industrial district, during a period of rapid development in the neighborhood, 47 years after Seattle was re-incorporated in 1869 on Duwamish lands with a population of about 1,000.
A neighborhood inventory published in 1976 by Folke Nyberg and Victor Steinbrueck noted that "Wallingford reached its physical development peak in the 1910s" even while lamenting the population decline that started in the 1950s as "families increasingly moved to the suburbs leaving behind a growing proportion of elderly and transient young people."
In the midst of this population decline, leaders in the Wallingford Community Council proudly orchestrated a downzoning of residential zones in the 1970s to exclude duplexes and prevent University of Washington students from over-running the neighborhood.
That decline reversed in the mid-1980s. In the last 40 years — nearly the same amount of time between the construction of my house and the founding of our city — Seattle's population has grown by nearly 60% from 493,000 to 776,000. Because our single-family homes in Wallingford have obstinately done the land-use equivalent of manspreading for more than a century — taking up an inequitable amount of space despite the population boom — since 1982, the assessed value of this house and land has increased about 1,300%.
While my single-family house — and a Craftsman to boot! — isn't unique, it's also not the only type of home here. This formerly redlined and declining area of Wallingford — and in fact many areas of the neighborhood — is generously sprinkled with housing that became outlawed by the 1970s Wallingford Community Council.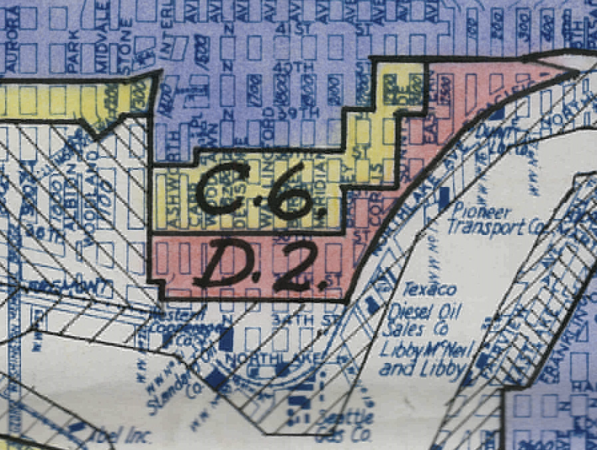 I bought my first house in Wallingford in 1998, also in this redlined district, with generational wealth. Two homes down the street is a duplex built in the 1940s into which one of the current mayoral candidates moved a couple years later. Across the street is a phalanx of three duplexes. My present block has a duplex built in 1900, a triplex built in 1911, a duplex built in 1950, and another built (somehow) in 1982. That last duplex, assessed for $153,000 in 1982 recently sold for around $1.4 million, an 800% increase in 40 years, a sum that even generational wealth gasps to attain.
These multifamily homes scattered among the formerly "hazardous" and "blighted" blocks near me aren't unusual. When we look across the neighborhood, there are about 350 multifamily or commercial buildings in zones where building such homes is banned today. This non-conforming housing includes a couple of condominiums, many duplexes, a healthy number of triplexes and quadplexes, two "rooming houses", units above corner stores, and even a couple dozen apartments.
In the 1998 — the year I moved to Wallingford — a group of residents recommended that Seattle reduce density in the new Wallingford urban village area bounded by Aurora Avenue to the west, 40th and 50th Streets, and where Ezell's Famous Chicken now resides.

There is somewhat of a pattern to this development. In the 130 years since Wallingford streets and parcels were first platted, most of the neighborhood was built as single-family homes. Nevertheless, hundreds of multifamily homes were built before they were banned completely in 1970s. But these homes tended to be built outside of the district that became the Urban Village.
The Wallingford Urban Village was created in 1994 with the intention to "deliver services more equitably, pursue a development pattern that is environmentally and economically sound, and provide a better means of managing growth and change through collaboration with the community in planning for the future of these areas." As a "residential urban village," Wallingford was intended to provide a "focus of goods and services for residents and surrounding communities but may not provide a concentration of employment."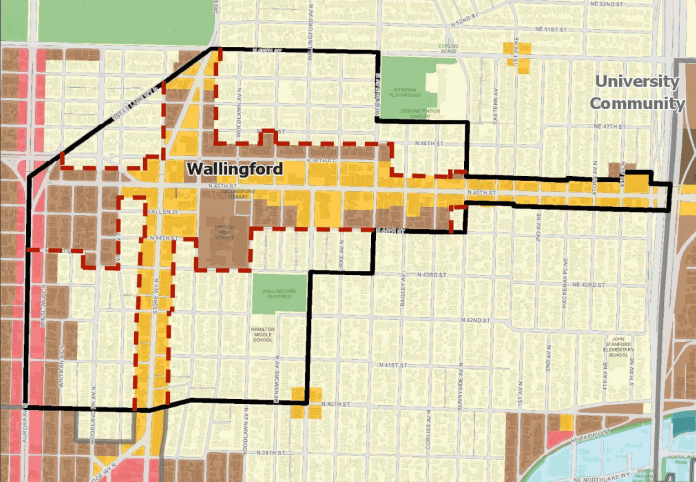 Despite these goals of equitable services and environmentally sound and managed growth, about half of the Urban Village banned housing other than single-family houses until 2019 (see the light yellow areas in the map above). Only the Stone Way and N/NE 45 St corridors and the blocks along Aurora Ave allowed apartments.
And here is where the echoes of history become visible like the reverberations of a dinosaur in a Jurassic Park cup. The redlining in Wallingford didn't serve to segregate Black people as it did in many other Seattle neighborhoods; Wallingford had sundown laws to keep out anyone but White people. (See also this excellent history by Shaun Scott for more on racism and zoning.)
A 1939 UW thesis by Gordon Beebe drew the connection between housing and environmental conditions, stating, "The gas plant on the north shore of Lake Union has exerted such an effect by depressing the value of residential property which is a considerable distance from it." We can see this echoed in the non-conforming multifamily housing today.
There tends to be more multifamily housing in south Wallingford closer to the old gas plant, which closed in 1956. In addition, along the shoreline were an asphalt company, a garbage incinerator, an ammonia plant, and lumber mills. The east side, in a few blocks just up the hill from a legacy industrial zone, saw duplex development in the 1950s and 1960s simultaneous with planning and construction for I-5. The west side is predominantly zoned multifamily between the historically industrial Stone Way and the Aurora Avenue freeway. The few western blocks that remained single-family zoning until this century thus similarly saw a concentration of multifamily development. As we go further north to the heart of the Wallingford commercial district and the Urban Village, there's fewer multifamily homes.
The Department of Commerce inventoried the housing south of N/NE 40th St in 1934, finding that 10% of the area was multifamily housing, compared to 9% citywide. Beebe did a further inventory, finding both that only Whites lived in the area and that 21% of the district was substandard housing, compared to 17% citywide. However, Beebe made the claim that the housing quality below N/NE 40th St was starkly lower than north of N/NE 40th St, where the modern Urban Village is located.
In the map below of Wallingford, I've indicated multifamily housing on parcels that were zoned single-family prior to 2019. You can see from the map below that the concentration of multifamily housing is rather light within the Urban Village (the area within the black boundary). I've indicated the redlined area with red and the "blighted area" with a purple line.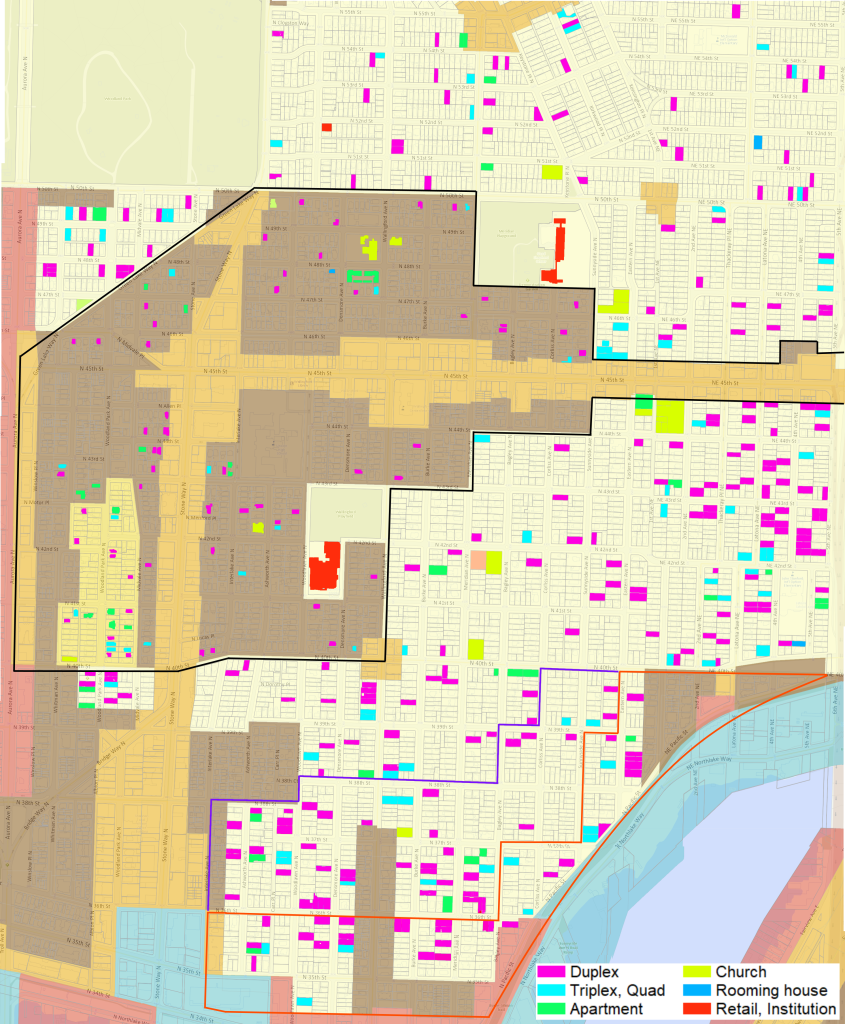 The historical legacy has echoes in political power as well. In the wake of the construction of the North Transfer Station in the formerly redlined district, the Wallingford Community Council formed, stating "Our community is the victim of the automobile. The residential character of our neighborhood is in jeopardy, and we believe it to be essential that major improvements be made. Otherwise our neighborhood, as we know it, will cease to exist."
This apocalyptic concern for the "residential character" — though not for the destruction wrought by the automobile — persists in the heart of the neighborhood, including a 2017 Wallingford Community Council-led stunt funeral for the "neighborhood voice". The opposition to the Mandatory Housing Affordability (MHA) upzones of the Urban Village came largely from residents north of N/NE 40th St, the area with a lower density of non-conforming housing sprinkled throughout the single-family houses. The south end of neighborhood, having less economic power due to environmental degradation, saw more multifamily development. The north end, having experienced less of it, came to see single-family houses as their birthright character, and thus strongly opposed the change.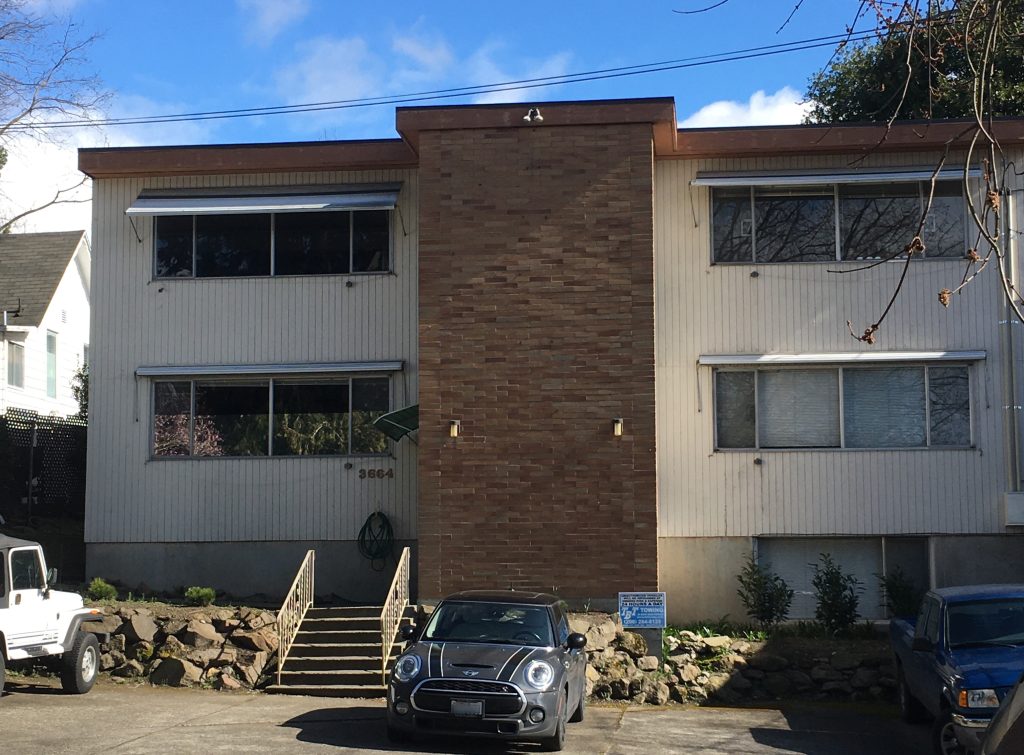 This power has been employed to concentrate multifamily housing in "less desirable" locations. In the first half of last century, this meant locations such as near a gas plant. Today, this means along arterials that we know are harmful to residents health and safety. During the MHA battle of 2015-19, Seattle Fair Growth was formed by a group of long-time Seattle homeowners including a former Wallingford Community Council board member and a current Seattle Council member's legislative aide. Their foundational argument was that current zoning — zoning that concentrates new housing along arterials — was more than sufficient for our needs. Seattle Fair Growth used their power to weaponize environmental review to delay implementation of a minor rezone. (Only 6% of single-family zoned land was upzoned for MHA, while all multifamily land was.)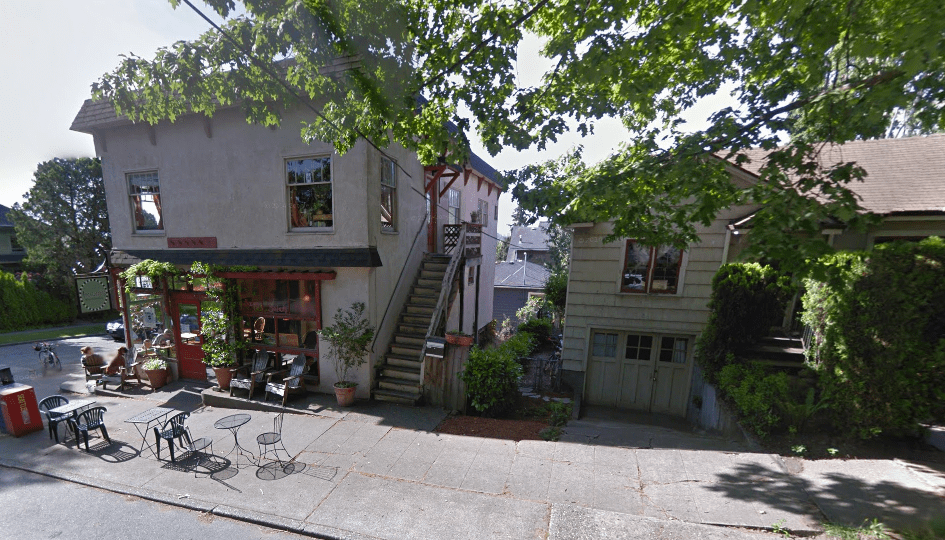 But sometimes the echoes of history are lost. Neighborhood conversations opposing new construction tend to forget that our historical development patterns gave us corner stores within walking distance of most homes. They've lost the concerns prior residents had about the negative impact the automobile had on the neighborhood and our local businesses. Most every new multifamily building is greeted with outrage on Nextdoor or the Wallingford Facebook page that there won't be an off-street parking spot for each new home, despite many of us in single-family homes not having, or not using, our own off-street parking.
This new construction is also condemned for the quality of construction versus that of all these old houses, complaints that, as Beebe reminded us, are certainly not new and that many of our century-old homes were subjected to decades ago.
Another persistent complaint is that new construction simply enriches developers, despite our neighborhood being named for the developer John Wallingford. What this ignores is the vast wealth that accrues to homeowners, wealth gained not by creating housing, but by simply holding it. Across the street from Hamilton Middle School, a multifamily development within the urban village is garnering organized opposition. The single-family house was sold to the developer in 2020 for $1.19 million, a 22% profit over the purchase price in 2018. All told over the last 30 years, this parcel increased in value by $1.05 million, or 845%.
Research done by Microsoft in 2019 found that Seattle lacks nearly 200,000 affordable homes. Today — after 100 years of reducing where apartments, condominiums, duplexes and quadplexes can be built, and despite the 2019 MHA upzones — approximately 70% of the land where housing can be built is restricted to only single-family homes. The result is we're seeing older and smaller apartments in multifamily zoning torn down and replaced by larger buildings. We're seeing older single-family homes demolished not to house more people, but just to create more house. In Wallingford over the last decade, we've seen about 100 single-family homes demolished and replaced by newer, larger single-family houses. There's currently two dozen in the permitting process. The map below tells that story, the yellow dots new single-family houses, the yellow squares pending construction.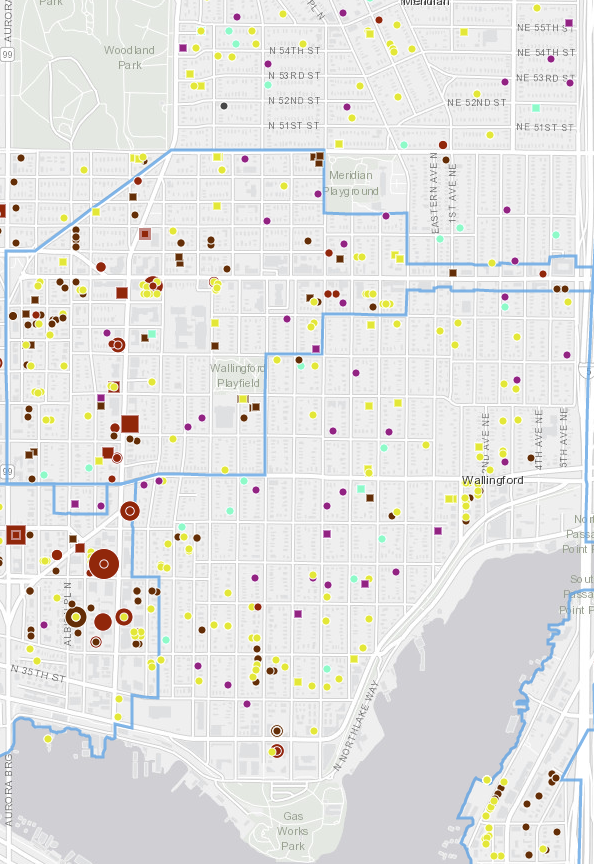 And here's another echo from history. The redlining in Wallingford created economic separation. This same economic separation is raging around us today. About 47% of Seattle renters are rent burdened, which both drives homelessness and flight from the city. This economic and housing policy choice has hollowed out the Central District, where the percentage of Black residents has plummeted from 75% to 15%. Seattle's Black population is at its lowest percentage since the 1960s. Median income for Black households is less than half that of White ones. And 73% of Black households rent. Meanwhile, the Black population in King County has risen dramatically. This points to an undeniable reality: our housing policy has created a new redlining, not one drawn on maps, but one implicit in our Zillow valuations.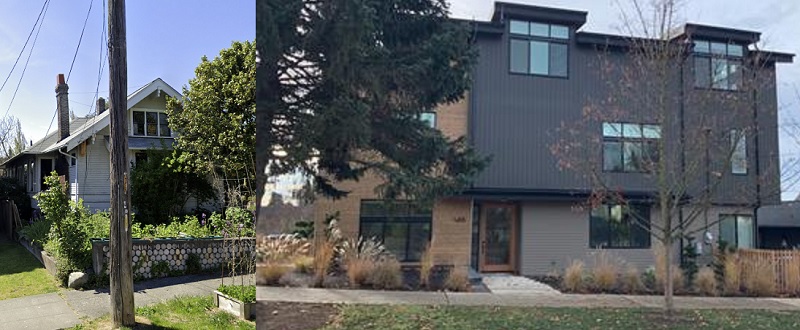 And for my fellow Wallingford homeowners: don't think we're immune. With the median house value topping $800,000, our generational wealth is increasingly insufficient for our children to live in the city in which they were raised. Instead of fighting against neighborhood change and housing, we can instead embrace it and shape it so that we can welcome back those who've been displaced, and so Generation Z will have equitable opportunity to build a more welcoming Wallingford and a better Seattle.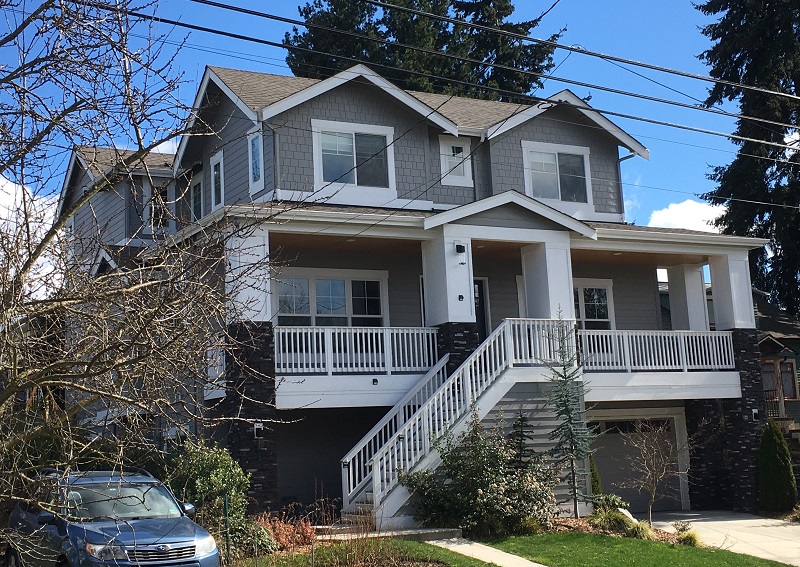 Since 2010 we've averaged just 6,600 new homes per year, only a meager percentage of those affordable. We need a vision for massive and sustainable public investment in housing that commits to eliminating the deficit of affordable housing in five years. We need a robust discussion about whether design review, a hurdle homeowners created in 1994, achieves better buildings or if it simply results in expensive delays and environmentally destructive and costly modulations. We need vigorous innovation in financing, and land use, and building standards if we're going to create 15-minute cities this century let alone this decade.
Coming soon is a major revision to the Growth Management Act. Our housing policy with concomitant transportation, environmental, and economic plans must be improved. Washington State legislators this season punted on many housing bills, even ones that would have offered the most gentle density in keeping with "neighborhood character". And worse, we still aren't earmarking enough money to fund public investment in the hundreds of thousands of homes we need.
This year is a mayoral election, and housing opportunities must be central to the conversation. It's time to stop debating whether we should end the duplex ban across all of our residential land. The Seattle Planning Commission resoundingly concluded in 2018 that we must expand the forms of housing permitted across all of our residential land.
Two years later with a housing crisis that has only worsened, the question before us is now whether the historical development model of single story duplexes and two story apartments is adequate to the massive deficit in housing we face today, or if we need more.
I say, let's go bold: open the city to at minimum four floors and corner stores across every residential parcel. That's what a 15-minute city requires. It's what our teachers, and nurses, and paralegals, and artists, and line cooks need. It's what our kids will need to find a home in the city in which they were raised.
I for one would be near first in line to volunteer my home for redevelopment according to housing patterns proven around the world.
---
Want to take action? If you'd like to ensure that Wallingford becomes more welcoming to new neighbors, you can join the campaign to ask the Seattle City Council to review historic preservation and its role in undermining equitable housing across Seattle.
Want to learn more? Here's a few resources:
Correction: Data around the number of single-family home demolitions replaced by larger single-family homes was corrected.
Paul Chapman lives in Wallingford and advocates for progressive urbanist causes. You can follow him on Twitter at @PoulChapman.