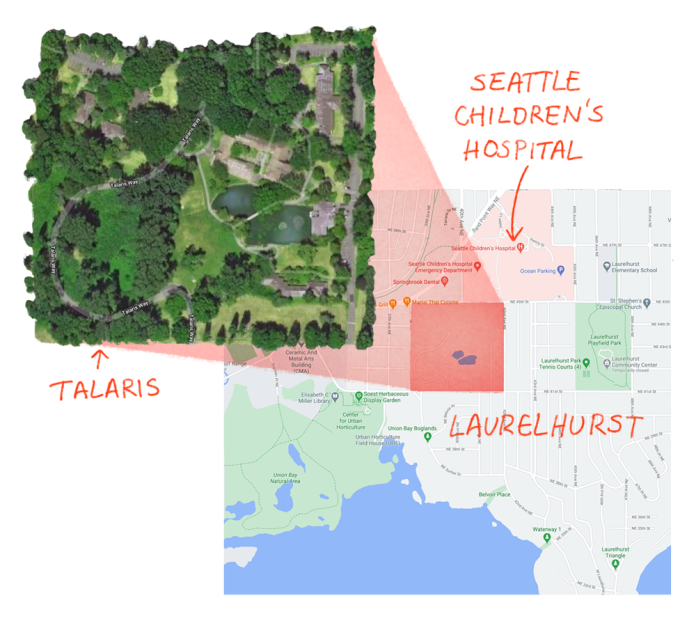 Many areas in the North End of Seattle historically kept out communities of color. It contained a patchwork of racial covenants, and banks furthered exclusion by discriminating who they would loan to and where through a system of redlining. Most of Seattle's anti-displacement efforts have rightly centered on areas in the Central District, Chinatown-International District, Rainier Valley, and the Duwamish Valley. Seattle's growth is happening in narrow areas of our city, while other areas have continued to live in a suburban-like bubble.
Recently, City Council candidate Nikkita Oliver stated: "It's no secret that Seattle has a legacy of exclusionary zoning, and our zoning has played a huge part in the problem as to why we don't have enough housing. About 12% of the land is getting 85% of the development, and it's happening in such a way that not only is it not developing enough housing, it's also creating displacement in neighborhoods where people are already very much at risk."
The lack of land use changes that would allow more affordable housing options in areas like Laurelhurst, near Children's Hospital, has increased pressure on other areas of the city for development. There is a scarcity of housing, particularly for working class families around the University of Washington, too. Bad zoning policy is one culprit that forces people out of our city, and into long, stressful, climate-unfriendly commutes.
Single-family zoning ensures that if a new home goes up, it will likely cost more than a million dollars. (The Magnolia homes in the tweet above are giant McMansions valued over two million dollars). In most of Seattle, apartments are banned. The lack of housing for students, workers, and residents who lack generational wealth for a down payment on a million-dollar home is happening throughout Seattle. Sharp relief is especially needed near the University of Washington and Seattle Children's Hospital. Near Husky Stadium light rail stadium, communities like Montlake and Laurelhurst have avoided adding new apartments.
Anti-displacement work is essential. One way to address this issue is to confront the hypocrisy of wealthy communities, whose home values rise exponentially as existing neighbors say 'no' to land use changes. Share The Cities is focused on one parcel of land in the north end of Seattle that we feel exemplifies the uneven growth in our city. We want to make the case here that South Seattle needs an affordable Talaris and an affordable Laurelhurst.
What is Talaris?
The conversation around the Talaris parcel is a case study in how our city touts equitable development and reversing and dismantling racism, but layers of entrenched land use laws are standing in the way of real equity.
The current plan is to build over 65 luxury homes that would cover most of the privately owned lot, with an owner selfishly committed to single family zoning. As Ray Dubicki previously covered in The Urbanist, the Talaris Mansion Plan Is an Unmitigated Disaster. It is shocking in the context of dual climate and housing crises. In 2018, the 43rd and 46th Legislative District Democrats agreed. They passed our resolution asking "Seattle City Council to halt the current plan for Talaris and implement an equitable development outreach process using the City of Seattle's Equitable Development Initiative Framework to build more homes on or near Talaris."
In September 2020, we took collective action to mobilize over 145 comments in 72 hours to the Seattle Department of Construction and Inspections for the scoping phase of the project's Environmental Impact Study (EIS). Our efforts have been championed by Cary Moon and Marc Stiles. On October 1st, the Puget Sound Business Journal published Conor Bronsdon's "Seattle's Talaris campus needs dense affordable housing". As you can see in the illustration below. As we build more dense, taller housing on the site, we would save trees. Talaris is an opportunity for tree canopy advocates and urbanists to unite around a common cause.
While the Seattle City Council rededicates itself to preserving the city's precious tree canopy, the developer's current plan would mean the loss of hundreds of trees, 175 of which are exceptional due to size or grove status. There could also be an opportunity to daylight Yesler Creek. Our all-volunteer group has daydreams of river otters playing next to dense housing for nurses or UW low-income workers, and short-term housing for parents whose kids are staying at Seattle Children's. 
A rezone to legalize apartments at this location, currently banned, would also allow for contributions to affordable housing developments citywide. This could help limit individual displacement of current residents, often priced out of our city. Home prices in Laurelhurst average $1.7 million, yet builders of new Talaris luxury homes will not be required to build affordable housing or pay into the Seattle Office of Housing's Mandatory Housing Affordability (MHA) fund. If this land allowed for more dense multifamily housing, which would also be much less expensive housing, it would be required to contribute to an affordability fund. New luxury single-family homes do not have to contribute any funds to our housing crisis. Does that seem fair? It really is backwards. 
The Talaris example highlights how an equitable city won't happen unless we make bold, dramatic land use changes. As Seattle is about to undertake our comprehensive plan updates, the time is now to discuss what responsibility the North End has to the South End of Seattle to ensure housing for all. Stopping displacement in our most impacted communities, will require legalizing more housing to be built in the ones that have used every ounce of wealth and privilege to keep out new neighbors.
Affordable Talaris encourages everyone in Seattle to learn about Seattle Planning Commission's work to fix the geographic inequity baked into our existing land use laws. Historic policies and patterns continue to perpetuate inequality in our communities. For a quick introduction, check out this great video about the history of redlining in Seattle. Laurelhurst cannot stay in a suburban bubble forever. Talaris is the most obvious example of Seattle's current exclusion, gatekeeping, and land hoarding. We have to share our city.
Affordable Talaris is a working group within Share The Cities Action Fund, an all-volunteer land use education and advocacy nonprofit. Affordable Talaris's work is rooted in halting climate change, greater access to green space, and more affordable housing in Seattle. We passionately support development without displacement. All are welcome to attend our meetings. Check our website for updates.