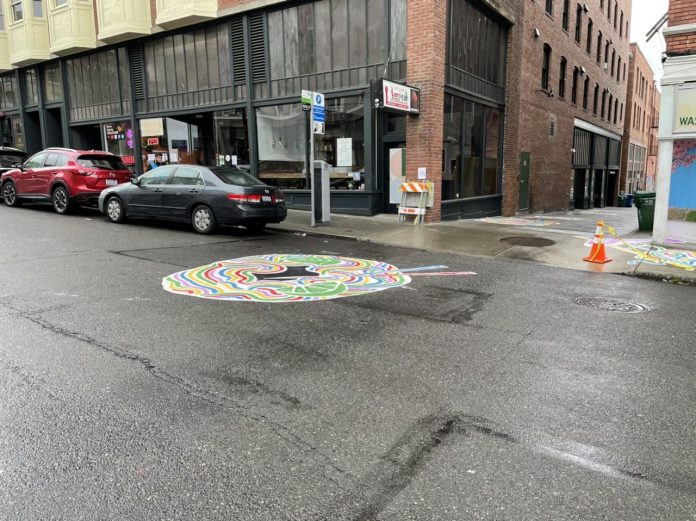 Sweeping on-street parking regulation changes are on the horizon in Seattle. The Seattle Department of Transportation (SDOT) is rolling out updated paid parking rates on June 1st and will expand parking restrictions throughout Uptown, Roosevelt, Northgate, and the University District in the fall. Revised paid parking rates are in response to growing parking demand while the neighborhood parking restriction expansion are being spurred on by the planned openings of Climate Pledge Arena and Northgate Link in October.
As Seattle exits pandemic hibernation, paid parking rates get adjusted
For a time in 2020, Seattle fully suspended paid parking across the city as it went into pandemic lockdown and then socially-responsible, self-imposed hibernation. Travel and parking demand in busy areas like the Center City, Chinatown-International District, and South Lake Union plummeted, making paid parking enforcement and regulation a low priority. But as things picked up and people began to travel by car again, the City reimposed paid parking to manage demand beginning in mid-July and then adjusted rates in October and February. Now as the city begins to exit pandemic hibernation, paid parking rates are getting further refinements with many going upward.
Before the pandemic, paid parking rates ranged from $0.50 to $5.00 per hour depending on the time of day and location. But now they'll range $0.50 to $2.50 starting on June 1st to free up on-street parking space and provide better access to visitors of local restaurants and stores.
The City uses a performance-based approach to paid parking by analyzing demand in neighborhoods through the day. The goal of the approach is to ensure that parking utilization on individual blockfaces ranges between 70% to 85%. This corresponds to a specific hourly paid parking rate to maintain the target and encourage regular turnover of spaces on blockfaces. Within neighborhoods, the City has created numerous subareas with differing paid parking rates throughout the day, maximum parking time limits, and even the hours in which paid parking is in effect.
Based upon the parking surveys, the biggest changes shake out as follows:
In the Pike-Pike area, the paid parking rate in the evening will be lowered to $0.50 per hour (the rate is currently $1.00 per hour);
In 13 districts (e.g., Pioneer Square, Belltown, Fremont, and Columbia City), the paid parking rates will increase $0.50 to $1.00 per hour across different times of day;
Outside of these areas, SDOT will generally keep paid parking rates at $0.50 per hour.
SDOT also plans to keep on-street parking free on Sundays and state holidays.
Light rail pushes on-parking changes in North Seattle
In advance of the Northgate Link light rail extension opening in October, SDOT is proposing changes to parking regulations near stations in the University District, Roosevelt, and Northgate. The changes in the University District and Northgate are fairly straightforward since most on-street parking is already regulated with restrictions, but Roosevelt is poised to see much deeper changes on the scale of Uptown.
For the University District and Northgate, the changes breakdown as follows:
In the University District, SDOT is proposing to add paid parking on blockfaces where there are no restrictions currently. This would generally affect 11th Ave NE, 12th Ave NE, and NE 42nd St.
In Northgate on the stub streets south of NE 100th St that provide access to a medical and office park, SDOT is proposing two-hour time limits for blockfaces with no current restrictions.
In both neighborhoods, SDOT plans to review loading zones and make additional changes for bus stops, which may affect on-street parking.
The Roosevelt changes are much more extensive because the neighborhood Restricted Parking Zone (RPZ) is planned to be vastly expanded. RPZ expansion is proposed as much as a half-mile from Roosevelt Station. Around the station area, there would be parking restrictions on nearly every blockface from I-5 to 17th Ave NE and NE 73rd St and NE Ravenna Blvd. A new two-hour parking time limit would be added on three blockfaces north of the station and paid parking would added on the eastern blockface of 12th Ave NE between NE 66th St and NE 65th St — directly across the street from the station. Outside of that, RPZ 19 would be added on the remaining blockfaces that don't currently have parking restrictions.
RPZ 19 limits the that motorist can park with permits to two hours from 7am to 7pm on weekdays. Residents can purchase permits to be exempt from the time limits for $65 every two years (a low-income option is available for $10 every two years). The RPZ program essentially gives residents priority to on-street parking ensuring better access to spaces while providing visitors a better chance at finding spaces and encouraging short-term visits.
Still, given that paid parking restrictions are quite narrow in Roosevelt, it is surprising that the curbspace and access management proposal does not come with more blockfaces getting the paid parking treatment near the station and along Roosevelt Way NE and 12th Ave NE. The neighborhood has seen substantial multifamily and mixed-use development over the past several years in response to pent up demand, zoning changes, and anticipated light rail arrival. On top of this, the commercial heart has been trending upward and public assets like Roosevelt High School and Ravenna Park also generate a significant amount of visits to the area.
But perhaps the proposed plan will be sufficient enough to manage the access demand that light rail will bring, encouraging enough would-be riders to just walk, roll, bike, or take a connecting bus while still balancing other neighborhood access objectives.
Arena-induced parking changes finalized in Uptown
As for Uptown, SDOT is making changes to on-street regulations due to the forthcoming opening of Climate Pledge Arena — a rehabilitated and expanded Seattle Center Coliseum — in October. The City expects arena events to regularly draw crowds upwards of 10,000 people for concerts and sports.
SDOT finalized the Uptown curbspace and access management plan after reviewing feedback from the community and making adjustments. The proposal is fairly similar to the one in February, but the RPZ expansion was reduced with W Kinnear Pl and Ward Street now being the northernmost extent instead Prospect Street and paid parking applying to a few more blockfaces. SDOT also is keeping nighttime no-parking restrictions on RPZ blocks from 6pm to 12am, except for RPZ 13 permitholders.
Overall, the Uptown curbspace and access management plan will deliver:
New bus-only lanes to Queen Anne Ave N and 1st Ave N between Denny Way and Mercer Street;
New bike lanes — including fully protected ones — east and west of Seattle Center with W Harrison St, Queen Anne Ave N, 1st Ave N, and Thomas Street being the primary focus for them;
Targeted pedestrian improvements, mostly near the arena;
An expanded RPZ 13 to scores of new blockfaces north and west of Seattle Center; and
Added paid parking in two areas (one near Elliott Ave W and one near Aurora Ave N) currently without parking restrictions.
Between reseting paid parking rates across the city and big projects like light rail and the arena generating new potential on-street parking demand, SDOT has a full plate for parking management this year.

Stephen is a professional urban planner in Puget Sound with a passion for sustainable, livable, and diverse cities. He is especially interested in how policies, regulations, and programs can promote positive outcomes for communities. With stints in great cities like Bellingham and Cork, Stephen currently lives in Seattle. He primarily covers land use and transportation issues and has been with The Urbanist since 2014.