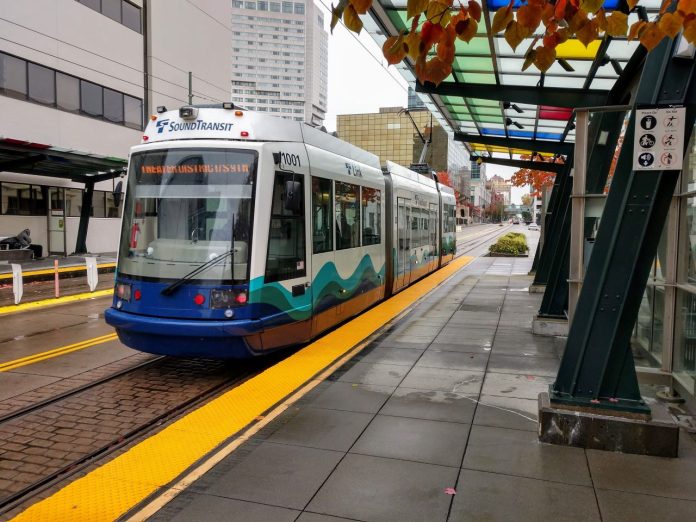 Sound Transit is pursuing introduction of Tacoma Link fares. The 1.6-mile streetcar line has operated fare-free since 2003 when it opened. But an extension of the line is set to open next year to the Hilltop Neighborhood, leading the agency to come up with a sustainable way to fund expanded service.
For years, Sound Transit has been able to operate the line fare-free. Fares were going to be implemented in 2014, but a fare subsidy program with the Downtown Tacoma Partnership staved off fares and has been in place since. The line being quite short has acted as a shuttle between Tacoma Dome Station and Downtown Tacoma, making that sort of program an affordable choice. However, agency staff were directed in 2016 to devise and implement a fare structure when the line is extended beyond Downtown Tacoma. Right now, the line is being extended 2.4 miles and will serve the Stadium District and Hilltop District — as far south as St. Joseph's Hospital, essentially making one big switchback — next year.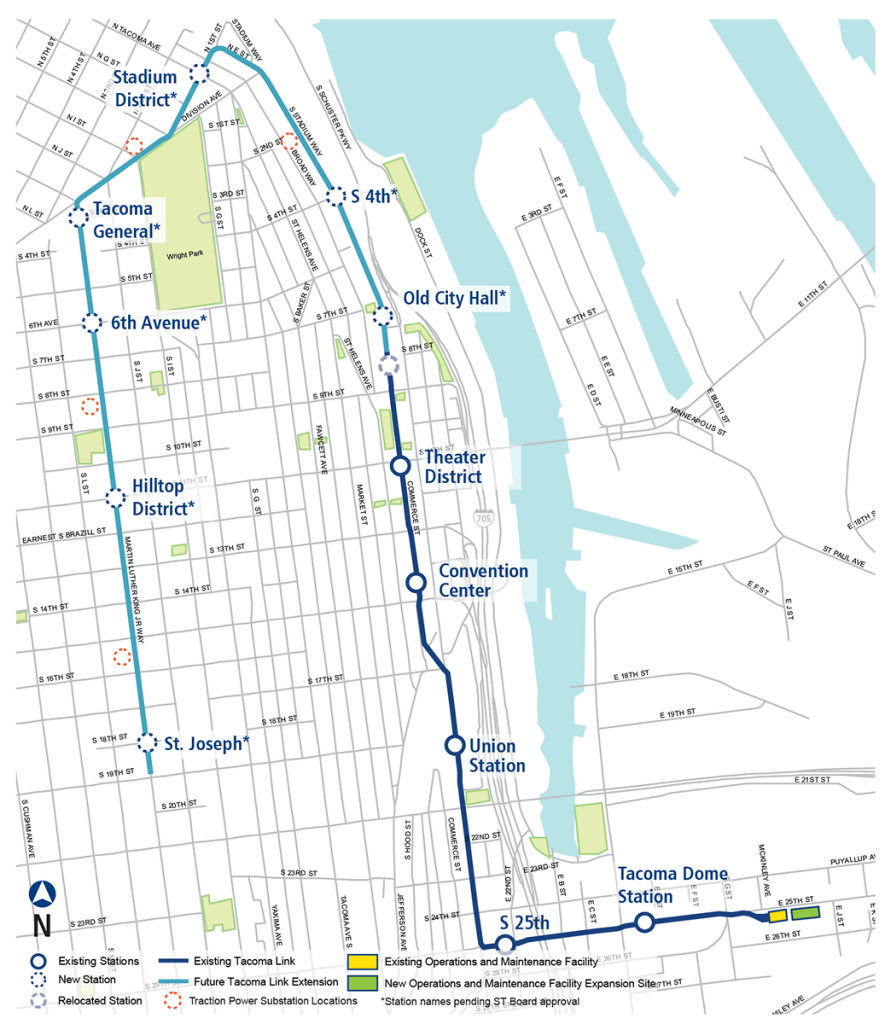 Sound Transit's two fare options essentially differ for the adult and youth costs. Option 1 is a $2.00 adult fare and $1.00 youth fare while Option 2 is a $2.50 adult fare and $1.50 youth fare. Option 1 aligns with Pierce Transit's current adult and youth fare costs while Option 2 aligns with Central Link's lowest adult and youth fare costs. Both options propose common $1.00 fares for seniors and disabled persons and $1.50 fares for low-income ORCA LIFT riders.

An online survey on the fare proposals is open through Sunday, July 25th and an online public hearing is scheduled for Thursday, July 15 at 9:30am where public comment on the proposals can be provided. Sound Transit expects to implement fares in May 2022 when the extension is scheduled to open.
Looking ahead, the extension will serve six new stations and include a relocated station for Old City Hall, bringing the total number of stations to 12. Brookville Equipment Corporation was selected as the vendor under a purchase agreement for additional streetcars that will operate on the extended line. Five new streetcars using Brookville Equipment Corporation's modern Liberty model will operate the line in addition to Tacoma Link's three existing Škoda 10 T streetcars. Construction on the line is still underway on sections of the corridor and in fact service has been temporarily suspended on Tacoma Link due to track installation on E 25th St near Tacoma Dome Station. Service is planned to resume on June 30th, but for now a shuttle bus is operating the corridor.
Further into the future, Tacoma Link is planned to be expanded as far as Tacoma Community College and connect with — but not operate on — the Tacoma Dome Link Extension from Federal Way. Originally, the Tacoma Link extension to Tacoma Community College was planned to open in 2039, but all bets are off now as the Sound Transit board of directors grapple with increased project costs and capital program realignment. Recent scenarios suggest several years of delay to opening the extension, such as 2041 or 2044.

Stephen is a professional urban planner in Puget Sound with a passion for sustainable, livable, and diverse cities. He is especially interested in how policies, regulations, and programs can promote positive outcomes for communities. With stints in great cities like Bellingham and Cork, Stephen currently lives in Seattle. He primarily covers land use and transportation issues and has been with The Urbanist since 2014.