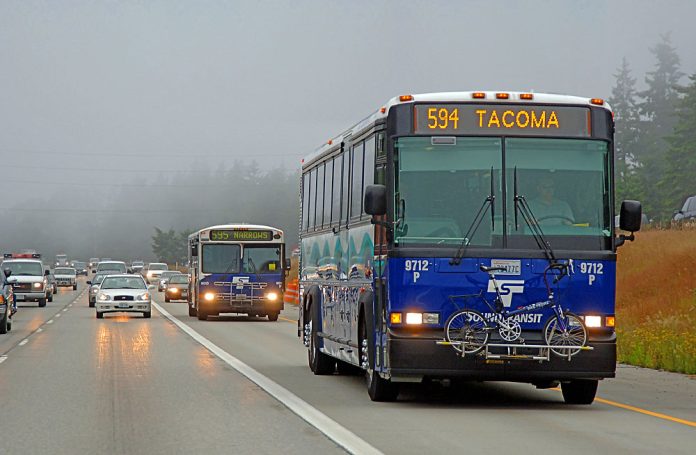 New Sound Transit service concepts for 2022 show that regional bus service could become frequent all day on weekdays and weekends from Tacoma and Federal Way to Seattle. The agency also highlighted other service improvements ahead as the Northgate Link and Tacoma Link Hilltop Extensions open and the pandemic lifts. Underpinning many of the changes are a focus on all-day regional service, ridership patterns that are less peak-oriented and more spread throughout the day, and sustained and stronger ridership in the South End.
Tacoma and Federal Way ST Express bus service improvements
The biggest news on Thursday was a new service concept that would increase frequencies on ST Express bus routes between Seattle, Federal Way, and Tacoma. Sound Transit staff have suggested that all-day frequencies could reach every 15 minutes on the corridor seven days a week. This would match the type of service provided to Snohomish County and East King County where Routes 512 (Everett-Seattle), 545 (Redmond-Seattle), and 550 (Bellevue-Seattle) — and eventually Route 522 (Bothell/Woodinville-Seattle) in October — have all-day 15-minute or better frequencies. Agency staff said that the proposal "responds to continued growth in the South Corridor and recent ridership trends."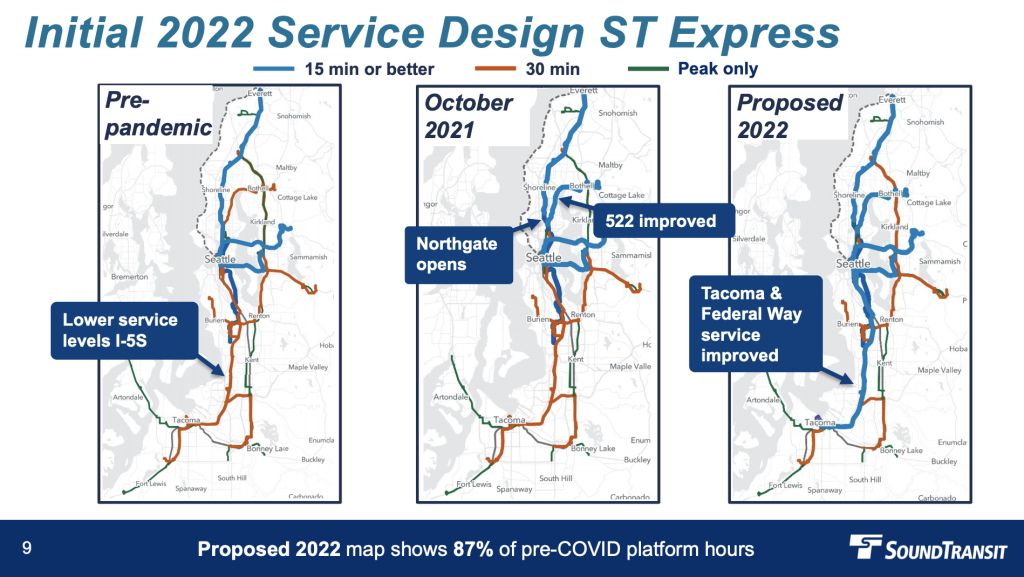 Looking at ridership trends by mode and area served, ST Express bus service seems to be performing notably better in the South End than other areas. Data from March showed that South ST Express had 35% of pre-pandemic weekday ridership levels compared to 23% for Link, 22% for North ST Express, 16% for East ST Express, 14% for South Sounder, and 4% for North Sounder. The dropoff and rebound in ridership for South ST Express during the initial period of the pandemic differed greatly from other modes and areas; the dropoff was less dramatic and the rebound was much more pronounced.
Several ST Express bus services connect Tacoma and Federal Way to Seattle, including Routes 577 (Federal Way-Seattle), 578 (Puyallup-Federal Way-Seattle), 590 (Tacoma-Seattle), and 594 (Lakewood-Tacoma-Seattle). It's unclear which routes would get the service increases, but this could open up the potential for some routes to be consolidated, adjusted, or running extra trips that don't extend all the way to the normal route terminal (e.g., Puyallup and Lakewood).
Other changes ahead
On October 2nd, the Northgate Link extension will open allowing Route 522 to be trimmed back to Roosevelt Station. The savings in service hours between there and Downtown Seattle allows Sound Transit to reinvest service hours into an improved service that provides 15-minute frequencies all day, except late evenings. In tandem with the extension opening, Sound Transit is modifying Snohomish County-Seattle ST Express bus service by sending Routes 511, 512, and 513 along with Community Transit 800 series routes to Northgate Station. However, Route 510 and Community Transit 400 series routes will still run to Downtown Seattle.
Additionally, Routes 542 (Green Lake P&R-Redmond) and 556 (Northgate-Bellevue/Issaquah) will be trimmed back to U District Station since light rail service would be duplicative and faster for most riders with the latter route being restored as it is currently suspended. Whether or not companion peak-hour services like Route 541, 544, and 555 return in 2022 remains to be seen but they are planned to remain suspended this year.
Looking ahead to 2022, agency staff highlighted the service levels planned for Sounder, Central Link, and Tacoma Link:
South Sounder regional rail service could be restored to the full 13 roundtrips by September 2022. North Sounder, however, may remain at two daily roundtrips, which is half of pre-pandemic service levels.
Central Link service levels are proposed to remain at current frequencies, which are every eight minutes during weekday peak hours, every ten minutes during weekday off-peak hours and on weekends, and every 15 minutes during late evening hours. Pre-pandemic, frequency on the line was slightly higher with trains every six minutes during weekday peak hours.
Tacoma Link service is expected to improve when the Tacoma Link Hilltop Extension opens in May. Frequency should go to every 10 minutes on weekdays and Saturdays, which is an improvement over every 12 minutes. Likewise, Sunday frequencies should go to every 20 minutes, which is better than the current 24-minute frequencies.
Next steps
Agency staff plan to begin outreach on 2022 service concepts this month with an online survey. Then the agency will spend August and September incorporating any feedback into a final plan to be transmitted to the Sound Transit board of directors for consideration and adoption in October. The budget to be approved in December will formally allocate funding for the corresponding service levels and changes will go into during the normal March and September service change periods.

Stephen is a professional urban planner in Puget Sound with a passion for sustainable, livable, and diverse cities. He is especially interested in how policies, regulations, and programs can promote positive outcomes for communities. With stints in great cities like Bellingham and Cork, Stephen currently lives in Seattle. He primarily covers land use and transportation issues and has been with The Urbanist since 2014.