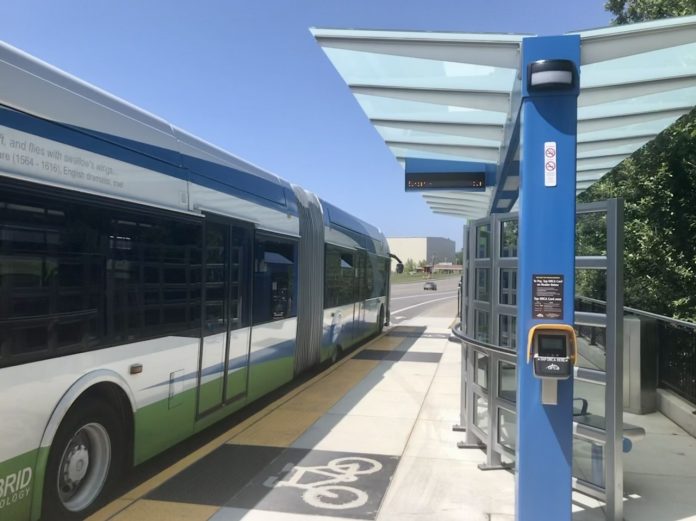 A new bus rapid transit line is coming to Snohomish County by 2024, joining two other lines already in service. Along with it, significant service growth across the Community Transit bus network is planned, rising more than 30% in six years. This is quite a rebound for an agency that had its very high hopes dashed by the pandemic.
Officials break ground on supportive facilities for the Orange Line and future growth
On Wednesday, federal, state, and local officials gathered at the Merrill Creek Operations Base for a groundbreaking ceremony marking the start of base expansion and renovation. The project is a necessary part of Community Transit's planned service expansions, including the Swift Orange Line in 2024. Among the attendees were Representatives Suzan DelBene and Rick Larsen, Snohomish County Executive Dave Somers, State Senator Marko Liias, and State Representatives April Berg, Shelley Kloba, Mike Sells, and Emily Wicks.
"It's so important to expand our transit network while we meet the region's transportation needs," said Rep. Larsen. "In three years, the Swift Orange Line will connect residents and students to Lynnwood Link light rail, reducing traffic congestion and carbon emissions while improving the commute for riders getting to and from work, school, and recreational activities."
The Merrill Creek Operation Base expansion and renovation is just one of seven different phases of projects to accommodate service expansions. The project will add six maintenance bays and expand two existing ones that can accommodate both articulated and double-decker buses by 2024. Other improvements will also be made to the facility, which importantly includes more parking space for up to 271 buses. Sixteen spaces are required for the new Swift Orange Line articulated buses. As part of this phase, renovation of the Merrill Creek Administration Building will turn the building into a transportation operations center by 2023.
Other phases will expand the Kasch Park Operating Base, add a new site to store paratransit and vanpool vehicles, and by 2024 expand and renovate the RideStore at Lynnwood Transit Center in time for the start of light rail service. Work on renovating the Kasch Park Casino Road Administration Building started in 2019 and is set to open in 2022. The full suite of base expansion and renovation projects are set to open over a seven-year period and cost $123.5 million.
As for the Swift Orange Line, it will run from Mill Creek to Edmonds Community College via Ash Way Park & Ride and Lynnwood Transit Center. It will be a crowning transit piece in the year that Link light rail is extended to Lynnwood. Community Transit is also planning to extend the Swift Blue Line to the NE 185th St Station in Shoreline in 2024, too. It's especially unique because it will be providing limited local service in King County even though most of the benefit is to Snohomish County riders. That extension will also serve Aurora Village Transit Center in Shoreline.
Looking ahead, Community Transit intends to start planning of a fourth bus rapid transit line dubbed the Swift Gold Line in 2022. The line could launch in 2027 and run from Everett Station to Smokey Point Transit Center in Arlington with service on Broadway in Everett and Slate Avenue in Marysville. Conceptually, the agency wants to extend the Swift Green Line after that from Canyon Park & Ride to University of Washington-Bothell, which would be another expansion across the county line. And then another Swift expansion could come with the Swift Silver Line, which presumably would run from the Seaway Transit Center to SR-9 via South Everett and Mill Creek.
34% service growth is planned over the next six years
Over the next six years, Community Transit is planning more than 140,000 new annual service hours, allowing the agency to grow 34% by 2026. A large chunk — 42,500 — of new annual service hours will go toward the Orange Line. The years in 2022, 2023, and 2024 would see the biggest gains in new service hours. But it can't be underemphasized that 2024 will actually see more dramatic service growth than the 50,000 new annual service hours suggest. This is because commuter routes that run into Seattle will be eliminated with the extension of Link light rail to Lynnwood, allowing those service hours to be reinvested within Snohomish County for local service and other commuter routes. The agency reports that work has already begun to facilitate the massive 2024 system restructure.
This fall's service change is a testament to what trimming back commuter routes to Link can do. In October, the 800 series bus routes will be truncated to Northgate Station instead of traveling to the University of Washington, allowing service hours to be reinvested; 4,000 annual service hours will be added to the 800 series bus routes and 5,300 annual service hours will be added elsewhere in the system.
The 2021-2026 Transit Development Plan (TDP) outlines several priorities for all of this service growth:
"Redesigning the commuter bus network to serve Lynnwood City Center Station and
Mountlake Terrace Station when Lynnwood Link light rail opens in 2024."
"Implementing Swift Orange Line and Swift Blue Line Expansion."
"Restructuring local routes within the SR-527 corridor to better connect the Swift Green
Line with surrounding neighborhoods."
"Restructuring local routes along 164th St SW, 36th Ave W and 196th St SW in Lynnwood to
better complement the Swift Orange Line and provide more connections between Swift
and surrounding neighborhoods."
"Continuing to make improvements to local route frequency and span, new connections
and access in North and East Snohomish County. An example is a possible service
expansion in the SR-531 corridor in Arlington."
But parsing back through older transit development plans, it becomes obvious just how harsh the pandemic was on the agency's growth plans. In 2019, annual service hours had reached 457,410 and the agency planned to grow by more than 109,000 to 566,864 by 2024. That was greatly tempered by immediate cuts to annual service hours in 2020, when they cut 47,515 hours, brining total hours scheduled to just 409,895 — a level far below that of 2019.
Community Transit put out service recovery plans last year: a slow recovery scenario and rapid recovery scenario. By 2024, the slow recovery scenario was supposed to buy back just over 8,000 annual service hours, reaching 417,000 — still far short of the 2019 baseline. The rapid recovery scenario was more ambitious with over 91,000 new annual service hours, reaching 500,000 in total. That's still short of 2019's goal of 566,864 annual service hours for 2024, but the new 2021-2026 TDP plan would get reasonably close with 550,000 albeit in 2026.
Fundamentally, the pandemic did great damage to most regional transit agencies' service growth plans, but Community Transit is pushing hard to catch up with its earlier goals. Those could be further expedited if Everett Transit merges into the system, providing opportunities for more operational efficiencies, additional equipment, and more than doubling service in Everett.
Community Transit will take comment on its 2021-2026 TDP through August 5th.

Stephen is a professional urban planner in Puget Sound with a passion for sustainable, livable, and diverse cities. He is especially interested in how policies, regulations, and programs can promote positive outcomes for communities. With stints in great cities like Bellingham and Cork, Stephen currently lives in Seattle. He primarily covers land use and transportation issues and has been with The Urbanist since 2014.