Community Transit is charting two very different paths for service growth as local transit agencies grapple with the economic fallout of Covid. In the six-year draft Transit Development Plan (TDP), Community Transit contemplates what service would look like under "slow recovery" and "rapid recovery" scenarios. The delta between the two scenarios is $135 million in assumed sales tax receipts, according to the transit agency. However, Community Transit forecasters believe that the realized revenue shortfall will land somewhere in the middle of the two scenarios. Regardless of the revenue crunches, the transit agency is promising that expansion the Swift bus rapid transit network will still advance over that timespan.
"We've committed to building out Swift and connecting to Link light rail in 2024," said Roland Behee, director of planning and development for Community Transit. "Details on other bus routes to support the full transit network are still in development, and will be different under the two revenue scenarios."
Service levels for the fall and next year are planned to remain at 85% of the pre-pandemic benchmark when scheduled annual service hours stood at 457,410. Weekday service levels will therefore remain a high priority while reductions to weekend service will be a little more pronounced.
Looking ahead, the pace of service recovery is a bit foggy given the economic and financial uncertainty. However, Community Transit has provided some details on the two scenario recovery in the draft TDP. The "slow recovery" scenario is fairly similar to that of the Great Recession, leaving service level below the pre-pandemic benchmark by about 32,000 annual service hours. During the Great Recession period, Community transit vastly cut service levels as revenues and reserves evaporated. Conversely, the "rapid recovery" scenario would see service levels restored to the pre-pandemic benchmark by 2023 and net new service growth of about 62,000 annual service hours by the end of 2025.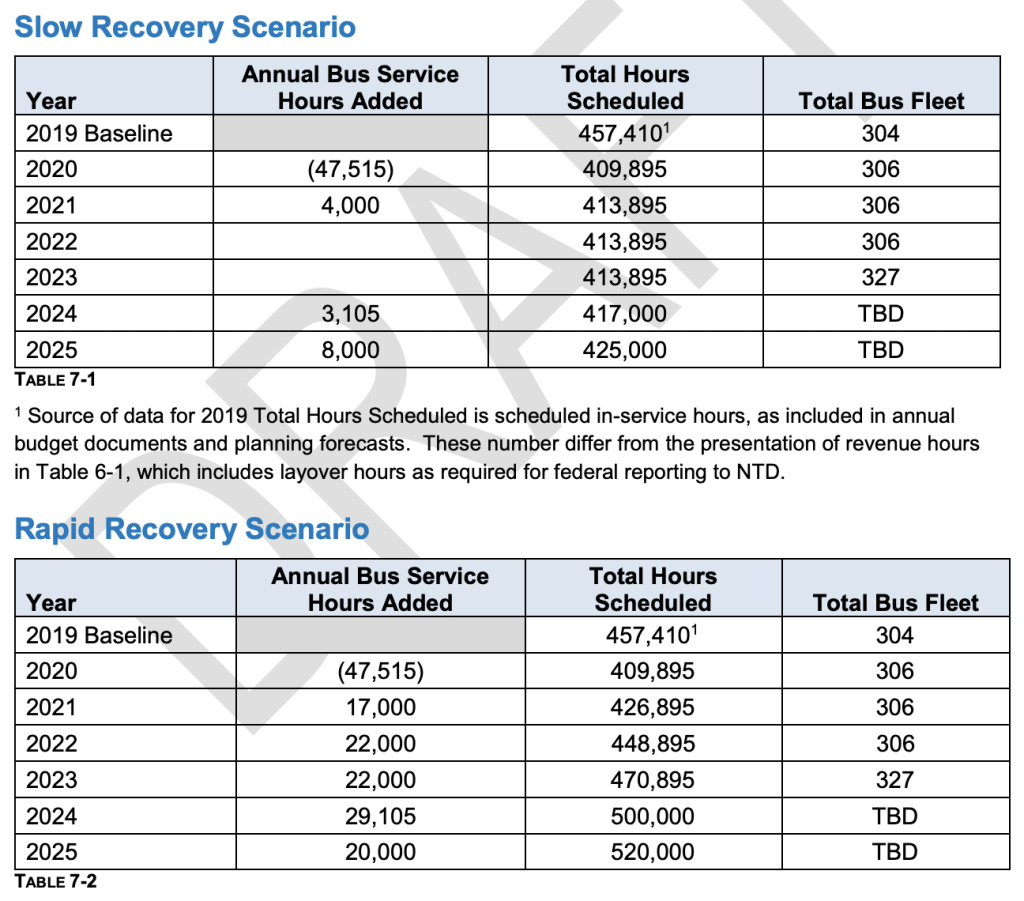 The draft TDP still greenlights Swift expansion, allowing for project development, planning, and construction. Community Transit expects to use a mix of ongoing revenues and operating reserves to fund the expansion program in addition state and federal grants. The program remains a priority for the transit agency since Swift lines serve denser population nodes, commercial areas, and major business centers with high frequencies and few stops. This has helped the Swift Blue and Green Lines garner high ridership volumes in the bus network, and Community Transit reports that in July the two Swift lines alone accounted for 42% of all system ridership.
In 2024, Sound Transit plans to open the Lynnwood Link light rail extension, which will deliver two light rail stations in Snohomish County: one at Mountlake Terrace and the other at Lynnwood. Community Transit has two Swift projects that will help connect riders with Link.
Though outside of Snohomish County, the transit agency plans to extend the Swift Blue Line further south from Aurora Village to the new Shoreline light rail station (Shoreline North/185th Station) planned for NE 185th St and I-5. The project is estimated to cost $8.2 million with $5 million coming from local funding and $3.2 million from grants.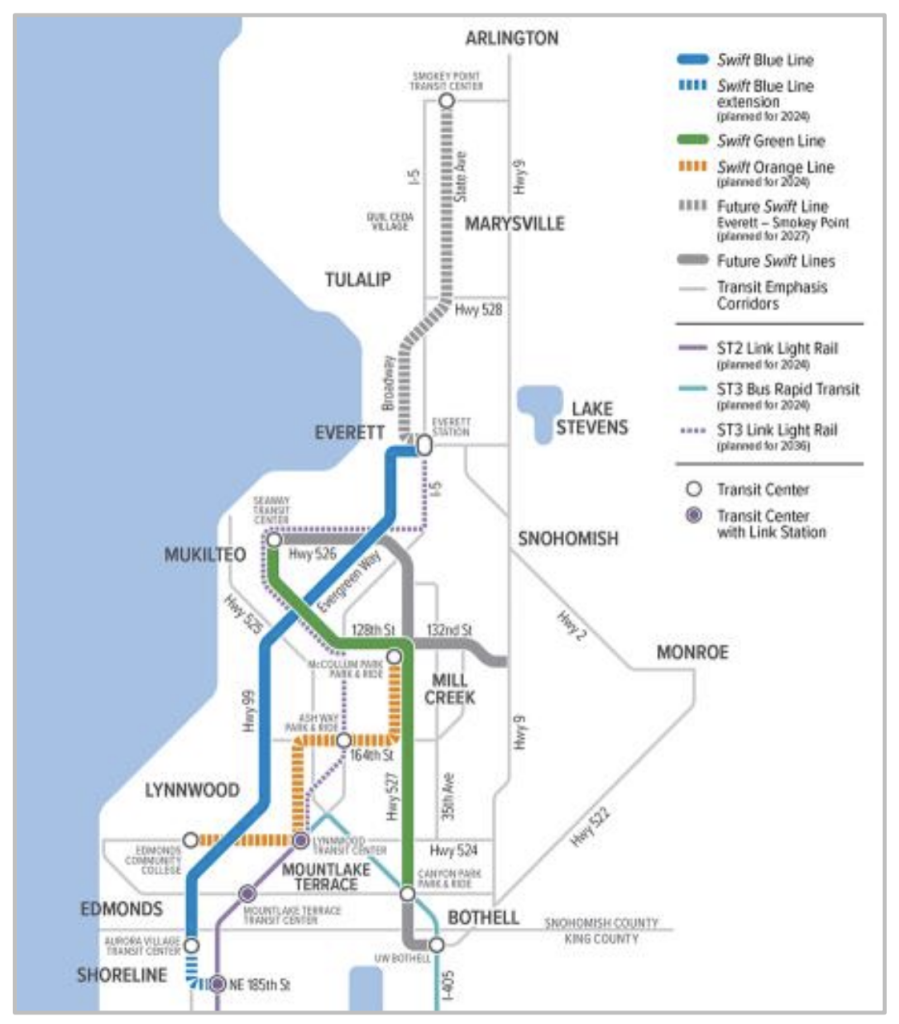 The other project, the new Swift Orange Line, will bring new service to Edmonds, Lynnwood, and Mill Creek. This will connect riders with light rail in Lynnwood with service running between Edmonds College and McCollum. The project cost is $86 million with $22 million coming from local funding, $59 million from federal grants, and $5 million from state grants. The Swift Orange Line will require about 45,000 annual service hours, some of which will come from replaced routes.
Additionally, project development and planning for the new Swift Gold Line between Everett Station and Smoke Point in Arlington is expected to begin in 2022 with a feasibility study. The total project is expected to cost around $50 million, but no launch has been specified yet.
In tandem with these capital projects and general service expansion, Community Transit will also continue planning and design work to construct expanded and modernized base facilities to support a growing fleet and workforce. Construction is expected to occur in three phases with renovation of the Casino Road Building in 2022, renovation of the Merrill Creek Administration Building by 2023, and renovation of the Merrill Creek Operations Base in 2024. Capital expenditures for the facilities will not be cheap with estimates in the $74 million range.
Community Transit is accepting public feedback on the draft TDP through October 1st. A public hearing is also scheduled for 3pm on October 1st and can be attended online.
The featured image is by SounderBruce and used via Creative Commons.

Stephen is a professional urban planner in Puget Sound with a passion for sustainable, livable, and diverse cities. He is especially interested in how policies, regulations, and programs can promote positive outcomes for communities. With stints in great cities like Bellingham and Cork, Stephen currently lives in Seattle. He primarily covers land use and transportation issues and has been with The Urbanist since 2014.