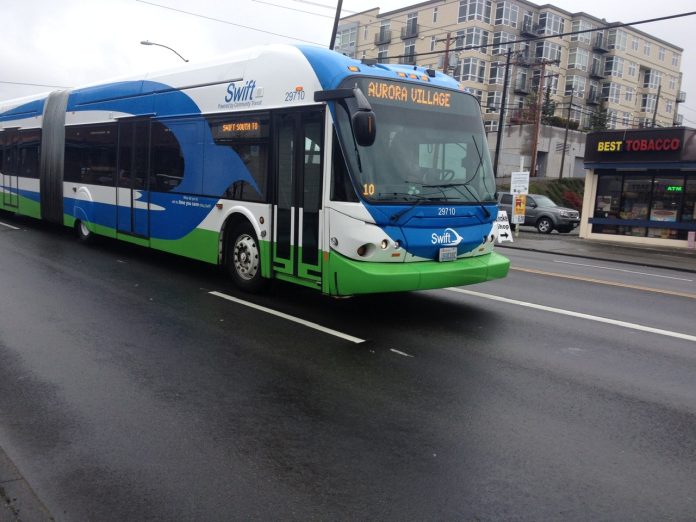 Community Transit has settled on a fairly streamlined and direct route for the Swift Blue Line extension south of Aurora Village Transit Center to the northernmost Shoreline light rail station. The transit agency plans to run bus service along N 200th St, Meridian Ave N, and N 185th St. No intermediate stops are proposed between the transit center and light rail station.
In February, Community Transit had considered three distinct alternatives to reach the station. Alternative routes could have put service on Aurora Ave N and N 185th St as well as Aurora Ave N, N 175th St, and 5th Ave NE. The latter option would not have directly stopped at the transit center, and all of the options had also contemplated intermediate stops. However, Martin Manguia, an agency communications manager, said that no intermediate stops are under consideration now.
Roland Behee, a planning and development director for the agency, emphasized that transfer options at the transit center were seen as vitally important. "We appreciate the valuable feedback we received from this process," he said. "We heard that maintaining bus-to-bus connections at Aurora Village Transit Center was a key priority, and also gained insight into rider preferences for future transit upgrades along the Highway 99 corridor."
Riders traveling to and from communities in Seattle will be able to transfer to and from Swift via the RapidRide E Line at Aurora Village Transit Center. For some trips, this may not be expeditious if transfer points were elsewhere to reach Swift and the light rail station. Nevertheless, King County Metro does operate Route 348 as an all-day service along N 185th St. Metro does intend to retain that service as part of the 2021 Northgate bus-to-Link restructure.
In terms of service frequency, Community Transit is planning to keep the Swift Blue Line at 10-minute headways during weekdays. That frequency approaches that of the RapidRide E Line, though peak-hour frequencies can be as good as every four minutes. When the Lynnwood Link extension opens is 2024, trains could wind up arriving at the Shoreline North/185th Street Station every four minutes during peak hours, too.
The Swift Blue Line was Community Transit's first bus rapid transit line. Launched in 2009, it serves a 16-mile corridor with 16 stops between Shoreline and Everett, and ridership has ballooned since. 4,788 daily passengers rode the line in 2018. The system was then expanded in March 2019 with the Swift Green Line, running from Seaway Transit Center near Boeing's Everett plan and Canyon Park Park-and-Ride. Further lines are now being actively considered, including the Swift Orange Line between Edmonds (Edmonds Community College) and Mill Creek (McCollum Park Park-and-Ride)–slated to open in 2024 as well–and Swift Red Line between Everett and Arlington.
The 1.7-mile Swift Blue Line extension is expected to open in 2024, just in for the start of new light rail service. In the interim, Community Transit will continue planning work to identify improvements for the new corridor, such as transit priority assets. Details on that front are anticipated to come in August.

Stephen is a professional urban planner in Puget Sound with a passion for sustainable, livable, and diverse cities. He is especially interested in how policies, regulations, and programs can promote positive outcomes for communities. With stints in great cities like Bellingham and Cork, Stephen currently lives in Seattle. He primarily covers land use and transportation issues and has been with The Urbanist since 2014.