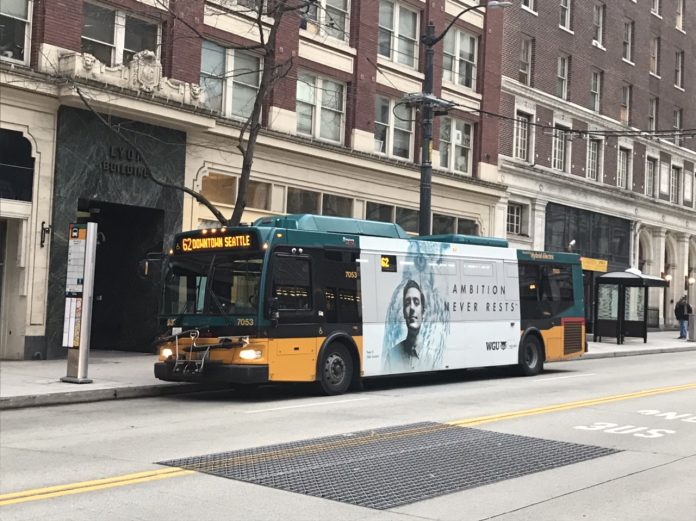 Several more transit agencies in Puget Sound are adding back more transit service and fares as the region recovers from the initial Covid-19 pandemic wave. Among them are King County Metro, Sound Transit, Kitsap Transit, and Intercity Transit with service improvements, though still quite short of pre-Covid levels. Metro, Community Transit, Everett Transit, and Sound Transit will also be rolling out additional fare collection on transit.
Restoration of bus service on the way
Metro is leading the way with the most consequential service restorations, starting as soon as June 22nd. This will culminate with 23 routes coming back online, many of which are peak-hour express routes. This will mean on weekday 84 bus routes in the Metro network will be operating essentially their pre-Covid service levels while 42 bus routes will be operating on reduced service levels.
Routes returning to service including the 21 Express, 74, 102, 111, 118, 119, 125, 208, 212, 217, 218, 221, 224, 226, 257, 301, 304, 311, 330, 773, 775, 907, and 930. Some additional service will also be added back to the King County Water Taxi operating between Downtown Seattle and Vashon. On weekdays, Metro plans to operate essentially full service with the exception of Routes 22, 47, 249, and 910–those routes will continue to be suspended.
Still, restoration of service does not mean that all service hours are coming back. According to Metro, weekday service will be at about 85% of pre-Covid levels while Saturday and Sunday service will be at about 99% of prev-Covid levels. A total 87 routes in the Metro network will remain fully cut, though those routes tend to be weekday peak-hour express services.
Metro has also announced two new route suspensions. These are limited to Route 63, an express bus between Northgate and Cherry Hill, and Route 628 running between the Issaquah Highlands and North Bend.
Community Transit has yet to detail exact service restorations for July 6th, but the agency did announce an increase to 75% of pre-Covid service levels. The agency is currently operating at about 70% of pre-Covid service levels. Service restoration will be focused on the busiest routes first. Later in September, service will be further increased to 85% of pre-Covid levels and is expected to remain in place through the duration of 2021. July service restorations by route should be forthcoming later this month.
In Thurston County, Intercity Transit plans to begin scheduled bus service again, starting on June 21st. The agency had fully suspended scheduled bus service in mid-April, instead moving to a reservation-based system using small passenger vehicles. Buses will return normal routes but at reduced service levels with most running hourly from 8:30am to 8:30pm. Intercity Transit has also announced that the Yelm service, Route 94, will be at even lower frequencies, about every 2.5 hours. Passengers will still be able to reserve service outside of normal operating hours.
In Kitsap County, Kitsap Transit will bring back Route 81 on a modified schedule to provide service between Annapolis and the Port Orchard Ferry Dock, starting on June 22nd. The agency recently restored some service on Routes 333 and 338 as well some trips on the Bremerton-Seattle fast ferry.
Sound Transit also has a limited service restoration in mind. Saturday service on Route 550 between Seattle and Bellevue will be fully brought back to pre-Covid levels next week.
Fare collection returning around July
All transit agencies began suspending fare collection after the Covid-19 pandemic began to hit the region in March. The practice was implemented to instill rider confidence and protect bus operators from having to interact with passengers at the front of coaches. Most transit agencies barred passengers from entering through the front door on coaches unless there was an accessibility reason.
However, many transit agencies have indicated that they will install physical barriers between bus operators and general aisle and passenger areas. Metro, for instance, is coordinating installation of plexiglass barriers on more than 2,000 coaches that will allow for this type of physical separation. Community Transit also is providing all bus operators with high quality face masks and face shields, though physical barriers are still in a testing and design phase.
Three transit agencies have announced an intention to restore fare collection around July. In a press conference last week, Metro staff said this could happen later this month or in early July. Community Transit, Everett Transit, and Sound Transit have been much more clear about their intentions to restore fare collection on July 1st for most services. The July 1st target is a bit unique since it would be a mid-week operational change, falling on a Wednesday.
Community Transit has stated that fare collection will apply to all bus routes as well as paratransit service. Earlier this month, Community Transit began collecting fare on Swift bus rapid transit lines since fare collection is feasible off-board.
Across the Sound Transit network, fare payment on express buses will resume on July 1st where front-door boarding is safely implemented. The initial fare will be for adults will be a flat $3.25 regardless of in-county and multi-county trips. Routes that are not able to yet safely implement front-door boarding will continue to be fare-free until they are brought up to appropriate health standards for bus operators and passengers. In May, Sound Transit began fare collection again on Link and Sounder rail services, though at cheaper $1 and $2 introductory "recovery fares," respectively. Fares on those services will be returning to normal rates on July 1st as well.
As the pandemic recovery process evolves, transit riders should expect to see further service level and fare policy changes across the region in the weeks and months ahead.

Stephen is a professional urban planner in Puget Sound with a passion for sustainable, livable, and diverse cities. He is especially interested in how policies, regulations, and programs can promote positive outcomes for communities. With stints in great cities like Bellingham and Cork, Stephen currently lives in Seattle. He primarily covers land use and transportation issues and has been with The Urbanist since 2014.