King County Metro's bus restructure plan to serve the three Northgate Link light rail stations opening in 2021 has devolved into primarily cuts. With Metro worried about major budget shortfalls, many of the big ideas from a more ambitious proposal unveiled in January were axed. The new proposal (map here) revealed today cut Route 23, Route 25, Route 61, and Route 68 from the earlier plan.
The result leaves neighborhoods like Fremont and Wallingford with fewer bus options than they have today, betraying the restructure's promise of improved east-west bus connections to serve the new light rail stations. In fact, Route 44, which should be the primary east-west artery to U District Station will see decreased frequencies. Midday service is going from 10-minute headways to 15-minute headways, making it harder to get to reach light rail and campus.
The proposal moves Route 31 and 32 to pass by U District Station and extends the overlapping routes eastward along NE 45th St instead of through-routing with Route 75–a change Metro hopes will improve route reliability and better serve Greek Row and U Village. That also means the routes wouldn't go through the heart of University of Washington campus. Only Metro Routes 67, 75, and 372 would continue to ply the slow but convenient Stevens Way NE path through the middle of campus.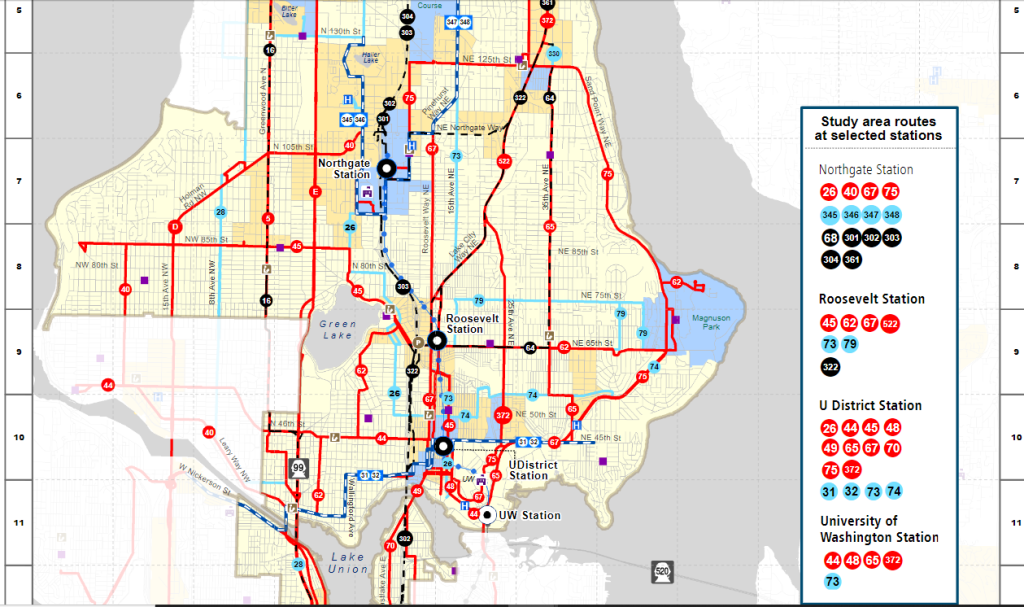 Route 26 meanwhile would be revised to go U District Station via N 50th St rather than passing through Wallingford and Fremont and on to Downtown via Aurora Avenue. The peak-only express Route 5X will become Route 16 and extend farther north to replace Route 355 north of N 85th Street. Route 62 is staying in the same routing, but frequency is tabbed to go down slightly at peak.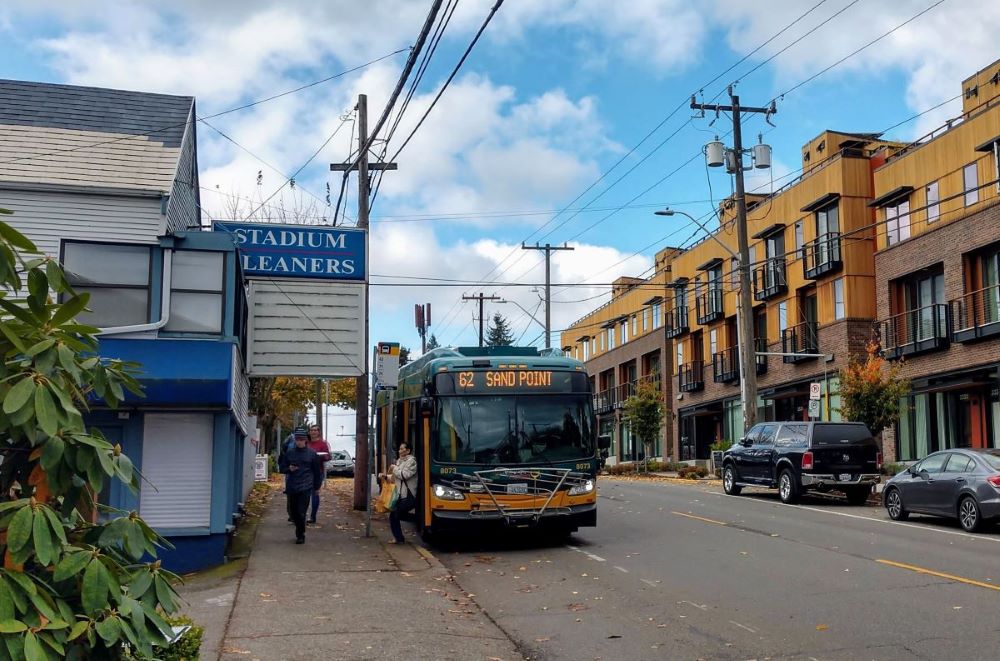 In other words, the issue of weak coverage in Fremont and Wallingford that I highlighted with the January proposal has not been addressed. Bitter Lake doesn't make out too well, either. A new east-west route hasn't materialized to get to Northgate Station and points east. The extended Route 16 and added trips on Route 345 will offer new options at peak times, but good luck outside of it. And then there's NE Northgate Way, which will lose local service between Roosevelt Way NE and Lake City Way NE.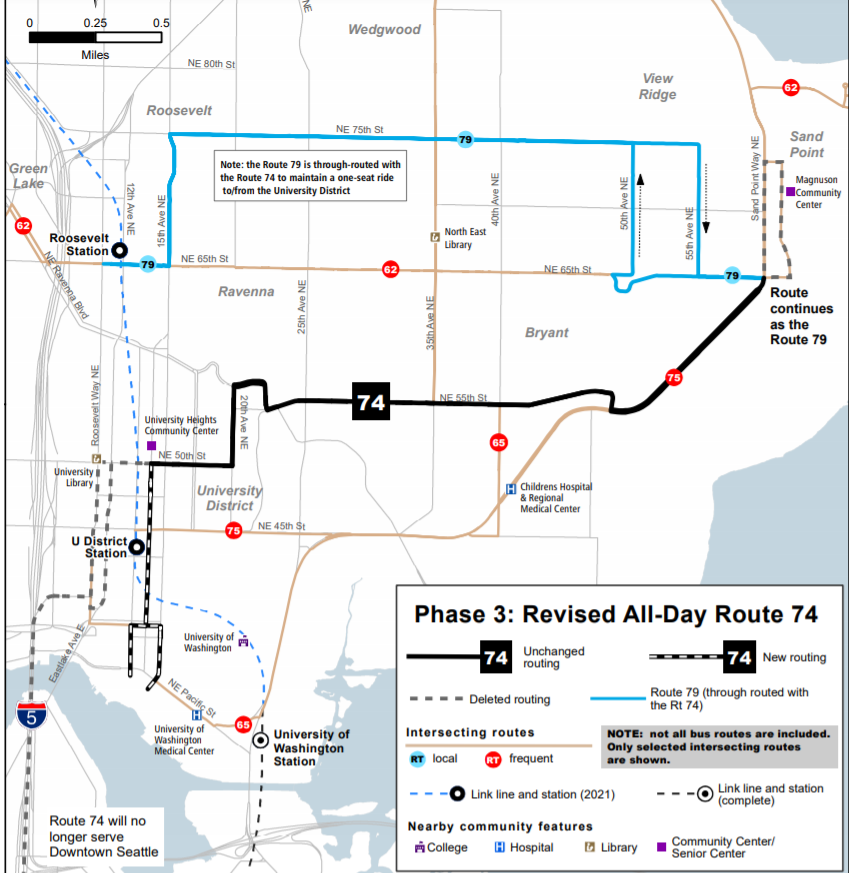 One bright spot: the new Route 79 remains which should boost service and access to Roosevelt Station from the catchment to the northeast. Route 79 through-routes with the revised Route 74, which will terminate at U District Station rather than continuing downtown. The pair would have 15-minute frequency at peak and 30-minute frequency off-peak under the proposal.
Budget shortfalls and the need for transit relief
While it's understandable that the proposal had to be pared back to face budget realities, it's still a bitter pill to take. Moreover, it underscores the need to boost transit funding at nearly every level of government. The County's heavy reliance on sales taxes makes it very susceptible to economic downturns like we're experiencing. If only we had a capital gains tax and an income tax to balance our our revenue mix…
Lackluster proposals like this underscore why the meager Seattle transit measure funded by 0.1% sales tax wasn't enough to serve the city's needs. The 0.15% sales tax version that the Seattle City Council opted to put on the ballot this November is better, but 0.2% would have better staunched the cuts. And more help is still needed, regardless.
Limited funds forced some tough decisions–though Metro did keep some express routes to Downtown and South Lake Union.
"Removal of route 61 from the proposal was a very tough one," said Metro transit planner David VanderZee. "Many advocated for keeping it in Phase 3, but our budget constraints ultimately limited the resources we could invest in that new east-west connection, without the trade-off of breaking other connections."
Give Metro your feedback
It's also a reminder of the need to pass that Seattle Transportation Benefit District in November to avoid deeper cuts–and to find additional revenue beyond that. Contact your elected leaders and urge them to support transit and help avert cuts.
Metro has released a survey to gather input from riders. We encourage you to fill it out in hopes the final plan gets some improvements. Perhaps once the region rebounds from the Covid recession we can get the restructure we deserve.
This article has been updated to note Bitter Lake gets added trips on Route 345. Additionally, VanderZee's comment and Route 74 details have been added.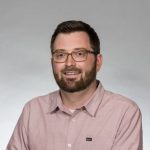 Doug Trumm is the executive director of The Urbanist. An Urbanist writer since 2015, he dreams of pedestrianizing streets, blanketing the city in bus lanes, and unleashing a mass timber building spree to end the affordable housing shortage and avert our coming climate catastrophe. He graduated from the Evans School of Public Policy and Governance at the University of Washington. He lives in East Fremont and loves to explore the city on his bike.