Update: We've set the date of February 8th for our rescheduled meetup with Rachel Smith, new President and CEO of the Seattle Metropolitan Chamber of Commerce. The Urbanist postponed our originally planned August 10th meetup with Smith, as we wanted everyone to enjoy the lovely weather.
Smith will lay out her vision for the Chamber and the city and take questions from the audience. Given how much is happening in Seattle, there will be plenty to talk about, and it should be interesting to gain insight into the Chamber's stance on issues such as support for small businesses impacted by the pandemic, how to address the homelessness and housing affordability crises, and what Seattle business leaders think of the tech boom occurring across the lake in "business friendly" Bellevue.
Stepping into her new role as head of our region's largest and oldest business organization just as we emerge from pandemic induced lockdowns, Smith will be leading an organization that has historically wielded political heft in Seattle. Despite all the fuss about Covid prompting people to flee urban centers, Seattle's growth has shown little sign of slowing down. The stakes will remain high as we navigate what looks to be a rocky pandemic recovery, and the Chamber will certainly be using its advocacy to weigh in on the policies that will guide Seattle forward. Will the Chamber continue to oppose progressive tax policies like the JumpStart Seattle tax, and if so, what other solutions does it believe could address our city's needs?
We hope you can join us for an important discussion about Seattle's future! As always, this monthly social event is free, all ages, and open to everyone. The line opens a 6:15pm for networking and discussion and the speaker starts at 6:30pm.
Watch the video from the event:
About Rachel Smith
Rachel Smith brings nearly 15 years of government affairs, policy, operations, and advocacy experience, including 13 years serving in local and regional government. Prior to her Chamber role, she served as Deputy County Executive and Chief of Staff to King County Executive Dow Constantine. Previously, she served as Government and Community Relations Officer for the regional transit agency, Sound Transit, and in the administration of former Seattle Mayor Greg Nickels. Her experience also includes non-profit work, both as a staff and board member.
About the Chamber
The Seattle Metropolitan Chamber of Commerce is the largest business association in the region. Founded in 1882 by local business leaders, the Chamber today is an independent organization representing 2,600 companies and a regional workforce of approximately 750,000. The Chamber is also a policy advocate and the only chamber in the area that represents business at the city, regional, state and federal levels.
This article has been updated to note the postponement. And again in November to note the new date.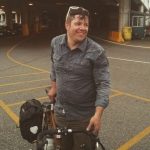 Patrick grew up across the Puget Sound from Seattle and use to skip school to come hang out in the city. He is an designer at a small architecture firm with a strong focus on urban infill housing. He is passionate about design, housing affordability, biking, and what makes cities so magical. He works to advocate for abundant and diverse housing options and for a city that is a joy for people on bikes and foot. He lives in the Othello neighborhood with his fiance and kitty.