The map visualizes more rail connections throughout the Northwest, including both cities and rural areas.
With all of the transit developments happening in the Puget Sound region, it's easy to lose track of developments in other parts of the state. Recently, All Aboard Washington (AAWA), a nonprofit passenger rail advocacy organization, has been making new efforts to expand the scope of its vision map and push for greater interstate cooperation for future rural rail projects.

As previously covered in The Urbanist, AAWA has been pushing the envelope on trying to get the old Stampede Pass route through Eastern Washington restored as a passenger rail route. While their advocacy for that project continues, as well as for boosted services along I-5, they have expanded their scope of where interstate transit service should go in the future. In AAWA's 2021 vision map, new routes are shown radiating out of Pasco, which sits at the center of the previously proposed passenger rail route restoration between Seattle and Spokane via the Tri-Cities. In this configuration, Pasco could act as an important transfer point for both buses and trains that could reach Boise, Idaho and potentially beyond.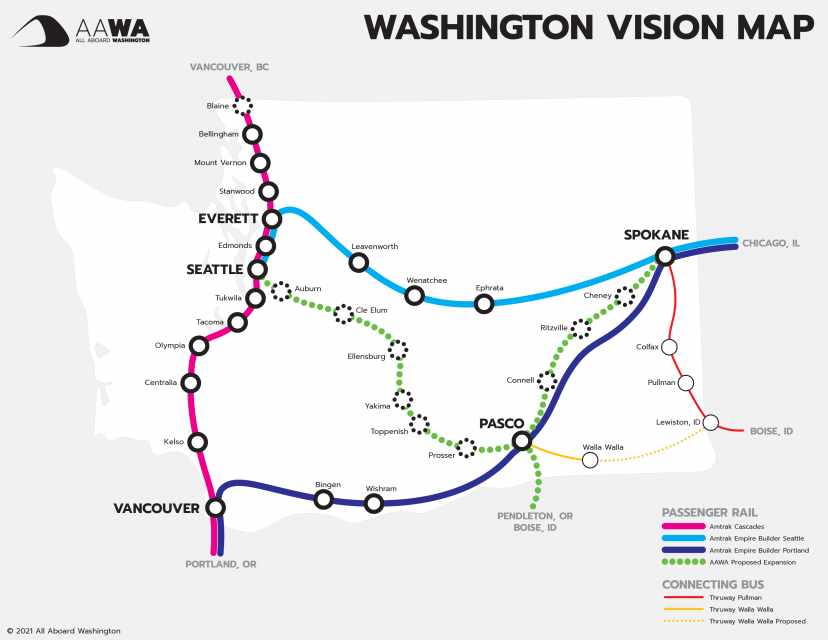 AAWA Co-Director Patrick Carnahan explained the new map's concept, which spreads farther east.
"The idea is that, once Seattle-Spokane intercity service has been started, perhaps only a few track improvements would be needed between Pasco and Hermiston/Umatilla, Oregon to reasonably accommodate Seattle-Boise service via the Yakima and Kittitas Valleys, Tri-Cities, Pendleton, and Ontario," Carnahan said. "This project would be coordinated alongside the potential restoration of the Pioneer [service] and/or Oregon-Idaho state-supported trains between Portland and Boise."
The specific new changes called out on the map are:
Extending the current Grape Line bus from its current terminus in Walla Walla all the way out to Lewiston, Idaho.
Restoring rail service from Pasco, Washington south through Northeast Oregon and on to Boise along where current freight rail lines run. This would be a completely new train line but would run along rail once occupied by the Pioneer line.
How to get there
These new service options would require a lot of cooperation between adjacent states and counties to enable them to come into being, but there are already some movements being made along this front. Further into the exchange, Carnahan mentioned proposed federal legislation in Congress that could help facilitate the creation of interstate rail cooperatives similar to the Southern Rail Commission between the states of Alabama, Louisiana, and Mississippi. Interstate rail cooperatives like this both enable states to plan together for interconnected services and line them up to benefit from federal funding for rail projects when such funding materializes.
There are already laws on the books in Washington which enable counties that do not already have their own ports to establish a rail district, which facilitates planning for rail investments as well as potentially enabling such rail investments to seek matching funds from the state as well. Currently, only Kittitas County has this type of rail district, but AAWA believes there are many other counties that may be able to benefit from such districts, which could aid in rebuilding tracks to support the proposed routes. AAWA thinks three counties (Adams, Grant, and Lincoln) would be ideal candidates for this type of district. Local action using these rail districts as well as more participation from existing counties with their own ports could begin to rebuild rail for local shipping needs and double future passenger travel.
There are a number of funding options that are being offered for both studying and potentially supporting construction of some interstate rural projects. Part of the pending Bipartisan Infrastructure Bill in Congress includes a $15 million study for rural rail, including the North Coast Limited and Pioneer rail routes which encompass parts of the restored service lines suggested on the new AAWA map. In addition, 20% of the funds for rail must be set aside for restoring rural routes. Among the criteria for those routes is a provision supporting corridors that connect any two of the largest 100 MSAs in the country. The most recent MSA (Metropolitan Statistical Area) list update included Spokane in the 99th position, which puts it potentially in the running for these kinds of funds. With studies and potential federal funding on the table, it could conceivably be possible for states to also choose to provide funding to these routes, though in recent years there has been relatively little appetite in state legislatures in the Northwest to fund passenger rail.
While it may seem a bit premature to talk about rail connections across the state given how Washington struggles to fund even the approved transit projects in the Puget Sound area, the recent United Nations Climate Report makes clear that we don't have time to wait on creating alternatives to automobile-based travel across the state.
We need to increase both bus and rail options now to make car-free living possible for more folks in the state. Right now, there is almost no incentive for private citizens to consider other options. It's additionally important to point out that there are already many folks across the state now who cannot use cars to get around, and Washington's meager intercity connections leave many of these folks struggling with basic transportation needs. Improving intercity connections can have both climate and social justice benefits and is something we should strongly consider working on now rather than some decades in the future.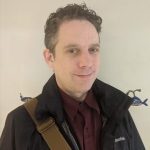 Charles is an avid cyclist that uses his bike as his primary mode of transportation. He grew up in the Puget Sound, but is currently overseas living in Japan. He covers a range of topics like cycling, transit, and land use. His time in Tokyo really opened his eyes to what urbanism offers people and has a strong desire to see growth happen in Seattle.