Lessons from a one-time crown jewel of urban renewal.
Recently I got to be a tourist in my hometown. The hard part about going back after a long while away is seeing how badly the current stewards have screwed things up. My visit to Baltimore this summer was the first I'd been in the city for a few years, and it was the first time I got to hang out by myself in the city in much longer. It's hard to visit.
Downtown Baltimore was once a case study in bringing a city back from the brink. A decrepit waterfront that was too small for modern container ships was cleaned up and turned over to vibrant and exciting attractions. Harborplace spent decades as a draw for a new Baltimore. It brought in conventions and tourist traffic, and justified a wacky plan to put a baseball park downtown. Harborplace changed how folks considered cities, how Baltimore considered itself.
Now it's a dead mall.
As we emerge from pandemic (hopefully), perhaps new lessons from Harborplace can make it a case study again. Our downtowns have taken a beating, and there's going to be a push to do something brisk and conclusive to rejuvenate them. However, Harborplace's unique history and subsequent deterioration suggests easy solutions will also be temporary.
My Harborplace
Harborplace has a special spot in the cockles of this decrepit heart. It was one of my first case studies in trying to understand the whole concept of urban planning. I picked it because I grew up with it. Harborplace opened in 1980 when I was three. I don't remember the waterfront or downtown before it existed.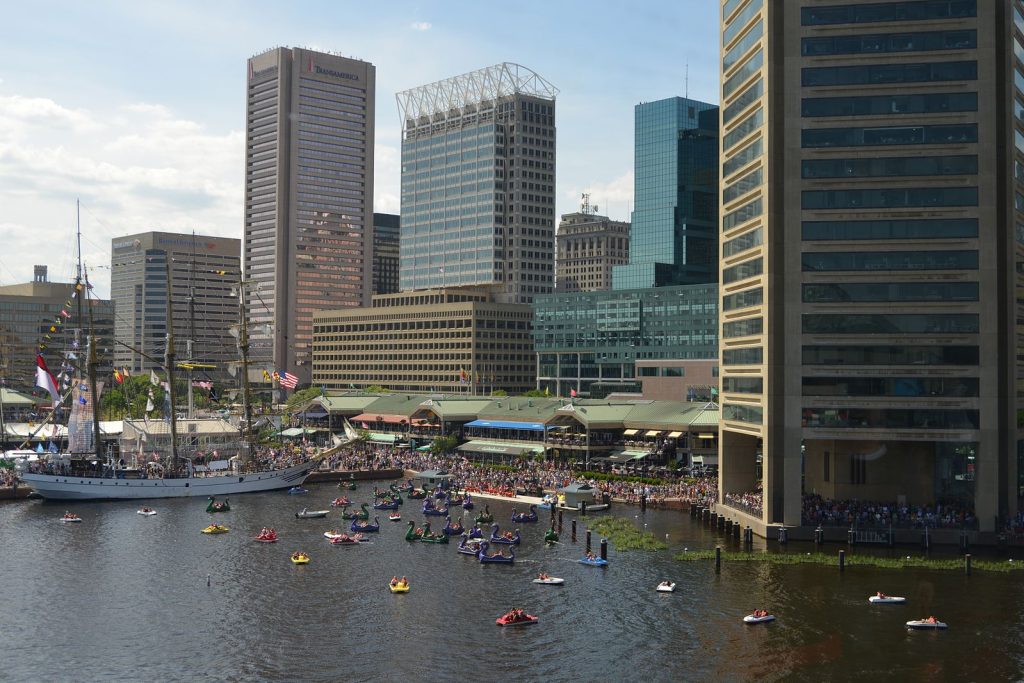 To outsiders, Harborplace is a sprawling complex that encompasses a whole bunch of attractions around the Baltimore waterfront. National Aquarium, Science Center, Rusty Scupper, Power Plant (and its extension Power Plant Live!), plus a flexible edge of hotels and restaurants depending on how many lanes of traffic you're ready to cross. At the east end, the pentagonal Baltimore World Trade Center rises like an exclamation point. Then there's the ships to be toured and paddle boats to go out on the water. Dozens of school field trips took us to the Science Center (Only one went to the Aquarium. That was expensive.)
But in reality, Harborplace proper is actually just two buildings: the Pratt Street Pavilion and the Light Street Pavilion. The buildings are privately owned, but they sit on City land. Pratt Street is the narrower, with its two stories of shops running in the thin strip along east-west Pratt Street. It's a barbell, with restaurants at either end and kitschy shops along the corridor between them. Here is the Cheesecake Factory where we went for my college graduation lunch that took so long to get seated it became a college graduation dinner.
Light Street is a wider complex, inside is a horseshoe shaped corridor with the long side along the north-south – you guessed it – Light Street. Light Street always had more restaurants and food places, with the upstairs being a full food court. So much seafood. And a particular wing chain where we met over pitchers of beer to make good decisions before going to ball games.
Both pavilions connected to nearby hotels with sky bridges that let you walk from your room to the waterfront in comfort and style. The harbor fronts were bright, glassed and exciting. From the many eateries and balconies, you could look over the wide brick promenade around the harbor and see thousands of people pass by on a fairly slow evening. If there was an event, the place was packed. When the Ravens won Super Bowl XXXV in 2001, we stood on one of those bridges and screamed our heads off at honking traffic and raucous revelers for, we'll say, several hours.
But those bridges made the street level of the buildings a forgotten mess. The lower levels facing the main roads were treacherous and difficult. Loading docks and loud cars. A brutalist waterfall on the traffic island in the Pratt-Light intersection was always on and busy, but felt derelict in the middle of a highway. This is blunt edge where, twenty years ago on the evening of September 11, 2001, I drove by watching municipal dump trucks lining up as a barricade to protect the buildings.
Legendary Harborplace
Through urban planning school, I came to understand the development of Harborplace as a logical end of a long series of maneuvers by very powerful white men.
In the 50's and 60's, a developer named James Rouse and the Greater Baltimore Committee saw post-war Baltimore and decided it needed some refreshers. They sketched out a highway plan that bisected the city with interstates and engaged in wholesale redevelopment block-by-block through the city's Black neighborhoods and business district. The waterfront was not included because, as with many cities, it was polluted and best left to the wrong side of a viaduct.
Concurrently, a West Baltimore kid named William Donald Schaefer ascended to the City Council in the 50's by opposing many of the roads and planning issues Rouse was touting. Schaefer became mayor in 1971. By then, some of those highways had been cancelled, including a bridge proposed to carry sixteen lanes of Interstate 95 over the middle part of the Inner Harbor. Land that had been acquired for the road, including thousands of homes and mouldering port facilities, now had no purpose.
It's at that point where a bunch of things clicked into place. Those condemned houses were given away under the Urban Homesteading Program. Qualified purchasers (White folks who could secure construction loans) could buy a house for $1 if they brought it up to code. The peripheral designs that went into that original bridge proposal were resurrected, specifically the promenade and open spaces that were supposed to surround the now shelved freeway bridge. The 1968 riots had caused a groundswell of enthusiasm for getting people back downtown, prompting the start of an annual City Fair on those promenades. The Maryland Academy of Sciences decided to open its Science Center on the south corner of the harbor. (Legend has it that the windowless south facade was to defend the Harbor in case of future riots.)
And James Rouse? He had spent the 60's cooking up various suburban developments, such as Columbia, Maryland. Part of that experience included becoming very good at building shopping malls. Rouse saw all that promenade space and decided it needed a "festival marketplace." He sold the city on two of them. They opened just a year ahead of the National Aquarium.
Never one to miss an opportunity, Schaefer made a loud public bet that he would swim with the sharks if the Aquarium did not open on time. He lost, leading to a very famous picture involving the mayor, a vintage swimsuit, and a mermaid. (Another legend says they missed the on-time opening because Schaefer had a few trade workers slow-walk the last few days of their jobs.)
Schaefer leveraged that into a broader political career. Though he was mayor during the midnight theft of the Baltimore Colts under dark March snows of 1984 to an unnamed mid-western backwater, he soon gained statewide office. In 1987, he was elected to the first of two terms as governor of Maryland, took a four year break, then came back again four years later to be state comptroller for two terms. Schaefer's swan song as an elected official did not end well after demeaning comments towards women and immigrants cost him a primary election. Schaefer died in 2011.
Rouse went on to sell the festival marketplace around the country, as Faneuil Hall in Boston, South Street Seaport in New York and several others. He also developed dozens of mall properties, including Westlake Center. Rouse died in 1996 and his namesake company was sold to General Growth Properties (GGP) in 2004. GGP went through the nation's largest bankruptcy in 2009 and emerged a year later.
The malls and properties that were under the Rouse brand have scattered to different owners. Harborplace sold to Ashkenazy Acquisition Corp. in 2013 for $93.5 million. AAC is a private real estate firm that buys "unique and premier" properties like Union Station in D.C., the Shops at Rivercenter in San Antonio, and the Shops at the Bravern in Bellevue (the one with the Gucci store).
Harborplace does not appear on ACC's "core assets" website, as it is currently in receivership. In 2018, the mortgage holders asked a Baltimore City Circuit Court to assign a third party to manage Harborplace while lawsuits over rent and repairs were resolved. That third party, IVL Group, has been doing the bare minimum for three years. The pandemic took care of the rest.
Dead Harborplace
All that history, and what is Harborplace today? It is exactly the same gleaming waterfront location, but with few shops and restaurants overlooking the once teeming promenade. Harborplace is a dead mall.
The Pratt Street pavilion only has two sit-down restaurants tucked at the east end of the building. Upstairs is an Uno's that was fairly quiet with only a few bar patrons in sight during my visit. It's the only thing on the second floor, as the Tir Na Nog Irish restaurant at the other end closed. A Ripley's Believe it or Not occupied a big chunk of the middle of the upstairs, but they packed out in 2018. Now the corridor is open, but all the shops are simply blank drywall. An architect's rendering of "Harborplace A New Tradition" sits in front of a very closed Five Guys, which may have been the first Baltimore location for the now ubiquitous D.C. chain.
Downstairs is The Cheesecake Factory with its perpetual line still in place on a sunny summer afternoon. A few kiosks and small storefronts sell souvenirs and sunglasses, and a lobster roll shop tries to piggyback on a seafood crazy town that should know better. There's also a massive candy store called It's Sugar! that's painted a color that gives you cavities on entry. There's always been a candy store somewhere in Harborplace. This is about six times the size, a big box sugar store. It's main entry is outside the building, not accessible from the restaurants.

The Pratt Street pavilion feels like wobbly stasis, something so set in its ways that of course it's going to survive. The east end of the pavilion is the one closest to other attractions like The National Aquarium and bar hopping destination Power Plant Live!. There's also (super expensive) surface parking directly north.
The Light Street Pavilion was always the larger of the two facilities, the one that felt more like a marketplace than a breezeway with shops. Now the entire top floor where there used to be an actual food court of local places is closed. As are the higher end restaurants and the pedestrian connections across the six lane highway that is Light Street.
The Light Street pavilion also has two hold out restaurants, Bubba Gump Shrimp and Hooters. Bubba Gump took over a space vacated by the flagship restaurant of regional seafood empire Phillips. The Hooters had a much larger space on the second floor, but now moved to a nondescript space under closed stairs. You have to walk outside to walk into the restaurant. An H&M clothing store occupies one corner of the pavilion, with an internal stair to its own space on the second floor.
All of the small shops, the places to get fresh oysters or fries or ice cream, have closed. All the chairs and tables that were crowded with visitors looking over the harbor and the USS Constellation are nowhere to be found. The folks calling from food stalls and offering tastes to fudge or seafood or smoothies are quiet. There's no pavilion left here. It's just an empty strip mall with a million dollar view.
Goodbye Harborplace
Now, I started this article saying that the current stewards of my hometown have screwed things up. I also said that I got to be in Baltimore for a few days sans kids, so I may have spent a moment or two at the bar. As an evening tapers from Brewers Art Resurrections to Natty Bohs, people start speaking their minds. In vino veritas and all.
What I heard was that I wasn't the only tourist in Baltimore. Everyday white residents of the City maintain a pervasive detachment from the actual city. Sure, these folks live in Baltimore proper, not even in the surrounding Baltimore County. Lived in the City all their lives. And being from Baltimore, they will tell you about their entire lives at length and any opportunity. But they had less invested in the city than some visitor from out of state.
There was the couple meeting in Fells Point who were talking about whether to risk going "over there" for dinner, which was six blocks closer to downtown and therefore a total of ten blocks from their house. There was Buck at Mount Royal Tavern who saw the violence was "out of hand" and wanted the state to take over the city "like they should have in 1861." (That was actually Lincoln and the Feds, was fairly effective at keeping Maryland in the Union, and led to the state song.) Even my friends and family kept asking why I would want to stay downtown for a few days and warned that I should watch out for the roving bands of hoodlums menacing the community. Folks who should be stewards and caretakers for the place don't see themselves as having any attachment to the City anymore.
When so many act like tourists, and a tourist destination like Harborplace starts to fold, the attack is personally felt. The comfortable part of the city is taken away. Popping the bubble of safety where the citizen-tourist can visit makes the harsh reality of the actual city come rushing in. It's not easy to live in Baltimore. Sure, the 60% of the population that lives in constant threat of eviction, police brutality, or drug violence already know this. But hearing it put in terms of threats to The Cheesecake Factory at Harborplace just humanizes the issue further for someone who is an outsider to those daily struggles.
Of course, the mostly Black administration at City Hall is completely to blame for the crime and malaise that's befallen the City's once gleaming harbor. Forget the private real estate owners that are having a tit-for-tat over rent and repairs. Forget the years that Harborplace and downtown redevelopments drained City coffers. And forget the history of White folks who originally built Harborplace and completely cut it off from the city's Black neighborhoods. By the way, Baltimore also has the spectacular Lexington Market, a real market that's just eight blocks from the dead festival marketplace. That is doing quite swimmingly, thank you. It just happens to be in a Black part of downtown, so many tourists skip it. If it's not at the harbor, it's not happening.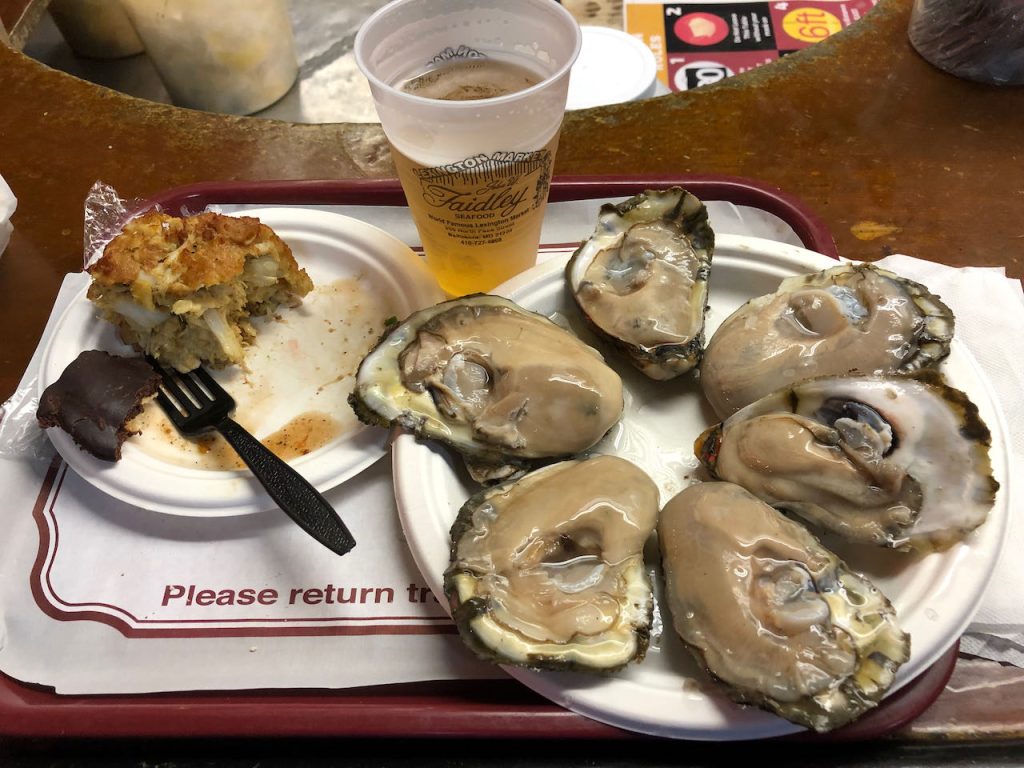 For forty years, Harborplace was advertised as Baltimore's crown jewel. Visiting was fun and its story was fun. Its development was so tied to a turning point in the City's history that it redefined the City's image of itself. It went hand in-hand with the lionization of Schaefer and Rouse, one now a statue and the other permanently labeled a "visionary." All set up because, at that specific moment in Baltimore's history, a lot of things went right very quickly.
But that followed a lot of things going wrong. Highway plans were scrapped. Industry was cratering. People were moving out of the city. Fires were still smoldering from riots. It probably felt then a lot like it does today with the convergence of racial reckoning, pandemic, and a White population that doesn't see themselves responsible for the City's health. Expecting such tourists to understand nuance and history is a very tall order.
Seeing how quickly folks without a stake in downtown turn against the places built to attract them should be a lesson for any city trying to claw out of this pandemic on the back of tourism. And even though we have a clear message from Harborplace, electeds are cheering on a tourism-based recovery. Florida's theme parks steered the state's early reopening. New York reopened Broadway just this week. Seattle's cruise industry is back to pumping sludge into Puget Sound and smoke into Belltown.
Which makes it okay to say that we have not quite reached the end of Harborplace's story. As it is rebuilt over the next decade, it will teach us more lessons. Whatever's next will not come quickly, or easily, or without comparison to the old place. But it's going to better reflect a Baltimore that exists today, not echoes of a half-century ago. The next thing will not be a replacement, but a successor. It will be something that builds on Harborplace's wins without the blank walls turned towards Baltimore's neighborhoods. It's going to be awesome. People are going to hate it. Until you change it. Then they'll complain at the bar.
I'm not going to get a say in any of it. These days, like so many, I'm just a tourist.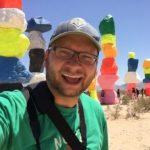 Ray Dubicki is a stay-at-home dad and parent-on-call for taking care of general school and neighborhood tasks around Ballard. This lets him see how urbanism works (or doesn't) during the hours most people are locked in their office. He is an attorney and urbanist by training, with soup-to-nuts planning experience from code enforcement to university development to writing zoning ordinances. He enjoys using PowerPoint, but only because it's no longer a weekly obligation.