It's almost time to say hello to a 16-mile multi-use trail connecting Renton to Des Moines and everything in between.
King County Parks will soon begin construction on one of the last remaining segments of the Lake to Sound Trail, bringing it ever closer to its completion. This new segment, dubbed "Segment C", will roughly run along the southwestern end of Seattle-Tacoma International Airport from the end of the trail's Segment B to the Des Moines Creek trail. After it's complete, only Segments D, E, and F will remain. Funding for the segment's $13 million price tag came from the Washington State Department of Transportation (WSDOT), a state grant, and the 2019 Parks Levy.
The Lake to Sound Trail has been in the works for over 13 years. In 2008, King County worked with nearby cities (Renton, Tukwila, Burien, and Des Moines), along with the Port of Seattle, Cascade Bicycle Club, and WSDOT to plan the trail's design and route, and has gradually built it in segments ever since. Once complete, the trail's gentle curves and slopes will run alongside both roadways and creeks, and feature 12-feet-wide asphalt-paved sections, 2-foot shoulders, and a one-foot clear zone on each side. As a multi-use trail, it can be used by walkers, runners, wheelchair users, and bikers alike.
Importantly, the trail will also connect to the Regional Trail Network, which includes trails like the Green River Trail, Cedar River Trail, Interurban Trail, and — when it's complete — Eastrail to Bellevue. Southern King County has been historically underserved by parks so it's uplifting to see additional investment in the area — doubly so knowing that the trail will bring residents closer to the rest of the region.
The trail will feature connections to transit too, like Link light rail at its Tukwila International Boulevard Station, the Sounder at Tukwila Station, and the RapidRide A Line along the way. That, combined with how the trail travels through commercial centers like Southcenter and Burien, might help the trail become a viable commuter route that could help take cars off the road. WSDOT has installed nine trip counters to gain insight into how people are using the trail.
I'll be excited to try out the new trail once it opens, but for now I'll be on the lookout for the latest updates on the trail's website and the King County Parks Instagram.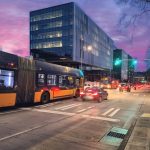 Brandon Zuo is a high schooler and enjoys reading about urban planning and transportation. They enjoy exploring the city on the bus and on their bike. They believe that income and racial equality should be at the forefront of urban development. Brandon Zuo formerly wrote under the pseudonym Hyra Zhang.