This Thursday, the King County Board of Health will vote on a proposed repeal of the county's helmet law for cyclists as well as a companion resolution that affirms helmet use, encourages other jurisdictions to repeal helmet laws, and supports broader measures that ensure the cyclists' safety. While Washington State does not have a statewide helmet law, some cities and counties do require cyclists to wear helmets, including King County, which enacted an all ages helmet law in 1993. The county's helmet law was extended to Seattle in 2003; however, in recent years accusations of biased enforcement has led to a number of cycling advocacy organizations, including Cascade Bike Club, to re-evaluate the policy. Now Cascade Bike Club, along with homelessness advocates Real Change, have created petitions they are urging people sign to demonstrate support for the helmet law repeal and companion resolution.
Recent discussion of a helmet law repeal was sparked by an article published in Crosscut in January of 2020, which brought attention to people struggling with homelessness who were targeted for helmet law enforcement by Seattle police. The article highlighted a video by Real Change in which one of their news vendors was insulted and ticketed by Seattle police for not wearing a helmet after being the victim of a hit-and-run incident. It also shared data from court records which found that 43% of helmet citations issued in King County since 2017 had been given to people struggling with homelessness.
Research indicates biased enforcement
Allegations of biased enforced have been further supported by research undertaken by Central Seattle Greenways (CSG) and Ethan Campbell, a doctoral student at the University of Washington. According to their research, which analyzed 1,667 helmet citations issued between 2003 and 2020 in Seattle, Black cyclists received helmet infractions at a rate nearly four times higher than White cyclists, while Native American/Alaska Native cyclists were cited at a rate more than two times higher than White riders.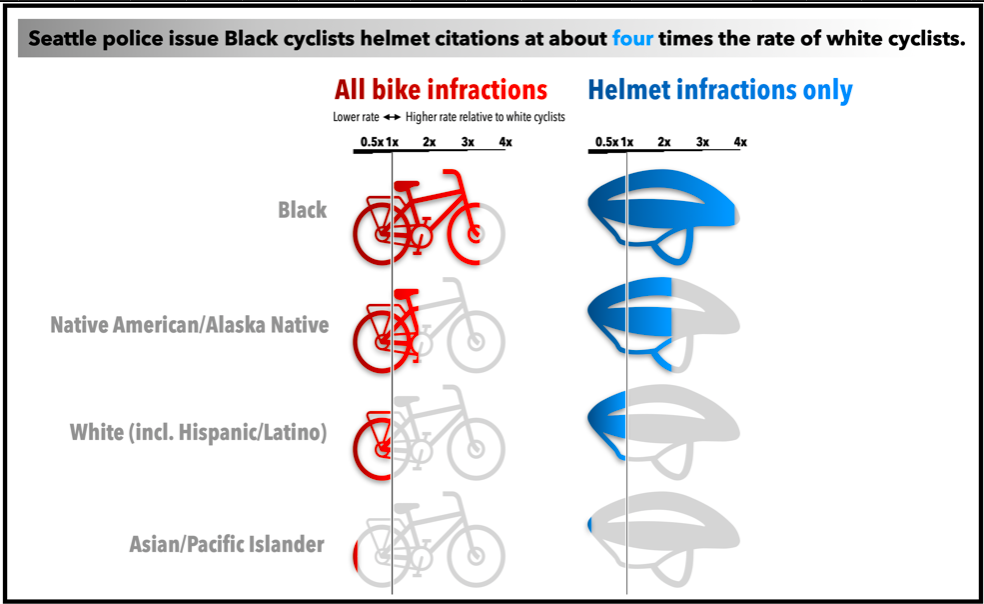 To gather the demographic data used in the analysis, Campbell combined census demographic data with three Seattle Department of Transportation (SDOT) surveys to determine the demographics of Seattle cyclists. The study did note that data suggested an overrepresentation of White cyclists, meaning more people who identified as White in the surveys accounted for bike trips than their share of census demographics would predict. In an interview with the UW Daily, Campbell also acknowledged the difficulty of estimating each demographic group's share of bike trips in Seattle without observational research to back up the surveys.
The greatest challenge, however, confronted by the study was related to understanding helmet use.
"A real problem is that we don't know the demographics of who doesn't wear a helmet," Campbell said. "Without that information, we can only say that the racial disparities are strongly suggestive of biased policing."
Notwithstanding research limitations, the study's findings prompted CSG to call on the King County Board of Health to engage in a "thoughtful review of the helmet law that focuses on its unintended impacts and includes community voices." The organization also participated in a helmet law working group alongside Real Change and Cascade Bicycle Club and distributed a survey in which community members could share their viewpoints and experiences. The data they collected resulted in a full suite of recommendations backed up by research related to the helmet law mandate and a letter submitted to the King County Board of Health advising a repeal of the law.
Helmet Law Letter to the King County Board of Health by Natalie Bicknell on Scribd
What about public health concerns?
Some medical professionals, however, have expressed alarm at a helmet law repeal. In response to the data published by CSG and Campbell, Dr. Frederick Rivara, professor of pediatrics at the University of Washington School of Medicine, stood by the current helmet policy.
"The data are very clear: helmets prevent brain injury. All should be protected," he said in an email to The Seattle Times.
The working group also supports encouraging cyclists to wear helmets to prevent brain injury; however, rather than criminalize lack of compliance with helmet law, they are pressing for other solutions, such as promoting public health campaigns that share accurate information around cycling risk and helmet use, using the King County Department of Public Health to increase access to helmets to people who are low income or suffering from homelessness, and urging the prioritization of traffic calming measures to create safer road conditions for cyclists.
Studies evaluated in the working group's paper cite helmet use as "valuable as a mode of injury prevention and should be encouraged, promoted, and incentivized for the safety of cyclists," however, they also assert that "other strategies that prevent crashes from occurring in the first place should also be emphasized."
Research included in the paper also found that while the connection between laws mandating helmet use is dubious, especially since use of helmets has become more widespread since the introduction of these laws in the 1990s, clear data points to safer bike facilities, for instance protected bike lanes and lower vehicle traffic speeds, as preventing injuries and saving lives.
Helmet requirements may deter people from cycling
One last point of criticism directed at helmet laws is that they deter people from cycling, either by creating an additional barrier to entry or by making the act appear dangerous. The working group's paper draws on both published data suggesting that helmet laws "depressed rates of bicycle ridership in some locales" and anecdotal evidence shared in the feedback solicited by the survey.
Additionally, helmet laws can put a damper on the use of bike share programs, which often do not provide helmets to riders. The paper identifies King County's helmet law as a "contributing factor in the demise of Seattle's Pronto bike share system in 2017." It also points out that "differential enforcement for bike share users creates a problematic legal double standard."
Public health entities throughout the U.S. recommend the use of bicycle helmets, yet bike-shares, which are often public/private partnerships that have, at the very least, permission from local governments to operate, increase the number of cyclists on the streets without more than cursory attempts to ensure that they wear head protection. This, on the face of it, is quite at odds with policies that impose fines and even prison time for not wearing bike helmets.

Bateman-House and Bachynski, "Putting local all-ages bicycle helmet ordinances in context," Journal of Law, Medicine, and Ethics (2019
Helmet laws came into vogue in the 1990s when there was less awareness around the consequences of traumatic brain injuries. While the laws appeared to have served a purpose in raising public awareness, in recent years research indicates mandates have become less associated with helmet use and injury prevention and more connected to policing that can unfairly impact certain community groups, namely Black and Indigenous people and people suffering from homelessness. Tacoma repealed its helmet law in 2020. Advocates are hoping that the King County Board of Health will consider the many factors surrounding the issue and follow Tacoma's example.
This article was updated to reflect that it was Central Seattle Greenways (CSG), not Seattle Neighborhood Greenways, that participated in the helmet law working group. Additionally, the working group was convened by CSG, Cascade Bicycle Club, and Real Change, not by the King County Board of Health.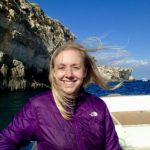 Natalie Bicknell Argerious (she/her) is Managing Editor at The Urbanist. A passionate urban explorer since childhood, she loves learning how to make cities more inclusive, vibrant, and environmentally resilient. You can often find her wandering around Seattle's Central District and Capitol Hill with her dogs and cat. Email her at natalie [at] theurbanist [dot] org.