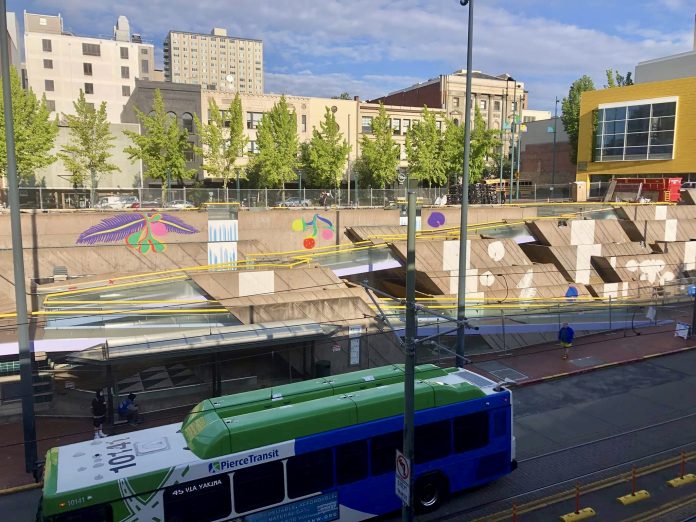 Pierce Transit has had a rough patch recently with operator shortages forcing the agency to temporarily cutback bus service, but the agency has made some progress in other areas. A bus stop balancing project has been approved for implementation next year — which will improve bus service — as well as a lucrative new sponsorship with MultiCare. Pierce Transit has also facilitated changes to its Waterwall in Tacoma with new artwork and entered into an agreement to purchase cleaner fuels.
Bus stop balancing project approved
Pierce Transit has approved changes to bus stops in an effort to speed up buses and improve system reliability. About 10% of bus stops will be consolidated through this process, affecting up to 214 bus stops in the system with changes going into effect in March. Across its system, Pierce Transit has more than 2,100 bus stops.
Bus stop balancing, as it is known, can be a politically fraught endeavor since it usually means adjusting stop spacing and removing bus stop locations to better balance them. A best practice is about one bus stop pair every four or five blocks for local service rather than every one or two blocks as is so often the case in America. Pierce Transit has a very high density of bus stops, often every two blocks or less.
While not every bus is likely to stop at every block, it does increase the overall frequency of stops which slows the average speed of a bus and increases travel times. This is because often only a small number of riders will board or alight from a stop since they will use the stop closest to them instead of many riders at fewer stops. Each stop requires the bus to slow, stop, dwell for people to get on and off, accelerate, and then do it all over again. Repeated across an entire route, this time can really add up. More people boarding and alighting at fewer stops is much more time efficient, allowing for shorter runtimes, higher fuel efficiency, and possibly extra trips with time saved. Overall, bus balancing offers faster and more reliable buses, which can have a positive effect on ridership.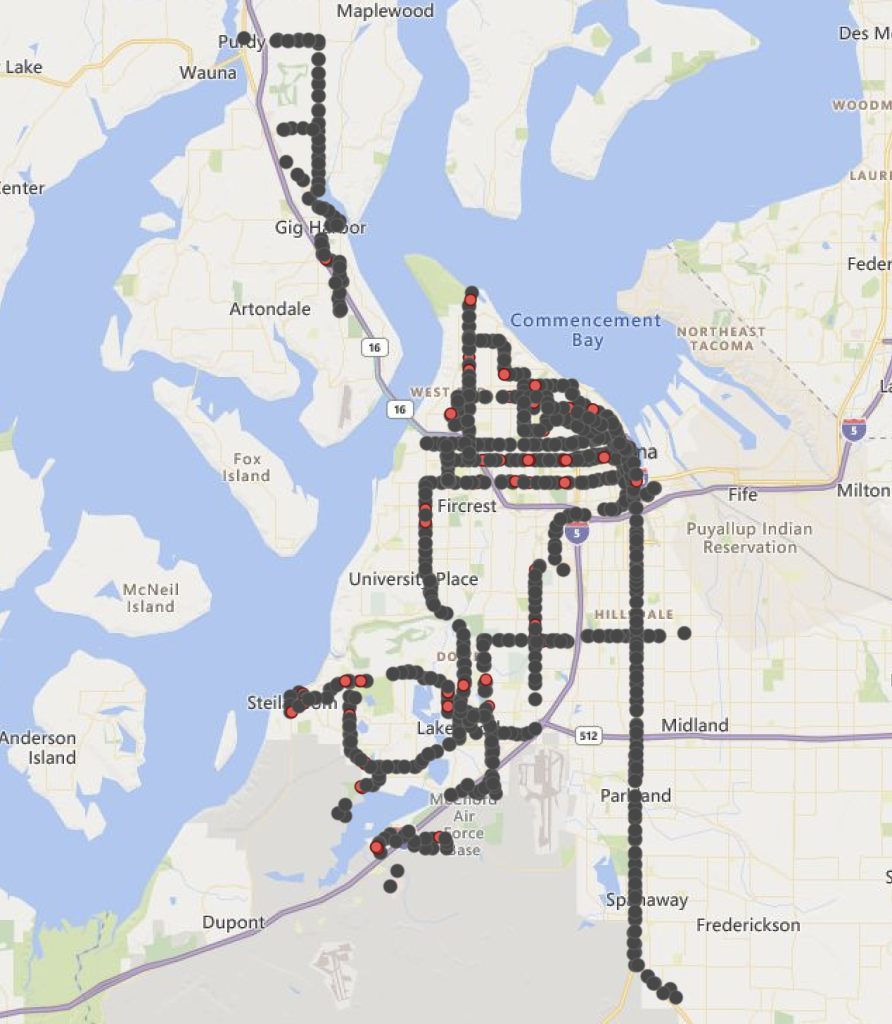 There are real criticisms of bus stop balancing, especially with accessibility and equity as critical values. But Pierce Transit did conduct a full equity analysis and worked through public engagement. As part of this, the agency sought feedback from the public and received several hundred comments on 250 different stop locations. Some routes don't appear slated for any bus stop closures, including the sluggish workhorse Route 1.
An earlier phase of Pierce Transit's bus stop balancing program had considered consolidation and removal of as many as 400 stops. So the level of changes were pulled back as public comment was considered. For bus stops being kept, the agency has reported that 98% of all boardings occur at them, so the ones being removed have very little use. Ahead of next year's changes, Pierce Transit will post stop closure notices so that riders are aware well before formal closure goes into effect.
Pierce Transit's bus rapid transit gains sponsorship

Just a few years away, Pierce Transit's first bus rapid transit line — branded as "Stream" — is set to launch, mirroring much of Route 1's corridor from Downtown Tacoma to Spanaway. The agency has secured a formal sponsorship of the line with MultiCare, a major healthcare provider in the region. The deal is broad and provides for naming and branding to appear on buses, stations, and other equipment and assets. Pierce Transit has even mentioned the possibility of MultiCare appearing on tickets and on ticket vending machines.
Stations with MultiCare naming rights will include two locations near their facilities and at Tacoma Dome Station (though this seems like it could possibly be at odds with Sound Transit's new station naming policies). Even though the line is within the agency's bus rapid transit Stream portfolio, the deal would allow for a distinct name that Pierce Transit and MultiCare agree upon. Going forward, Pierce Transit will allow other sponsors to name stations along the line.
The sponsorship deal could bring in millions of dollars in revenue over its 28-year period. MultiCare will pay Pierce Transit annually for the naming and branding rights, initially about $300,000 per year but rising to about $512,000 by the end. Revenue from this will primarily cover operations and maintenance.
New artwork at Pierce Transit's Commerce Transit Center
At Pierce Transit's Commerce Transit Center in Downtown Tacoma, a new artwork installation has been completed. Mini-Tahoma, as it is known, is featured on the Waterwall at the transit center. It showcases a large mural detailed in floral motifs and flowing water. At night it is illuminated to emphasize the features and really bring out the colors.
The Waterwall has recently been decommissioned as a fountain and is located in the block between Commerce Street and Broadway from S 9th Street to S 11th Street. It is a well known spot in the city center not just because of the transit center, but also for the many public events held there throughout the year. On Thursdays, a farmers' market pops up to provide goods to the community.
The installation was made possible by a parternship with the City of Tacoma and was produced by RYAN! Feddersen, a local artist and member of the Confederated Tribes of the Colville Reservation. Painting of the art installation started in June and just recently wrapped up.
Progress on environmental stewardship
Pierce Transit is making small dent in environmental stewardship. Last week, the agency announced that it has entered into a new agreement with PureWest Energy, LLC and United Energy Trading, LLC to purchase compressed natural gas (CNG) that is procured as carbon neutral. They agency's fleet mostly operates on CNG fuel with about 80% of buses; another 13% are hybrid-electric, 5% are battery-electric, and 2% are diesel.
The CNG fuel to be used is classified as Scope 1 and 2 carbon neutral and certified as Responsibly Source Gas (RSG). This means that the energy provider is using practices that ensure that drilling and supply chains processes minimize waste and achieve carbon neutrality in production and transportation. Pierce Transit estimates that the carbon savings by switching to an RSG CNG will avoid the equivalent of 101,370 pounds of coal per year or about 230,496 miles driven per year in emissions. Nevertheless, RSG CNG still emits greenhouse gases and particulates as it is converted to energy. So using this fuel in Pierce Transit's fleet doesn't fully eliminate greenhouse gases that contribute climate change.

Stephen is a professional urban planner in Puget Sound with a passion for sustainable, livable, and diverse cities. He is especially interested in how policies, regulations, and programs can promote positive outcomes for communities. With stints in great cities like Bellingham and Cork, Stephen currently lives in Seattle. He primarily covers land use and transportation issues and has been with The Urbanist since 2014.