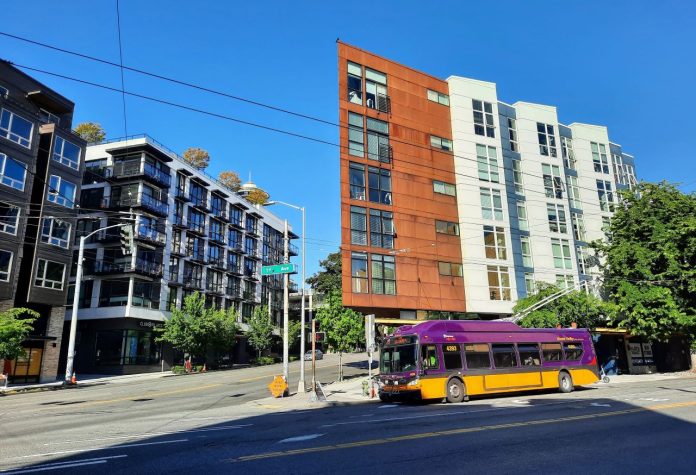 On Thursday, the Puget Sound Regional Council's Transportation Policy Board voted to approve the release of a draft 2050 Regional Transportation Plan that has been under development for more than a year. That draft will be released to the public early next year to receive comments. So far, however, no members of the policy board, which will ultimately approve the plan, have actually seen it yet. PSRC staff have presented details on the plan's elements, financial strategy, and outcomes, but the full plan itself will not be reviewed by the elected officials that make up PSRC's leadership before members of the general public see it.
Prior to the meeting, the current President of PSRC, King County Councilmember Claudia Balducci, sent a letter to the members of the board highlighting two specific policy focus areas: climate and safety. Balducci has raised these issues as being of particular focus during previous conversations around the plan, but she clearly felt it was important to go on record before the board took the final vote before the public comment period.
Earlier this week, The Urbanist highlighted the current estimated climate impact of the plan, with various levels of carbon reduction estimated by 2050 depending on technology assumptions as well as policy choices (such as a road-usage charge) that exist outside the scope of PSRC and its local governments. In her letter, Balducci notes concerns about misalignment between the regional transportation plan and statewide adopted greenhouse gas reduction targets similar to those raised in our reporting.
"Ten years ago, PSRC proposed and adopted a Regional Transportation Plan (T2040) that did not meet Washington State's adopted carbon reduction standards. We cannot afford to repeat that decision," Balducci wrote. "The Regional Transportation Plan must (1) reflect the breadth of climate strategies adopted in Vision 2050; (2) be assessed and found to meet our regional goals for greenhouse gas emissions; and (3) incorporate metrics and accountability measures to ensure our strategies are working."
At the meeting, PSRC Director of Transportation Planning Kelly McGourty presented a new chart on emissions, showing the current forecast of the impact of the transportation plan, along with its land use counterpart in the previously adopted Vision 2050, in context with other strategies that the agency is utilizing to forecast emissions reductions. Simply relying on increased fuel efficiency (Cafe) standards in vehicles is projected to take the region to approximately 22% above 1990 levels. Adhering to the elements of the transportation and land use plans discussed here brings that to 6% below 1990 levels. Electrification of the vehicle fleet does the rest of the heavy lifting to get below an 80% reduction compared to 1990 levels by 2050, the goal the Puget Sound Clean Air agency has adopted.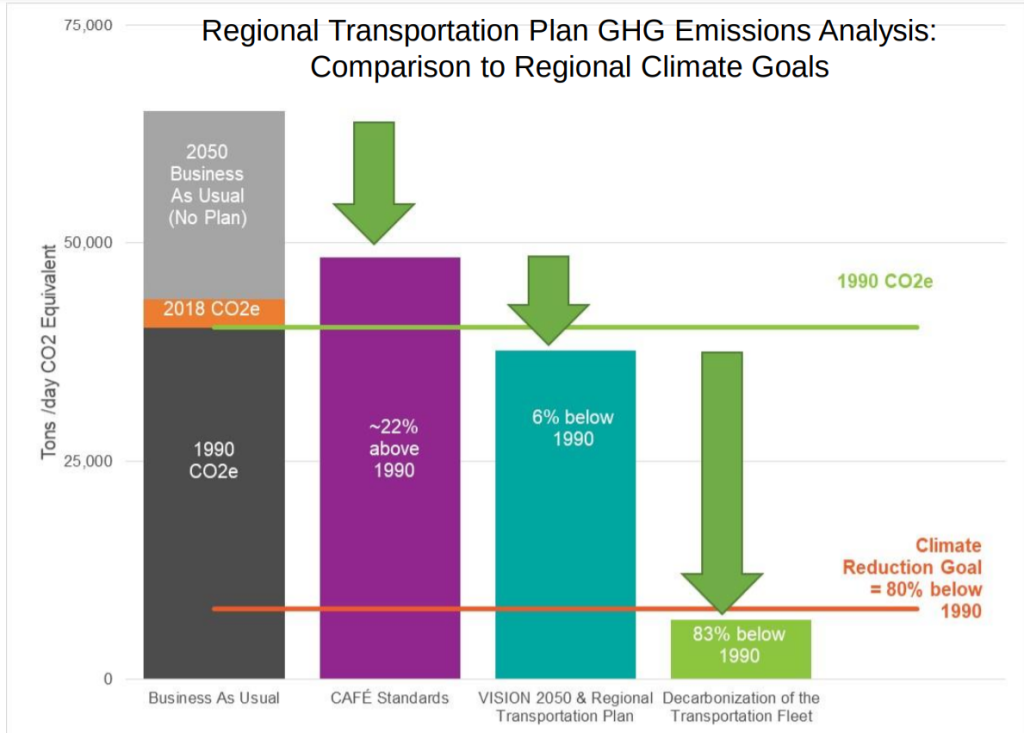 What was not shown were any interim metrics, for example a 2025 or 2030 goal. During the meeting Thursday, Port of Seattle Commissioner Ryan Calkins echoed the push for more well-defined interim metrics. "High level recommendation is, as you continue the work on this, that we create intermediate goals, very measurable goals, for each of the areas that we're trying to achieve," he said.
"All elements of our plan — policy statements, project lists and competitive grant programs — must align and comply with our climate goals. The plan must be closely assessed for climate impacts and we should be transparent about the results of that analysis, and engage with the level of policy and plan decisions needed to meet the urgency of the moment," Balducci's letter to the board noted.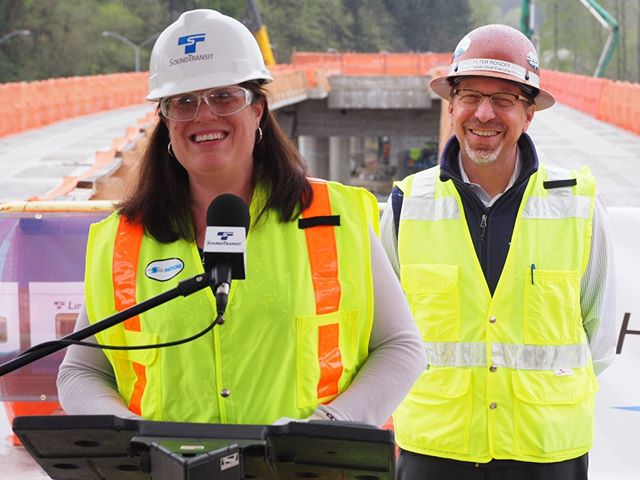 The project list associated with the transportation plan, updated as recently as July of this year, includes a long list of highway and road expansion projects that will likely increase, not decrease, local emissions levels as added capacity encourages more trips. These projects are frequently framed as multimodal improvements, even when the accompanying pedestrian, bike, and transit infrastructure is minimal or required by law. Thus many of those projects have not been designed to maximize mode shift but rather prioritize vehicle throughput.
The State of Washington's Office of Financial Managment currently projects less than 4% of passenger vehicles registered in the state in 2030 will be fully electric, as the state adds around 1.5 million vehicles compared to today, but the plan expects 90% of vehicles to be zero-emission by 2050.
A key aspect of the plan's modest assumptions around emissions reductions stems from a "choices" component; in other words, people choosing to shift their travel onto more climate-friendly modes. But Alex Hudson of Transportation Choices Coalition noted that in PSRC's current financial strategy, over half of the estimated funding gap of $42.8 billion dollars is currently in the area of local transit improvements, calling in to question what mode choices will be available to people in future decades.

Embracing Safe Systems
On safety, Balducci raised the issue of PSRC embracing the Safe Systems policy approach, which de-emphasizes human error as a primary factor influencing traffic collisions in favor of a proactive approach to street and vehicle design. Various levels of government, including the Federal Highway Administration, have moved to integrate this approach, but so far the regional planning agency has not.
"Many of our member jurisdictions have already adopted Safe System approaches, like Vision Zero. The international membership association Institute of Transportation Engineers (ITE) describes that a Safe System approach, 'differs from conventional safety practice by being human-centered, i.e. seeking safety through a more aggressive use of vehicle or roadway design and operational changes rather than relying primarily on behavioral changes…'," Balducci wrote to the board.
"Including a Safe System approach would align with federal direction such as the Infrastructure Investment and Jobs Act (IIJA) now signed into law and would set our region up to be successful in obtaining support to implement safety improvements," she noted.
Bellevue Councilmember Jennifer Robertson, a member of the Transportation Policy Board, supported the move toward Safe Systems approach Thursday. "The Safe Systems approach is a really good first step. I think we should go further and use Vision Zero to make bolder steps toward safety," she said. "I think we need to be more aggressive … PSRC should follow the lead of the President, Congress, and Secretary Buttigieg who have all signaled that [a] Vison Zero approach is critical, and that we should work toward meeting these goals so that we are in-step with the national agenda," Robertson told the group, touting the work of the Vision Zero team in Bellevue.
But Kelly McGourty told the board that agency staff had not heard a clear consensus from the group of electeds. "We've not yet been directed to turn [Safe Systems] into a specific action item," she noted.
Poulsbo Mayor Becky Erickson pushed the board to take a more direct stance than had apparently been heard by PSRC staff, but board vice-chair Ryan Mello, Pierce County Councilmember, steered the board back to waiting until the public had weighed in on the plan that it must again be reiterated that the Transportation Policy Board has not yet seen.
McGourty emphasized that the board would be able to reassess the plan again in a "few short years," since it's required to be reapproved every four years, downplaying the significance of this current review process, but it's clear that PSRC has, in its current President, a leader who is determined to not miss a chance to get this right.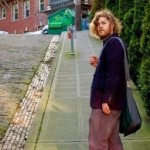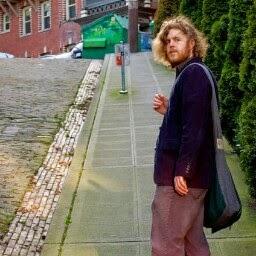 Ryan Packer lives in the Summit Slope neighborhood of Capitol Hill and has been writing for the The Urbanist since 2015. They report on multimodal transportation issues, #VisionZero, preservation, and local politics. They believe in using Seattle's history to help attain the vibrant, diverse city that we all wish to inhabit. Ryan's writing has appeared in Capitol Hill Seattle Blog, Bike Portland, and Seattle Bike Blog, where they also did a four-month stint as temporary editor.