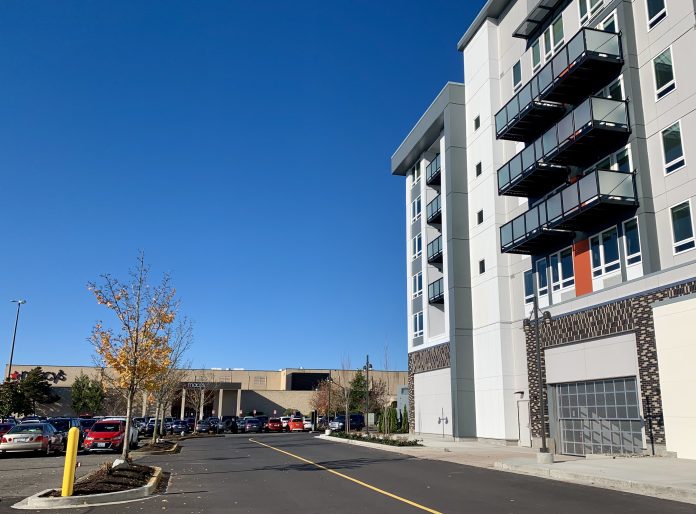 As Lynnwood adapts to a growing population and light rail's impending arrival in 2024, zoning changes are reshaping the city, primarily the newly designated City Center adjacent to the Link light rail station and the Alderwood Mall area, located about a mile and a half northwest. Just as the City Center is planned to transition from low-density strip mall development to a walkable downtown, plans for Alderwood Mall incorporate dense multi-family housing in an area of big box stores and expansive parking lots.
Shaun Kuo has reported for The Urbanist on the development boom coming to Seattle's Northgate Mall, situated at the doorstep of a Link light rail station, which includes plans for over 4,000 units of housing. While not as many units have planned as of yet in the Alderwood Mall area, notable projects are in the works, and one such project, Avalon Alderwood, was already completed this summer.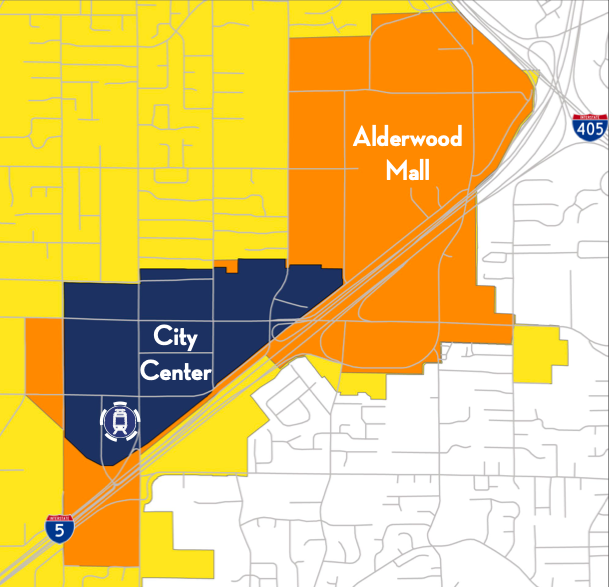 Across the country nearly 60 former malls have been transformed into new communities featuring multifamily housing and office space, as a 2020 City Journal article noted. Moreover, 75 additional mall redevelopment projects are estimated to be in their planning stages. City Journal estimates that about 1,000 malls remain that could be renovated into mixed-use neighborhoods — a veritable well of untapped potential for new housing in a country struggling with an affordable housing crisis. Current estimates suggest that the U.S. is short 3.8 million homes nationwide, shutting out many would-be homebuyers from the housing market and driving vulnerable people into homelessness.
By seizing the opportunity to create a new future for Alderwood Mall, Lynnwood has distinguished itself nationally, drawing the attention of Bloomburg's City Lab, whose article "The Dying Mall's New Lease on Life: Apartments" focused on Alderwood Mall's redevelopment, calling it "a sign of what might be a national trend."
But even with all the hype, Lynnwood Place, the largest development underway in the Alderwood Mall area continues to be car-oriented, casting some doubt over what the future will hold for a corner of Snohomish County that has already seen many changes as a result of ambitious planned developments.
Alderwood, an early 20th century planned community
Plans for Alderwood Mall to grow into a second town center for Lynnwood are rooted in the city's history. Alderwood Mall takes it name from Alderwood Manor, a planned community created by Puget Mill Company, which predated Lynnwood's incorporation as a city. The Interurban Trolley, which connected Seattle to Everett from 1902 to 1939, stopped at Alderwood Manor, which at one time was the country's second largest producer of eggs. Although it never incorporated into a city, Alderwood Manor developed its own town center, which thrived for decades before the opening of Highway 99, a few miles west. A decline in the profitability of egg production during the Great Depression, and the end of trolley operations in 1939, also contributed to new growth shifting away from the area.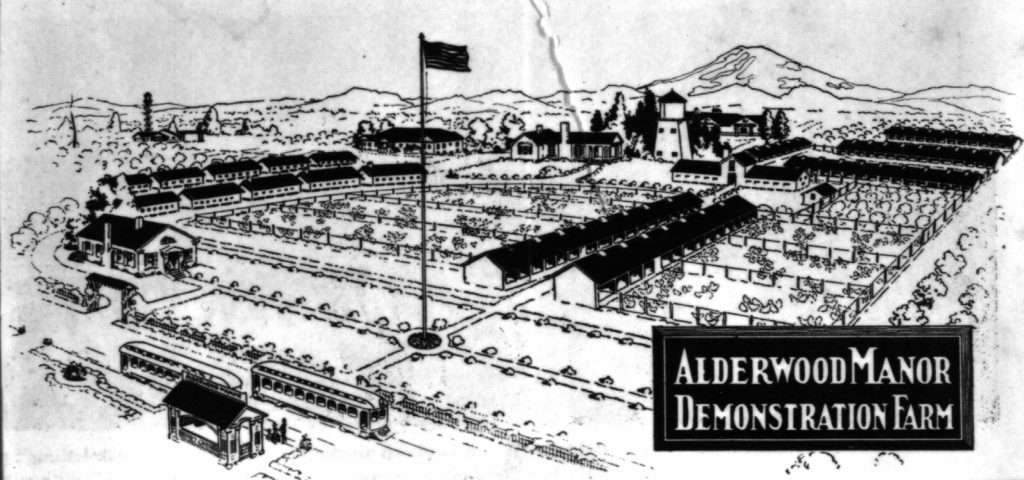 By 1979, Alderwood Manor had been annexed into the City of Lynnwood and transformed into Alderwood Mall, a large indoor shopping center that in the 1980's and 1990's was estimated to attract around 33,000 visitors daily, some traveling from as far away as Vancouver, B.C.
A 1991 article from the Seattle Times waxed poetically about Alderwood Mall.
Like other shopping malls, it is a center of life, an answer to progress' call for ultimate accessibility, variety and social interaction. Where else can you buy a national bestseller, grab a quick bite with friends, get your eyes checked, compare prices on cassette decks and have a Renoir print framed in one afternoon?

Marc Ramirez, "A Day In 33,000 Lives — Alderwood Mall Resonates To Feet Of Walkers, Shoppers, Watchers," Seattle Times, 4/17/1991
The late eighties were arguably the height of America's shopping mall craze. The mall became a place for many Americans not only to shop, but also to simply hang out, a quote-unquote "third place" where people enjoyed spending time outside of their homes and work.
But from the beginning, deep flaws were present in the conceptual foundation of America's shopping malls. As private, often highly supervised spaces, they were good at attracting certain people — mostly White, middle-class suburbanites — but as well as malls succeeded in attracting these consumers, they failed at holding their attention. Hence, the need for continual updates and gimmicks that created an arms race among competing malls.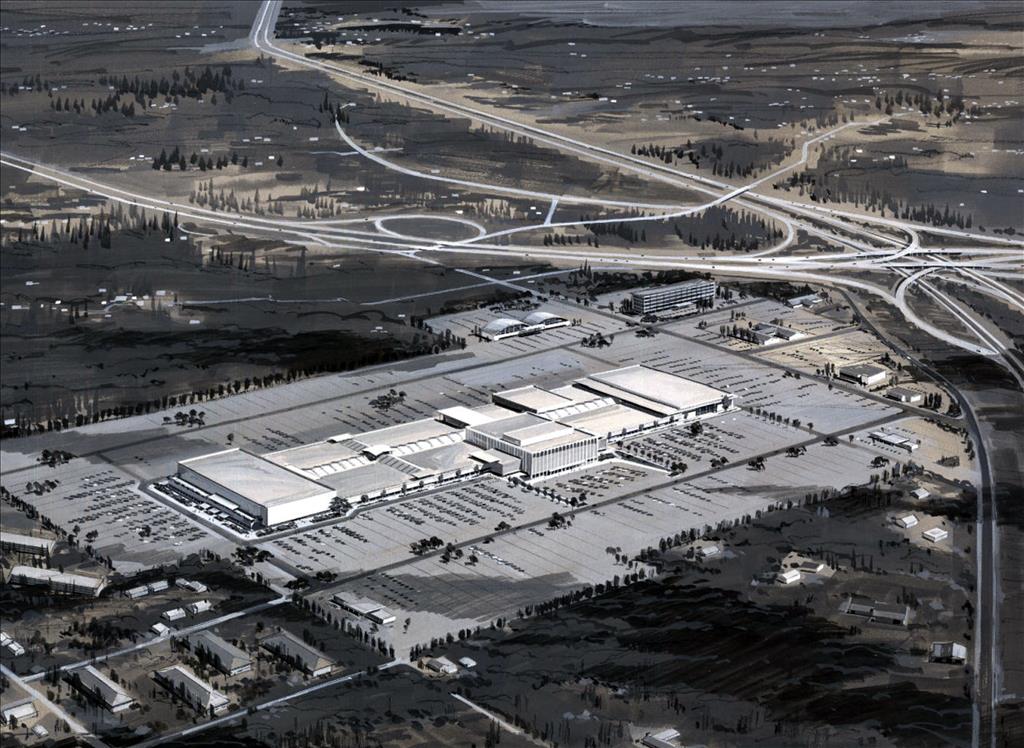 Alderwood Mall was not immune to the need for near constant reinvention. By 1995, a $12 million renovation was planned for this "center of life." A representative for owner DeBartolo Properties Management Inc. disputed the idea that mall was being updated because it had deteriorated, instead maintaining that Alderwood was a particularly successful example of a mall because it had made it 16 years until the need for renovation emerged, unlike the typical American mall, which he said was updated about once a decade. He also emphasized Alderwood Mall's expansion from 985,000 square feet to 1.03 million square feet would be good for the region, attracting people to "drive longer distances to shop there, come to the mall more often and stay longer, all of which generate higher sales."
But the buzz that followed the renovation did not last. Only a few years later, in throwback to the mall's eighties prominence, 15 old-year Solange Knowles, younger sister to Beyoncé, performed at Alderwood Mall, as part of a Young Pop Power Tour. The crowd swelled to about 200 people and invited (modest) comparisons to eighties mall pop icon Tiffany. But that same year, the closure of Lamonts, a Seattle-based department store, prompted the need for another major renovation and expansion, resulting in the The Village, an open-air shopping and dining area on the mall's northern side, and The Terrace, which brought additional dining options, a Loews Cineplex, and two new parking garages to the mall's southwest corner.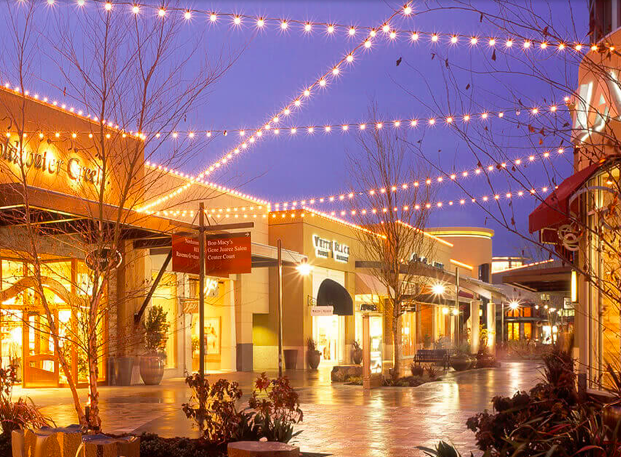 The new additions prompted Alderwood Mall to brand itself as a "lifestyle center" rather than shopping mall, a pivot toward dining and entertainment accompanied the rise of online commerce and the general sentiment that mall's were in decline. However, within this decline, some began to see opportunity — why not restyle shopping centers, which were already becoming lifestyle centers in a bid to remain afloat, into actual neighborhoods by adding housing?
Alderwood on the Rise
Built on the site of the Sears department store, which shuttered in 2017, Avalon Alderwood is a six story development that includes 328 homes, 64,000 square feet of ground-level commercial space, and a parking garage. All of its housing is priced at market rates. While it was initially estimated to be completed this past summer, it is still under construction.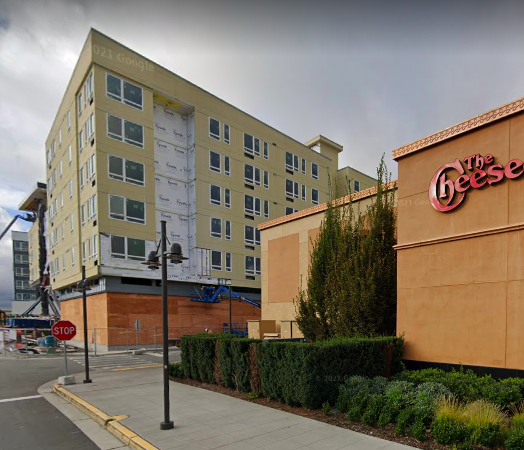 Across Alderwood Parkway from the mall, an 18-story mixed-use development was approved last May by the Lynnwood City Council. The building, which will replace the Alderwood Medical Building, will offer 346 homes and 3,465 square feet of commercial space. Although 395 parking spaces are included in the project, two out of five Lynnwood City Councilmembers voted against the project as a result of concerns over insufficient parking and the fact that the development's housing will also be priced at market rates.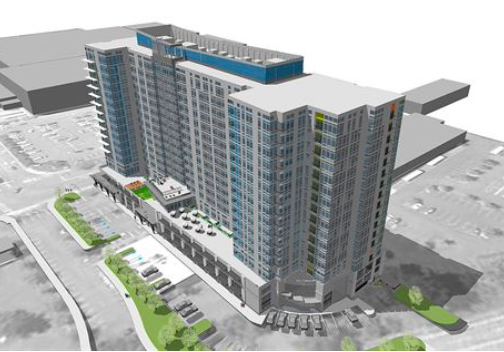 However, both of those projects pale in comparison with Lynnwood Place, a 19.1 acre development that will eventually include 18,000 square feet of commercial space and 500 market rate homes. The former site of Lynnwood High School, the project will be completed in two phases, the first of which was the construction of a Costco. In the phase two, in addition to the mixed-use development marketed as "The Woods," the project also includes a Home Depot with a parking lot for 441 vehicles on its roof, the first of its kind for the company.
According to developers, the full project will be completed in spring of 2022. Marketing for the residential buildings presents it as luxury housing — calling the Woods "a new sanctuary from the hustle and bustle of modern life." If so, it will be a sanctuary surrounded by asphalt. In addition to the parking for the development's two big box stores, another 876 parking spaces will be dedicated to the mixed-use development.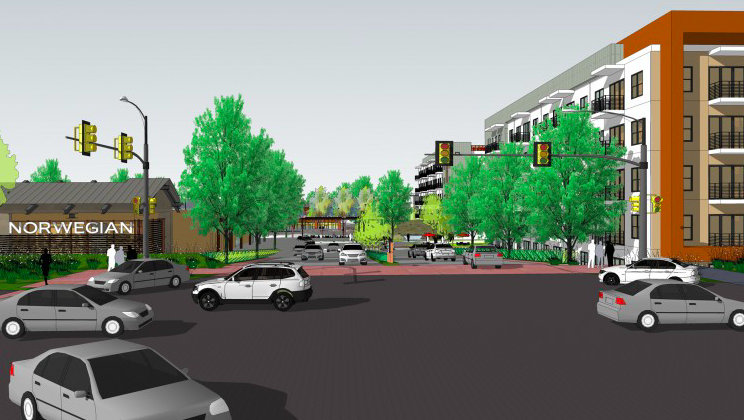 The City of Lynnwood cites the total number of homes as 1,369, indicating that more development may be in the works for the site. So it is possible that some of the surface level parking will be transformed into buildings at a later date. The Alderwood Mall area will be connected to Link light rail by frequent bus service and the Interurban multi-use trail, and a subsequent light rail extension (currently tabbed for 2036) will add a station at the mall. Hopefully, as Lynnwood Link moves closer to its opening date, new development will shift further away from prioritizing access for cars.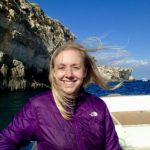 Natalie Bicknell Argerious (she/her) is Managing Editor at The Urbanist. A passionate urban explorer since childhood, she loves learning how to make cities more inclusive, vibrant, and environmentally resilient. You can often find her wandering around Seattle's Central District and Capitol Hill with her dogs and cat. Email her at natalie [at] theurbanist [dot] org.