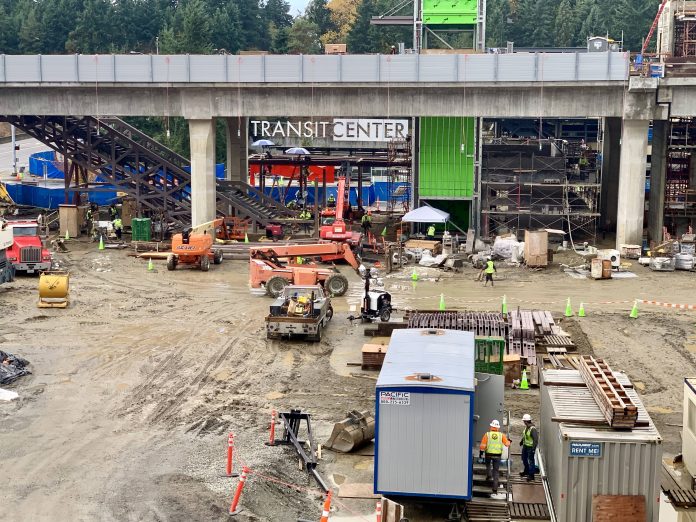 Sound Transit has announced a big milestone for the expansion of Link light rail in the Puget Sound region. The Lynnwood Link Extension is officially 50% complete and on target to open on schedule in 2024. At a press conference held in front of the busy construction site for the Mountlake Terrace Station, Sound Transit CEO Peter Rogoff thanked the construction crews for their "extraordinary efforts" keeping the project both on time and on budget during the challenging conditions created by the Covid pandemic.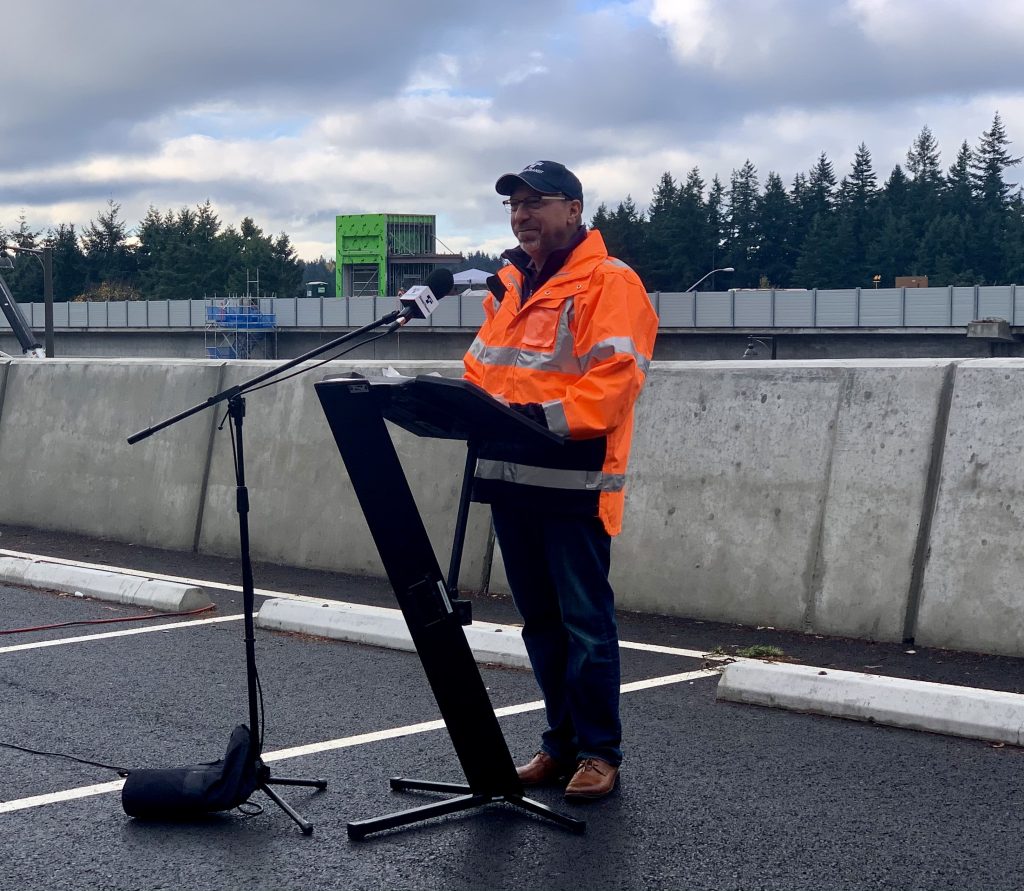 When the Lynnwood Link Extension opens in 2024 riders will have access to 8.5 miles of additional light rail serving four new stations, Shoreline South/148th, Shoreline North/185th, Mountlake Terrace, and Lynnwood. An infill station is planned at 130th Street in Seattle, which is currently scheduled to open in 2025 one year after the rest of Lynnwood Link, after advocates pushed back on initial plans to delay that opening to 2031 or beyond. The station at 130th Street will provide quick bus connections to Lake City and Bitter Lake and a planned (but not yet approved) rezone could seed an urban neighborhood around the station in area currently stifled by single-family zoning.
"This milestone is one of many," Rogoff said, expressing optimism that the recent passage of President Biden's Infrastructure and Jobs Act will help unlock funding for projects like Link light rail expansion. The $3.1 billion project already includes up to $1.17 billion in funding from a grant agreement executed by the Federal Transit Administration. The United States Department of Transportation (USDOT) also provided the project a $658 million low-interest loan, which was refinanced in 2021 as a result of lower interest rates, a move that will save local taxpayers an additional $150 million to $250 million.
Once the extension is running, light rail trains will arrive and depart every four to six minutes during peak hours, and trips between Lynnwood and Westlake Station in Downtown Seattle will take an estimated 28 minutes, the agency said.
Everett City Councilmember and Sound Transit Board Vice Chair Paul Roberts spoke with enthusiasm about the Link's further 16.3 mile extension to Everett, estimated to be completed sometime between 2037 and 2041. "Behind me is the track to the future," Roberts said, explaining how his city will benefit from the certainty Link light rail will provide to regional commuters who now often face challenging and unpredictable traffic conditions on Interstate 5.
Roberts also highlighted the importance of Link light rail as the "most environmentally sustainable system in the country," a fact made possible by the 10-year agreement Sound Transit entered into with Puget Sound Energy in 2019 to power the Link with 100% carbon free electricity. In addition to power from Seattle City Light, which runs primarily on hydroelectricity, Sound Transit also receives energy from the Green Direct program providing renewable energy from the Skookumchuk Wind Facility.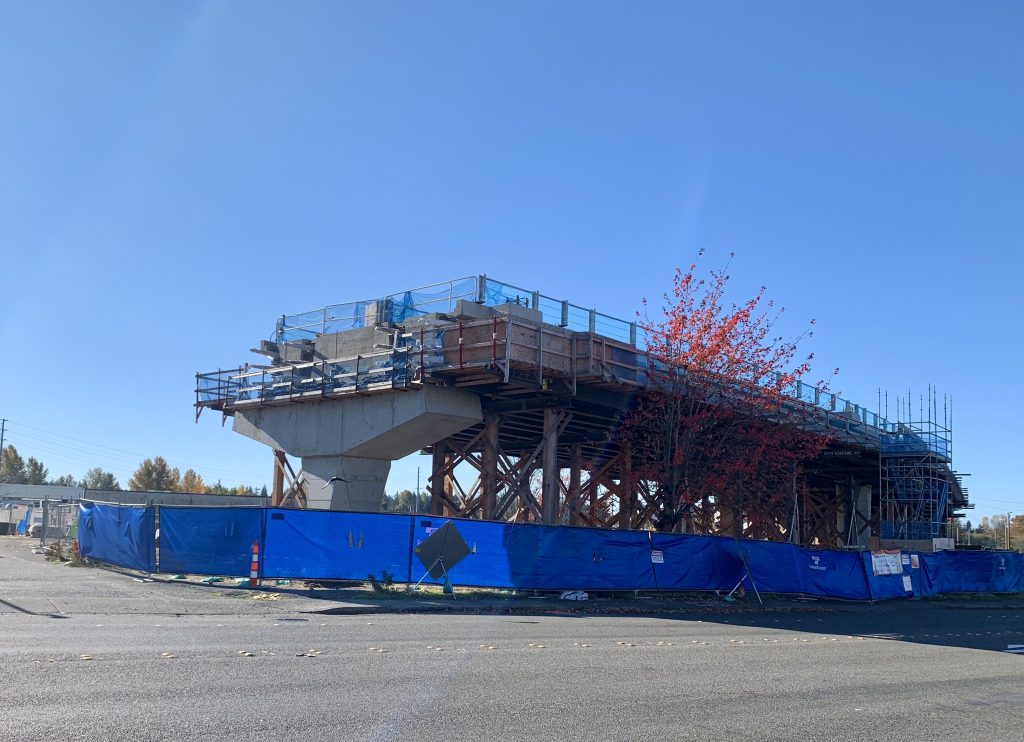 Sound Transit is currently in the process of scoping out possible alignments for the Everett Extension, and public comment on the process is open until December 10th through an online open house.
Nicola Smith, mayor of Lynnwood, spoke about the positive changes light rail is bringing to the city she has led for nearly eight years. Transit-oriented development (TOD) in Lynnwood, which is planned in both the Northline and Alderwood Mall areas of the city, will bring dense, walkable, and transit-connected neighborhoods into a landscape currently dominated by strip mall style development. These changes are attracting newcomers to Lynnwood, Smith said, with more and more people arriving in the city every day.
Planning on this order of magnitude does not come quickly or easily. The Northline TOD project near Lynnwood Station has been in the works in for nearly a decade. Just down the hill from the Mountlake Station, new developments like Terrace Station Apartments are moving in residents. A Montessori school has already opened in the center of the growing neighborhood, called Gateway, located a short walk from the future light rail station. The Mountlake Terrace Library and new City Hall are located nearby as well.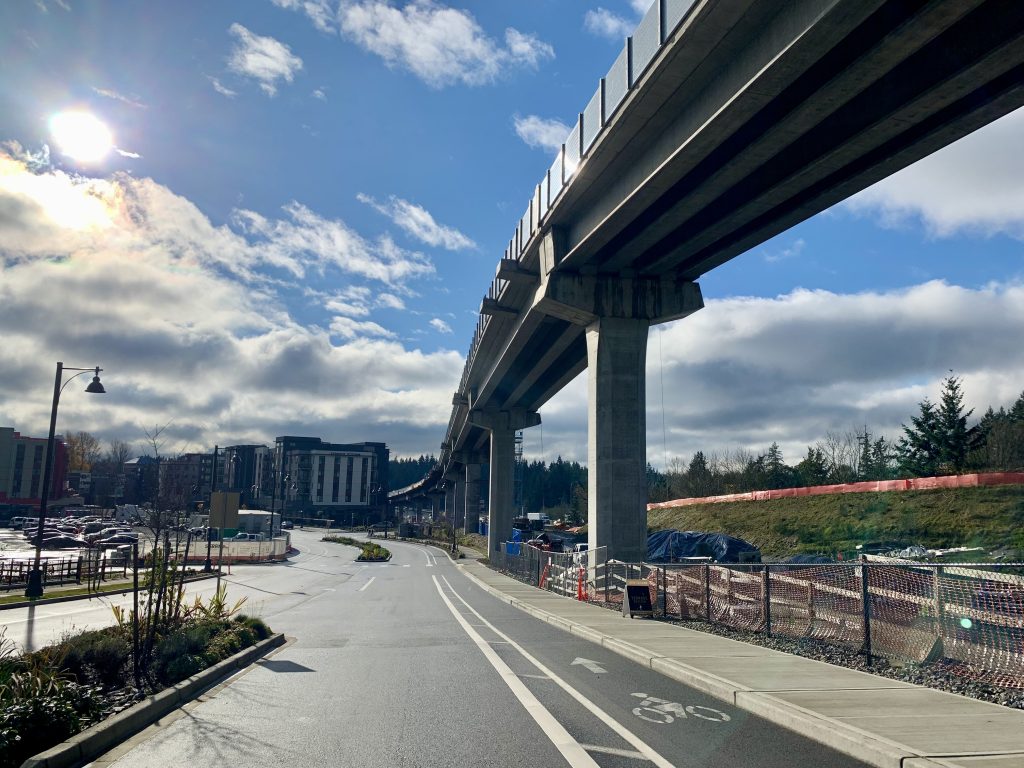 Getting the Lynnwood light rail extension to 50% has not been an easy undertaking. When asked for the project's greatest construction or engineering achievement, Josh Pategas, Principle Construction Manager for Sound Transit explained that the span of light rail tracks crossing over the interstate just north of Mountlake Terrace Station was most challenging aspect of the project completed to date because construction had to be completed with minimal impacts to the surrounding area, including limited closure of the interstate.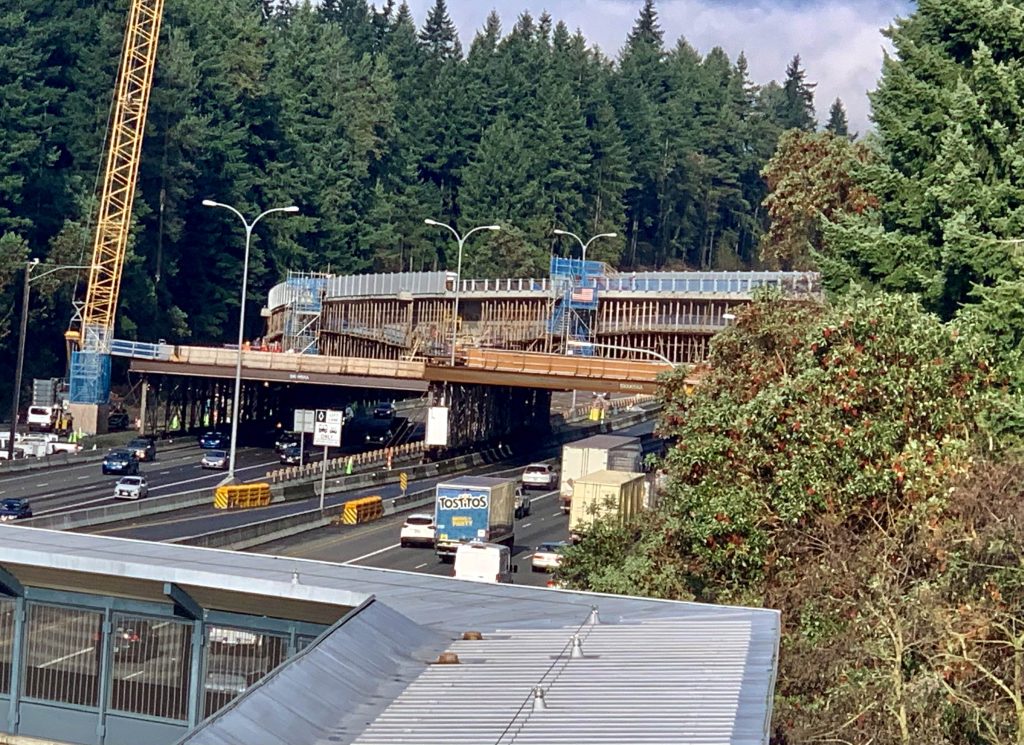 To get to this point, Sound Transit has installed all 188 of the project columns; set 530 of the 533 girders, with remainders to be set before the end of the year; brought all ten of the project's bridges to 80% completion, and begun rail track work in multiple locations. At the Mountlake Terrace Station, the escalators and elevators are currently being installed. While the press was not invited for a tour because of the active nature of the construction site, a view from the top of the current Mountlake Terrace park-and-ride garage revealed the progress being made.
Construction of three new parking garages is also underway. At the Lynnwood Transit Center, the new garage will be five stories tall and contain 1,670 parking stalls, while the garages at the Shoreline South/148th and Shoreline North/185th stations will each have approximately 500 parking spaces. To better allow for site work around the future Lynnwood Station, the new garage is planned to be open to the public in the spring of 2023, over a year in advance of light rail service.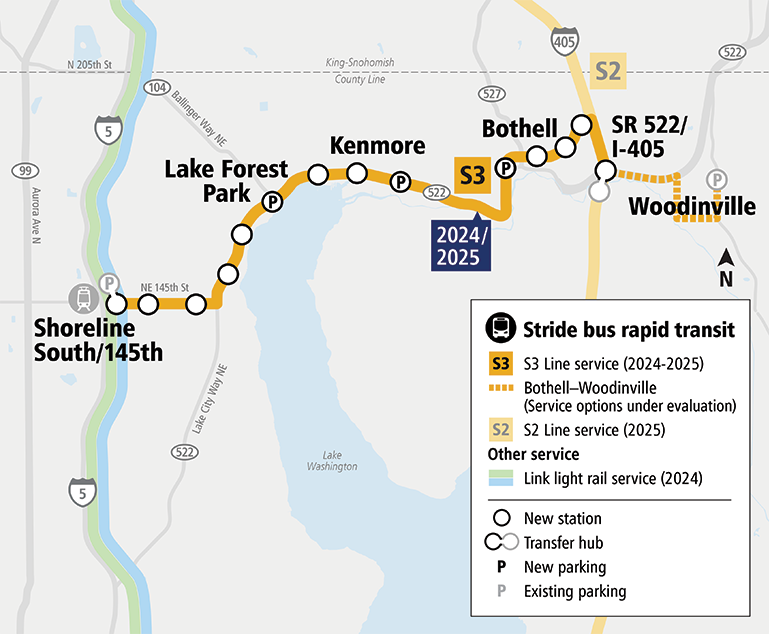 While those three stations will each have a large parking footprint, Sound Transit has also emphasized that transit connections are underway as well. Connecting at the 145th/Shoreline South Station, a Stride bus rapid transit line running on SR-522 is in the works, providing connecting to Bothell, and potentially one day Woodinville. Last March, Stephen Fesler reported for The Urbanist that the project had reached its 30% design milestone. With an estimated completion date of 2026, the Stride line, dubbed S3 by Sound Transit, will provide 14 stations over an eight-mile stretch of bus rapid transit.
Shoreline is also planning multimodal connections to its southern station with a new pedestrian and bicycle bridge at 148th Street to rival the John Lewis Memorial Bridge at Northgate Station in Seattle, but it currently has a funding gap of $20 million, which could mean it opens as late as 2032. Shoreline is also planning a multi-use trail to run alongside the Sound Transit guideway, called the Trail Along the Rail, with Sound Transit building several segments of that trail alongside Lynnwood Link.
With Sound Transit's 2 Line on the Eastside on track to open in 2023, Lynnwood Link's status at 50% highlights just how close Seattle's regional light rail system is to an explosion of additional service in the coming years — 25 stations added in just three years — a huge step forward for regional mobility.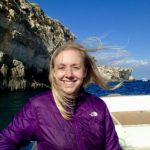 Natalie Bicknell Argerious (she/her) is a freelance reporter and podcast host at The Urbanist. She previously served as managing editor. A passionate urban explorer since childhood, she loves learning how to make cities more inclusive, vibrant, and environmentally resilient. You can often find her wandering around Seattle's Central District and Capitol Hill with her dogs and cat. Email her at natalie [at] theurbanist [dot] org.