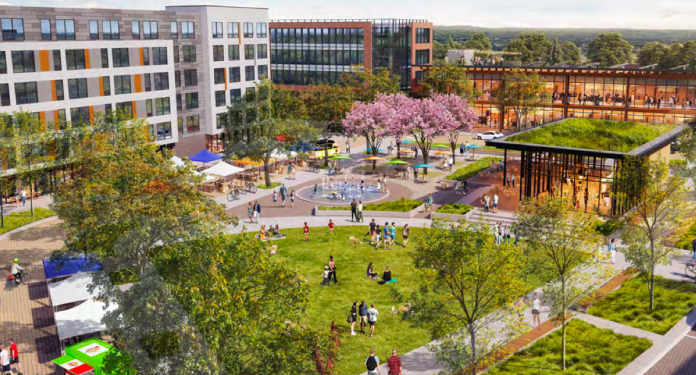 Light rail is coming to North Seattle at 130th Street in 2025. Thanks to advocacy by the many grassroots organizers involved in the Move All Seattle Sustainably (MASS) Coalition and deft leadership by Claudia Balducci, a whole new swath of Seattle will have frequent, grade separated transit in just a few short years. Our neighborhoods and the rest of our political leaders need to seize the opportunity.
At the moment, the city is blowing it, with a feeble plan and requests for feedback from a few thousand local residents. This is the perfect way to tee up the aristocratic veto and keep out the working class people who actually need access to great transit. Instead, they should solicit feedback from the tens of thousands of possible future residents, the millions of voters who paid for the station, or (gasp!) people who actually ride transit.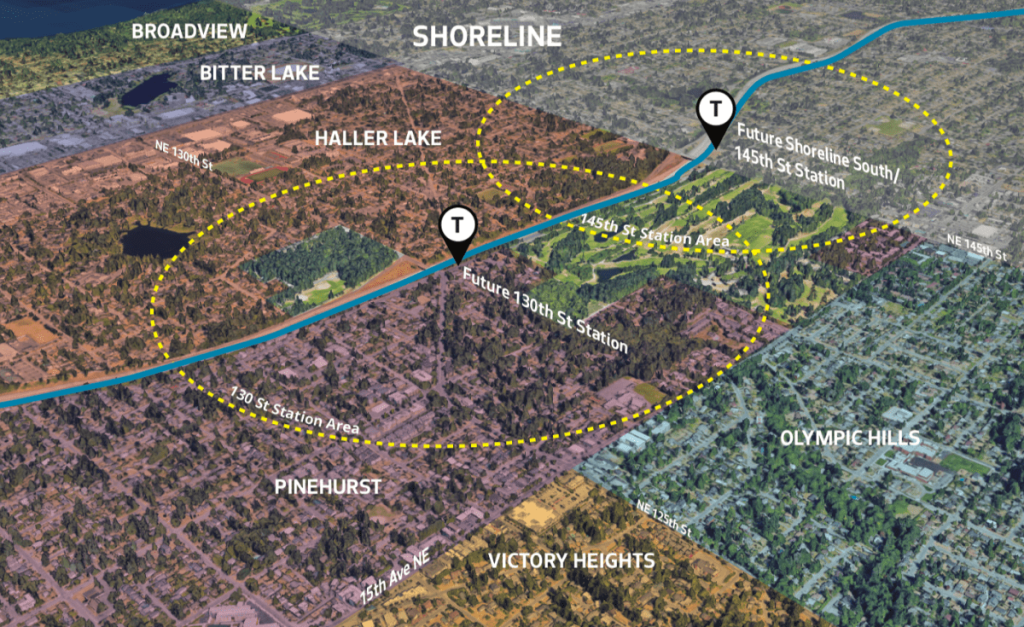 The light rail stop is one of five along the Lynnwood extension, which comes in around $3 billion including the infill station costs for NE 130th Street, or roughly $600 million per station. In a state where public investment is limited and often borne more heavily by our working class residents, it's our moral duty to make sure these tax dollars have maximum impact on climate targets, access to jobs and housing, environmental justice, and quality of life. This means aggressively adding housing, including affordable housing, with top-tier walkways, protected bike lanes, and prioritized transit access. It means carefully avoiding displacement of poor residents, preserving and expanding the tree canopy, and paying close attention to placemaking. In other words, it means doing a much better job than we have in the past.
We blew it last time in the U District, Roosevelt, and Northgate, with many years to prepare. Large swaths of their walksheds are still zoned for single-family homes and lowrise living. In Roosevelt alone, this shut out 11,000 families from a transit-rich neighborhood with great schools and parks, the formula for upward economic mobility. In Roosevelt and the U District, we've already built or issued permits for housing beyond what was predicted by 2035 — clearly underestimating demand for housing near stations. We've failed to pedestrianize even modest stretches of streets in dense areas. Biking connectivity is incomplete and usually unprotected, and transit prioritization is anemic.
Eye-watering housing supply
We can do much better in Pinehurst and Haller Lake. Let's start with housing. It is easiest to think about the area in four zones: Core, Inner, Jackson Park (which should be renamed after someone who didn't commit crimes against humanity), and Outer.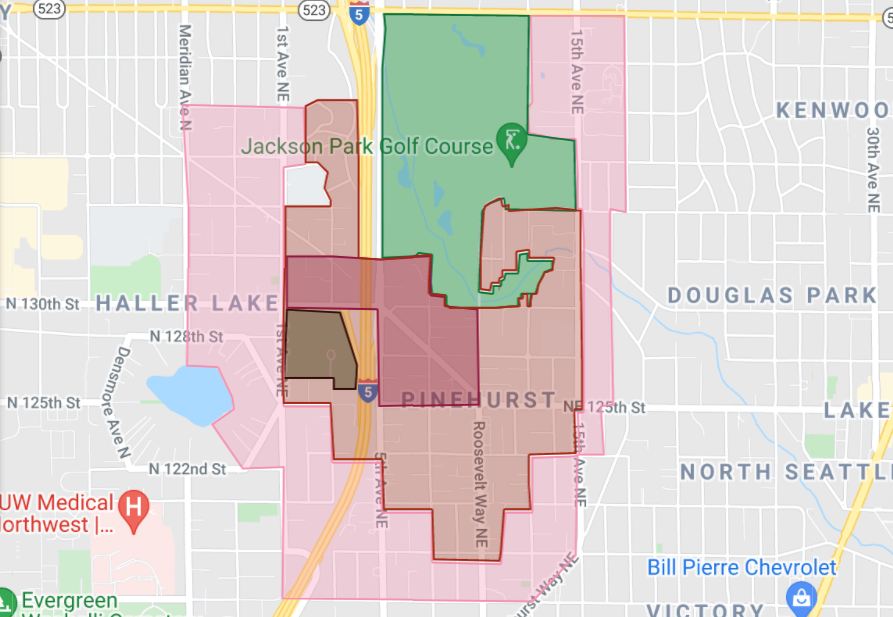 Core needs densities along the lines of the Mirabella in South Lake Union, though only in a very small area around the station, to maximize car-free living. At about 12 stories, these buildings are tall, but still qualify as midrise and can be designed with human scale in mind at the street level. Then we quickly move to more classic mid-rise scales in the Inner zone. We'll do something similar in the Jackson Park zone, setting aside 60 of the 160 acres for housing, as envisioned by Ryan DiRaimo in these very pages. (Note: I use much more conservative calculations for the number of homes that can be accommodated.)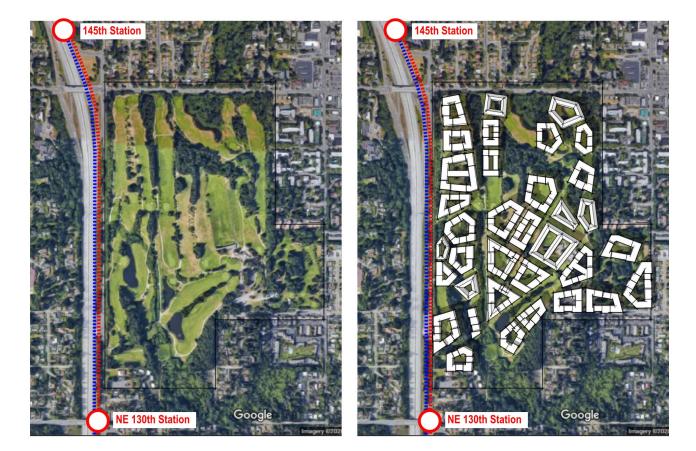 Since midrise buildings are probably the best urban form for preventing greenhouse gas emissions, I've used them in all my zones. Examples abound in places like Paris.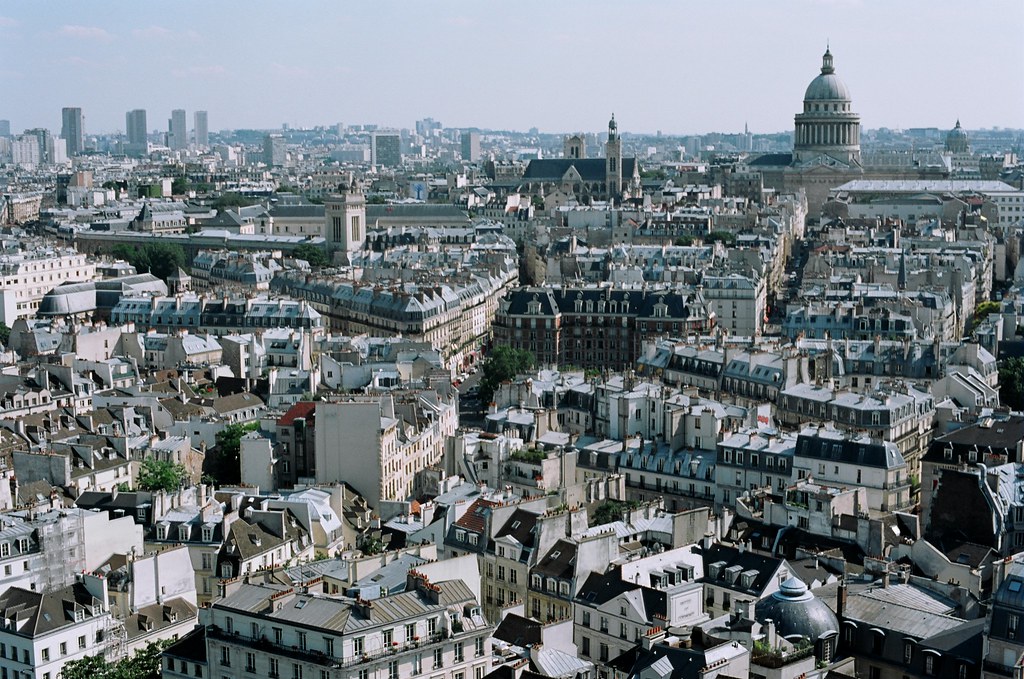 To bring the concept closer to home, in nearby Northeast Seattle, this includes big buildings like the Iron Flats and Trailside, or narrower developments like DXU.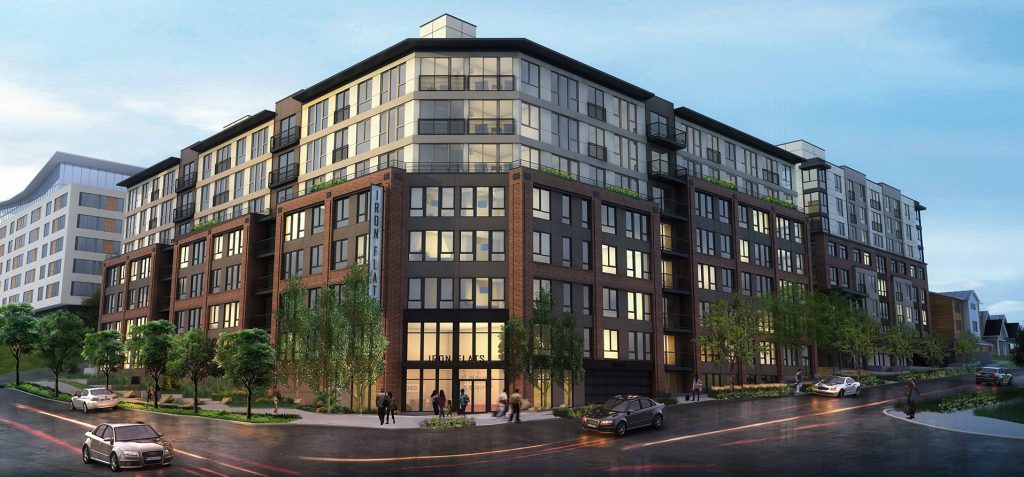 Finally, the Outer Walk would involve more modest four story buildings, like the one that houses Herkimer near Ravenna Boulevard, or found in abundance in Amsterdam. All are close to ideal urban forms when it comes to climate and walkability.
The Core zone could produce 21 million buildable square feet. The Inner zone would offer another 40.7 million. The 60 acres of fairway set aside for building in Park, 14.6 million, and the Outer zone, another 34 million. The total adds up to a bit more than 100 million square feet of zoned capacity. Given 10 million set aside for nonresidential space, that leaves 90 million square feet of residential space
That's enough for 76,112 homes, assuming they are larger than average for Seattle. We should do this to accommodate more families. Given the neighborhood's ample parks, the massive building potential, its non-central location, and the dearth of new family housing in the city, this is the perfect neighborhood to target more multi-bedroom units. If we assume the average unit will have just over 1.7 people, that's 130,000 people, a net of about 122,500 new neighbors. It brings the density to a cosy but not crowded 75,000 people per square mile.
If that sounds extreme, keep in mind that this is slightly less dense than New York's Greenwich Village, one of our nation's best known, most walkable neighborhoods. It's more space per person than several sections of Beacon Hill, arguably Boston's most beautiful neighborhood and one of our country's most picturesque. Paris also offers examples: several famous Parisian arrondissements are more thickly populated, like the area around the Church of the Sacred Heart. Pinehurst would be comparable to the arrondissement just to the north of Notre Dame, and the one that houses the Place de Bastille. None of those neighborhoods have high rises or feel crowded; all are destinations in their own right. Pinehurst could be too.
A gold mine for affordable housing
This kind of ambition could raise enormous funds for affordable housing. Depending on whether the city council upgrades the neighborhood from a "low" to "medium" cost area and whether the zones get M, M1, or M2 intensity labels, this would raise anywhere from $750 million to $2.3 billion. Assuming they choose "medium" and M1, that's $2.1 billion. We would get even more per square foot from the golf course. Of the 48 (net) acres set aside for housing, half could be sold to raise funds for affordable housing and create an integrated, mixed-income community in a heavily treed park. Presumably, access to this setting would command prices comparable to Roosevelt and the University District, about $80 per developable square foot. That would generate another $585 million and leave space for building over 6,000 units on the remaining land set aside for housing. The total dollars raised by the district would be $2.685 billion.
Although new affordable housing for extremely low income (30% area median income or less) families costs $350,000 per unit, they typically only cost the city about $70,000, as they attract private funding. It's even less per unit if you consider workforce housing, priced for 60% to 80% of the area median income. If we are conservative, and pick an outlier cost of $100,000 per unit, that's 26,850 affordable homes for Seattle! Of those, 6,000 could be put in the park, alongside 6,000 market rate units. Even if we have to foot the whole $350,000, we could build 7,673 affordable homes.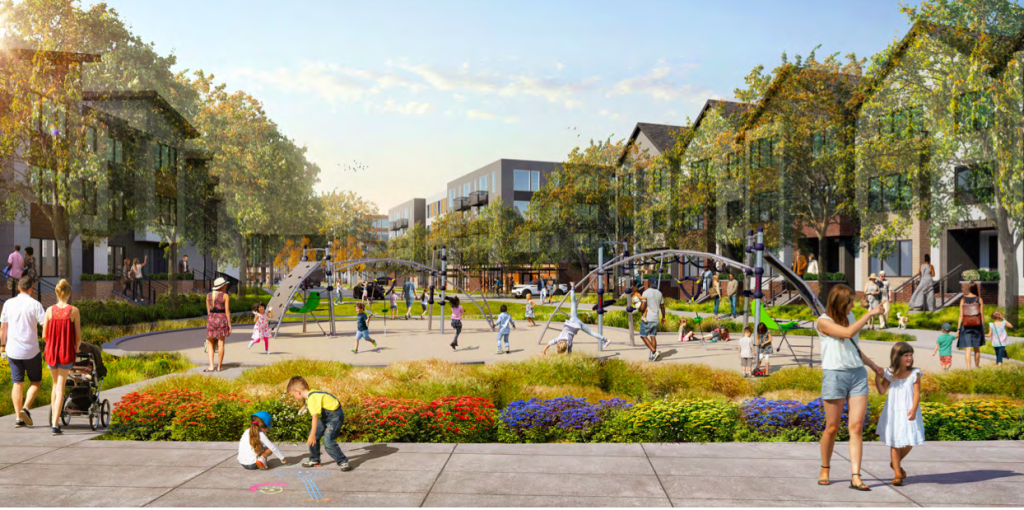 As gentle as displacement can get
All major redevelopments bring displacement risk. Fortunately, this case comes with a significant means to mitigate displacement: the golf course. The fact that we can build homes on the fairway, including 6,000 affordable units, means that far more than every single displaced low-income family will have a place to go before any homes are torn down. And they will live in a forest in the same neighborhood, probably farther from the freeway, alongside a pedestrian only street (see below), with light rail in walking distance, as well as a fully connected bike and bus network. No displacements are ideal, but this is as good as it gets.
No resident is "ideal" for displacement. But there are some advantages here. This is among the more sparsely populated parts of the city, which minimizes the absolute number displaced. It's almost all single-family zones, with some lowrises along a few arterials, and a few acres of midrise. The census tracts are about as white as the rest of Seattle. The poverty rate shows as slightly higher than citywide, but probably by a statistically insignificant amount. The percentage of BIPOC (Black, Indigenous, people of color) residents is slightly lower than the city as a whole, but again, probably not by a statistically significant amount. Given the long and ugly history of poor and nonwhite, especially BIPOC, displacement, we should be particularly concerned with this.
Ownership rates are also higher, which also reduces displacement risk, or at least offsets it with lucrative windfalls for owners. In fact, given that homeowners make up about 52% of the households, we are probably talking about 3,500 people that might have to move somewhere. Local family size is 2.2, so that's about 1,600 families. Assuming 30% of families earn up to twice the poverty line, we could give each displaced renting family a $10,000 bonus for less than $5 million, in addition to comparably sized subsidized housing in the park.
Climate justice, for once
This vision has inherent climate justice advantages. First, we would turn over public land that is currently dedicated to golf, an overwhelmingly wealthy, white, male sport. We'd get rid of the admission charge and put thousands of units of affordable housing on the fairways, moving more than ten thousand lower income residents away from freeways and spaces where climate impacts are disproportionate.
Their new home would be built in the middle of a beautiful, 100-acre park, with ample trees to help serve as a filter for freeway pollution and counter heat island effects. And this park would be within walking distance for all 130,000 residents, along with the 20-acre Northacres Park, also rich with trees. Such a transit-rich neighborhood would aggressively reduce the number of vehicle miles traveled for a huge number of residents, a benefit to the many BIPOC people shunted into spaces alongside Seattle's freeways by inequality and systemic housing racism.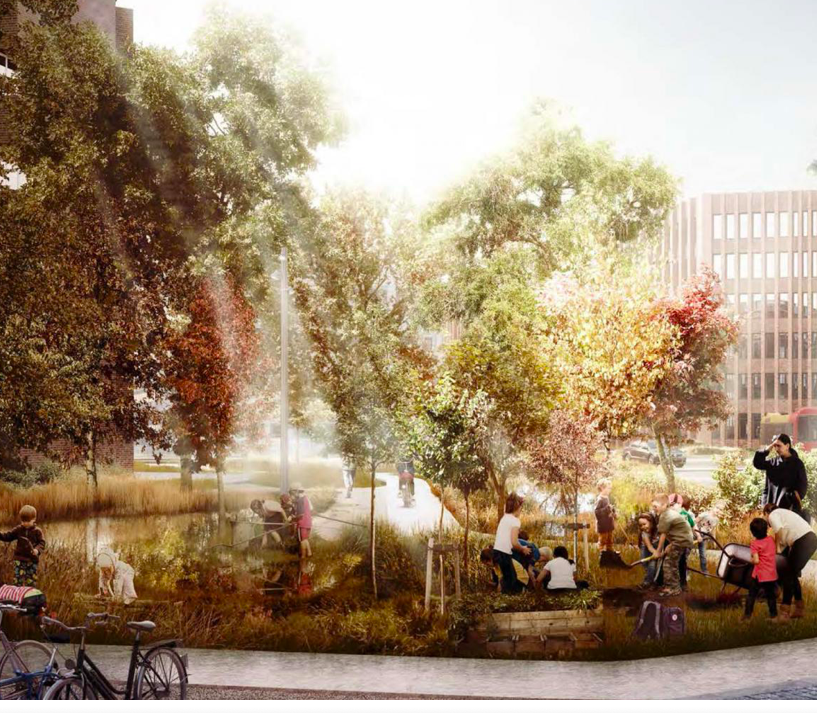 Currently, the city requires that building on parkland be offset with new parkland elsewhere. While they could change this rule, and there is some question as to whether the golf course qualifies, this would be a great opportunity to set some of those funds aside to build high quality parks with strong tree canopies in underserved neighborhoods in South Seattle.
There are still some negatives — the station is near I-5, which is a heavy polluter. But walls, trees, and electrification can make a dent. We should also consider a small freeway lid, which looks feasible near NE 130th Street and would be ideal for increasing pedestrian access.
Walkability and placemaking
In the new neighborhood that would be created, the pedestrian experience would be especially strong. The central street through the park should be pedestrian-only, continuing south along 8th Avenue NE until Roosevelt Way NE. NE 130th Street should similarly be set aside for people on foot, from Roosevelt Way NE to 15th Ave NE, hugging the south side of the Park. The portion of NE 135th Street near the current golf-course parking lot, plus 10th Avenue NE all the way south to Roosevelt should also be set aside. This would convert about 1.25 miles of road and add just over another half mile of walkway for the folks living on the former fairway in Jackson Park. 
Right now, a lot of the smaller streets lack sidewalks, a perennial problem in Seattle's farther flung neighborhoods. But multifamily construction brings sidewalks, and the entire area will be open to it, and demand for buildings will be high because of light rail. That means private developers will build out much of the needed sidewalk infrastructure. This will minimize the cost to the city of filling in what remains. If there is no freeway lid, the sidewalks on both overpasses need expansion. NE 130th Street, at 75 feet, can handle it. NE 145th Street shows as narrower in the Seattle database, but at five and six lanes, it appears that it is simply divided up with Shoreline and there is plenty of room.
The commercial presence will be strong as well, with 10 million nonresidential buildable square feet. This mixed use plan sets aside 1.25 floors out of ten in the Core zone, one out of eight floors in the Inner zone, 80% of the time, and in the Park zone, one out of eight floors a little under 40% of the time (primarily along the pedestrian road). The Outer zone set aside is one out of four floors, 25% of the time. This will be a neighborhood filled with easy access to daycares, libraries, schools, restaurants, bars, coffee shops, book stores, grocery stores, drug stores, and all the other essentials for a 15-minute community.
With such a strong pedestrian experience and no need for a car, plus ample parks, and a heavy dose of ground-floor retail, this could become one of the best parts of the city when it comes to a sense of place.
Bike Connectivity
Genuine, protected bike lanes bring many marginal bikers out of their cars, and this neighborhood will be ripe for car-free and car-light lifestyles. So we have to get it right. Doing so will also significantly increase the likelihood that people who live beyond the 10- to 15-minute walkshed use Link light rail.
For north/south travel, that means two-way protected lanes on 5th Avenue NE from NE 145th Street to NE 130th Street. These will have to cut into the edge of the park property for the northern stretch, but otherwise there is enough road space to accommodate them. The bike lanes will split near the station. Northbound will run on Roosevelt Way NE, as a continuation of the existing northbound lane, but with barriers added to the current configuration. The southbound lane will run down 5th Avenue NE, all the way to Northgate way, freeing up space on Roosevelt for barriers for the northbound bike lane. 15th Avenue NE will also have a north/south bike lane with a small barrier, all the way down to Pinehurst, where it will join up with the existing network.
To connect the station with the west side of the freeway, a two-way bike lane should be put in place all the way west to the Interurban trail. This will require removing either two lanes of traffic and replacing one with parking, or just one lane of traffic. After crossing I-5, bikes will take the southbound lane mentioned above on 5th Avenue NE to NE 125th Street, and will turn west onto protected lanes running all the way to 15th Avenue NE. NE 145th Street will need similar treatment, running from 15th Avenue NE, all the way to Interurban, but that should be part of the plan for the NE 145th Street station and will likely require coordination with Shoreline.
Transit connectivity
Fast, frequent and reliable transit is key to getting people out of cars. If we can provide that, including a connection to Link, which is fully separate from traffic, the impact on ridership will be profound.
Bus access will be put alongside the station on 5th Avenue NE. From 145th to 130th, both directions will have transit-only lanes. Similar to the biking plan, the southbound transit-only lane will continue down Roosevelt to NE Northgate Way, whereas the northbound lane will split off to 5th, running in parallel all the way to NE Northgate Way.
East/west is more important and much more difficult. I would be inclined to turn 125th from 10th Avenue NE to 15th Avenue NE into transit (and biking) only, with an eastbound only lane from 5th Avenue NE to 10th Avenue NE, since the southbound lane on Roosevelt also runs west at that moment, as Roosevelt is diagonally placed right there. This much transit priority would be a tough sell and might require running the bike lanes through the adjacent properties in the tighter spots. Beyond 15th, buses could run in their own lanes alongside general purpose lanes, all the way to 35th, with the current road width. West of the freeway, we face a similar problem when the street narrows to 44 feet from Northacres Park to Bitter Lake. I'd like to see the whole street set aside for transit and biking, but that may be beyond what can be done. If so, I'd add bike lanes adjacent in those tighter stretches.
Tradeoffs
These right-of-way changes will substantially increase throughput, since transit and bike lanes can accommodate far more people than general purpose lanes. They enable a complete transit, walking and rolling oriented lifestyle. But the road diet would be substantial, which is always a challenge to get through City Hall and past the yuppie-veto. 5th Avenue NE next to the park would have no Northbound car lane, until the off-ramp, and in some spots, the bike trail would have to cut into the park. Below 130th, 5th Avenue NE would lose all its parking, given over to a transit lane, bike lane, and two car lanes. Roosevelt Way NE would fall from four to two general purpose lanes, to be replaced by a protected bike lane and transit-only lane. 15th Avenue NE would lose a general purpose lane to bikes, and possibly may warrant turning over another to parking, as this will be more of a destination than it is today. NE 125th Street from Roosevelt to 15th Avenue NE, would need narrower lanes for adequate bike facilities. In fact, all these additions require skinnier lanes, although these are in line with (Seattle bike blog link). The narrowest parts of NE 130th Street, east of I-5 would also need to drop a general purpose lane in each direction, in order to accommodate the bike lanes and as mentioned before. They would have to give up general purpose entirely if protected transit is introduced, or widen for a few blocks.
An Ambitious Plan Our City Needs
This is an ambitious plan, admittedly, a break with the city's incrementalist political dynamic. In the past, the Seattle process has trapped us in small-potatoes thinking. But we have multiple legitimate crises on hand and this addresses them. Our planet is cooking. We have too little housing to keep prices reasonable for all but the rich. This limits access to the great opportunities the region offers for the rest of the population. And we have a once in a century sized homelessness humanitarian disaster, where we have let our neighbors suffer unnecessarily because we have been unwilling to shoulder serious solutions.
These problems are big. It's time to think big.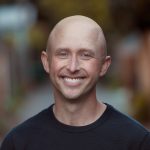 Ron Davis (Guest Contributor)
Ron Davis is a consultant that helps early stage companies take new technologies to market, specifically, products and services that improve the world for workers and citizens. He's on the boards of Futurewise, Seattle Subway, the Roosevelt Neighborhood association and the University YMCA, where he fights to make Seattle a more just, inclusive, green, walkable, city. He has a JD from Harvard Law School and lives in Northeast Seattle with his wife, a family physician, and their two boys.