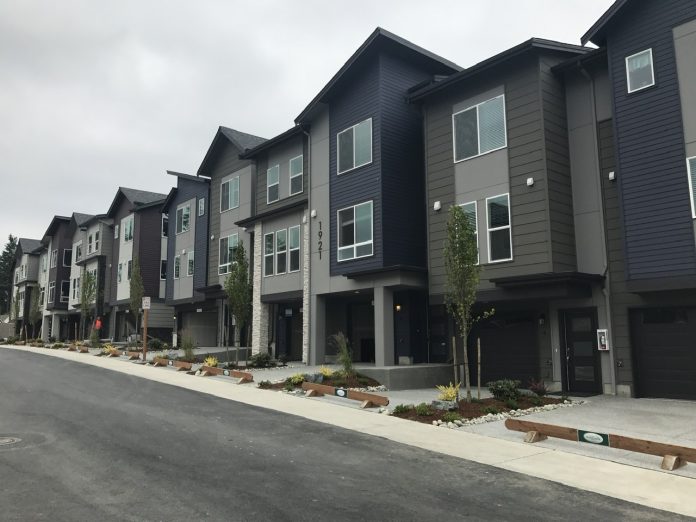 Like many local governments, Snohomish County has kicked off their comprehensive planning process to meet a state-mandated deadline to update the county's 20-year growth plans. Known as the 2024 Comprehensive Plan Update, the county has begun its scoping process to identify differing alternatives to support growth in the years ahead. Three alternatives have been outlined as part of the initial scoping process, including two genuine growth alternatives that would support expected levels of population growth through 2044. However, one of those alternatives would open the door widely to much greater urban sprawl.
Under agreed upon regional growth plans, Snohomish County has signed onto growth strategies centered around transit-oriented urban infill. Exact growth targets are still in flux, but the medium range projections suggest that population in the county could grow by another 308,352 residents by 2044. That would bring total county population to 1,136,309 residents. A high range projection has yet to be fully updated but could mean that the county would need to plan for about a further 200,000 residents beyond the medium range projections, but traditionally the medium range projections have most closely tracked with actual growth trends making it the more likely outcome.
Snohomish County, of course, has many cities located within it that are also responsible for planning for additional growth, taking shares of the county's overall growth targets. That means that the unincorporated portions of the county represent a smaller share of the total county population growth under the targets, though the county maintains a very large urban unincorporated area ripe for infill between Lynnwood, Everett, and Mill Creek.
What are the alternatives?
As part of the environmental review process, Snohomish County has begun with SEPA (State Environmental Policy Act) scoping to solicit feedback on environmental topics to be reviewed, mitigation measures to be considered, and alternatives. The latter is perhaps the most important aspect of this because it will set the tone for anticipated environmental impacts and mitigation measures that may be required to support a chosen alternative.
Snohomish County is using the typical process of developing two action alternatives and one no action alternative to analyze against.
Under the no action Alternative 1 scenario, existing development regulations and zoning would fail to support urban population growth targets allocated to the county and exceeds rural population growth targets (accounting for 8.5% of county population growth), but is predicated on the idea that lower population growth materializes than expected.
Under Alternative 2, the county would focus population growth in the Southwest Urban Growth Area (SWUGA), particularly around high-capacity transit (light rail and bus rapid transit expansions are planned in this area). This would require rezones, changes to development standards, and redesignating some residential areas to higher intensity ones. Rural population growth would be fairly limited (accounting for 4.5% of county population growth), but there could be minor urban growth area boundary adjustments. As a whole, it is in line with the regional vision for growth.
Under Alternative 3, the county would pursue changes similar to Alternative 2 but assumes a higher level of population growth. As a result, additional urban growth area boundary expansions might be considered. The county already tried to evaluate one scenario for a massive 15-square mile urban growth area expansion near the SWUGA, which would be environmentally and financially disastrous.
The county realistically will need to adopt an alternative that plans for population growth. But how this will be accomplished is critically important to growth with equity, climate change, and cost effectiveness in mind. Urban growth area expansions fail on all three counts by increasing social exclusion and household costs, requiring unsustainable public investments (e.g., schools, transit and streets, emergency services, and utilities), and increasing deforestation and greenhouse gas emissions.
That means that there is only one credible alternative, which would be similar to Alternative 2. However, such an alternative doesn't go far enough.
The county has an enormous supply of urban land designated as Urban Low Density Residential (ULDR), which permits single-family homes, duplexes, accessory dwelling units, and townhouses in the R-7,200 zone — the most common urban zoning type. There's no reason why the county couldn't abolish the designation everywhere in the SWUGA, for instance, and replace it with the Urban Medium Density Residential (UMDR) and Urban High Density Residential (UHDR) designations, which permit a wider variety of higher intensity zoning types allowing for multifamily uses and more development potential on lots. Another strategy could be redefining the ULDR future land use designation to include a wider spectrum of housing types, densities, and zones in the SWUGA.
That the county's comprehensive plan only envisions ULDR areas for "mostly detached housing developments on larger lot sizes" is an arcane notion of exclusionary, single-use, suburban planning that should be struck. With the 2024 update, the time has come to rethink land use priorities in a growing, urban, and diverse county. Already, the county's comprehensive plan directs policymakers to do this in a variety of ways. Statements in the plan explicitly support this, including ones like:
"Establish development patterns that use urban land more efficiently."
"Increase residential densities within UGAs by concentrating and intensifying development in appropriate locations, particularly within designated centers and along identified transit emphasis corridors."
"UGAs shall provide opportunities for a mix of affordable housing types (e.g. small lot detached, townhouses, duplex, triplex, 6 to 8 unit apartment and small group housing units) within designated residential areas."
"Within UGAs, alternatives to standard single family designs such as zero lot line housing and cottages on small lots around a central courtyard, shall be considered in development regulations for residential areas."
These objectives are not empty words. They are clear edicts to use the county's urban lands more efficiently and more equitably now.
In addition, an aspect that is problematic with all of the alternatives is the rural population growth targets. Snohomish County fought hard to keep allowed rural growth targets in their plans, but rural population growth is devastating the county's natural environments and forestlands. Typically, every new rural home means acres of land disturbance and tree clearance — and most often fully exempt from SEPA environmental review. Replicated over thousands and thousands of times for new homes over the plan period, the long-lasting ecological devastation adds up.
In a time when aquifers are drying up and climate change impacts are accelerating across the region, it's far past time to put a stop to McMansion rural sprawl. And if policymakers were to be truly honest about the gravity of the environmental situation, the county's rural growth targets would be negative rather than positive or, as proposed here, zero.
The deadline for comment on the scoping alternatives is Friday, December 3rd. Now is the time to let policymakers that none of the alternatives are good enough.
Instead, another alternative needs to be developed that plans for the level of growth under Alternative 3 but mirrors the priorities for transit-oriented and compact urban infill development within existing designated urban growth areas that Alternative 2 would try to achieve. Such an alternative should specifically end denser missing middle housing and apartment bans across the SWUGA and halt rural population growth. And while the county is at it, it should take the opportunity that this comprehensive plan update presents to encourage greater flexibility to mix more non-residential uses in residential areas and update street improvement policies to require all urban developments deliver complete active transportation infrastructure. Snohomish County can have a brighter future, but it must be guided by policies that promote inclusivity, sustainability, and equity.

Stephen is a professional urban planner in Puget Sound with a passion for sustainable, livable, and diverse cities. He is especially interested in how policies, regulations, and programs can promote positive outcomes for communities. With stints in great cities like Bellingham and Cork, Stephen currently lives in Seattle. He primarily covers land use and transportation issues and has been with The Urbanist since 2014.