The Seattle City Council approved the City's 2022 budget on Monday after a few dramatic last-minute amendment showdowns. Advocacy groups quickly set to work framing their victories and pointing to losses to be rectified in future budgets.
For example, Seattle Neighborhood Greenways pointed to the tripling of the Vision Zero safe streets budget and climate justice group 350 Seattle celebrated $16 million for the Seattle Green New Deal and $194 million for affordable housing. Much of the drama hinged around the police budget this year, and groups were framing it in a number of different ways.
Perhaps the biggest last-minute fight was Council President Lorena González's proposal to remove 101 vacant and unfillable "ghost" positions out of the Seattle Police Department (SPD), which would have freed up $19 million. Pro-SPD and anti-accountability forces, rallied by a eleventh hour scare tactic video by interim Police Chief Adrian Diaz, beat back that amendment and it failed on a 5-4 vote (more on that here), even as González decried the misleading cynical ploy. This means SPD will keep a privilege no other City department has to reserve staff positions in future budgets (draining other departments of resources) even though it can't fill those positions in the near-term due to its officer training pipeline being maxed out.
On the other hand, the Council rejected efforts by Councilmember Alex Pedersen (and a smaller proposal by Andrew Lewis) to pump millions of rainy day funds into SPD hiring incentives and overtime pay. They also passed a few minor cuts to the Mayor's police budget, but ultimately funded her proposal to hire 125 new officers next year.
Only city to reduce its police budget two years in a row
A Solidarity Budget coalition statement celebrated progress in reining in SPD spending. This year the coalition took the unprecedented step of proposing their own budget from scratch instead of only reacting to the Mayor's proposal (I helped craft the transportation and housing sections).
"Building on last year's uprising in defense of Black lives, the 2022 Budget shrinks the Seattle Police Department's budget footprint for the second year in a row, the only major U.S. city to accomplish a reduction," the Solidarity Budget coalition wrote in a press release. "The budget now goes to out-going Mayor Durkan to approve, setting the stage for incoming Mayor Harrell to follow through on the City's commitments to racial equity and environmental justice."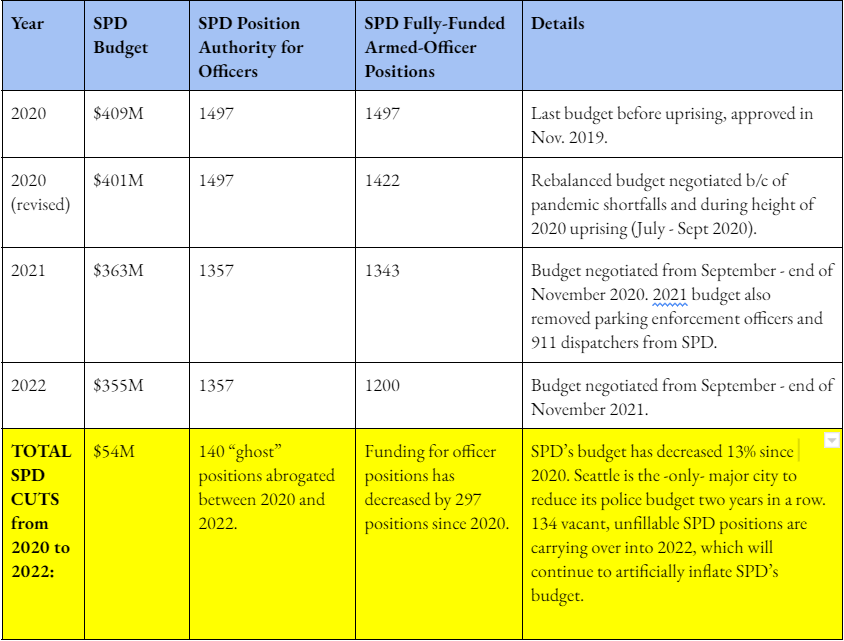 Solidarity Budget member Travonna Thompson-Wiley of Black Action Coalition pointed to work that remains to be done.
"Our community continues to feel the pressure of a global pandemic, climate crisis, and housing crisis," Thompson-Wiley said in a statement. "With Solidarity Budget, we fight to ensure the most vulnerable folks have access to resources that will truly help Seattle thrive. Previous city budgets have not reflected the cries from our community — cries for help with housing, childcare, food access, and more. Those same budgets continued to prioritize the investment in harm and not in care. When will Seattle protect poor and working class folks? When will Seattle actually invest in care? Our Solidarity Budget is the best hope to protect our wins and protect our people."
The Mayor hopes to add 35 officers on net, but has also assumed a lower pace of attrition than SPD's current trajectory and also didn't factor in unvaccinated officers likely to be fired due to her vaccine mandate. The City said SPD has achieved a 92% vaccination rate; however, the department is unlikely to find accommodations for all of the remaining 8% of its workforce.
Amazingly, the Seattle City Council hasn't had to fire any officers in order to reduce the SPD's budget and footprint. The two most recent firings were the two police officers terminated for storming the nation's Capitol during the Trump-backed January 6th coup attempt. Officers retiring or leaving the department has done their work for them. This is despite a record haul in pay, overtime, and retroactive pay leading to SPD's median pay hitting $153,000 in 2019.
Despite winning on SPD "ghost" positions, the Seattle Metropolitan Chamber of Commerce struck a fairly sour tone on the budget and stressed $5 million in cuts from the Mayor's SPD budget.
"Without restoring funding for additional officers, recruitment incentives, and overtime, Seattleites can expect to continue to wait too long to get responses for urgent calls for police services," the Chamber Director of Communications Jillian Henze wrote in a post Monday.
"Not all emergency calls need a response from an armed officer, but alternative responses are still being explored and are not in place," Henze continued. "If the city were to undertake a new composting and recycling initiative, the city would not reduce trash services before scaling up new programs. It would continue picking up garbage while building the new recycling and composting program. This budget leaves us without the public safety services we need."
It's great to see that the Chamber agrees that SPD is the trash in this scenario, but it's unclear how $5 million in cuts from the City Council could be so impactful to a department that still ended up with a $355 million budget and the Mayor's preferred staffing plan. In fact, the tone was very different than the one struck by Seattle Police Officers Guild (SPOG) president Mike Solan, who seemed pretty excited about the budget outcome.
"The city council's vote on today's budget is the beginning of a great political pivot away from unreasonable activism and back to the moderate policies that made Seattle the Emerald City," Solan said in an email to KIRO 7.
Green New Deal wins
Jess Wallach, who is campaign co-director at 350 Seattle — a member of both the Solidarity Budget and Move All Seattle Sustainably (MASS) coalition — sent out a message to supporters highlighting some other big wins. She flagged the following investments:
$192 million for affordable housing and an additional $1 million for Tiny House Village expansion and upgrades
$17.5 million for community-led alternatives to policing, including restorative justice in schools; expanding civilianized 911 response; expanded mobile mental health services; and gun violence prevention
$16 million for Seattle's Green New Deal, including $14 million JumpStart Green New Deal investments and $2 million in community climate resilience and Indigenous-led sustainability projects
A first step towards new progressive revenue, with a City Council commitment to study and propose new revenue options by July 2022.
Still, Wallach warned climate investments pale in comparison to police funding. "Despite these wins in the 2022 City budget, Seattle is still spending $26 on police for every $1 spent on climate action," she wrote.
Street safety progress
Clara Cantor with Seattle Greenways, meanwhile began her highlights with "$5.1 million increase for Vision Zero street safety projects in 2022, via ongoing vehicle licensing fees and a new increase in the commercial parking tax championed by Councilmember Lewis. This increase nearly TRIPLES the current Vision Zero budget."
Greenways also celebrated $1 million for Home Zones traffic calming projects on neighborhood streets lacking sidewalks, which the group has championed. Councilmember Tammy Morales (District 2) brought forward the amendment, which originally would have allocated $2.7 million, but that number was cut down make ends meet in the balancing package.
Another successful Morales amendment secured $2 million "for sidewalks accessing the IDIC Filipino Senior and Family Services Center, Rainier View Elementary School, and other locations in D2." Moreover, the 2022 budget added $1.5 million for sidewalk repair and curb ramps and $800,000 for active transportation maintenance including sweeping bike lanes, planter box maintenance, replacing flex posts.
The budget funded planning work intended to queue more big safe streets projects.
MLK Way could see improvements due to the inclusion of request that the Seattle Department of Transportation (SDOT) draft a plan and cost estimate "to make this high crash corridor where eight people have been killed in the last two years safer for people walking, biking, and accessing transit," Cantor wrote. "This report, requested by Councilmember Morales, will be returned in September, 2022 in time for next year's budget deliberations."
Lake Washington Boulevard will get $200,000 for outreach and planning work to possibly make a permanent open street from Seward Park to Mount Baker. Although currently in a temporary, intermittent format, Lake Washington Boulevard is the most popular open street in the city, according to a Seattle Times survey and City outreach. Mayor Durkan has pledged to make 20 miles of Stay Healthy open streets permanent, but has funded only a fraction of the work, thus far — leaving it up to her successor.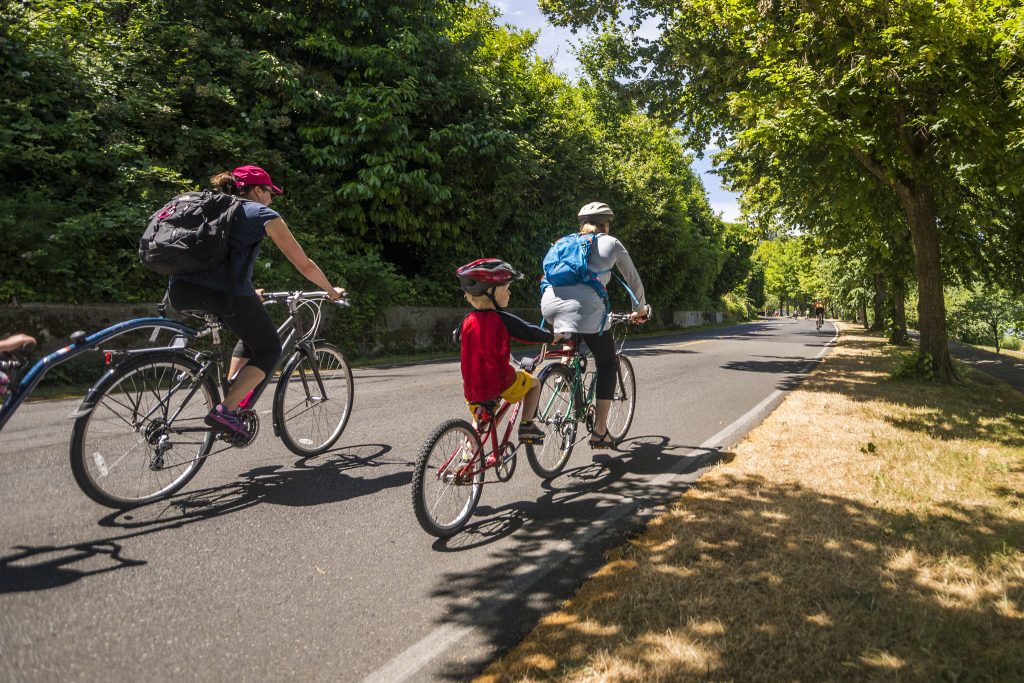 N 45th Street I-5 overpass just might get a protected bike lane and jersey barrier, as a proviso sponsored by Councilmember Alex Pedersen will pressure SDOT to reconsider their decision to drop it or see $350,000 set aside for mitigation work. Despite Council guidance and $400,000 in funding in the previous budget, SDOT has been resistant to improve safety on the 45th Street bridge out of fear of some sort of freeway ramp traffic armageddon situation that it's hard to believe dropping the second of two left turn lanes could possibly cause. Suffice to say, The Urbanist has backed the bike lane and sidewalk improvements, as it's the only safe and direct route from Wallingford to U District Station and beyond. More on the 45th Street bike lane debacle here.
Ballard Avenue NW will get $270,000 in pedestrian and streetscape improvements thanks to an amendment sponsored by Councilmember Dan Strauss (District 6). The work builds on the successful street café program on the street, which Strauss has championed.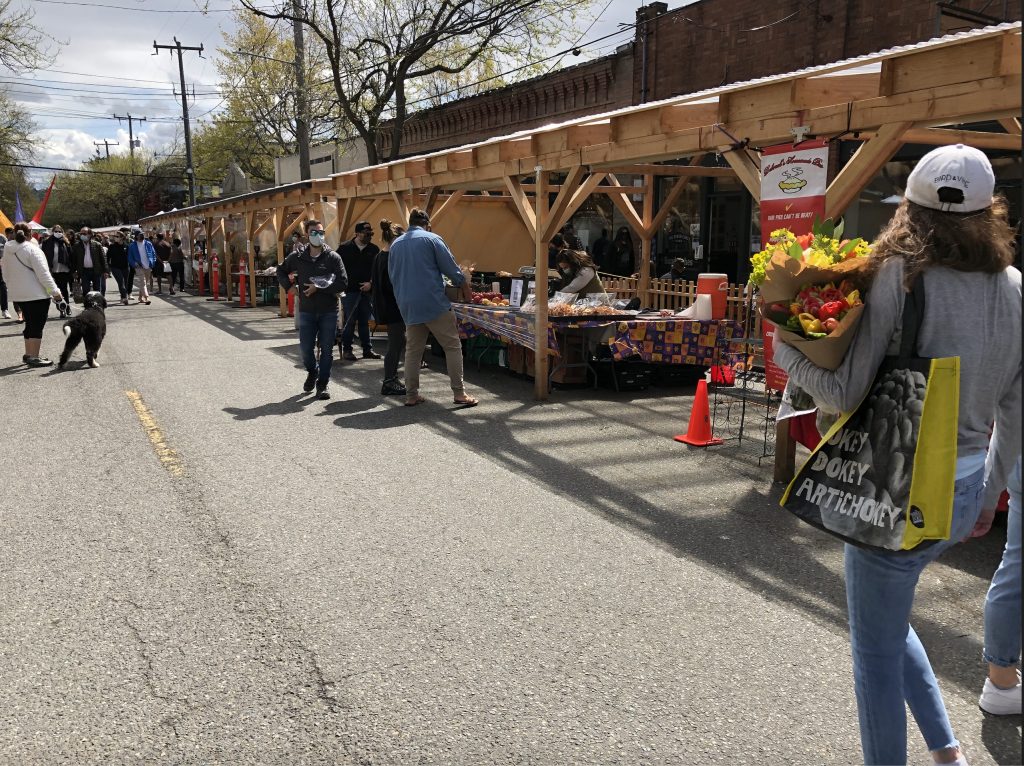 Moving parking enforcement out of SPD will be a welcome change, Seattle Greenways noted, with 120 full-time positions moved from the police department to SDOT. This ensures parking enforcement activities will be conducted by "un-armed city employees and governed by SDOT's values and goals," Cantor wrote.
Also consequential is the inclusion of a proviso on $2.5 million of funding for SDOT's Integrated Transportation Plan, which should help ensure this project doesn't get off the rails — or, if it does, at least in will happen in public view. SDOT hopes to align its various master plans into one integrated mega plan to guide decisions and help resolve conflicts between modes. However, so far watering down the bike master plan seems to be the thrust of the exercise.
Progressive revenue and future budget fights
Despite the pandemic creating huge challenges and sapping revenue, Seattle's budget has been able to avoid social service cuts and layoffs the last two years thanks in large part to the JumpStart Seattle tax that the Council passed on a 7-2 vote last summer. The progressive corporate payroll tax is projected to bring in $235 million next year, which helped overcome lagging revenue elsewhere.
Budget Chair Teresa Mosqueda also alluded to challenges in getting Mayor Jenny Durkan to follow the Council's spending plan for those JumpStart revenues, despite attempts to add budgetary guardrails.
"We started the process with a proposed budget that did not fully invest in the JumpStart Seattle spending priorities Council passed unanimously; with investments focused on housing, equitable development, Green New Deal, and economic resilience," Mosqueda said in a statement. "These investments and the JumpStart Seattle payroll tax were the reason, that unlike cities across the country, we have not had budgetary cuts to city services and layoffs."
Instead the Mayor relied on some accounting tricks to move JumpStart money around and backfill it with one-time emergency federal funding that would set up a fiscal cliff for programs receiving the one-time boost.
"After weeks of restoring the JumpStart Seattle spend plan to protect against future fiscal cliffs, we received a negative economic revenue forecast, putting the budget out of balance by $15 million, in addition to numerous budget corrections," Mosqueda added. "Despite this economic volatility, working with Council Central Staff, I was able to maintain and add to the fiscal reserves proposed by the Mayor, protecting against future economic volatility, and I was able to invest tens of millions of dollars in Council priorities."
Putting the JumpStart funds toward their original purpose will ensure they are a permanent revenue source for key priorities like affordable housing and Green New Deal programs that can be counted on in future budgets, rather than a slush fund.
"This budget includes an historic $194 million in affordable housing investments, made possible by an infusion of $97 million of JumpStart funding to create permanently affordable rental housing serving the lowest income households, community-focused acquisitions, and homeownership opportunities," Mosqueda said.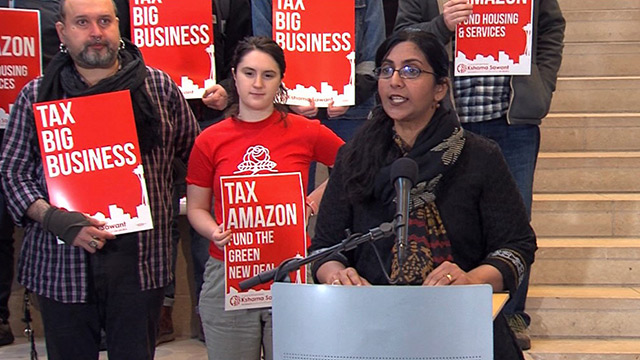 Councilmember Kshama Sawant proposed increasing the corporate payroll tax to fund even more social housing, but that amendment failed to get a second, which was one reason Sawant was the lone vote against the final budget, which she said let the working class down. That dissent has been Sawant's custom in every budget since she was elected. If she does not survive the December 7th recall election against her, it could be the last time she gets to make that gesture.
The Solidarity Budget aims to add more progressive revenue sources, and was pleased to see a progressive revenue study included.
"In this budget we made progress in defending and advancing progressive revenue reform," said Katie Wilson, general secretary of Seattle Transit Riders Union. "The council restored the community-supported spending plan for the pathbreaking JumpStart Seattle corporate tax, ensuring a robust ongoing revenue source for affordable housing. And it laid the foundations for further action, calling for the creation of a panel of community experts to develop a report listing progressive revenue options by July 2022. This report will be key to putting us on the path to fully funding the Solidarity Budget vision."
Those recommendations could be pivotal. While $194 million was a new record for City investment in affordable housing, the Solidarity Budget has called for investing more than $500 million annually to bring an end to the crises around housing affordability, displacement, and homelessness. And that's not the only area where more investment is needed. A guaranteed basic income pilot sponsored by González — though only funded with $200,000 initially — could, if it goes well, be a potent new intervention in future budgets to alleviate poverty in one of the richest cities on the planet.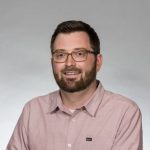 Doug Trumm is publisher of The Urbanist. An Urbanist writer since 2015, he dreams of pedestrianizing streets, blanketing the city in bus lanes, and unleashing a mass timber building spree to end the affordable housing shortage and avert our coming climate catastrophe. He graduated from the Evans School of Public Policy and Governance at the University of Washington in 2019. He lives in East Fremont and loves to explore the city on his bike.