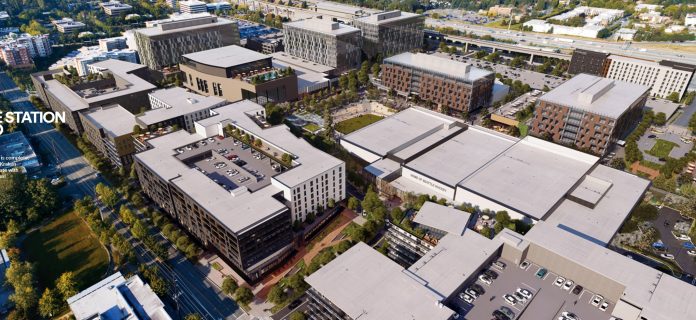 Transportation infrastructure for walking and biking in the Northgate Station area has received a boost as Link light rail arrives in the neighborhood.
With Northgate's light rail station opening imminent, let's revisit the station area's existing and incoming conditions. The entrance of Link light rail into Northgate delivers rapid grade-separated transit into one of the least walkable and newer areas of Seattle. Anchored by its mall, Northgate is a newer, fairly suburban Seattle neighborhood, but the promised light rail station has provided the impetus to slowly begin the transition to a more urban and multimodal friendly neighborhood. When Northgate Station opens on October 2nd there will still be much construction going on and ground to break.
In June, we reported Northgate's wave of development includes more than 4,000 units — including 600 affordable units and those completed in 2019 — that could be added within a mile of the Northgate light rail station if projects in permitting eventuate. Since then, not many more proposals have surfaced, but a significant construction project has been completed at the site of the former mall.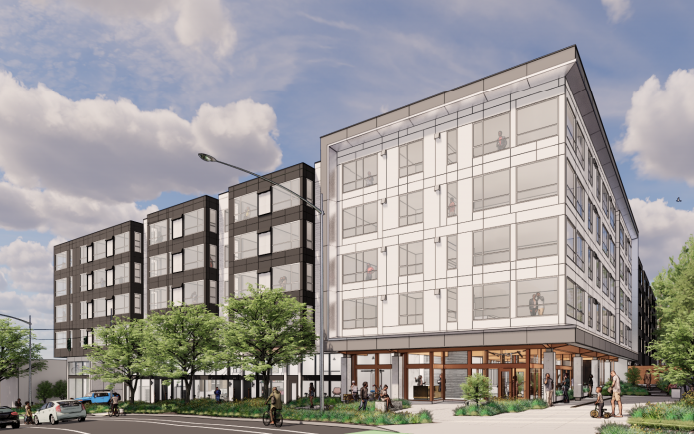 Around transportation, conditions in precarious North Seattle have improved for bikes and pedestrians with new connections and infrastructure significantly reducing the barrier posed by I-5, notably the arrival of the John Lewis Memorial Bike and Pedestrian Bridge, which connects the Northgate Link light rail station to North Seattle College on the opposite end of the freeway.
Improved bike and pedestrian connections
Long simmering and recent developments are coming together to make walking and biking around the Northgate Station area easier and safer than ever. In Northgate, construction of the Northgate Neighborhood Greenway is underway, which will stretch between Hazel Wolf K-8 and Maple Leaf Reservoir Park. Outside of a small segment of new sidewalk at 5th Avenue NE/NE 103rd Street, no new sidewalk is being added, despite North Seattle's well known gaps in its sidewalk network. Major new improvements are coming to Roosevelt Way NE with a new crossing signal, marked crosswalks, and curb bulbs at NE 103rd Street. Marked crosswalks and curb bulbs will also be introduced at NE 117th Street. At NE Northgate Way and 8th Avenue NE, the safety median was rebuilt, crosswalks were marked, and marked bike crossings and protected left turns were added.
Meanwhile, Licton Springs had a network of Stay Healthy Streets implemented during the pandemic to complement existing bike infrastructure and better connect the neighborhood to Aurora/Greenwood. These Stay Healthy Streets are on N 100th Street, N 92nd St, Ashworth Avenue N, and Fremont Avenue N, directly connecting them with the Interurban Trail and Greenwood Stay Healthy Streets on 1st Avenue NW. These improvements were integrated with existing bike lanes on Meriden Avenue N/College Way N and N 92nd Street with improved crossings at N 100th Street/College Way N and N 92nd Street/Wallingford Avenue N.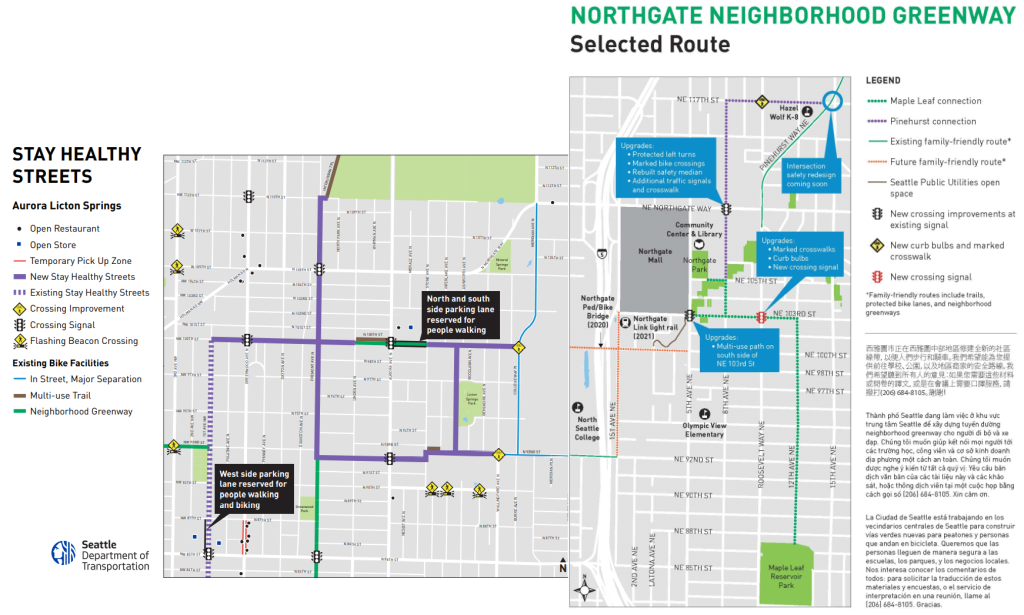 Licton Springs' Stay Healthy Streets and bike lanes are linked together with the Northgate Neighborhood Greenway at the center of these improvements, where the light rail station's attached bike and pedestrian bridge extends over the I-5. Multi-use paths on North Seattle College Campus, NE 100th Street, and 1st Avenue NE ensure no missing links in the connection of Northgate neighborhoods and Licton Springs all the way to Greenwood.
Mall redevelopment update
When Northgate Station opens on October 2nd, the only newly completed building at the former mall — now also named Northgate Station — will be the Kraken Community Iceplex. The Iceplex hosts three ice rinks for public use and the Seattle Kraken's training facility, Kraken offices, and retail. In raw numbers, the NHL site will be able to seat 1,576 people, have 21,660 square feet of training facility, and 23,000 square feet of office space. Having already opened, the new street network at Northgate Station has already started to take shape around the Iceplex.
Other developments at Northgate Station are expected to see occupancy years from now. In a transportation response memo, it was noted that the 167-room hotel was anticipated to be ready for occupancy in July 2023, and the 173-room hotel was anticipated to be ready for occupancy in October 2024. The documents also reflect a recent clarification that the two mixed-use apartments will have 416 units between them, 230 for site "M2" and 186 for site "M3." M2 and M3 will be connected by skybridge and have anticipated dates of occupancy for May 2024 and December 2024.
Little detail seems to exist for a few of the sites closest to the light rail station, leaving an underwhelming walkshed by lack of immediate transit-oriented development. Directly east of the station in the old transit center and parking lot, only a single affordable housing project taking up a fraction of the site is planned to break ground in 2022. Much of the original vision has been shelved until funding is found. However, if projects envisioned in the 2013 Northgate Urban Design Framework materialize, the old transit center could be a series of mixed-use midrises.
Concept TOD around Northgate Station area by VIA Architecture. Red circles are sites that have plans for redevelopment or have already been redeveloped. The remaining concept sites remain parking lots or underdeveloped. (Courtesy of Via Architecture)

One of many large parking lots within the Northgate station area. This one is particularly close to the tracks and Sound Transit's staging area. (Photo by Author)
Concepts created in partnership with VIA Architecture also imagined midrise infill on the parking lots and underdeveloped sites in close proximity and just south of the Northgate light rail station. Outside of a finished hotel on 1st Avenue NE, none of this vision has come to be. This leaves the Northgate station area with a car-oriented southern half dominated by surface parking lots with the Northgate Transit Center Park and Ride, parking lots of the office buildings directly south of the station, and North Seattle College's parking lots all in the immediate station area.
When passengers exit the first trains to Northgate Station, they'll immediately be greeted by parking lots and garages. There are amenities and dense development nearby, but visitors will have to walk or bus a half mile to get to the epicenter of Northgate's activities. That being said, it won't be that difficult or dangerous for visitors to walk or jump on a bike to all of Northgate's destinations with all of the new transportation infrastructure with the bridge, Stay Healthy Streets, and Neighborhood Greenway coming into place.
Shaun Kuo is a junior editor at The Urbanist and a recent graduate from the UW Tacoma Master of Arts in Community Planning. He is a urban planner at the Puget Sound Regional Council and a Seattle native that has lived in Wallingford, Northgate, and Lake Forest Park. He enjoys exploring the city by bus and foot.