Like many suburban American cities that saw major growth in the second half of the 20th century, Lynnwood lacks a defined central commercial area. Businesses are grouped instead as strip malls along busy thoroughfares like 196th Street SW and Alderwood Mall Boulevard, which is a frontage road for Interstate 5. Lynnwood's urban form reflects the early influence of major roadways, first State Road 99 (Pacific Highway) and later the I-5 freeway, whose introduction sliced the nascent city in half, but also served as an important catalyst for growth, especially in the development of 130-acre Alderwood Mall, completed in the late 1970s.
A visit to current-day Lynnwood reveals a suburban mix-tape of wide roads, strip malls with oversized parking lots, tracts of single family housing ranging from modest to McMansion in proportions, neighborhood parks, clusters of apartment buildings, and even a few trailer parks. However, with the Lynnwood Link light rail station slated to open in 2024, the city is being reshaped again by a major transportation project. This time around, city leaders and planners hope to harness the opportunity to create walkable, mixed-use neighborhoods located near transit and the regional Interurban multi-use trail.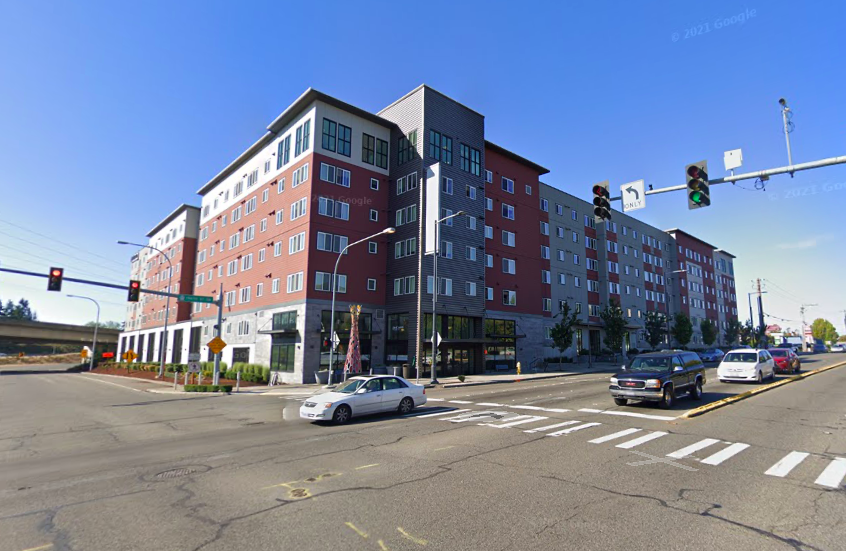 Doing so will be a heavy lift, but with 500 homes already built or under construction, 1,400 more homes approved, and over 500,000 square feet of office and 200,000 square feet of retail planned, Lynnwood's City Center stands a chance of becoming a thriving, transit-connected downtown in the coming years.
The City of Lynnwood first began its efforts to develop a city center back in the 2000s. However, the Great Recession put those plans on hold — something the City planning staff now view a blessing in disguise as the delay provided for the opportunity to upgrade plans to better accommodate the arrival of Link light rail, approved by voters in the Sound Transit 2 ballot initiative in 2008. News that light rail would be coming to Lynnwood prompted the City to shift away from plans for promoting office space in the City Center and toward mixed-use development.
Since then, the City of Lynnwood has identified two areas for future dense development: the City Center, which will be adjacent to the Lynnwood Station, and the Alderwood Mall, which will be connected to light rail by buses and the Interurban Trail. A future extension will also add a light rail station at the Alderwood Mall.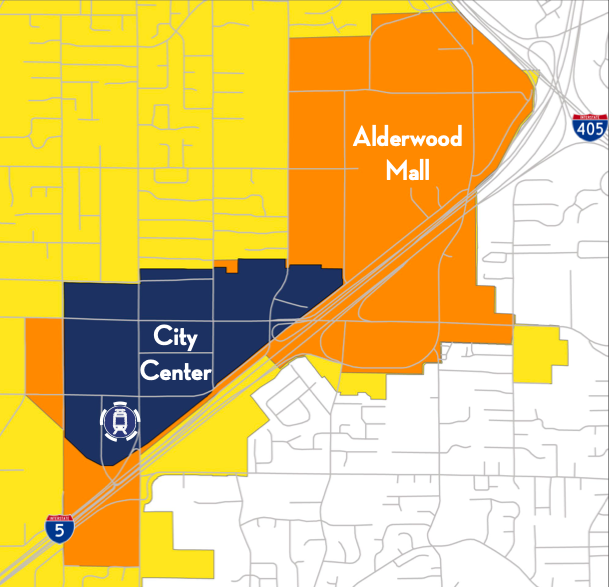 This article will take a close look at the City Center, where private development projects are already in the works, most notably Northline Village, a 19 acre mixed-use private development. Additionally, a two-acre site owned by Sound Transit, directly adjacent to light rail, has been identified for development, creating opportunity for affordable housing. The agency recently opened up a survey calling for public feedback on the site, which I will dive into later.
New residential development shifts Lynnwood away from sprawl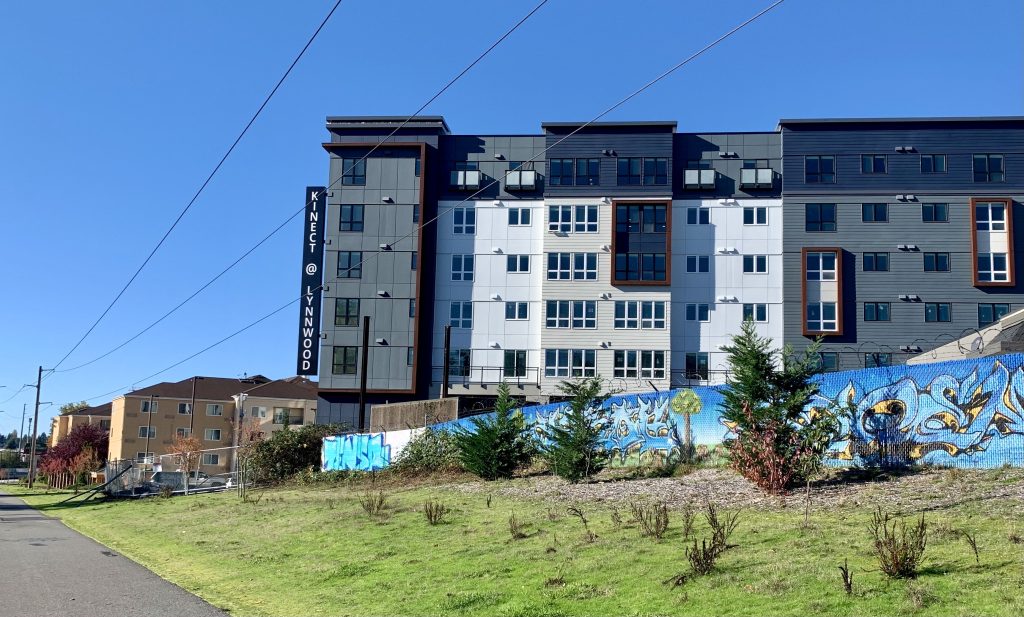 Despite the construction surrounding the future Lynnwood City Center Station, it can be difficult to spot evidence of big impending changes afoot. Kinect @ Lynnwood, however, represents a clear shift toward residential density. Located next to the Interurban trail, which extends (haltingly at times) from North Seattle all the way to Everett, residents will one day be able to use the trail to walk or roll to the light rail station or Alderwood Mall. Already leasing out apartments, the development includes 239 homes, 48 of which are restricted as affordable through the Multi-Family Tax Exemption (MFTE) program. There is no commercial space in the development, and approximately 114,000 square feet of structured parking were integrated into the structure. Prior to the development of Kinect @ Lynnwood, the site was the location of a single story commercial structure and drive-thru coffee stand.
As part of an agreement with the City, developers were obligated designate 20% of the homes as affordable through the MFTE, which will slated to last for 12 years. Rents are intended to be affordable to low and moderate income households, although an area media income (AMI) was not specified in the development agreement. Additionally required public benefits included a LEED Silver Standard certification for the building, contributions to both park and transportation impact fees, and sidewalk improvements on Alderwood Mall Boulevard.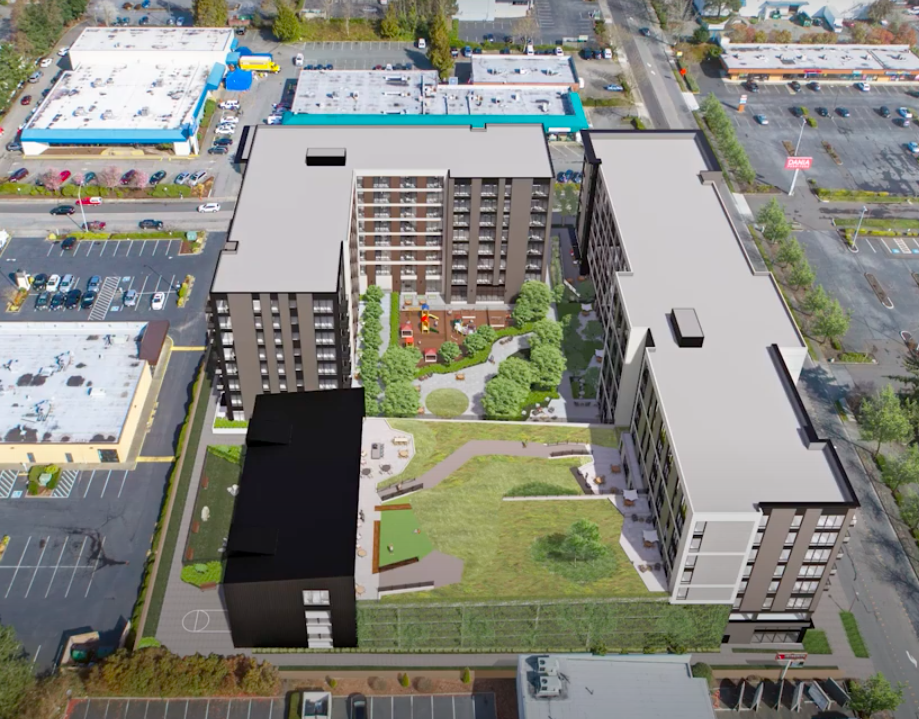 A stone's throw away, Ember, a larger mixed-use development of 361 apartment homes and 9,000 square feet of retail/commercial has been approved and is on track to open at the same time as the light rail station in 2024. MFTE requirements also apply and 72 homes will be restricted as affordable for low and moderate income households. Ember is the first project on a planned promenade street on 198th Street SW that will feature enhanced pedestrian improvements.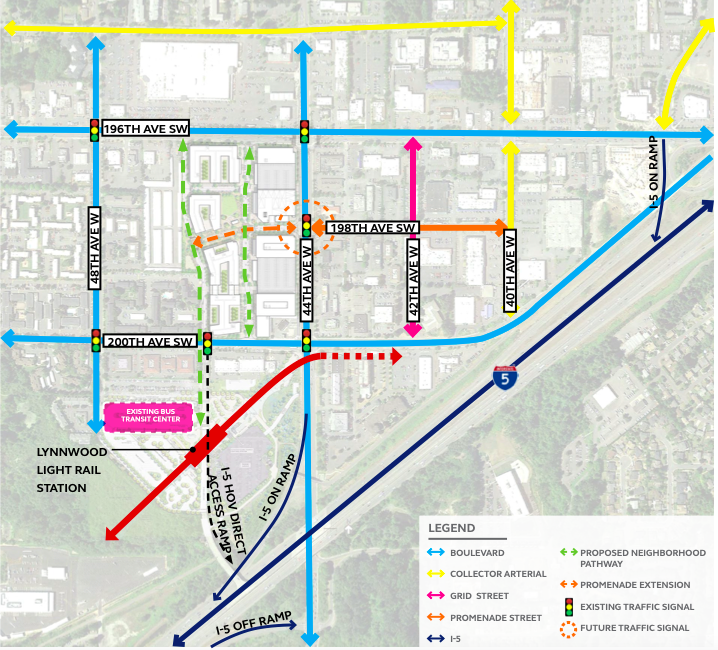 Parking for 265 vehicles will be located onsite at Ember in a partially underground structure. The building will feature a green roof and courtyard. Developers will also be required to construct frontage improvements, new sidewalks, and other pedestrian amenities on both 198th Street SW and 40th Avenue W.
Northline Village, a "game changer"
No planned development will have as much of an impact on Lynnwood's future City Center as the 19-acre Northline Village, by private developer Merlone Geier Partners. Currently an expanse of surface-level park lots and single story commercial structures, the future Northline Village become a new neighborhood of 1,370 apartment homes, 522,000 square feet office space, 207,000 square feet of retail space, a movie theater, two parks, and new connections for existing grid streets. While current renderings show two areas of surface level parking, the intention is for all parking to eventually be integrated into buildings.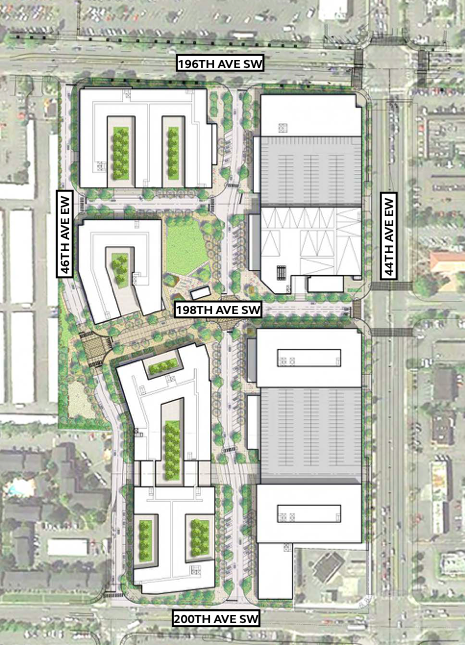 The development agreement for Northline Village was approved by the Lynnwood City Council in 2019. Unlike in the case of Kinect @ Lynnwood and Ember, no affordable housing requirements were put in place for Northline Village, leading to criticism from some Lynnwood residents. Councilmember George Hurst cast the lone dissenting vote against the project as a result of the lack of affordable housing requirements.
"It's great that everyone here wants to talk about affordable housing, but we need to take action," Hurst said as reported by Lynnwood Times in 2019. "What we're suffering from is, yes, we don't have a housing policy, and shame on us. Two years ago, I introduced examples of housing policy that never was brought up by council leadership until recently… We are approving development agreements with no affordable housing; we can sit here and try to sympathize with people, but our actions speak louder than our words."
Developers Merlone Geier Partners pushed back against the notion that their project could result in displacement, noting that the current site does not contain housing. They have also rejected the notion that Northline Village will worsen traffic conditions in Lynnwood, another criticism the development has faced.
Leasing for homes at Northline Village is advertised to begin in 2024, hopefully timed with the beginning of light rail service at the adjacent station.
The documents included in the Northline Village development agreement and conceptual framework outline detailed plans for the creation of the new neighborhood, covering everything from how the development will advance broader City Center planning goals, to the finer details, such as stormwater management for the site. But as dense and walkable as Northline Village will be, it still runs the risk of emerging as an island in a sea of suburban sprawl.
To the north, 196th Avenue SW, which already sees about 50,000 vehicle trips daily by the City's count, is being widened to accommodate higher volumes of traffic anticipated in the future as the city grows. The street widening project is also connected utility work and sidewalk improvements; still a trip on foot or by bike to the Fred Meyer located on the north side of 196th Avenue SW will entail crossing six lanes of vehicle traffic, which may be intimidating for some residents even after improvements are made.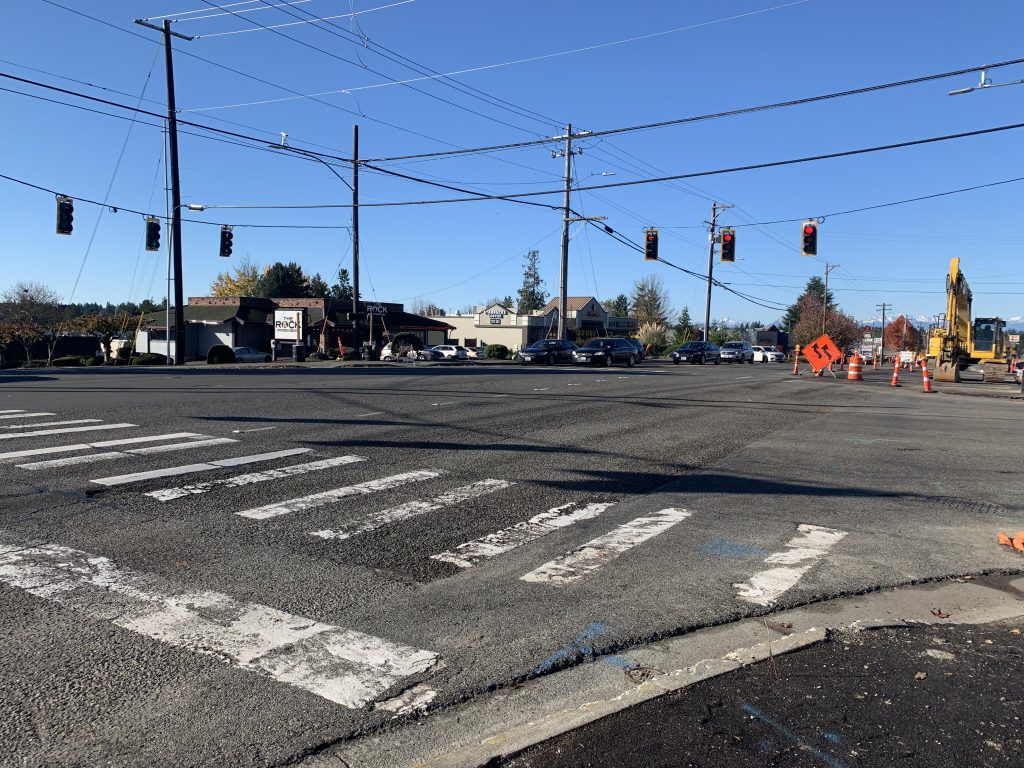 The future of Lynnwood City Center depends heavily on how many new developments follow in the example of Northline Village. The City's zoning map shows that the City Center's most ambitious zoning for density, marked by yellow, extends beyond the Northline Village site, which opens the door for expansion of the new neighborhood. Creating the level of change envisioned by current Lynnwood city leaders, including Mayor Nicola Smith, an enthusiastic supporter of the city's efforts to become denser and greener, will likely take at least a decade, if not more, as more private developers acquire property and create plans.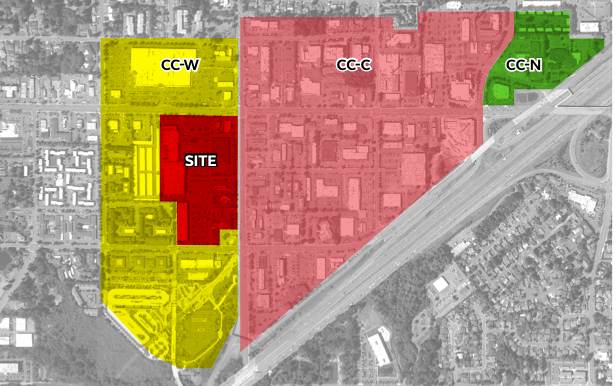 Sound Transit seeks feedback on transit oriented development
In regard to public development, Sound Transit owns two acres of land located directly next to the future Lynnwood City Center Station, and the agency is seeking feedback on how to develop the site. Since no plans have been made yet, the questions are fairly general, and ask for input on whether or not the site should prioritized for housing, what kinds of nonresidential development people would like to see at the site (small size commercial, retail, community center, medical, etc.), and whether the site should feature a few large buildings or a distribution of smaller buildings.

Because Sound Transit has been prioritizing land its owns for the development of affordable housing, retail, and other community uses, it seems likely that the two-acre site near Lynnwood City Center Station will follow a similar model, especially since affordable housing will be absent from nearby Northline Village. However, receiving community feedback expressing a desire for affordable housing on the site will help the agency strengthen its resolve to engage in such planning. The survey is open until December 21st and is available in English, Korean, Spanish and Vietnamese.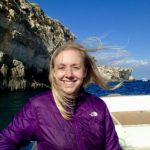 Natalie Bicknell Argerious (she/her) is a reporter and podcast host at The Urbanist. She previously served as managing editor. A passionate urban explorer since childhood, she loves learning how to make cities more inclusive, vibrant, and environmentally resilient. You can often find her wandering around Seattle's Central District and Capitol Hill with her dogs and cat. Email her at natalie [at] theurbanist [dot] org.