Freezing temperatures and snow are headed to Western Washington, where moss and drizzle are more common winter sights than snow drifts. During the week between Christmas and New Year's, meteorologists predict we may see the coldest temperatures in a decade — with nighttime lows sinking into the 20s or even teens. Exact projections around snow remain in flux, but it seems likely that at least a couple inches will stick around for a while. The arrival of winter weather can be a great source of joy for many people — myself included — but it also presents danger and hardship for the approximate 40,000 people experiencing homelessness in King County and other vulnerable people.
Fortunately, local governments are taking steps to increase access to shelter and ensure people can walk, roll, and travel by transit safely in these unfamiliar conditions. Here are some helpful resources for staying warm and safe as the temperatures drop.
Warming shelters
The City of Seattle is opening two overnight severe weather shelters in partnership with nonprofits starting at 7pm, December 25th, and remaining open through December 29th, or longer if needed. Both locations are well served by public transit. On the evening of the 24th, Mayor Jenny Durkan announced that more warming centers, including City Hall, would open as well — additional details on those sites were not provided.
Seattle Center Exhibition Hall – Operated by Salvation Army: 301 Mercer Street, Seattle, WA 98109. Equipped to serve 100+ adults 18 and over, this shelter also allows well-behaved dogs and cats on leash or owner control. A hygiene station is accessible on the site. While the Seattle Center Armory is usually open for day access, it will be closed on Christmas day.
Compass Housing Alliance Shelter in Pioneer Square: 210 Alaskan Way South, Seattle, WA 98104. Also, an 18+ shelter open to people of all genders, this location only allows service animals. 80+ people can be accommodated at this site. Day access is available although it was not specified if it will be open on Christmas.
For families with children, city staff are working with the YWCA and Mary's Place. Additionally, some youth shelters have space available for minors.
Helpful phone numbers:
People, including youth, in need of shelter should call 2-1-1 or 1-877-211-9274.
Parents or guardians caring for one child or more children 18 years or younger can get emergency shelter help by calling the King County Coordinated Family Intake Line at  206-245-1026, 8am–11:30pm, open 365-days a year.
The YWCA's women and family shelter intake line can be reached at 206-461-4882.
Unfortunately the cold weather is colliding with a major holiday, so the daytime shelter usually offered at Seattle Public Library branches and the Seattle Center Armory will not be accessible on the day of the 25th. However, as the weather situation evolves decisions regarding openings may change so it's wise to call one of the phone numbers above rather than assume shelter is unavailable.
More resources for people who are in need of shelter are available on the City of Seattle Hygiene Map and King County Homeless Authority Guide.
Outside of Seattle, far fewer shelter options are available in King County and other nearby counties. A list of shelters can be found in the King County Homeless Authority Guide. The City of Bellevue also has a guide to shelters available in the city, although no details have been shared about any additional severe weather shelter being opened.
In Tacoma, however, two severe weather shelters will be open starting on the 26th in addition to the shelters that are open year round. The Low Income Housing Institute (LIHI) will be operating Lighthouse Activity Center, 5016 A St, Tacoma, WA 98408, as a 24-hour facility until January 2nd. The Brotherhood RISE Center will also be operating a day warming shelter from December 26th to 31th in the Hilltop neighborhood. Overnight accommodation for 10-12 individuals or families will be available at this site.
For Everett and other cities in Snohomish County, information about emergency shelters is available on an interactive map.
Transit snow routes
King County metro bus routes are modified to reflect changes in service that occur when there's snow and ice on the roads. Before heading out on transit, be sure to check in advance how your route might be impacted. Routes are labeled either as snow routes or emergency snow network routes (ESN). Some routes also may be listed as "maybe affected by snow or ice conditions" and a few are listed as canceled during the snow.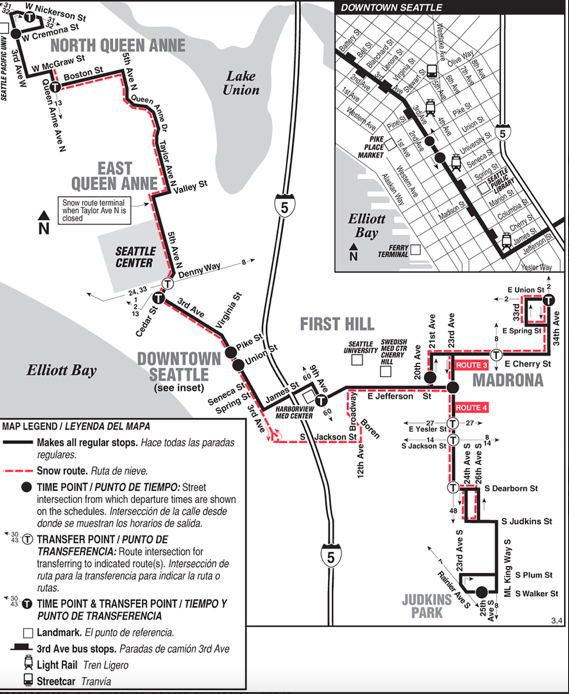 Snow routes are also published for Sound Transit, Community Transit, and Pierce Transit buses. Remember these are all planned reroutes, additional changes may be made based on conditions. Checking out a trip planner in advance, such as the one offered by Sound Transit, can help you keep up-to-date on service changes and cancellations.
Also, holiday services changes will also be in the mix as we head into the cold weather snap. Check out this handy guide to using transit over the holidays compiled by The Urbanist's transit guru, Stephen Fesler.
Snow plow route maps
In addition to its planned snow plow map, the City of Seattle also offers an interactive storm response map offering updated data on which streets have been plowed.
King County also offered both a planned snow plow route map and an interactive winter response map to show where roads have been plowed and sanded.
For people living in other Puget Sound cities, be sure to check out your city's website to learn about priorities for snow and ice removal. Maps are available for Tacoma, Everett, Bellevue, Auburn, and more.
Bike safely
Most people living in Puget Sound have bikes prepared for rain and mud instead of snow and ice. Ice and hills can make for a particularly dangerous combination, so make sure you know what you're doing before heading out on your bike during the cold snap.
If you decide to go out on bike and are not experienced with navigating snow and ice, Bike to Everywhere has created a useful introductory guide to winter bike commuting in the snow.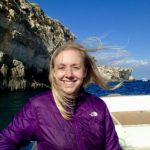 Natalie Bicknell Argerious (she/her) is Managing Editor at The Urbanist. A passionate urban explorer since childhood, she loves learning how to make cities more inclusive, vibrant, and environmentally resilient. You can often find her wandering around Seattle's Central District and Capitol Hill with her dogs and cat. Email her at natalie [at] theurbanist [dot] org.