Housing and zoning reform is taking center stage in the Washington State Legislature. Today, a handful of bills will be heard in committee to address long-standing injustices in local zoning codes that ban housing other than single-family detached homes. Two bills in particular stand out among the pack: House Bill 1782 and House Bill 2020. Both bills will be heard in committee today at 10:00am.
We've already covered House Bill 1782, but essentially it would allow missing middle housing in most cities planning under Growth Management Act. Cities over 10,000 residents would need to allow a duplex on every lot that allows a single-family home. Additional requirements generally would apply to cities, particularly around major transit stops:
In cities with 20,000 or more residents, all lots allowing single-family homes would need to also allow triplexes and fourplexes;
In cities with 20,000 or more residents, all lots allowing single-family homes within a half-mile of a major transit stop would also need to allow fiveplexes, sixplexes, stacked flats, townhouses, and courtyard apartments.
The Senate is also hearing an identical companion bill to this: Senate Bill 5670.
House Bill 2020 provides another complementary avenue for housing and zoning reform focused exclusively around transit communities. In short, it would apply to cities and counties planning under the Growth Management Act and require that residential zoning around certain transit facilities allow denser housing geared toward low- and moderate-income households, essentially covering households at or below 120% of the area median income of the local county.
Specifically, House Bill 2020 would require zoning to be modified near all light rail and major transit hub stops as follows:
Within a quarter-mile, allow a base maximum height of nine stories;
Within a half-mile, allow a base maximum height of six stories;
Within one mile, allow a base maximum height of five stories, impose no density limit beyond bulk and height standards, and limit any parking requirements to the maximum established by King County's Right Size Parking Calculator.
The bill would also allow for one additional story above the base maximum height if at least 20% of the units are set aside as affordable to low- and moderate-income households.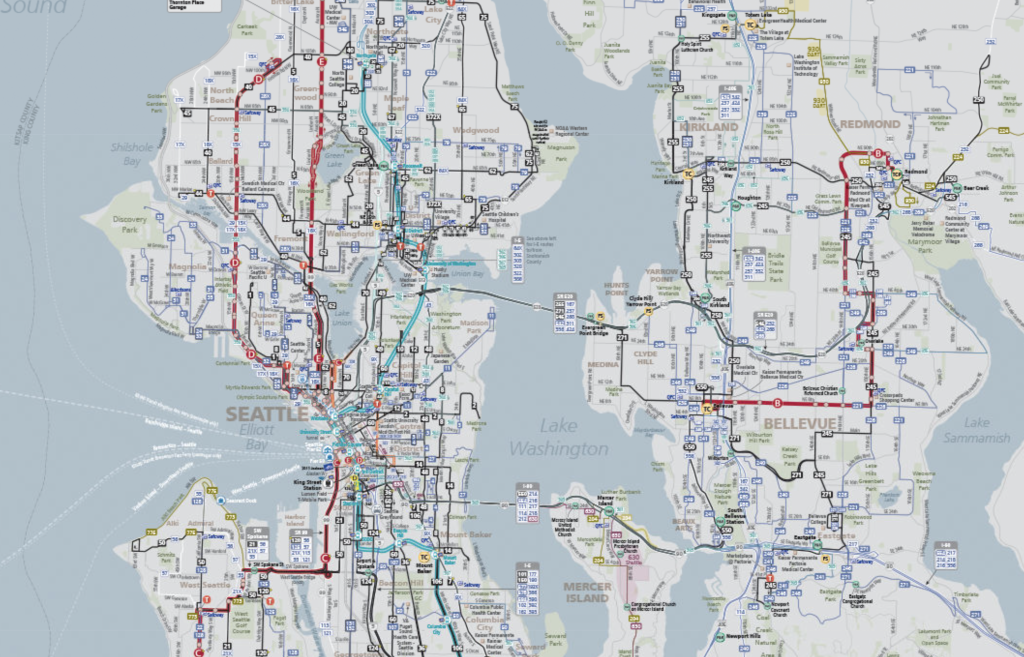 For the purposes of the bill, a "major transit hub" is any stop served by commuter rail, monorail, streetcars, Sound Transit's high capacity transit system, bus rapid transit, and fixed route bus service that run in high occupancy lanes or run at least every 15 minutes for at least five hours during peak hours on weekdays. This is largely the "major transit stop" definition for House Bill 1782, except that state ferry terminals are also included in House Bill 1782.
Along with the aforementioned provisions, the bill further requires that certified sustainable housing programs be established. The certified sustainable housing programs are intended to promote green building and streamline review and approval of green buildings.
Overall, House Bill 2020 would have transformative implications to cities and counties in Puget Sound in particular. Many cities and unincorporated urban growth areas would need to increase development capacity in residentially-zoned areas. This would cover most parts of cities like Seattle, Bellevue, and Redmond as well as significant portions of Everett, Tacoma, and suburban cities like Medina, Lynnwood, Kent, and Kenmore.
You can still sign up in support of these bills by providing by signing in as "PRO" or providing written testimony. For the House bills, select "Local Government" under the Committee dropdown menu and then "01/18/22 10:00 AM" under the Meeting dropdown menu. For the Senate bill, select "Housing & Local Government" under the Committee dropdown menu and then "01/18/22 8:00 AM" under the Meeting dropdown menu. Signing in closes one hour before the hearings, but written testimony can be submitted up to 24 hours after the hearing start time.

Stephen is a professional urban planner in Puget Sound with a passion for sustainable, livable, and diverse cities. He is especially interested in how policies, regulations, and programs can promote positive outcomes for communities. With stints in great cities like Bellingham and Cork, Stephen currently lives in Seattle. He primarily covers land use and transportation issues and has been with The Urbanist since 2014.