This month, the Sound Transit Board is set to review its new Fare Ambassador pilot, which replaced the widely criticized fare enforcement program. According to Sound Transit spokesperson Rachelle Cunningham, the Fare Ambassador pilot has halted fines and criminal charges for riders failing to pay fares. Ambassadors wear blue vests instead of security uniforms and attempt to educate passengers without penalizing them. However, this progress hangs in the balance, as Sound Transit considers whether to make the program permanent or to reintroduce fines — albeit in a more limited capacity — which the agency has not ruled out.
Before 2020, Sound Transit's fare enforcement program consisted of random checks by specialized, blue and black uniformed security officers. Fare enforcement officers would start on opposite ends of the train carriage and check each passenger's ORCA card or boarding pass to see if they had paid. If a passenger failed to pay their fare, they were issued a warning. And if the passenger had already received a warning in the past 12 months, they would be issued a hefty $124 citation. Riders who have already received at least two citations were charged with Theft in the Third Degree, a misdemeanor.
Thus, Sound Transit's fare enforcement program operated as a direct pipeline to penalization and criminalization for people who didn't buy — or simply couldn't afford — a $3.25 ticket.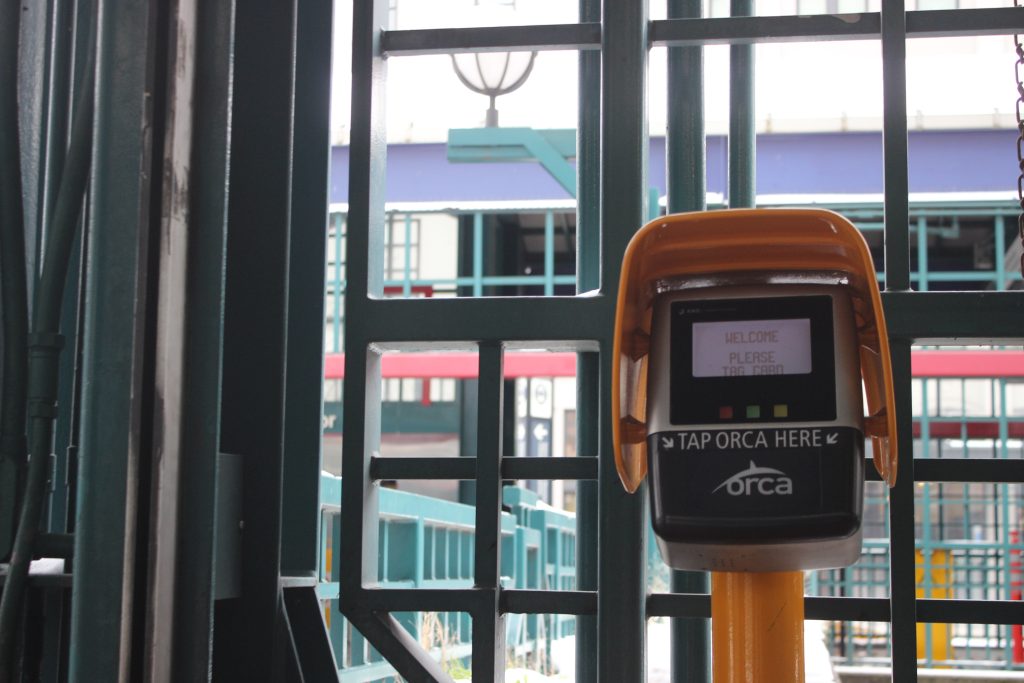 This fare enforcement model, which is employed widely both in North America and in Europe, has been criticized for both its lack of efficacy and harmful impacts on marginalized communities. While ostensibly aimed at deterring non-compliant passengers, the idea that someone who has already received a citation would be deterred by receiving a second one is based on faulty logic, especially in cases where poverty was the root cause for fare noncompliance.
Apart from the misguided assumption that someone who can't pay a $3.25 fare can afford a $124 ticket, internal Sound Transit data shows that its policies fell most heavily on marginalized passengers. A February 2020 survey, conducted following community complaints against the fare enforcement program, shows that 57% of riders who didn't show proof of payment had an annual income of under $50,000, compared to 31% of riders who did have proof of payment.
Public records obtained from Sound Transit also demonstrate that the agency has known its fare enforcement program has disproportionately penalized and criminalized Black passengers since the Link light rail began operation in July 2009. While surveys and census data show the majority of local residents and riders are White, Black passengers received a hugely disportionate share of citations and theft charges.
Between 2009 and 2019, Sound Transit issued nearly 38,000 citations and over 3,000 theft charges to Sounder and Link Light Rail riders who failed to pay fares. Black passengers received 46.7% of citations and 56.9% of theft charges, compared to White passengers who received 34.5% of citations and 26.9% of theft charges.
In the court system, the disparity is mirrored. A survey of over 7,000 citations in King County District Court from public records obtained in late August 2019 showed that over 5,000 of the citations remained unresolved, with Black passengers more likely to have unresolved tickets than resolved ones. Unpaid court debt is often handed over to fare collection services, which charge extortionate interest rates and may use underhanded tactics to extract revenue.
In addition to financial penalties, the public and confrontational nature of fare enforcement can be humiliating and make riding the train feel unsafe, especially to people who are more likely to face police violence. In 2014, Oscar Perez-Giron was killed by King County Sheriffs after being removed from the light rail for failing to pay for his fare. While police asserted that Perez-Giron had drawn a gun at them during the confrontation, family and other supporters disputed the police account, leading to feelings of bitterness and questions of accountability.
Breanne Schuster, a staff attorney with ACLU Washington, said fare enforcement could also constitute a violation of privacy.
"We often see fair enforcement being conducted in a way that violates people's or potentially violates people's right to privacy and protections under the Washington State Constitution," said Schuster. Schuster is working on the case State v. Meredith, in which the plaintiff Zachary Meridith claims that Snohomish County Sherrifs conducted a warrantless seizure and violated his right to privacy.
In response to the harmful impact of fare enforcement, community members and organizations have successfully lobbied local transit agencies, including both King County Metro and Sound Transit, to change course. In late 2020, following historic summer protests against racial discrimination by Black communities and allies, Sound Transit Board finally approved its Fare Ambassador pilot.
Uncertainty over the pilot's future remains, however, since fare collection is an important source of revenue for the agency. According to spokesperson Cunningham, in 2019 Sound Transit made "$97 million of farebox revenue, which paid for approximately 30 percent of its system-wide operations cost." Financial pressures are particularly acute for the agency at the moment due to severely decreased ridership resulting from the COVID-19 pandemic. Many policy leaders see deterrence as necessary to encourage fare payment so any further decreases in revenue could be attributed to the Fare Ambassador pilot and could jeopardize its future.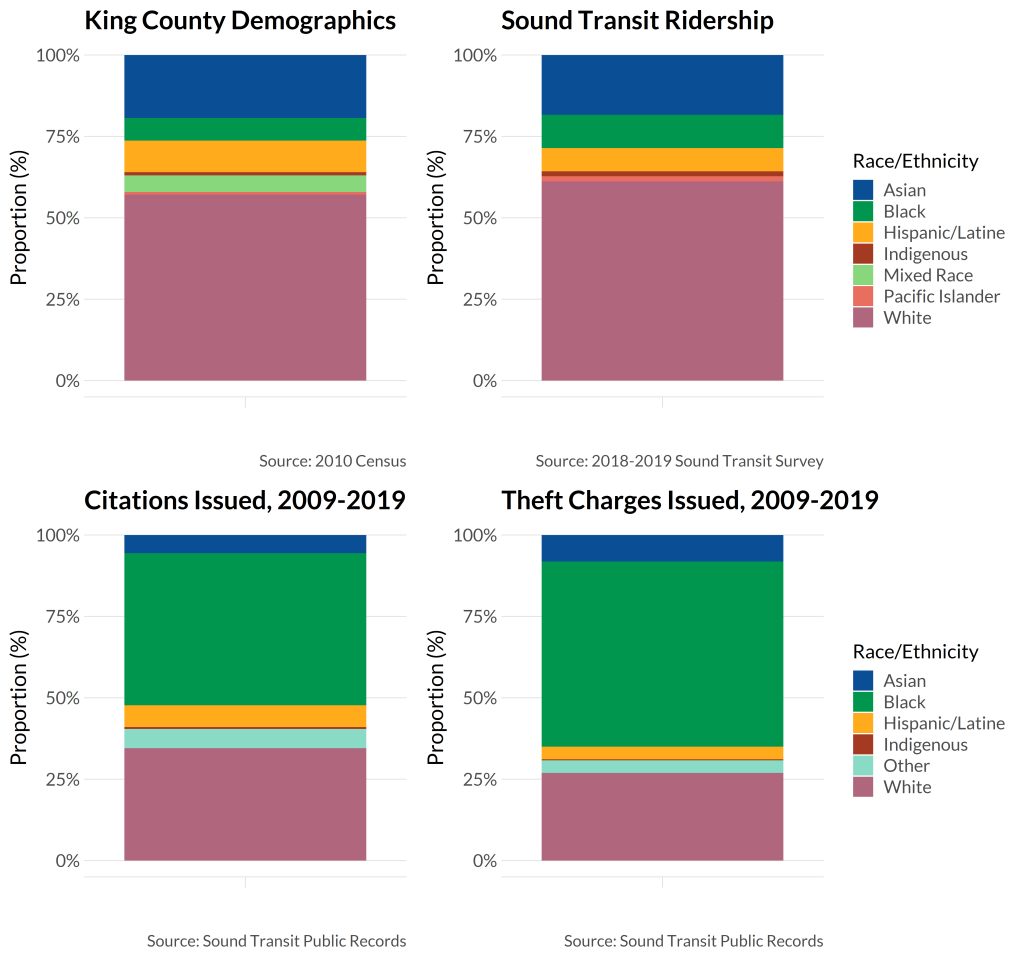 Katie Wilson, General Secretary of the Transit Riders Union, believes that Sound Transit should look to alternative revenue streams instead of relying on fares. Over the past four years, the Transit Riders Union has advocated for the reduction and elimination of King County Metro and Sound Transit's fare enforcement programs.
"I think what makes the most sense would be to fund free transit by doing some kind of employer based tax," said Wilson. "And that's in recognition [of the fact] that a large function of the transit system is getting employees to work, and also of taking vehicles off the road." Wilson thinks that although implementing a new tax will require significant political will and legislation in Olympia, the racial and climate justice benefits of a fare-free transit system would be worth it.
As Sound Transit reviews the Fare Ambassador Program, the agency should consider how its own data shows racial disproportionality in the fines and misdemeanors it has issued. Any reintroduction of fines, even if reduced in amount, will likely more steeply penalize Black and working class passengers, saddling people with debt that could exacerbate racial wealth inequalities. The disruptions caused by the COVID-19 pandemic are an opportunity for Sound Transit and other transit agencies to change course towards more equitable and just policies. The question is whether or not Sound Transit will live up to the moment.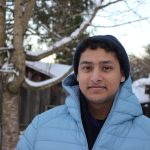 Guy Oron is a Seattle-based writer and journalist. His writing has been featured in publications such as the Nation, South Seattle Emeraldand Seattle Globalist. He has also worked as a community news reporter with KVRU 105.7FM. Find him on Twitter at @GuyOron.