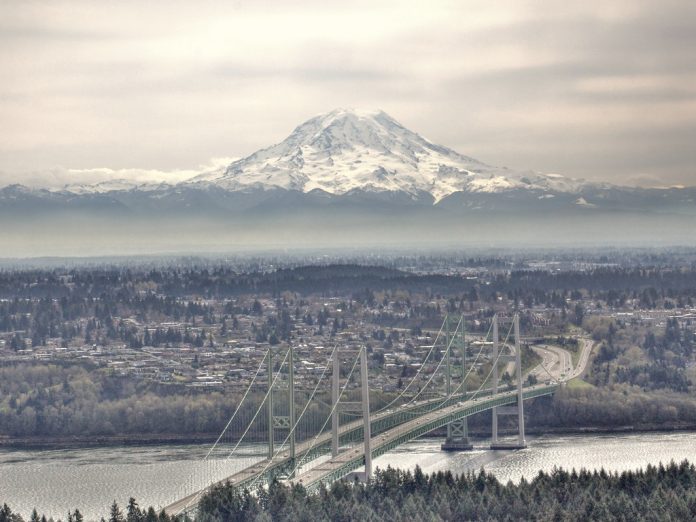 In advance of the legislative session, Sen. Emily Randall (D-Bremerton), whose 26th Legislative District is located on the Kitsap Peninsula, introduced a remarkable bill. SB 5488 proposed to allocate $773 million from the state's general fund not to maintain existing infrastructure or complete new improvements, but to pay off debt currently owed on the Tacoma Narrows Bridge which connects Tacoma and the Kitsap Peninsula. Her proposed bill would also completely remove any future tolls paid on the facility as well.
Political realities are impossible to ignore when talking about the bill. Sen. Randall, facing reelection this year at the end of her first term in the Senate, only narrowly won her seat in 2018 by around 100 votes. Her challenger, Rep. Jesse Young (R-Gig Harbor) has made reducing tolls on the Narrows Bridge a central issue. The year Randall won her seat, Young succeeded in passing legislation that authorized loans to the Narrows Bridge account intended to keep roll rates stable. The workgroup Young headed on the bridge's financing had originally requested $125 million in direct assistance from the general fund, but the legislature landed on $85 million in loans instead.
Sen. Randall, saying that "toll relief" is "infrastructure," cited higher household transportation costs for residents of the Kitsap Peninsula compared to residents along the I-5 corridor as a reason this expenditure should be made. At the bill's public hearing back in January, she noted the state's positive revenue forecasts and incoming federal funding as reason to support her bill. "We have a significant amount of federal money," she said. "And I think what we've learned is if we don't pay it off sooner rather than later we're going to have to pay off so much more in the long run."
This week, Democrats in the Senate transportation committee approved a scaled-down substitute version of the bill, which would keep tolls in place but authorize a quarterly transfer from the general fund of $3.2 million that is intended to keep toll rates for passenger vehicles no more than 75 cents below the current Good To Go rate of $5.25. (Tolls are only collected in one direction on the bridge.) That makes the impact on the general fund $130 million over ten years, a fraction of the cost of the original bill over a longer timeframe. The bill easily passed the committee on a largely party line vote.
Tolls on the Tacoma Narrows Bridge have always been intended to pay for the entire cost of the new bridge structure, which opened in 2007. In the years it has been open, the amount collected in tolls is nearly equal to the $729 million construction cost. However, reliance on toll revenue to pay off the issuing debt has set the facility up for the situation it finds itself in now, one in which decreased revenue resulting from impacts like the Covid-19 pandemic have led to the project falling further and further in behind paying that debt off. Other toll facilities in Washington State have a smaller percentage of their construction costs covered by their toll revenue, but they are not immune to the same dynamic. The SR 99 tunnel through Downtown Seattle also continues to lag behind initial revenue forecasts, in part because there are toll-free alternative routes for vehicles to use.
"We don't always get the whole dream," Sen. Randall said about the substitute bill. She pointed to decreased transit service levels in her district as one reason that additional subsidies for people who drive are needed. "My community on the peninsula has a decreased investment in public transit," she said. "We've seen Pierce Transit scale back their bus service on the Key Peninsula and the Gig Harbor Community… folks in Bremerton and points north must either take a ferry or drive down to take the bridge, or drive all the way around through Olympia to get where they're going, and so our costs are higher."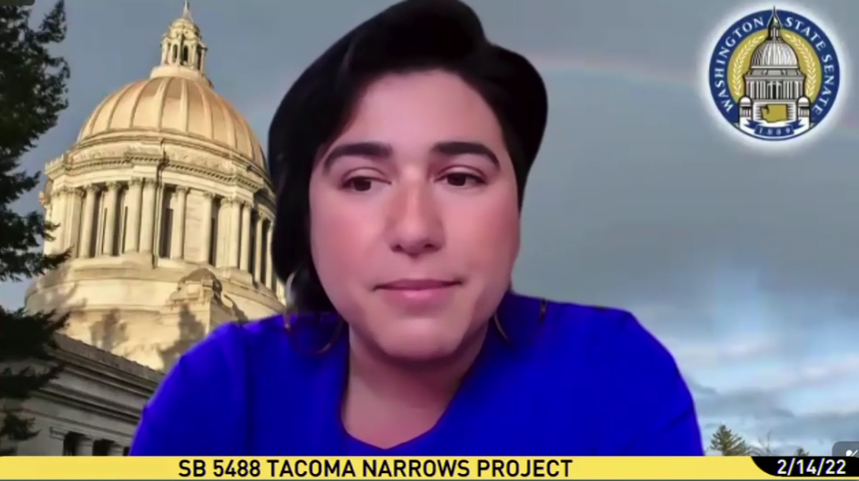 Sen. Claire Wilson (D-Auburn, 30th District) also brought up service cuts on Pierce Transit as impacting people's mobility. "These communities have been impacted in numerous ways, for many many years, and anything we can do to alleviate, not the entirety, but a piece of the challenges they have in getting to and from where they need to go I think we need to be in support of," she said ahead of voting yes.
The proposed Move Ahead Washington transportation package does include more money for transit operations in the form of service grants, but it's not clear how fast those will be able to get out the door even assuming the package passes this session. If SB 5488 passes, toll reductions are outlined to take effect no later than October 1st of this year.
With Monday's committee vote, Republicans like ranking member Sen. Curtis King (R-Yakima, 14th District) were in the strange position of defending the existing toll structure while their caucus has traditional been anti-toll. The political reality of the 26th District's senate race was clearly at issue, but also a simple desire to not spend general fund revenue on someone else's district. He pointed to the work in 2018 as a reason this proposal wasn't needed. "We have a plan, we have an agreed-upon plan, that was bipartisan… and now we're just kind of ripping that agreement apart," King said ahead of voting no.
Approximately $13 million per year over the next decade is not exactly pocket change, but it does represent a big change from an immediate $772 million transfer from the general fund. It's hard not to wonder whether that $13 million per year could be invested in giving people an alternative to driving across the Tacoma Narrows Bridge, but the political headwinds appear to be pushing in the opposite direction for many Democrats in the state legislature.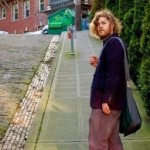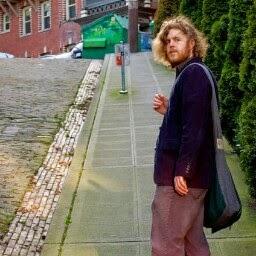 Ryan Packer lives in the Summit Slope neighborhood of Capitol Hill and has been writing for the The Urbanist since 2015. They report on multimodal transportation issues, #VisionZero, preservation, and local politics. They believe in using Seattle's history to help attain the vibrant, diverse city that we all wish to inhabit. Ryan's writing has appeared in Capitol Hill Seattle Blog, Bike Portland, and Seattle Bike Blog, where they also did a four-month stint as temporary editor.