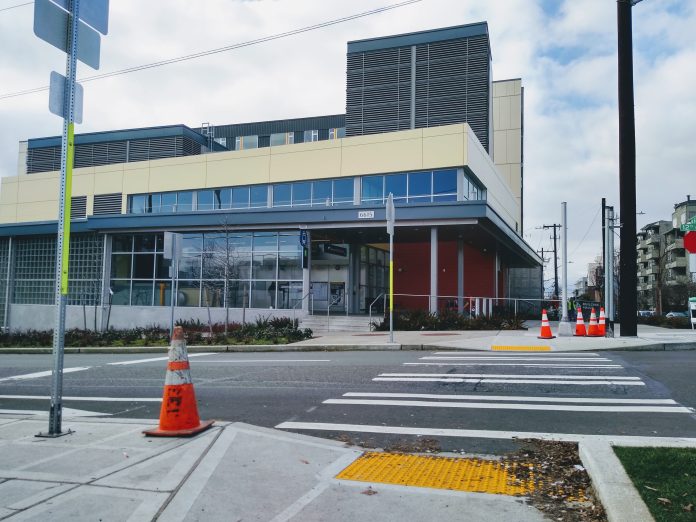 For many years, the Seattle Department of Transportation's policy for justifying whether a crosswalk should be painted has been, counterintuitively, based on the number of people currently crossing the street there. It's a practice that follows the national standard for justifying a marked crossing from the USDOT's Manual on Uniform Traffic Control Devices. In general, SDOT's Traffic Operations Division required 40 people to be observed crossing per hour for multiple hours in a day in order to meet the standard for a new marked crosswalk, or alternatively 20 adults or 10 children crossing per hour along neighborhood greenway and school zone crossings.
But a few years ago, SDOT adopted a radical alteration to this standard policy. Along neighborhood greenways, a crossing could be added with the pedestrian counts conducted after the crossing was painted. This change in policy led to new crossings at very busy streets where they might not have been able to be justified under the old policy. It was a notable departure from a policy akin to deciding whether or not to build a bridge based on how many people were swimming across a river.
Still policy impediments remained for adding marked crosswalks in areas where they seemed justified. Now SDOT has moved even further away from using pedestrian crossing counts as the primary justification for marking crosswalks with a new policy adopted in a memo signed earlier this year.
In the new policy, SDOT uses the concept of "pedestrian generators," or amenities automatically assumed to generate pedestrian traffic, to create a framework where enhanced crossings are "consistently provided" along arterial streets where there are certain "Tier 1" generators, which include:
Multiuse trail crossings
Neighborhood greenway crossings
All school zones, public and private. Along a school's parcel itself, crossings are recommended for every adjacent intersection, including non-arterial crossings, not covered by most other elements of the overall policy, based on "key campus access points and where significant crossing demand is expected or observed."
Transit stops along Seattle's "Transit-Plus Multimodal Corridor" map, which includes Link Stations, Seattle Streetcar stops, RapidRide stops, and a few bus corridors that have received upgrades but have had a planned RapidRide treatment cancelled, like the 48.
The transit stop element is quirky: using this specific transit network excludes some significant bus riders. Looking at pre-pandemic ridership, the route 48 (which would be included) saw 5,200 daily weekday riders in 2019 whereas the route 49 (which wouldn't be) saw 6,300. The route 36 saw 9,200 daily riders and doesn't make it on the list while the South Lake Union Streetcar saw only 1,700 and is on the list. However, additional transit lines not included in this network are covered in the policy under Tier 2.
There are also "Tier 2" pedestrian generators, which are "[b]ased on best engineering judgement, enhanced pedestrian crossings should be considered for proactive installation" near these facilities. Examples include:
Main entrances to parks
Community facilities (libraries, food banks, community centers, and places of worship)
Entrances to major institutions (universities, colleges, hospitals)
Facilities serving high volumes of vulnerable populations (child care centers, facilities that serve seniors, health care facilities)
Transit stops outside the Transit-Plus Multimodal Corridors mentioned above. "Marked crossing justification should evaluate boarding and alighting data, ridership projections, and/or transit rider ADA requests. SDOT may also consider stop relocation or consolidation (in coordination with transit agencies) prior to marking a new pedestrian crossing," the policy states. Again, it's not clear what the justification for having two tiers of transit lines in the policy is.
The difference between Tier 1 and Tier 2 generators? The bar to install a marked crosswalk near a Tier 2 generator is slightly higher. City traffic engineer Venu Nemani told the Seattle School Traffic Safety Committee last week that the department has to "make a certain case" for why an enhanced crosswalk would be needed at a specific place along the Tier 2 generators whereas enhanced crossings at Tier 1 generators are more of a given. Crossings near schools could get added with "no questions asked," Nemani said.
One big benefit of this policy change will be the ability of the department to allow marked crosswalks to be added directly with new facilities, like new schools or transit corridors, saving time and the expense of having to come back out later. SDOT's policy memo states that this change will "enabl[e] enhanced pedestrian crossings to be planned and constructed concurrently with transit facilities and development anticipated to generate pedestrian demand."
"These guidelines are intended to serve as a living document that can be updated over time as informed by data, observations, and operational needs," the policy states. With this change, the department has taken a big step toward focusing the installation of marked crosswalks around the needs of people walking and rolling, and that change is a very welcome one.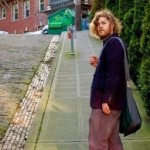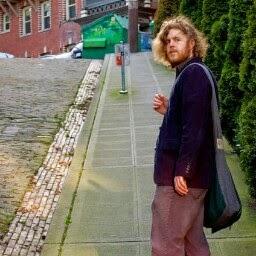 Ryan Packer lives in the Summit Slope neighborhood of Capitol Hill and has been writing for the The Urbanist since 2015. They report on multimodal transportation issues, #VisionZero, preservation, and local politics. They believe in using Seattle's history to help attain the vibrant, diverse city that we all wish to inhabit. Ryan's writing has appeared in Capitol Hill Seattle Blog, Bike Portland, and Seattle Bike Blog, where they also did a four-month stint as temporary editor.