As the newest board member of the Urbanist, I'd like to share why I'm a supporter and invite you to join me by making a meaningful donation of your own.
I can't overstate the value of local reporting. Most of us want information on the issues that affect our region's livability and sustainability; we need a solid base of understanding to engage as residents and as voters. The Urbanist provides me with timely articles by brainy writers who analyze what's happening and show me why it's important. They unwind complex ideas and explore long-term implications. And they do it with style and humor.
I'm thrilled that the site's coverage is growing beyond Seattle. I've been an Eastside resident for decades and I didn't realize how dangerously thin the local news had become in my area until last year, when I ran unsuccessfully for the Bellevue city council. I talked to many residents who were avid media consumers yet didn't know about decisions their elected officials had made or were going to make soon, important decisions that could have consequences for years.
There's been a wealth of research over the years on how closures of local newspapers lead to less-informed voters and lower voter turnout. A recent study also showed that losing the accountability provided by local journalists increases financing costs of municipal bonds. Even though this data is related to newspapers, it's not too big a stretch to assume that news deserts hurt democracy and make for less effective government. The Urbanist is filling a crucial gap left by dwindling newsrooms across the region; I hope that the growth of our readership is a sign that you agree.
To implement all the great future plans of our staff, volunteers, and board members will take resources. If you haven't subscribed before, please consider setting up a monthly donation now. If you're a longtime subscriber, please consider increasing your monthly amount by a few dollars. Every dollar counts for a scrappy outfit like this.
The Urbanist has made funding its Eastside reporter position over the next year a key goal of this subscriber drive and you can help ensure this vital coverage remains a fixture.
Thank you for reading, sharing our articles, and supporting independent journalism. I look forward to meeting many of you at in-person events this summer, or feel free to drop me a line anytime at urbanist@ruthlipscomb.com.
You can also send a check to The Urbanist at:
PO Box 31196
Seattle WA 98103
We encourage checks for large gifts to save on processing fees. Or you can create a subscription below. Uncheck the box for one-time gifts.
Spring 2022 Subscriber Drive Ruth Pitch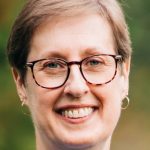 Ruth Lipscomb is a board member of The Urbanist. She is passionate about removing the structural barriers that prevent our communities from having nice things. In 25 years of activism, she's worked on issues including education funding, progressive taxation, expanding democracy, and she once ran for office. Ruth is a retired software engineer who lives in Bellevue in a single-family neighborhood that would certainly be even better with backyard cottages and duplexes.