This Transpo Notes roundup touches on a mix of transit stories, including:
Splitting of West Seattle and Ballard Link

studies and identifying

priorities;
Completion of the first phase of Link Future Ready projects and upcoming work;
Stride bus rapid transit program updates;
Community Transit and Sound Transit transit development plans; and
How to address and solve the bus operator staffing crisis.
Balducci Proposes Splitting West Seattle and Ballard Link Studies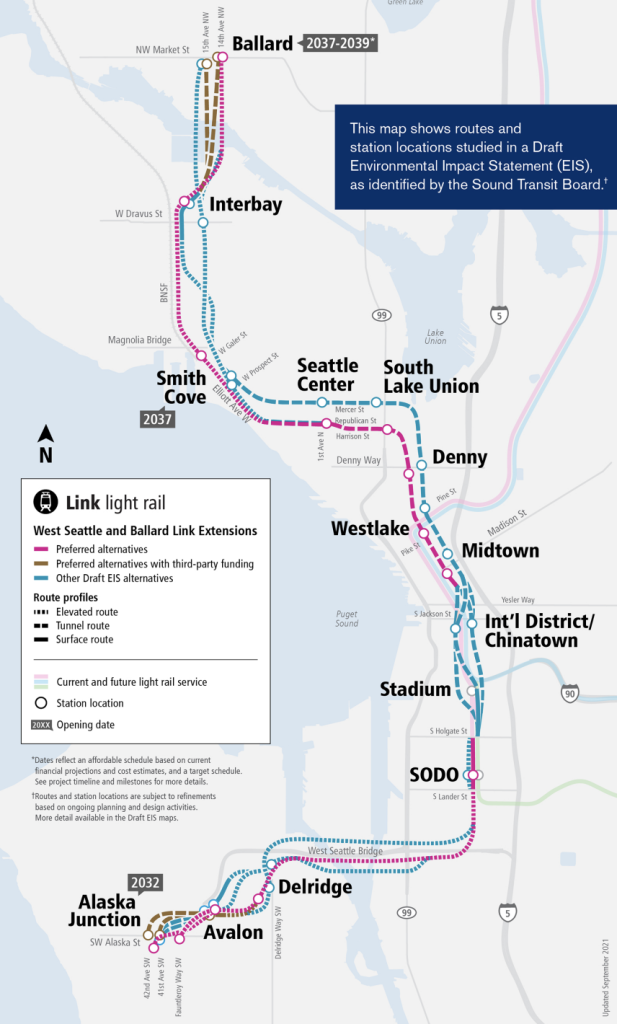 At last week's Sound Transit System Expansion Committee, committee chair Claudia Balducci proposed a motion to establish a preferred light rail alignment with station locations for the the West Seattle and Ballard Link Extensions for the Final Environmental Impact Statement (FEIS). The motion, however, was still somewhat open-ended allowing further study of some options, particularly for the Ballard Link Extension, to inform a preferred alternative. In effect, this could bifurcate the FEIS process, allowing the West Seattle Link Extension to proceed to an FEIS sooner and then run the Ballard Link Extension under its own FEIS later. The full Sound Transit board is expected to approve the motion next week and Balducci encouraged members to bring any amendments they want to the meeting for votes to settle on final language.
As it stands now, the motion would establish a preferred alternative for the West Seattle Link Extension as follows: a medium tunnel 41st Avenue Station (WSJ-5) for West Seattle Junction, a lower height Andover Street Station (DEL-6) for Delridge, the South Crossing (DUW-1a) for the Duwamish segment, and an at-grade staggered SODO Station (SODO-1a) in SODO. However, the motion directs agency staff to consider eliminating an Avalon Station as a cost-saving measure, leaving a densifying area without walking access to a station. Additionally, the motion notes that the board would consider an southern at-grade SODO Station (SODO-1b) with a report due in September.
For the Ballard Link Extension, the motion doesn't identify a preferred alternative at this time. Instead, it directs further study on specific options that could be included in a preferred alternative. Agency staff will have until February 2023 to conduct this work with outreach to affected communities and collaboration with Seattle, King County, and other partner agencies on identification of possible third-party funding should it be required. What is noted in the motion for the extension for study is as follows: a 4th Avenue shallow tunnel in Chinatown-International District with possible activation, use, and access of Union Station and its plaza for a grand hub; a reduction of station depths and improved access experience of Midtown Station options; a combination of a 5th Avenue Westlake Station (DT-1), a Terry Avenue Denny Station (DT-2), and a Harrison Street South Lake Union Station (DT-1); a Mercer Street Seattle Center Station (DT-2) and a Republican Street Seattle Center Station shifted west; a tunneled 14th Avenue Station (IBB-2a) in Interbay; and a tunneled 15th Avenue Station (IBB-2b) in Ballard. The motion further suggests that consolidation of the Smith Cove and Interbay stations be considered as a cost-saving measure.
Beyond all of this, the motion directs agency staff to conduct broad and specific refinements to improve station access, bus-to-rail transfer experiences, address certain displacement risks, and minor location adjustments.
In advance of the System Expansion Committee meeting, the Seattle City Council adopted a resolution detailing their priorities for developing a preferred alternative. Many of those mirrored the Balducci motion, but there are some divergences, too, which may be address by amendments when the motion gets its final consideration.
Update on Future Ready transit service disruptions
Sound Transit's summer of maintenance work is underway. The first phase of work on Link 1 Line tile and mortar replacement at Columbia City Station wrapped up on Wednesday — four days ahead of schedule. Normal service returned on Thursday, though schedule data for online trip planners and apps may not be updated until today or tomorrow. A second phase of work at the station will kick off on August 19th and run through September 1st, reducing service levels throughout the system again though the pain will be most severe south of Stadium Station.
On Thursday, Sound Transit also announced service disruptions to the Tacoma Link T Line starting in August to facilitate tie-in of the Hilltop Tacoma Link Extension. Work will be centered around the intersection 9th Avenue and Commerce Street as crews install rails and power systems. Construction is expected to be round-the-clock, preventing trains from using turn-back tracks near the Theater District station. As a result, Link service will be fully shut down from Tacoma Dome to Theater District from August 1st through September 16th. Replacement bus service will operate all T Line stations instead using the normal T Line schedule.
Looking ahead, Sound Transit expects several more major maintenance projects throughout the year, including overhead wire work in the Downtown Seattle Transit Tunnel (November 11th through November 13th), overhead wire replacement between Rainier Beach and Tukwila International Boulevard Stations (third quarter of 2022), and a smattering of additional work in the Downtown Seattle Transit Tunnel (fourth quarter of 2022 and first quarter of 2023). Sound Transit is largely planning normal Link service outside of work areas with bus bridges operating in affected zones. Also, similar tile and mortar replacement work will need to be done at Othello and Rainier Beach Stations, but service impacts should be a lot less than the Columbia City Station work given more favorable operational circumstances. That project won't happen this year.
Stride bus rapid transit program updates and early project component delivery
Last week, Sound Transit provided a briefing on the Stride bus rapid transit (BRT) program. It was a mixed bag with shiny new branding details of buses and supposedly lower cost estimates while project timelines are beginning to converge.
During the meeting, Sound Transit staff said that the agency is considering double-decker buses for the S1 and S2 Lines operating on I-405 and SR 518 and battery-electric articulated buses for the S3 Line on SR 522. About 120 coaches are planned for acquisition and will be based out of new operations and maintenance facility in Bothell's Canyon Park area. The new bus base will be fully convertible for zero-emission buses.
Eyebrow-raising details noted in the presentation is that there will only be bike storage at select stations and while there will be off-board fare payment options, that won't apply to cash. Stations are supposed to include ticket vending machines, so potentially making bus operators deal with cash onboard could slow bus service.
| | | | |
| --- | --- | --- | --- |
| Project | Realignment | January 2022 | June 2022 |
| Bus Base North | 2025 | 2026 | 2026 |
| S1 Line | 2026 | 2027 | 2027 |
| S2 Line | 2027 | 2028 | 2027 |
| S3 Line | 2026 | 2027 | 2027 |
As for schedule, Sound Transit thinks that Stride project delivery dates are mostly converging in 2027 for line openings and Bus Base North opening a year earlier in 2026. This is still generally later than was envisioned in the adopted Sound Transit 3 realignment plan last year. Whether or not these dates will be reality depends upon a lot of factors and probably is worth some skepticism since all Stride lines were originally supposed to be opened in 2024. Design work isn't even complete and many projects require competent delivery from the state, so there's still ample room for error.
On first blush, cost estimates at the 30% design level appear to have gone down even though costs for the Bus Base North and S3 Line have gone up since realignment last year. Even more impressive, it would seem, is how the larger program has become cheaper since 2019. However, there are varied reasons for this.
Sound Transit reallocated common costs from the S1, S2, and S3 to the Bus Base North project several years ago, thereby reducing costs of the Stride lines but increasing the bus base project costs. Through the design process, Sound Transit has partnered with the Washington State Department of Transportation to modify service and station designs, which have reduced costs on I-405 in some cases. Not all of those changes have been real improvements for riders and in some cases are decidedly worse for rider access and experience even though buses may be faster and theoretically more reliable. The S3 Line meanwhile has consistently seen costs rise while its length has been cut back, speed and reliability features reduced, and station access elements chipped away at as part of value engineering. All this is to say the rosy numbers really don't tell a positive success story for the Stride program.
On Wednesday, Sound Transit opened a small section of business access and transit (BAT) lanes between Bothell and Kenmore. The project required widening SR 522 by building up a retaining wall and fill to construct the extra lane. This project is just one part of the larger SR 522 BRT program, which will open the Stride S3 Line in 2027 between I-405 and Shoreline/148th Street Station. Opening of the BAT lanes immediately benefit bus riders who use the corridor, especially riders of Routes 342, 372, and 522.
Community Transit and Sound Transit share transit development plans
Community Transit and Sound Transit have draft proposals for their six-year transit development plan (TDP) updates. There's not much in Sound Transit's plan that we didn't already know, but Community Transit has several new initiatives that it is pursuing.
Community Transit's draft plan has placed an emphasis on adding buses to the fleet, hiring and retaining operations staff, and charting realistic service growth plan. Though 2027, Community Transit plans to grow the bus fleet from 294 coaches to 312 coaches though replacements and expansions. New coaches will primarily serve the expanded Swift bus rapid transit network, which will see the new Orange Line open in 2024 along with extension of the Blue Line. Additional service hours are supposed to be added in the coming years, especially as Community Transit looks toward the 2024 Swift launches, but staffing has been a real challenge during the Great Resignation so the service increases are not as optimistic as they once were:
| | | |
| --- | --- | --- |
| Year | 2022 Draft TDP | 2021 Draft TDP |
| 2022 | 387,744 (-30,151) | 439,895 (+22,000) |
| 2023 | 408,744 (+21,000) | 470,000 (+30,105) |
| 2024 | 424,940 (+16,196) | 520,000 (+50,000) |
| 2025 | 451,636 (+26,696) | 535,000 (+15,000) |
| 2026 | 489,136 (+37,500) | 550,000 (+15,000) |
| 2027 | 529,602 (+40,466) | N/A |
Additionally, Community Transit has offered a little more detail about future Swift expansions with the Gold Line — a service between Everett and Smokey Point via Marysville — launching in 2027 and Green Line extension to UW Bothell following in the 2027/2028 timeframe. A scoping study for the Gold Line runs through this year with design and engineering commencing next year and then construction beginning in 2025. Preliminary planning has begun for the Green Line and $10 million in funding has been earmarked for the project by the state legislature as part of the Move Ahead Washington transportation package.
Sound Transit's draft plan maintains priorities for transit expansion, system maintenance, and service, but it acknowledges the real challenges that the agency has faced over the past year. Staff shortages have meant delaying service improvements where the agency would like to and even cutting back trips on select ST Express bus routes. The bulk of cuts have been focused on Pierce County routes due to Pierce Transit's staffing levels — that's especially unfortunate since Sound Transit had planned increase service levels and improve the Pierce County-oriented ST Express bus network.
Both Sound Transit and Community Transit draft TDPs are open for public feedback through August 4th. Final adoption will come later this year.
How to address and solve the bus operator staffing crisis
On Thursday, TransitCenter published a policy brief on the bus operator staffing crisis. The transit think tank highlighted how bus operators are facing a deteriorating work environment due to service demands, cost of living increases, facilities and culture, and job safety. The policy brief outlines a lot of these pitfalls in detail and offers salient recommendations to put the profession back on track, increase job satisfaction, and ultimately inspiring a new generation of operators to fill desperately needed positions.
Some big takeaways from the policy brief include the following:
"Restroom access and better employee facilities are needed for employee health and wellness."
"Agencies must make a more compelling pitch to potential hires. Some agencies have begun to offer signing bonuses to accomplish this. Transit is offering new hires $6,000 signing bonuses if they already hold a CDL or $3,000 if they hold a CDL permit."
"Operators need better mental health and professional development support."
"Agencies must work to create more secure cockpits for operators that still allow operators to carry out their customer service functions."
"Agencies must also work to build pipelines for high school and college students looking for careers in transit."
"Agencies need to do more to help applicants without CDLs obtain them."
"Operators must be given greater control over their schedules, despite the logistical challenges the change presents to agencies."
"Providing competitive pay is a critical element in attracting and retaining employees. Agencies must work harder to ensure that current employees do not leave due to things agencies can control."
The Urbanist recently reached out to King County Executive Dow Constantine's office to see if any new hiring and retention policies for transit staff were on the way. Earlier this week, Chase Gallagher, a spokesperson for Constantine, said that the Executive's Office didn't "have any new policies to announce at this time."

Stephen is a professional urban planner in Puget Sound with a passion for sustainable, livable, and diverse cities. He is especially interested in how policies, regulations, and programs can promote positive outcomes for communities. With stints in great cities like Bellingham and Cork, Stephen currently lives in Seattle. He primarily covers land use and transportation issues and has been with The Urbanist since 2014.