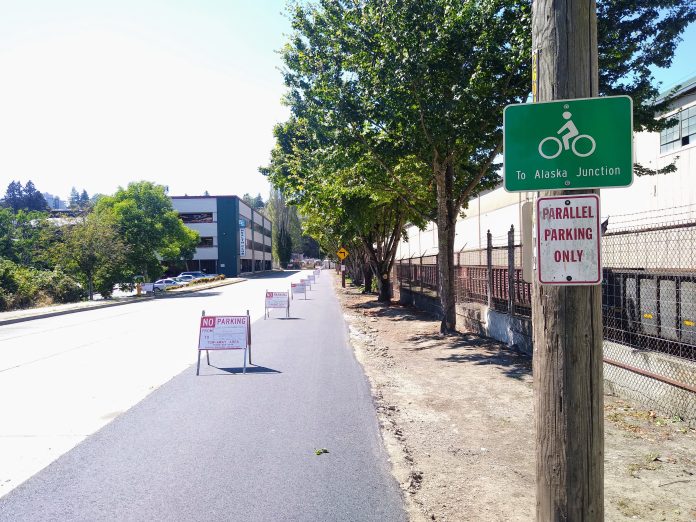 Weeks after the City of Seattle displaced residents of an RV encampment on SW Andover Street in West Seattle just south of the West Seattle Bridge, the Seattle Department of Transportation (SDOT) has announced that they will be constructing a protected bike lane along the street where the RVs had been for over six years. This previously unannounced project would be implemented as soon as this fall, leading to obvious questions as to whether the City of Seattle is utilizing bike infrastructure as just another form of hostile architecture to take away public space from those without permanent residences.
First reported by the West Seattle Blog, the protected bike lanes would connect existing bike lanes on SW Avalon Way with an existing neighborhood greenway on 26th Avenue SW and Delridge Way SW, which connects to the West Seattle bridge trail. Currently there is a one-block stretch of paint-and-post bike lanes between 26th Avenue SW and Delridge. On the steep stretch of SW Yancy Street, protected bike lanes are proposed for just the uphill direction. The gap being filled in the network could cut out some steep climbs for people biking between several key north-south bike corridors in West Seattle.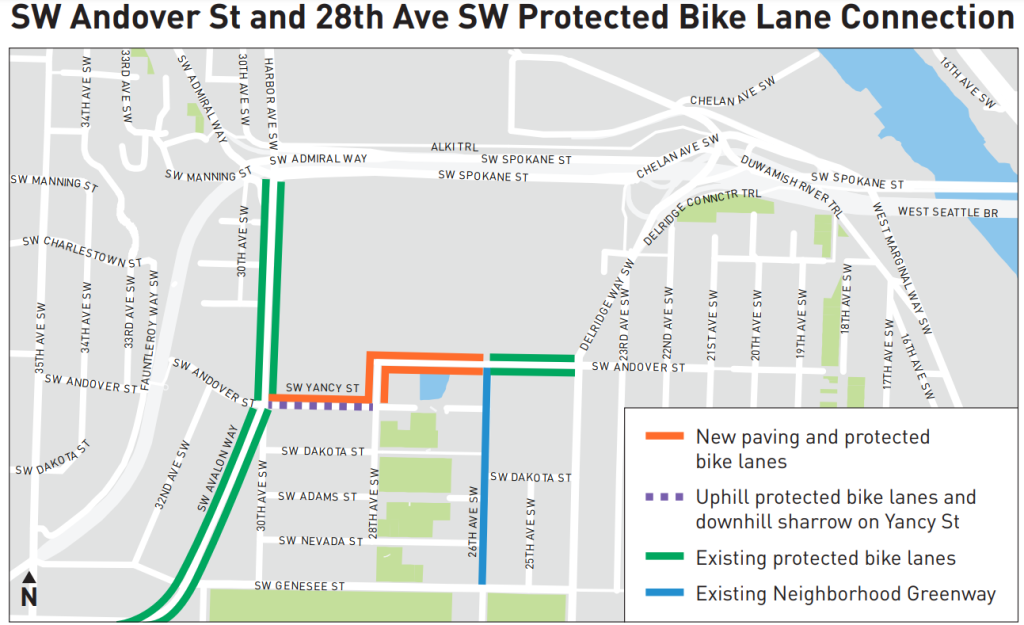 But a protected bike lane on SW Andover wasn't included in last year's bicycle master plan implementation plan (with an update not yet released for 2022), nor does it appear on a long list of transportation projects that the department has completed or are in progress as part of the Reconnect West Seattle program, intended as West Seattle Bridge closure mitigation. The 2014 bicycle master plan actually doesn't even call for protected bike lanes in the area, instead designating it for a neighborhood greenway instead. So how did it come into being so quickly?
"We were able to move forward with the PBL through a paving project. New pavement is needed to be added on the north side of SW Andover Street to create space for a westbound protected bike lane," SDOT spokesperson Mariam Ali said in a written statement. "The Bicycle Master Plan recommended a Neighborhood Greenway treatment. Due to the industrial nature of the area and for the comfort and enhanced safety of those biking, we are installing a protected bike lane (PBL). The community and business owners resonated with the concept since it filled a gap between existing protected bike lanes on a route that is heavily used by bikes. The Levy to Move Seattle is funding the bike lane design."
That new pavement has already been added, taking the place of illegal concrete eco-blocks that had been placed by nearby business owners in order to prevent the return of RVs. SDOT did not answer a question from The Urbanist about the relationship between the RV encampment and the protected bike lane project.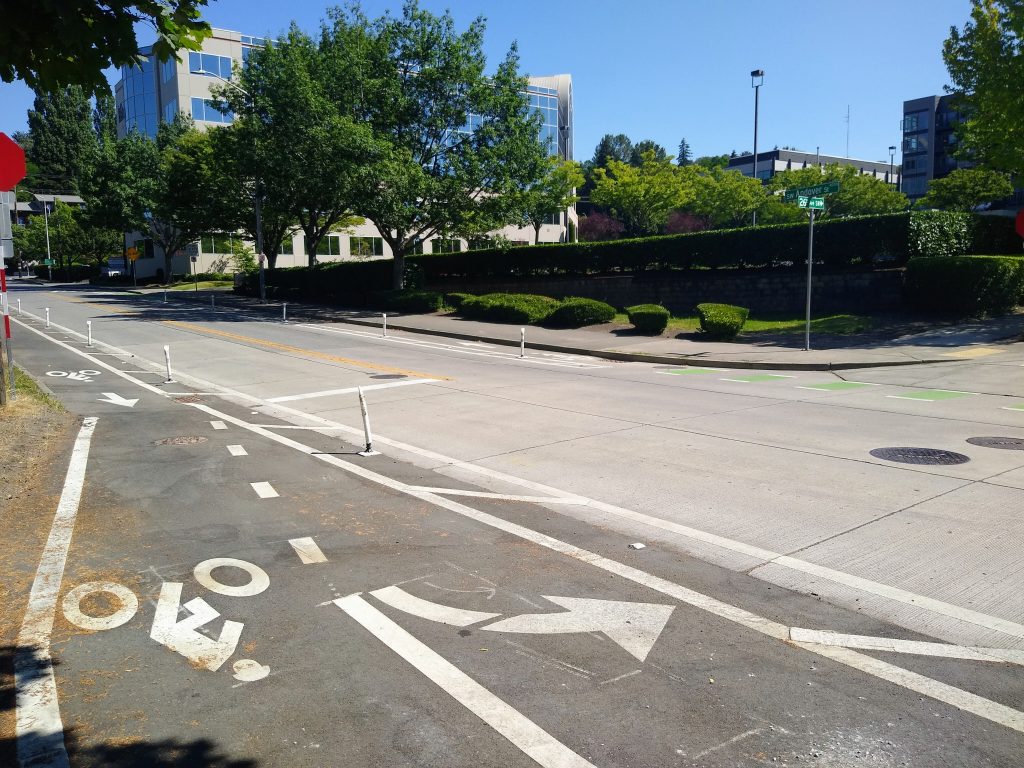 Safe streets advocates in West Seattle were ready to embrace the project, regardless of how it came about. "It's frustrating that the goal of blocking RV parking rather than rider need and safety has driven the project, but in this case the result will be a more comfortable ride on an already-popular route for West Seattle cyclists," Kate Wells, a member of West Seattle Bike Connections (WSBC) and a West Seattle Transportation Coalition board member, said via email.
"This short section of protected bike lane for SW Andover is not something we requested, but it is a small, inexpensive step toward safe and comfortable year-round bike transportation," Don Brubeck, a former member of the Seattle Bicycle Advisory Board and WSBC member, wrote. "It is a little surprising to see this project implemented before it made it into SDOT's rolling BMP implementation plan, and ahead of spot improvements that we gave high priority for the Reconnect West Seattle projects. But this is by no means the only time that the type of bike facility has been revised from the plan, or that projects have jumped the queue," he said.
Brubeck referenced a planned short segment of protected bike lane on West Marginal Way SW, a project that came about during the closure of the West Seattle bridge but which met heavy pushback from freight groups, prompting its installation to be moved until after the bridge reopens. That project will likely go in months after this Andover bike lane, illustrating just how quickly it is moving ahead.
Replacing an RV encampment with a protected bike lane is a bit unusual, but creating hostile spaces after sweeping encampments to prevent people from returning is far from unusual in Seattle, and it looks to be a hallmark of the Mayor Bruce Harrell's administration. Adjacent to the Whole Foods on Broadway in Capitol Hill, for example, large rocks sit in the planting strip where a few months ago several people were living in tents. Off Aurora Avenue N, planter box gardens are being added to planting strips by neighbors to keep people from camping in the area.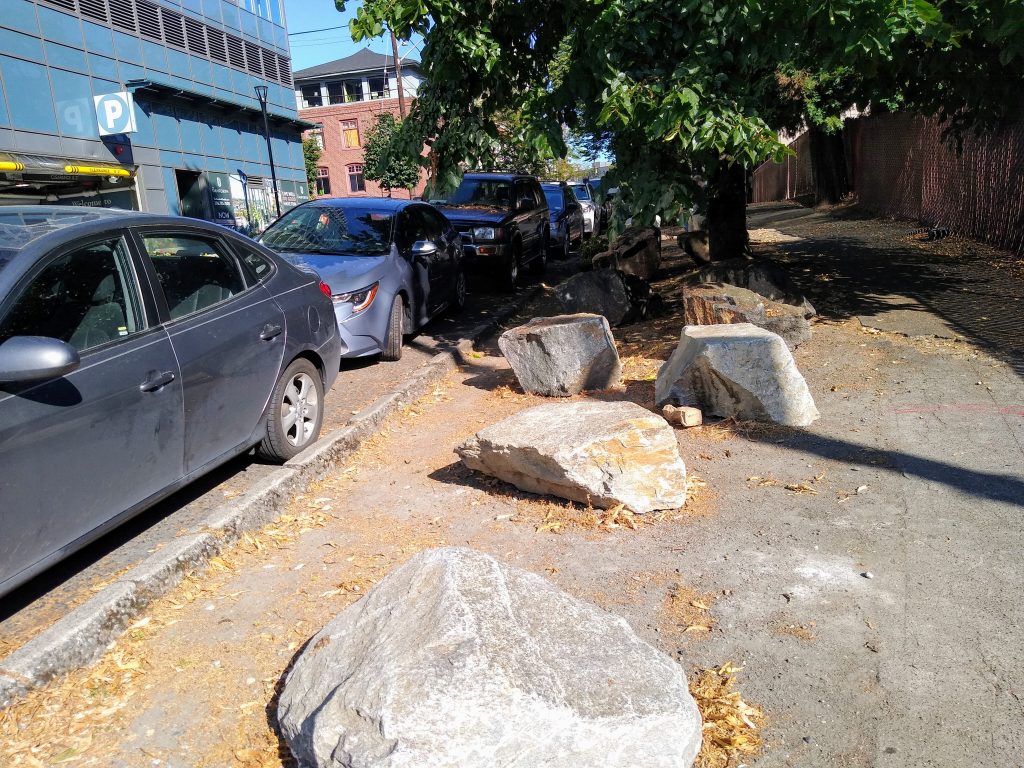 Ultimately, the SW Andover Street protected bike lane project illustrates how fast SDOT can move to implement bike infrastructure, superseding the classic Seattle Process to get projects on the ground. The department is also putting that ability to the test in SoDo, as it responds to several high profile fatal traffic crashes so far in 2020 with some quick-build changes. But in a mayoral administration that is so conspicuously focused on eliminating all signs of the people who are living unsheltered from the city streets, it's clear there are forces pushing all city departments to do whatever they can to make that happen.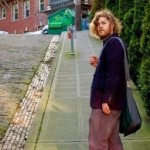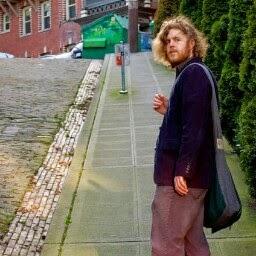 Ryan Packer lives in the Summit Slope neighborhood of Capitol Hill and has been writing for the The Urbanist since 2015. They report on multimodal transportation issues, #VisionZero, preservation, and local politics. They believe in using Seattle's history to help attain the vibrant, diverse city that we all wish to inhabit. Ryan's writing has appeared in Capitol Hill Seattle Blog, Bike Portland, and Seattle Bike Blog, where they also did a four-month stint as temporary editor.