What is your least favorite thing about Paris? I bet it is either the traffic or the people. And what makes Lisbon so great (besides the pastries)? The people, right? The behavior of residents has a major influence on tourists' view of the city, the likelihood they will return, and whether or not they would recommend visiting the city to a friend. This phenomenon is called city hospitality and it is an increasingly important part of city marketing. The big question, however, is how to make residents genuinely nice and hospitable towards visitors.
In her research for Hotelschool The Hague, Dr. Karoline Wiegerink found that positive hospitality encounters lead to emotional relationships and mindshare — which means that proud and happy residents are likely to exhibit more welcoming behavior. This in turn will lead to enthusiastic visitors and, therefore, added economic value for the city.
In his book Public Space, Francis Carr identified that in order to increase these important positive interactions, public spaces of a city where the paths of residents and tourists cross should make residents feel happy and proud. To do that, planners must make sure that the five needs in a public space are met: comfort, relaxation, passive engagement, active engagement, and discovery.
Let's take a closer look at how these needs can be met in a public space. The terms "comfort" and "relaxation" usually refer to physical aspects of the environment, such as the number of food options in or nearby the park or the quality of the benches at the square. Passive engagement is comparable with relaxation, yet instead of disengaging visitors from the surroundings, it involves them, but generally without stimulating engagement with other visitors. A good example of this is people watching.
The latter two needs, active engagement and discovery, are more complex and social in nature, which is why these two will be evaluated a little deeper.
Carr identified active engagement as "a direct experience with a space and the people within it." Humans are social beings and generally want to feel a connection with something or someone. Experts hold different opinions on whether urban public spaces are the ideal place to make these connections. Even though there are plenty of strangers to have an interaction with, most people find it inappropriate and an invasion of privacy to address an unknown person. Experts, however, do agree that there are certain factors that can increase the number of actively engaged people in a public space.
I also found this to be true in the research I completed for my thesis, for which I analyzed several public spaces in Amsterdam, such as the Park Schinkeleilanden, Frederik Hendrik Plantsoen, and Museum Square. Survey respondents reported that organized events are the most effective measures municipalities can take to increase mutual openness for interactions and the likelihood of making hospitable encounters between visitors and residents. Think, for example, of music festivals, dance workshops, sports days, and outdoor movie nights.
Eating facilities and the presence of children and dogs are also found to positively impact mutual openness. All provide reason for planned meetups between people but also easily spark unplanned interaction between individuals, such as (pet) parents.
Discovery, the last need of residents in public spaces, comes from the human desire for stimulation and the delight people feel when having new, pleasurable experiences or encounters. This triggers the body to release the hormone dopamine, otherwise known as the feel-good hormone, which gives a — you guessed it — happy feeling. Respondents of the survey again voted events as the most effective element to stimulate the feeling of discovery, closely followed by nature, varying landscapes, and hidden pathways. Discovery can be as simple as a hollow tree I came across while studying Frederik Hendrik Plantsoen park, observing a bank of swans, or experiencing a new public art installation. These small and unexpected things sparks an interest and trigger a positive sensory experience.
To conclude, urban public spaces should make residents feel happy and proud. To accomplish this goal, urban planners should make sure there is enough space for events to be organized and for kids and dogs to play. Besides that, the landscape should be varying and surprising to promote discovery. Municipalities should take more action to meet all of the needs of residents in public spaces. This will not only make the inhabitants of the cities happier but also more open and kinder towards each other and visitors, creating a prosperous and hospitable city. Win-win!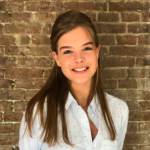 Amber Schadee (Guest Contributor)
Amber has studied hospitality management at Hotelschool The Hague Amsterdam where her thesis was focused on city hospitality. After graduating, she will continue her career as a junior project manager in the real estate sector. However, her ultimate goal is to build several boutique hotels in Italy from the ground up and to give her guests the best authentic travel experience.